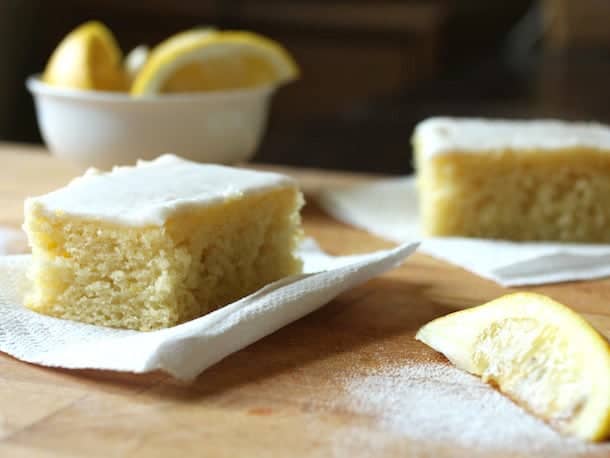 When friends visit in the summer, I like to have something a little sweet on hand that they can munch on whenever the mood strikes. So I'll put out a bowl of fruit and this all-day lemon cake. It's one of those cakes that goes equally well with a morning cup of coffee or a post-dinner, end-of-day drink.
Although the finished cake tastes like you spent a lot of time on it, the only prep required is a bowl, a whisk, and about five minutes. The recipe is what my mother would call a "dump cake:" You throw all the ingredients into one bowl, whisk by hand, plop the batter into a greased cake pan, and bake it for about thirty minutes. That's it. And the best part? Your minimal effort is rewarded with a delicate, lemon-scented cake that's a bit like a cross between a coffee cake and a birthday cake.
To finish the cake, I sometimes make a thick white icing from powdered sugar and lemon juice. Other times, I'll boil simple syrup with some lemon zest. Both glazes intensify the lemon flavor without making the cake too sweet. The simple syrup glaze changes the texture of the cake a little, making it damp, while the powdered sugar icing leaves the coffee cake-like texture in tact.
By the way, if you have extra berries on hand, toss them into the batter. This cake welcomes fruit. Blueberries are my favorite, but that's because I'm partial to anything lemon-blueberry. Or, if you don't want to put berries in the cake, put them on top. Macerate some ripe, chopped berries with just enough sugar to make the juices run and spoon the berries over the cake. Either way, with berries or without, this cake tastes like summer all day long.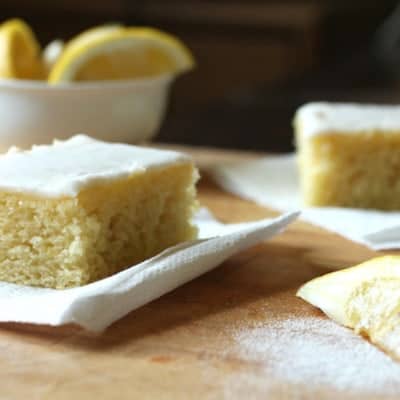 One Bowl Gluten-Free Lemon Cake
Ingredients
Nonstick cooking spray

1 1/4

cups

white or brown rice flour

(5 ounces; 142 grams)

1/4

cup

tapioca starch

(1 ounce; 28 grams)

3/4

cup

granulated sugar

(6 ounces; 170 grams)

2

teaspoons

baking powder

1/2

teaspoon

table salt

1

cup

buttermilk

(8 ounces; 226 grams)

1

tablespoon

grated lemon zest from 2 to 3 lemons

1/2

cup

vegetable oil

(3.5 ounces; 100 grams)

2

large

eggs
Lemon Icing Option 1: Simple Syrup Glaze
3/4

cup

granulated sugar

(5 1/4 ounces; 148 grams)

2

tablespoons

zest and 6 tablespoons fresh juice from about 4 to 6 lemons
Lemon Icing Option 2: Powdered Sugar Icing
1 1/3

cups

powdered sugar

sifted

2

tablespoons

lemon juice
Instructions
Adjust oven rack to middle position. Preheat oven to 350°F. Spray an 8-inch square baking pan with nonstick cooking spray.

Adjust oven rack to middle position and preheat oven to 350°F.

In large mixing bowl, whisk together rice flour, granulated sugar, tapioca starch, baking powder, and salt. In a measuring cup or a small bowl, whisk together buttermilk and lemon zest. Pour buttermilk mixture over dry ingredients. Whisk in vegetable oil and eggs until smooth.

Pour batter into prepared cake pan. Bake until a cake tester inserted into center of cake comes out clean, about 30 minutes.

Icing Option 1: Simple Syrup Glaze Combine granulated sugar, lemon zest, and lemon juice in a small saucepan. Bring to a boil over medium-high heat, stirring gently until sugar dissolves. Reduce heat to low and cook syrup until it thickens slightly, about 5 minutes. Remove from heat and set aside.Store cookies in a covered container on the counter for up to four days.

While cake is still warm, poke it all over with a fork. Brush top of cake with syrup and allow to absorb fully, about 5 minutes. Repeat until all syrup is absorbed.

Icing Option 2: Powdered Sugar Glaze. Allow cake to cool completely. In small bowl, combine powdered sugar and lemon juice. Stir with a fork until smooth. Icing should be thick but spreadable; if the icing is too thick, add a little more lemon juice. Spread icing on cake and allow to set for 15 minutes before serving.