These quick paleo almond cookies come together in minutes. You simply combine almond flour, maple syrup, baking powder, and vanilla. That's it!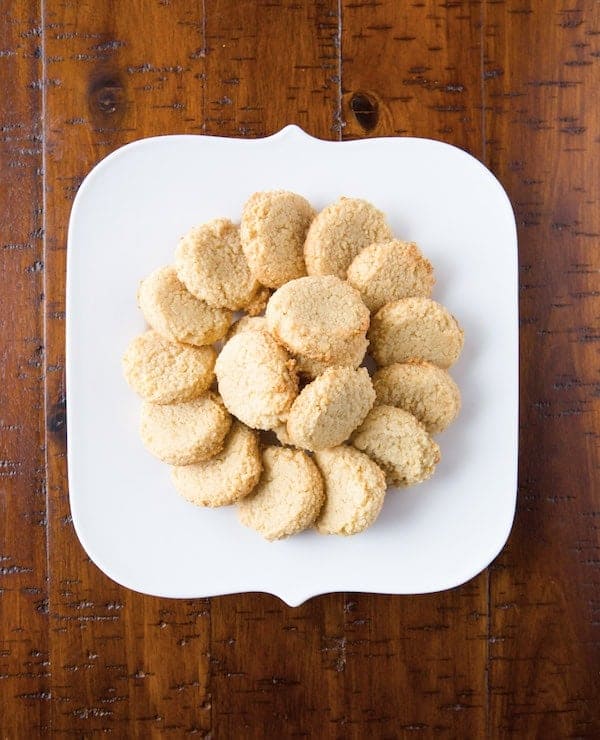 Let's make them! They only take minutes. I promise!
Paleo Almond Cookies: Mixing and Baking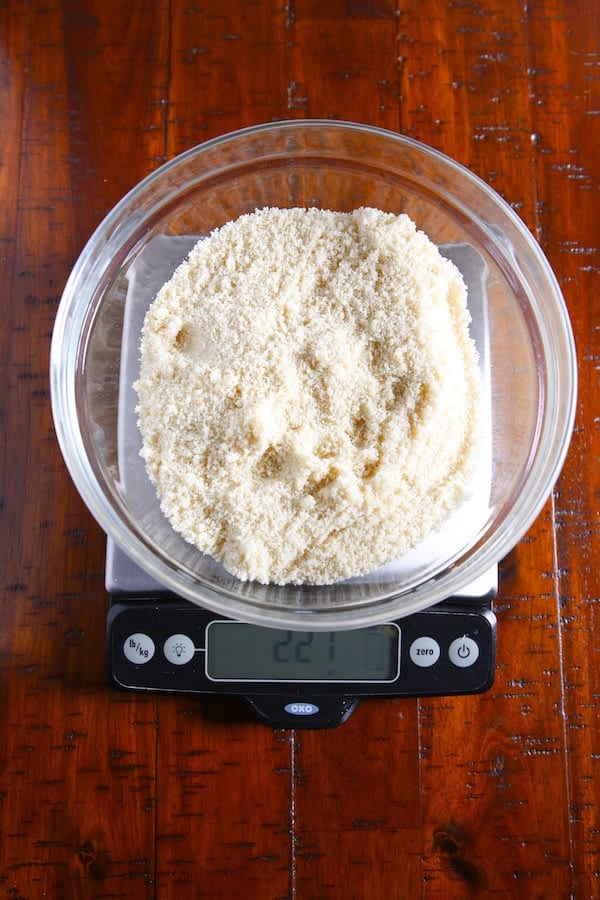 First, we start with almond flour. You want a really finely ground almond flour. I really like Honeyville's almond flour. However, you have to order it online. If you don't want to do this, pick up a bag of Bob's Red Mill or Trader Joe's. (note: Trader Joe's almond flour isn't blanched. So the cookies will be darker.)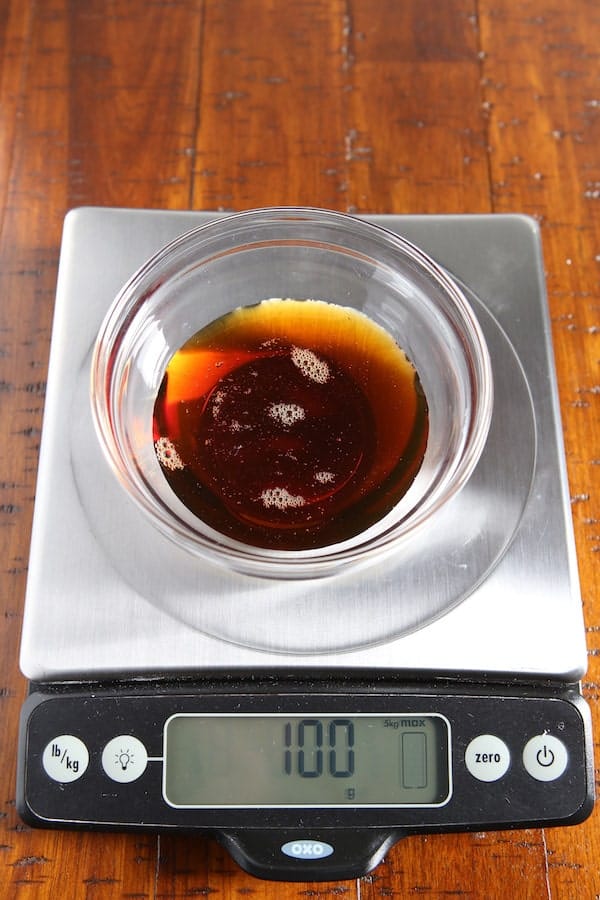 Next up, maple syrup. Select the darkest grade of maple syrup you can find for the best flavor. The darker the syrup, the more impurities it contains. Now, I know, that impurities sounds like a bad thing. For syrup, it isn't. It just means the syrup is more flavorful. For years, this syrup was called "Grade B". Now, it's usually called "Grade A Dark." The name Grade B was phased out because the name "grade B" lead some people to think that it was of lesser quality than "grade A" syrups.
If you can't find a dark syrup, go ahead and use a lighter syrup. The recipe will work. However, the maple flavor won't take a staring role.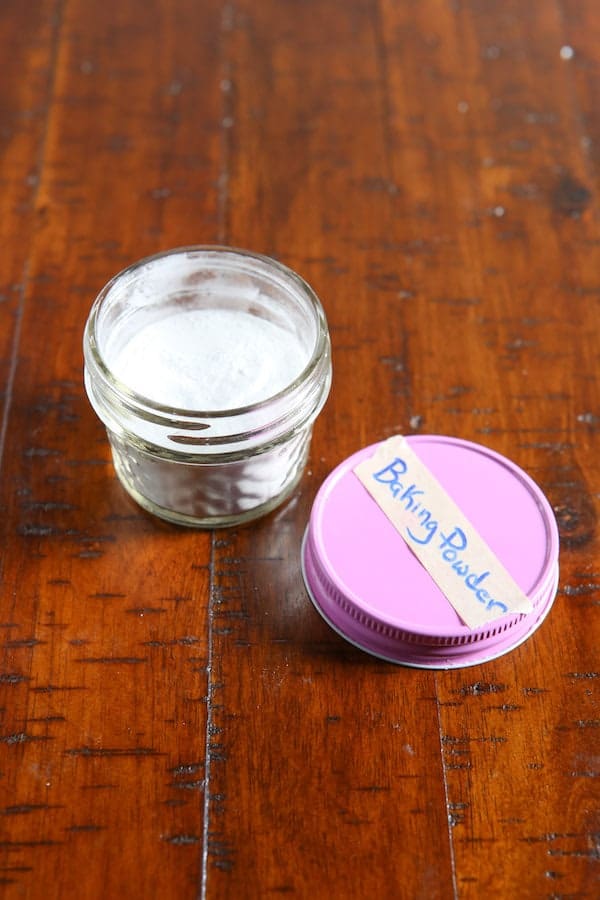 If you are following a strict grain-free diet or have a corn allergy, you are going to want to make your own paleo baking powder. (Most traditional baking powder contains corn starch to prevent it from clumping.) If you are okay with a smidgen of baking powder, go ahead and use the store bought stuff.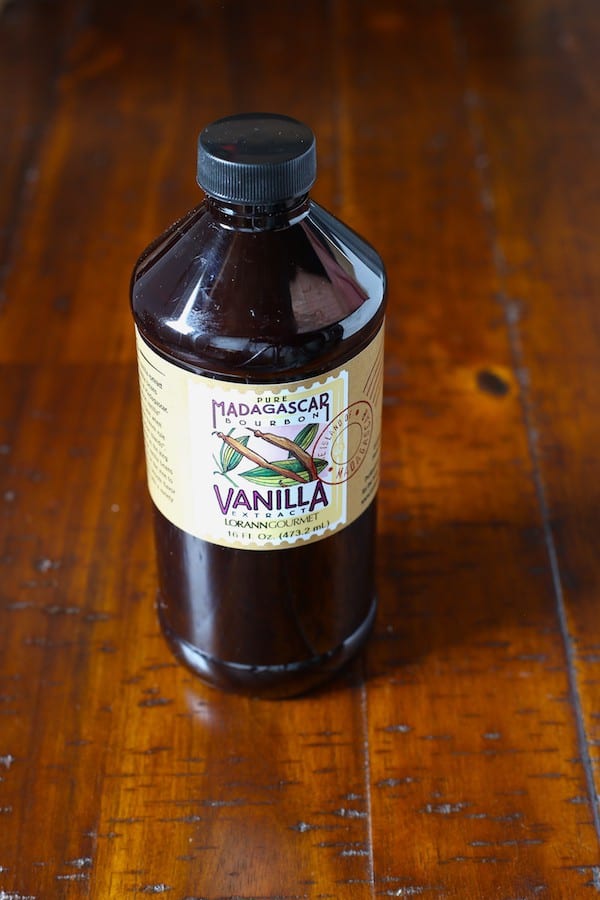 Vanilla is the last ingredient in the cookies. (Yep, these almond cookies only have four ingredients. I know! Crazy, right?) You use a generous amount of vanilla extract! Two teaspoons. However, since the almond and maple bring such strong, lovely flavors to the table, the vanilla extract needs a little boost to get noticed. If you don't love vanilla, reduce it to one teaspoon or omit completely. (If you omit, add two additional teaspoons of maple syrup to the recipe.)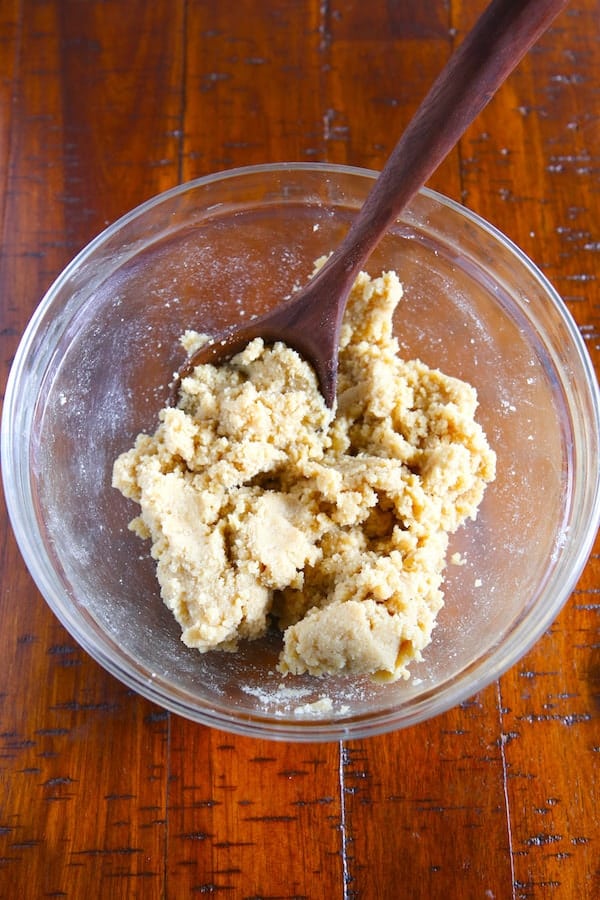 Stir everything together with a wooden spoon. That's right, you don't even have to use a stand mixer. (Of course, you can use an electric mixer if that's more comfortable for you.) As you stir the dough, the almond flour releases some oil and the dough comes together easily.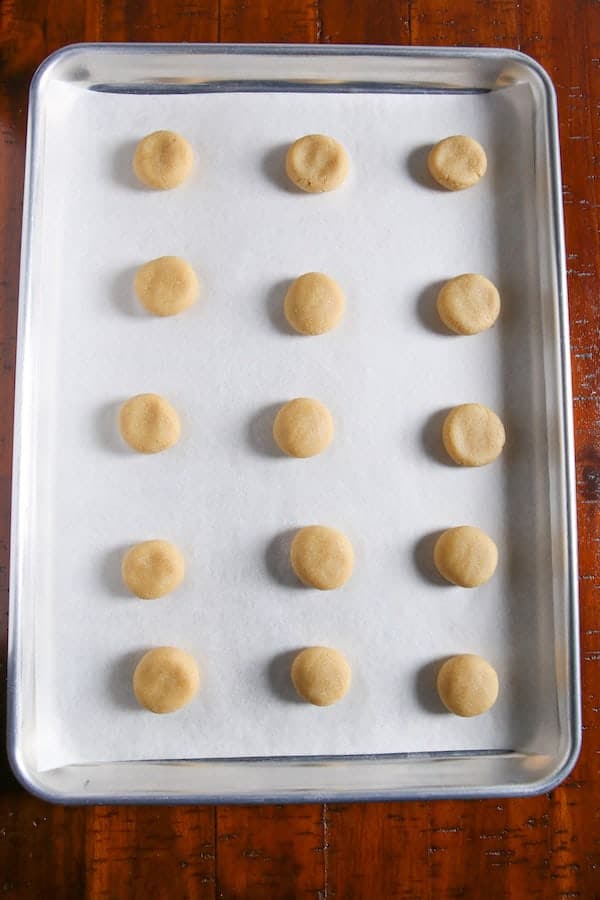 Scoop dough onto a parchment-lined baking sheet. You can make these cookies large (1 1/2 to 2 tablespoons) or petite (2 teaspoons). I like 'em petite. Whatever the size, scoop them onto a cookie sheet. For soft cookies, don't press them down. For crispy cookies, press them down. Easy-peasy!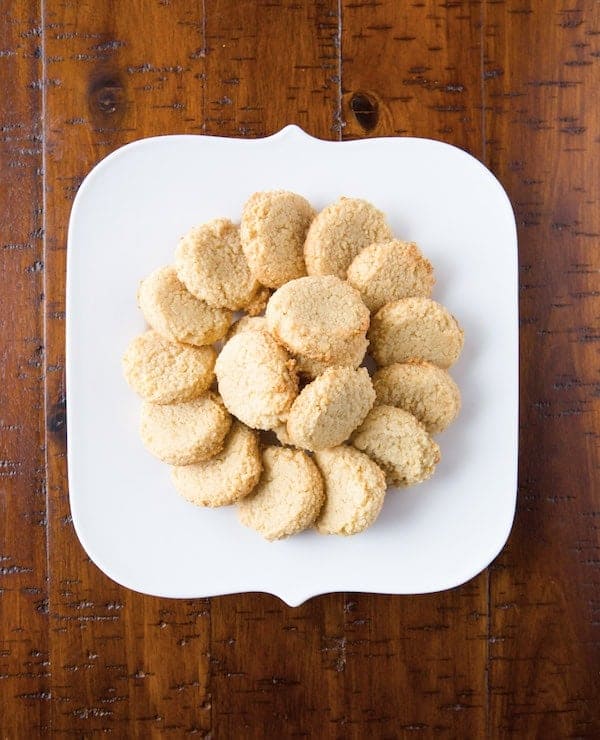 Bake. And….done! That's it! Really.
Store the almond cookies in an airtight container for up to one week. If it's really humid in your area, they will get soft. If it's really dry, they'll get a little crisp. (Since these cookies contain no eggs or dairy, the maple sugar in them makes them susceptible to weather changes.)
Paleo Almond Cookies: Variations
Chocolate Chip Almond Cookies. Add half cup of mini chocolate chips to the dough.
Cranberry-Orange Almond Cookies: Add half cup of dried cranberries and the zest of one lemon to the dough.
Chocolate Dipped Almond Cookies. Dip baked cookies into melted chocolate. (See Nom-Nom Paleo's Post for a step-by-step.)
Bacon Almond Cookies. Crumble two cooked slices of bacon into the dough.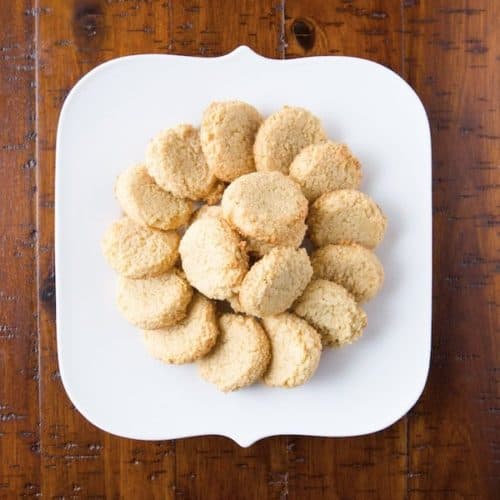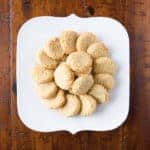 Paleo Almond Cookies Recipe (aka The World's Easiest Cookies.)
Made with almond flour, baking powder, maple syrup, and vanilla extract. These paleo almond cookies come together in minutes!
Ingredients
2

cups

finely ground almond flour

(8 ounces; 226 grams)

1/2

teaspoon

paleo baking powder

1/3

cup

dark maple syrup

(3 1/2 ounces;100 grams)

2

teaspoons

vanilla extract
Instructions
Adjust an oven rack to the middle position and heat the oven to 350°F. Line a rimmed baking sheet with parchment paper.

Whisk the almond flour and baking powder together in a medium mixing bowl. Switch to a wooden spoon and stir in the maple syrup and vanilla. Stir until a sticky dough forms and holds together.

Drop rounded tablespoons of the dough onto the prepared baking sheet, about one inch apart. For crisp cookies, press down the dough lightly with the flat bottom of a drinking glass or measuring cup. (If the glass sticks to the dough, dip the bottom in water.) For softer cookies, don't press down the dough.

Bake until the edges are golden brown, about 12 minutes. Allow the cookies to cool on the pan for about 3 minutes, then transfer them to a wire rack to cool completely. Cool baking sheet between batches.