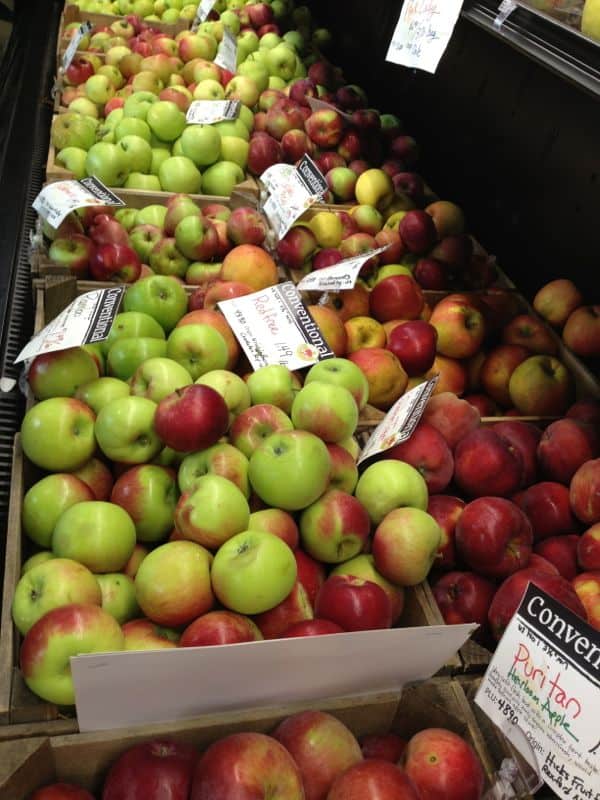 It's almost the middle of October and I still haven't made an apple pie! I know. Awful, right?
It's not my fault*. I blame the foliage. Usually by this time, the trees in upstate New York have burst into color. Not this year.
*It's totally my fault. Apple pies don't make themselves. I just haven't had time. But that's not as fun to admit. Let's blame something totally outside my control. WOOT!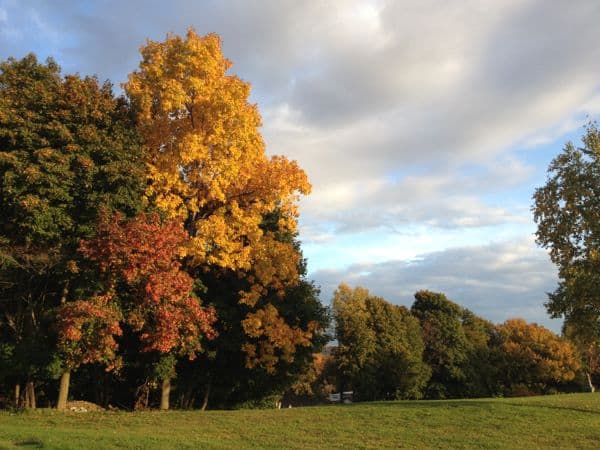 So.much.green! No leaves on the lawn? What the what? One needs to be *inspired* to bake a pie. They need leaves on the ground* and a chill in the air. It's all about romance and feelings.
*Leaves have never been included in a pie recipe. Ever. That's just an excuse for laziness right there. Romance and feelings? Ha!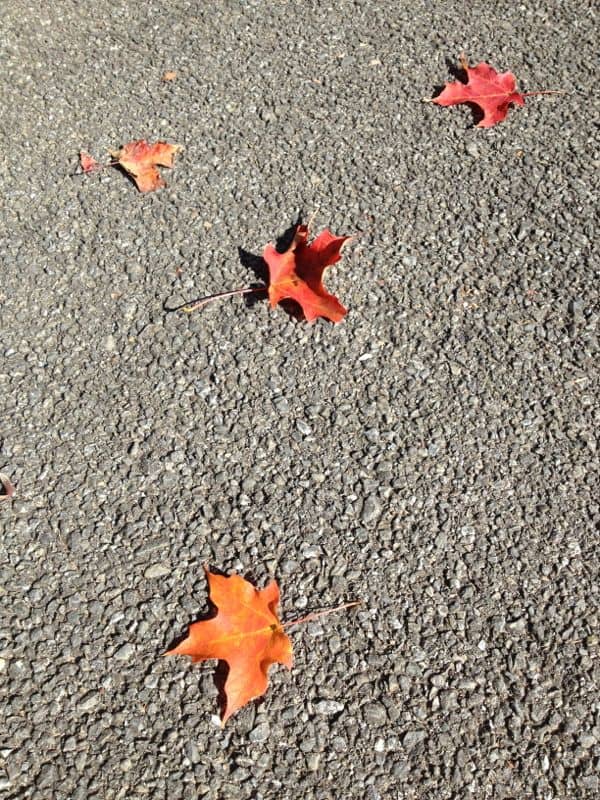 At least these four guys are doing their job. Perhaps they can nag their friends to join them*.
*Then I'd be complaining about having to rake the lawn. It's a no-win for the leaves in this scenario.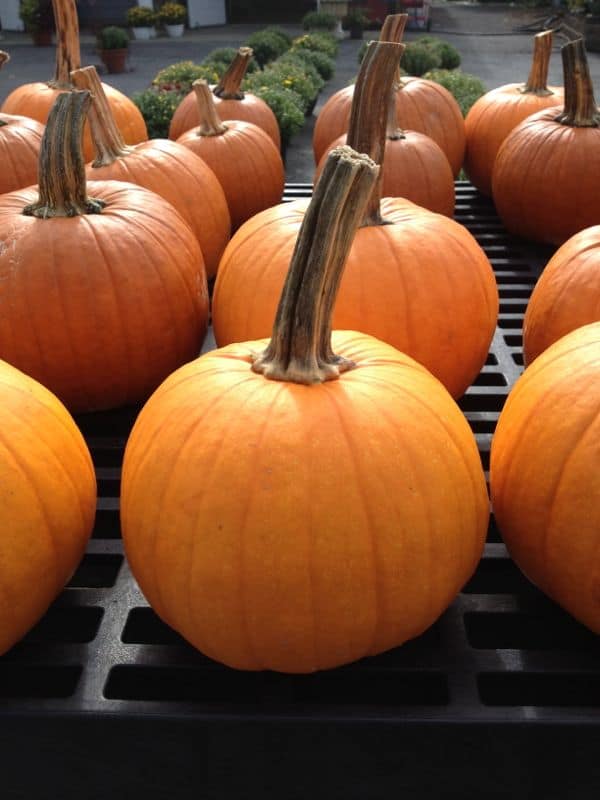 Thankfully, and with no help from the trees, the rest of autumn is in full swing. Our local orchards are full of apples, pumpkins, and other good things*.
*Like gluten-filled cider doughnuts that I can't eat.
Each year I need "just one more" pumpkin. I mean, look at these guys! How can I pick just one? Or five*?
*My wallet really wishes I could pick just one. Who needs to spend that much money on pumpkins? No one, that's who!
Then there's the apples. Oh, man. THE APPLES.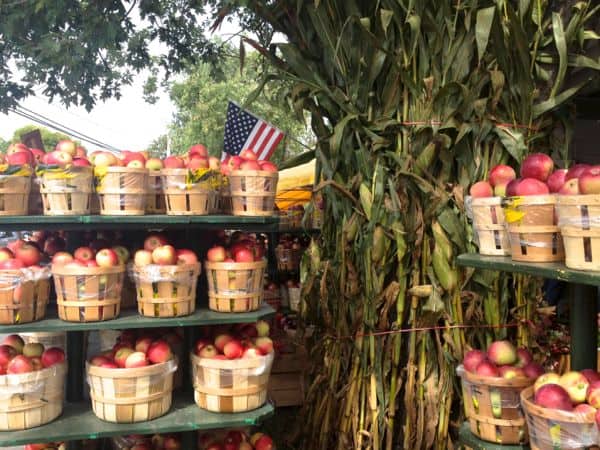 New York is the second-largest apple producing state in the country. (Washington State is #1*.)
*Show-offs.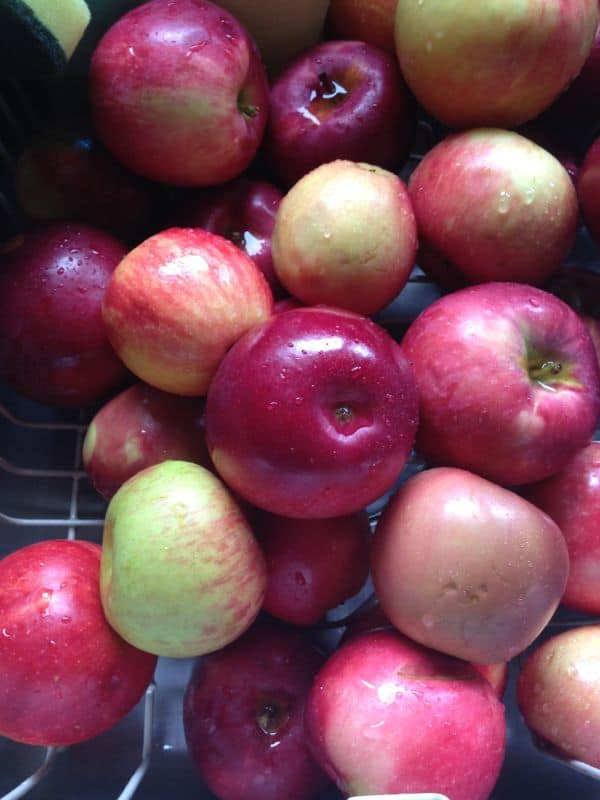 But still. It's October. I want an apple pie. Or apple doughnuts. Or apple muffins*!
*Ohhhhh, apple muffins! That sounds like a good idea. Let's do that!
Unlike apple pie, which isn't hard but takes some time, apple muffins are really fast to make. They're easy too!
How to Make Paleo Apple Muffins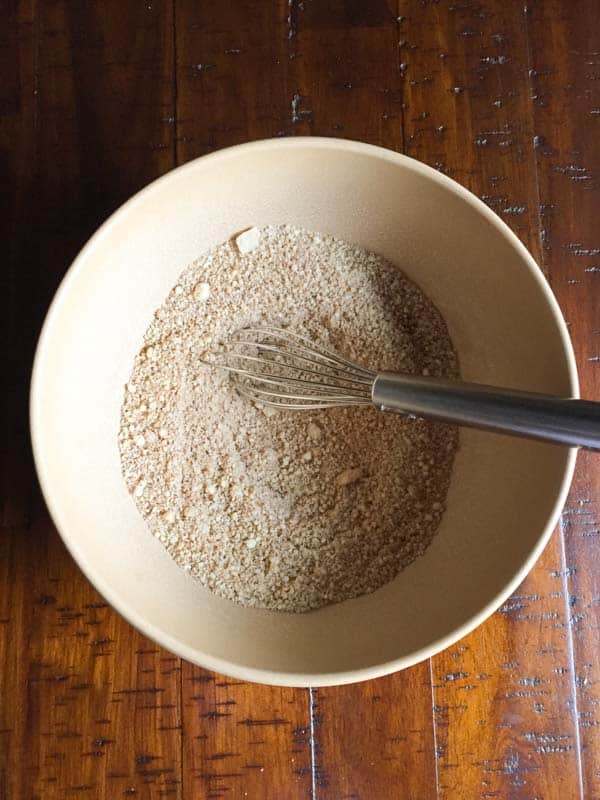 These paleo apple muffins start with almond flour. As you can see in the picture, almond flour, even finely ground almond flour, can sometimes clump. After you add the cinnamon, baking powder, and salt, give the dry ingredients a vigorous whisking. (You can do this before you add the other ingredients, if you remember! Which, clearly, I did not.) If the little clumps of almond flour don't break up, rub them with your hands (clean, dry hands, please). This always works.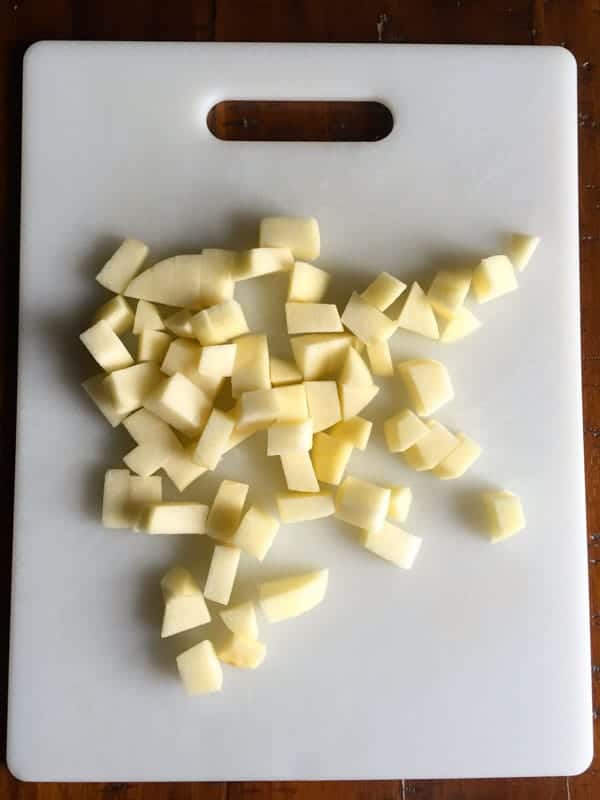 Before we continue making our paleo apple muffins, we have to talk about something important. The texture of apples in muffins! I don't know about you, but I can't stand apple muffins that don't contain large chunks of apples. This is such a stupid food preference of mine but there you have it. For me, muffins with shredded apples don't taste as good. (I also like chocolate chips in my chocolate chip and mint chocolate chip ice cream. None of that flaked chocolate for me.)
Some apples are better for baking than others. This really matters when you're making a pie or other desserts. For this recipe, however, it doesn't really matter which apple you use. It's all about what type of texture you want in the finished muffins. If you like your apples to be crisp and chunky, use granny smith apples or another apple labeled "good for baking." If you prefer soft and tender bits of apple, use an apple that's good for sauce, like Paula Red. (If you aren't sure which apple are baking apples and which apples are sauce apples, check out this guide.)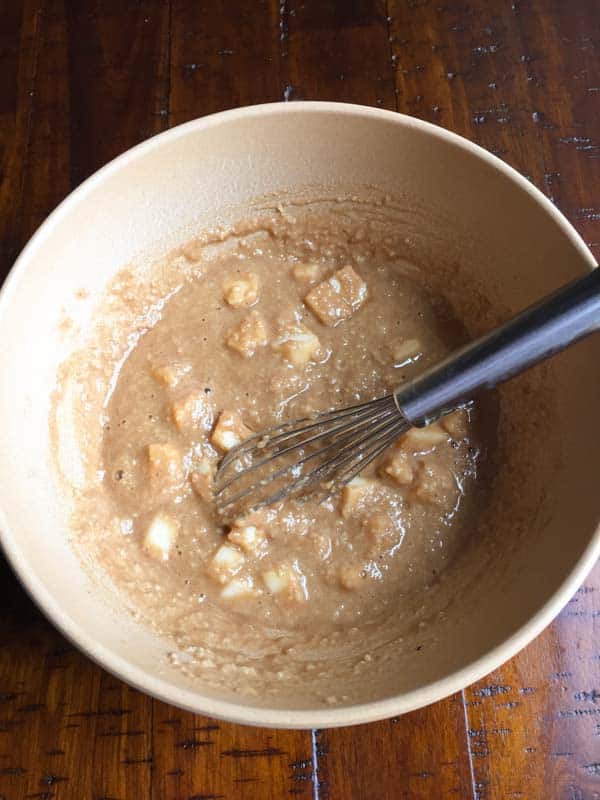 First, add the maple syrup and the eggs to the dry ingredients. Whisk until a batter forms. You can use a handheld whisk for this or you can use an electric hand mixer. Whatever makes your life easier is what you want to use.
Then stir in your apple pieces. The batter is done! Wasn't that easy?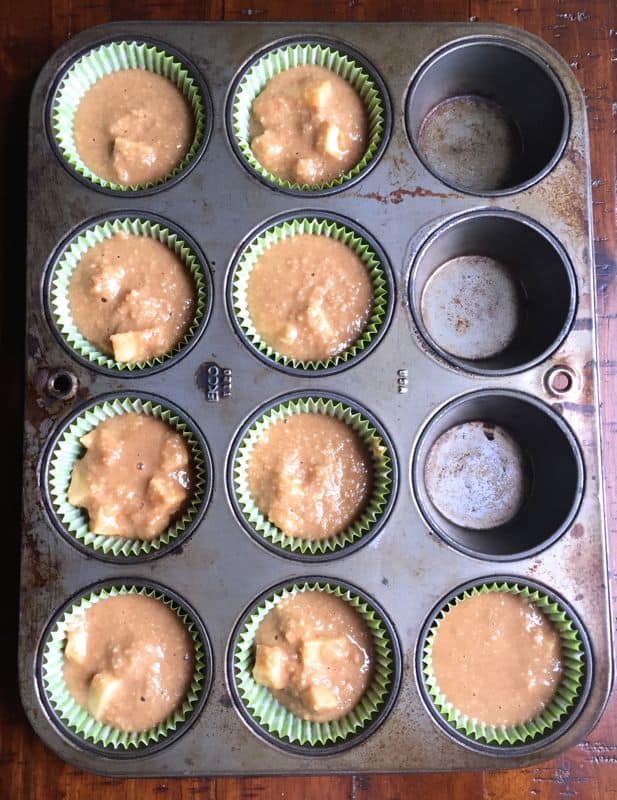 Line an old* muffin tin with paper liners and drop the batter into the pan.
*You don't need an old tin. My poor thing works just fine, it's just old and more than a little scratched. Let's call this patina! It'll make my tin sound chic instead of old. Btw, I promise, the thing is clean! Scratched I can handle. Dirty is never, ever okay!)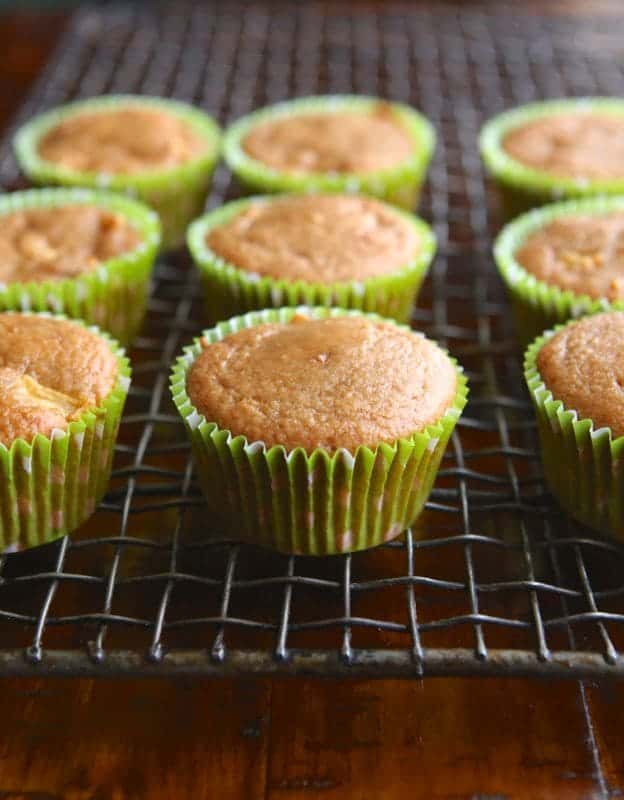 Bake. Cool. Eat*.
*The best part.
Like most grain-free baked goods, these muffins are best the day they are made. Depending on the humidity of your area, they last for about three days on the counter. If you aren't going to eat nine muffins in three days, I suggest freezing the muffins once they cool.
Now, if those leaves would only change. I could make an apple pie!
Oh, no. They heard me! Now I have bake and rake. Wah! Excuse me while I eat an apple muffins and ponder this startling turn of events.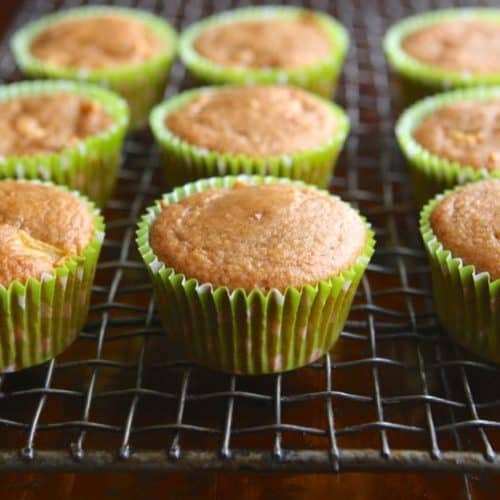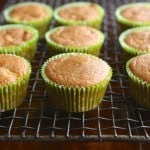 Paleo Apple Muffins
These grain-free apple muffins taste just like apple pie! For a crunchy apple texture, use Granny Smith apples. For a softer texture, select Paula Red.
Ingredients
1 1/4

cups

finely ground almond flour

(5 ounces; 142 grams)

1

teaspoon

ground cinnamon

1

teaspoon

grain-free or homemade baking powder

1/4

teaspoon

salt

2 1/2

tablespoons

maple syrup

(1 3/4 ounces; 50 grams)

2

large

eggs

(about 1 3/4 ounces; 50 grams, out of shell)

1

large

apple, peeled and chopped into bite-size pieces
Instructions
Preheat oven to 350 degrees F. Line 9 standard-size muffin cups with paper liners.

In a medium bowl, whisk together almond flour, cinnamon, baking powder, and salt. Add maple syrup and eggs. Stir until combined. Add chopped apple; stir. Fill muffin cups 2/3 with batter.

Bake until muffins spring back to the touch, about 18 minutes.

Remove pan from oven. Allow muffins to cool in the pan for five minutes before transferring to a wire rack. Store cooled muffins on the counter in an airtight container for up to three days or freeze, wrapped tightly in plastic wrap, for up to two months.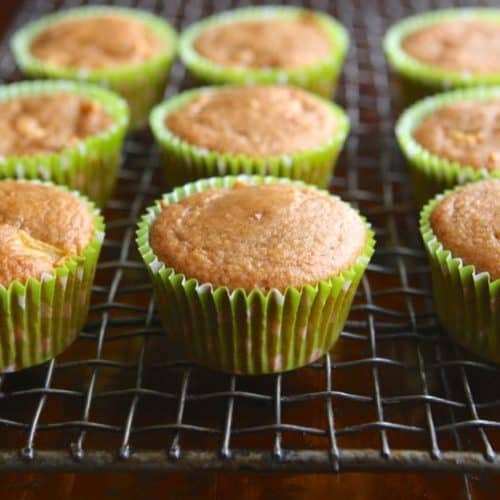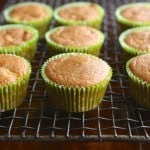 Homemade Paleo Baking Powder
Most store bought brands of baking powder contain a grain-based starch. However, it's easy to make your own.
Ingredients
1/4

cup

of cream of tartar

2

tablespoons

baking soda

1/2

teaspoon

tapioca starch

this prevents clumping
Instructions
Whisk all ingredients together. Store in an airtight container.