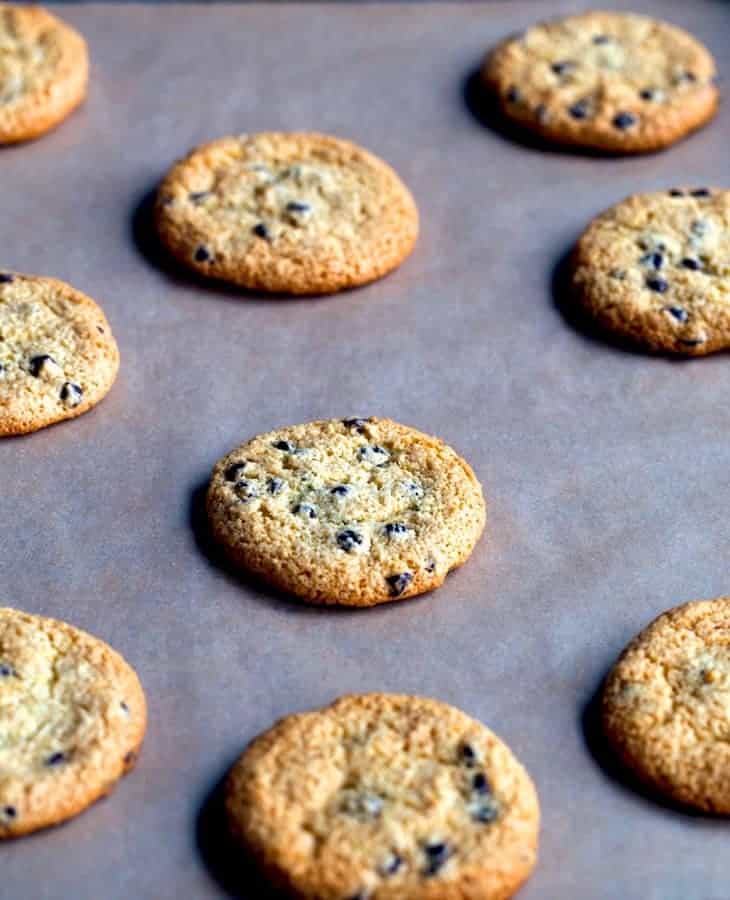 All hail the king of cookies! These paleo chocolate chip cookies are a new take on an old favorite. The honey and maple syrup combine to create an almost caramel-like flavor. I prefer my chocolate chip cookies without the addition of chopped nuts. However, if you like nuts, go ahead and stir in a half-cup of your favorite. Walnuts are a traditional addition, but any chopped tree nut will work!
Paleo Chocolate Chip Cookies: The Important Stuff
If you're reading this, I know one thing about you! (grabs crystal ball) You're pondering making paleo chocolate chip cookies! I don't want to keep you from that pursuit. So here's everything you need to know about this recipe!
Does this recipe make crisp or soft chocolate chip cookies?
Crisp! There's a recipe for soft-baked chocolate chip cookies in my new book. affiliate link That one uses coconut flour. This recipe, made with almond flour, bakes up nice and crispy.
Why isn't there coconut oil or butter in the recipe?
It doesn't need it! The almond flour brings enough fat to the party. This means you can dump all the dry ingredients into a bowl, add the wet ingredients and stir. No need to cream a fat, like coconut oil or butter, with a sugar to start. You save a step!
What's up with using both honey and maple syrup?
Ah! Good question! The combination of honey and maple syrup tastes a little like brown sugar when baked and you don't need to use molasses or brown sugar. If you only have one on hand, go ahead and use it. The recipe still works.
Are chocolate chips paleo?
That depends on how you define paleo. On this site, I use the term paleo to mean grain, legume, and dairy-free. I avoid refined sugar but I do use sweeteners like honey, maple syrup, coconut sugar, and evaporated cane juice. For this recipe, I used Enjoy Life chocolate chips. The chips are gluten-free (actually, they are free of gluten, peanut, soy, casein, potato, wheat, tree nut, fish, sesame, dairy, and egg!) and are sweetened with evaporated cane juice. That works for me!
What's the history of the chocolate chip cookie?
I'm SO glad you asked! Read this story! (Story warning: you'll want a chocolate chip cookie by the time you're done reading it.)
Paleo Chocolate Chip Cookies: The Shopping List
Here are the tools and ingredients I used to make this recipe. I hope you find this helpful!
The above are Amazon affiliate links. If you use them to shop, I'll earn a small commission which helps support the site.
Ingredients
Almond Flour (I've made this recipe with both Bob's Red Mill and Honeyville. They each work GREAT!)
Tapioca Starch
Honey (Buy local honey!)
Maple Syrup
Chocolate Chips
Tools
Mixing Bowl <—I LOVE these bowls. For this recipe, I used the second-to-the-largest bowl.
Whisk
Wooden Spoon
Baking Sheet
Parchment Paper
Cookie Scoop <–The best cookie scoop EVER.
Cooling Rack
Cookie Spatula <–Yup. I actually use this. Someone gave it to me as a gift and, wouldn't you know it, I LOVE the thing.
and…of course…The World's Easiest Paleo Baking. This recipe comes right from my new book. I'd love it if you picked up a copy!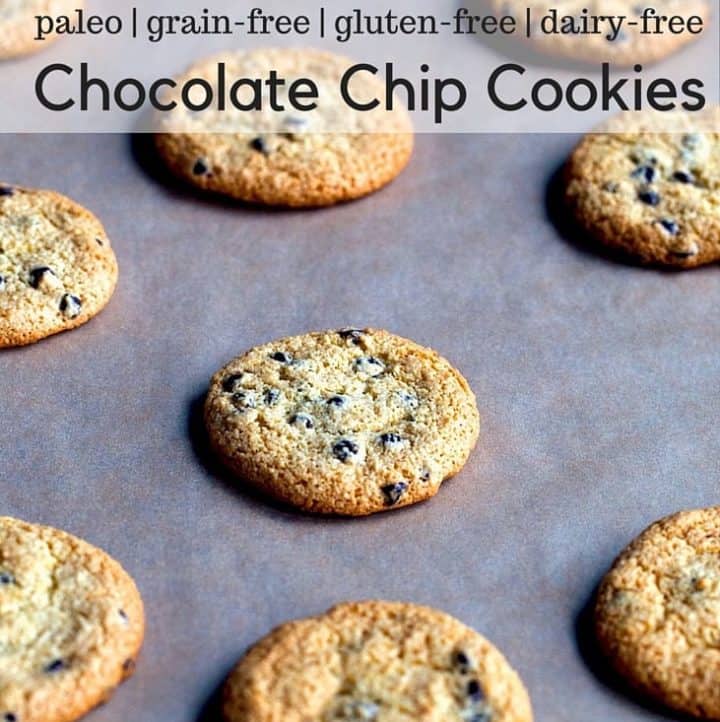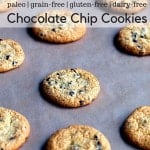 Paleo Chocolate Chip Cookies (Grain-Free & Dairy-Free)
Ingredients
1 1/4

cups

1 1/4 cups finely ground almond flour

(5 ounces; 142 grams)

1/4

cup

tapioca starch

(1 ounce; 28 grams)

1

teaspoon

baking powder, homemade or grain-free store-bought

1/2

teaspoon

salt

3

tablespoons

honey

(2 1/4 ounces; 63 grams)

2

tablespoons

dark maple syrup

1

egg yolk

(about 1/2 ounce; 15 grams)

1

teaspoon

vanilla extract

1/2

cup

dairy-free dark chocolate chips or chopped dark dairy-free chocolate

(3 ounces; 85 grams)
Instructions
Adjust an oven rack to the middle position and preheat the oven to 350 degrees F. Line a rimmed baking sheet with parchment paper.

Whisk the almond flour, tapioca starch, baking powder, and salt together in a medium mixing bowl.

Add the honey, maple syrup, egg yolk, and vanilla and stir with a wooden spoon to combine. Stir in the chocolate chips.

Drop dough by the tablespoonful onto the prepared baking sheet, spaced about 2 inches apart to allow for spreading.

Bake until golden brown, about 10 minutes.

Allow the cookies to cool on the pan for 5 minutes, then transfer them to a wire rack to cool completely.

Allow the baking sheet to cool, and repeat with the remaining dough.

Store on the counter in an airtight container for up to 4 days, or freeze, wrapped in plastic wrap and

placed in a freezer container, for up to 6 weeks.