Paleo Thin Mints are a gluten-free and dairy-free take on the classic Girl Scout cookie. This recipe uses a healthy amount of chocolate and just the right amount of peppermint to make a tasty and crunchy cookie.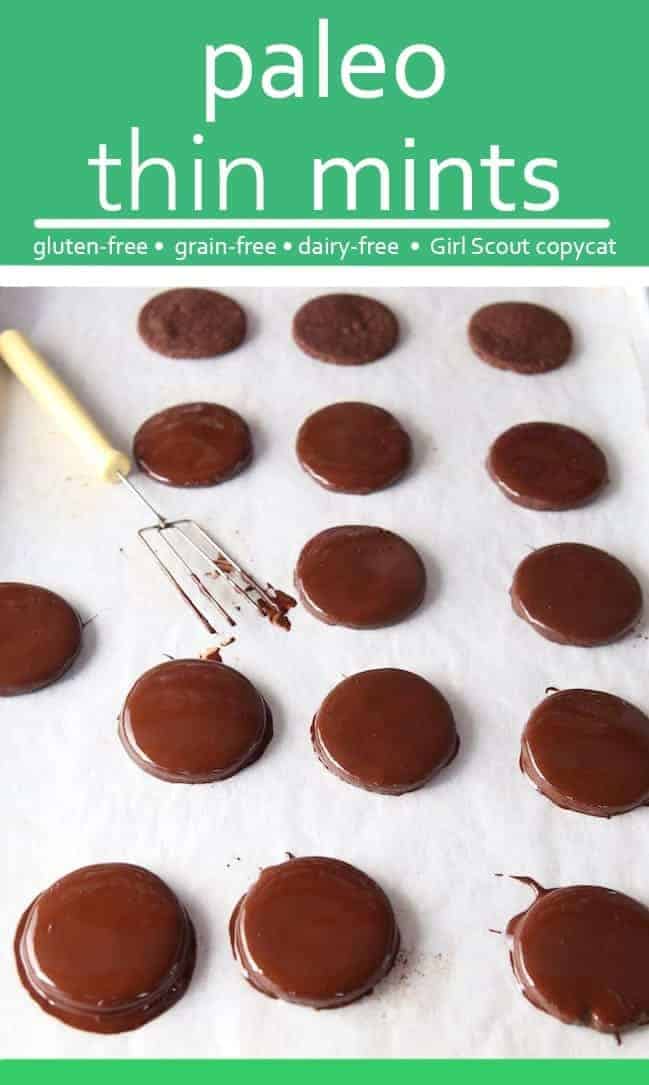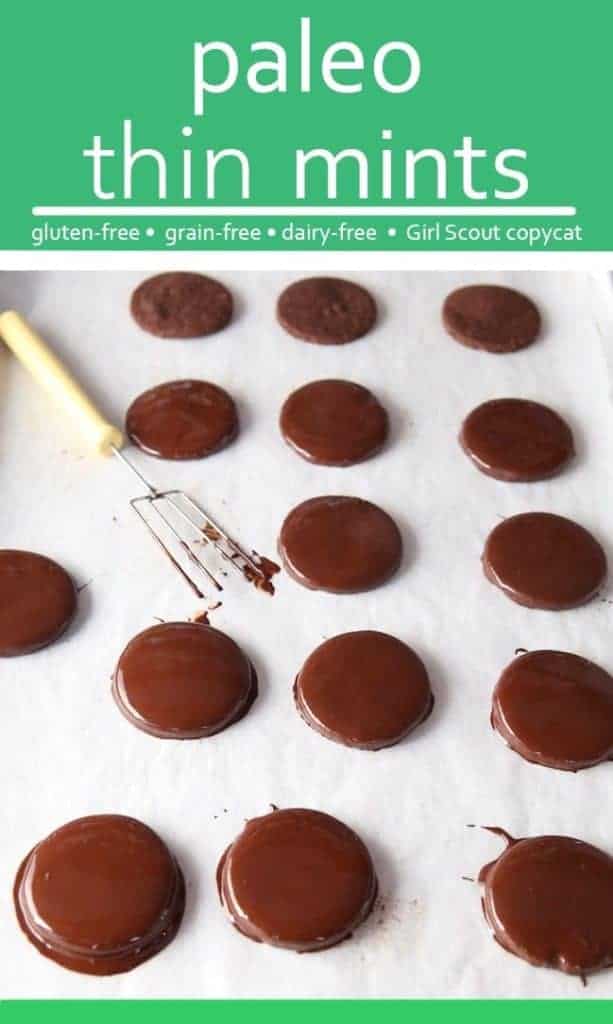 What's your favorite Girl Scout cookie? For me, it's a tossup between Thin Mints and Samoas (Caramel deLites). But my husband loves Thin Mints. So I decided to make a batch.
This was a really good decision. These cookies, dipped in peppermint chocolate, came out–dare I say it?–better than the ones sold by your local Scouts. The best part? You can make 'em year round!
Paleo Thin Mints: The Ingredients


The Flours
The dough for these cookies comes together easily. Since it's a paleo recipe, I used a combination of finely ground almond flour and just a little coconut flour. The almond flour gives the cookies the crunch you expect from a thin mint cookie. The coconut flour thickens the dough and provides it with body, making it easy to roll out the dough.
When selecting your flours, look for a finely ground almond flour. I really like Honeyville Almond Flour. If you can't find it buy regular almond flour and sift it to remove any large pieces. (Sift the almond flour before you measure it.)
The Sugar
Coconut sugar brings a rich sweetness to these cookies. I find the flavor of coconut sugar similar to that of molasses. If you prefer a sugar that doesn't have a hint of bitterness, use evaporated cane sugar, which tastes a bit like caramel.
Just don't use a liquid sugar, like maple syrup or honey, in this recipe. These sugars make the dough soft and sticky. A soft and sticky dough is almost impossible to roll.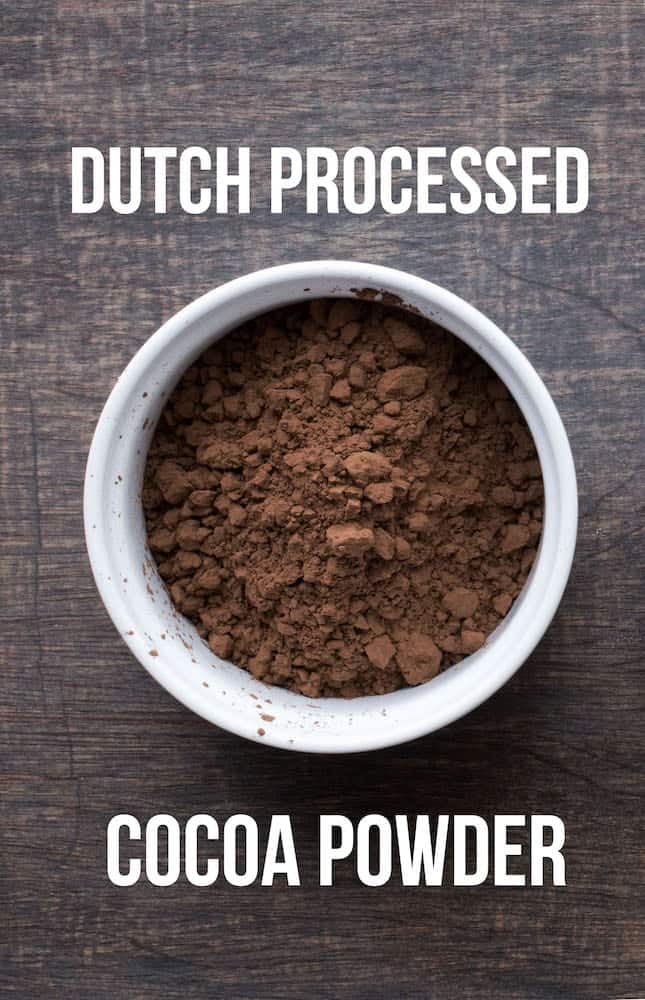 The Cocoa Powder
Thin Mint cookies should be minty, of course, but they should also be chocolatey. For an intense chocolate flavor, use Dutch processed cocoa powder. This cocoa powder has been alkalized and has a dark, rich color and wonderful chocolate flavor.
If you can't find Dutch cocoa powder at your local grocery store, try a specialty store, like Whole Foods or order it online. It's worth it.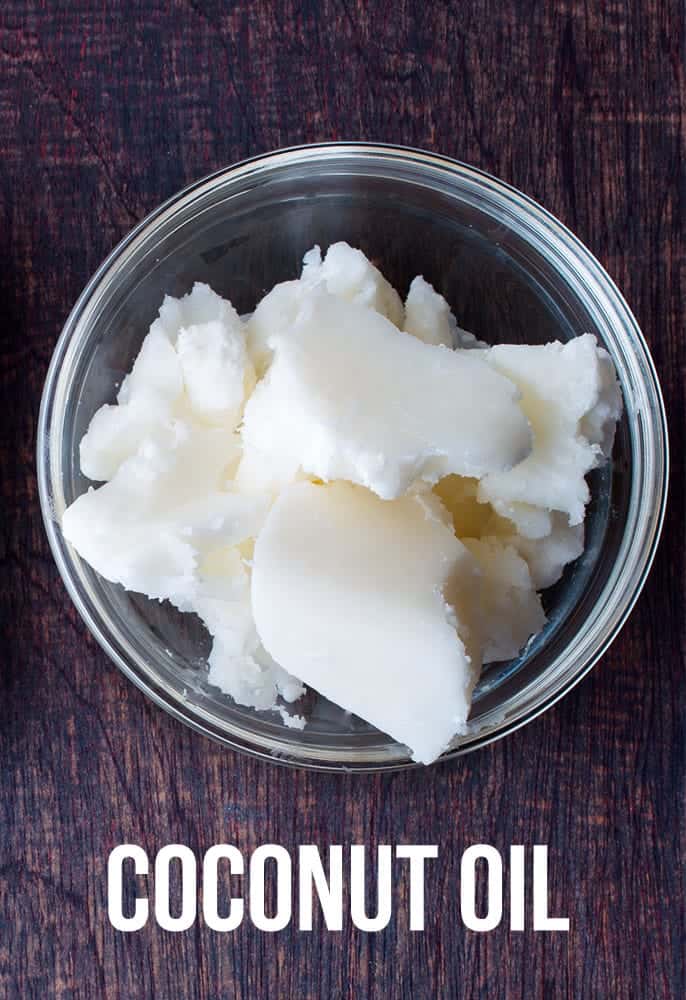 The Fat
To make these thin mints dairy-free, use solid coconut oil. If dairy isn't an issue for you, cold butter works great in this recipe. Whichever fat you use, be sure it's cold. Unlike most cookie recipes where we cream together the softened fat and sugar, this recipe uses cold fat to give us nice flaky cookies. Cold fat= great texture.
The Egg
One egg helps to hold the dough together and brings a richness to the cookies. I haven't tried these cookies without the egg; so I'm not sure if it would work egg-free. However, if you want to give it a try, I'd increase the amount of milk (regular or dairy-free) to make up for the missing liquid from the egg.
Baking Soda, Salt, and Milk
The remaining ingredients are pantry staples: baking soda, table salt, and milk. Any type of milk (non-dairy or traditional) works in this recipe.
Paleo Thin Mints: Mixing the Dough
This dough comes together like a pie dough. You mix all the dry ingredients together and then cut in the fat. A food processor makes quick work of this step. However, if you don't own a food processor, don't despair! Paleo Thin Mints can still be yours.
To make them by hand, whisk the dry ingredients together in a large bowl and then cut the fat in with a pastry cutter. Some folks use a fork to do this. A fork works fine but, just be warned, it takes forEVER.
Even if you use a food processor to mix the dough, you want to stir in the egg and milk by hand. I know this sounds crazy going from a food processor to a wooden spoon. But hear me out. When made in a food processor, sometimes the dough doesn't come together right away, causing you to overmix it. This can cause the oil to run out of the almond flour. We want to avoid that.
So grab a wooden spoon and mix this dough by hand. You'll be glad you did!
Paleo Thin Mints: Rolling and Cutting the Dough
After the dough chills for a little while, dust it with cocoa powder and roll it between two pieces of parchment paper. I always let my dough sit at room temperature for about ten minutes before I roll it. Cold dough, especially dough made with coconut oil, tends to rip as you roll it. Let that dough warm up a smidgen before you roll it out.
Paleo Thin Mints: Baking
Bake these cookies until they look flat and the house smells like chocolate. Seriously. These smell so good while they bake! As with any chocolate cookie, it's hard to tell when they're done because they won't turn golden brown. The appearance does change. Look for a flat, not shiny finish on the cookies.

Paleo Thin Mints: Dipping in Chocolate
Once the cookies have cooled, it's time to transform them from chocolate rollout cookies to Paleo Thin Mints.
Grab your favorite dark chocolate and a few drops of pure peppermint oil. Do NOT use peppermint extract. It does not taste the same as peppermint oil and the cookies won't be as good.
Melt the chocolate in the microwave or over a double boiler until smooth. Then add the peppermint oil and coconut oil.
Line a baking sheet with parchment paper. Dip the cookies into the warm chocolate and place on the baking sheet. Allow the chocolate to set up. If the chocolate doesn't set (this can happen since we aren't tempering the chocolate), pop the cookies into the fridge.
Once the chocolate hardens, they're ready to eat. Now the problem begins. Can you eat just one or two? (I can't!)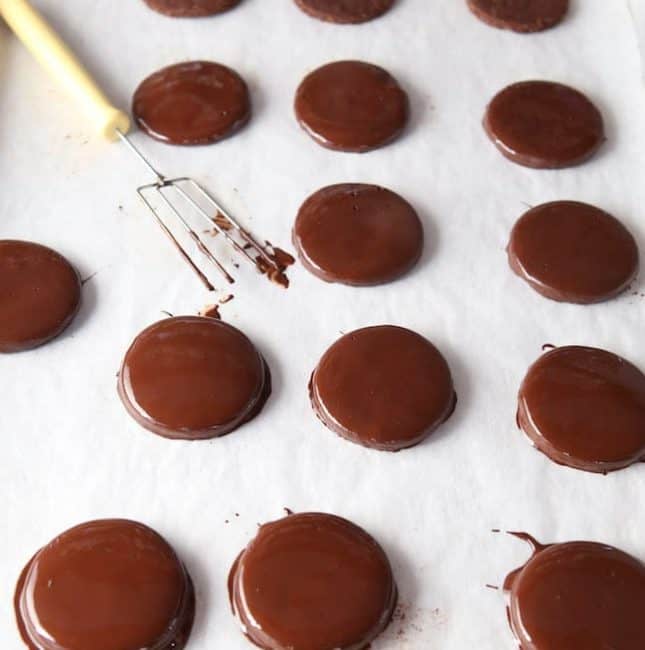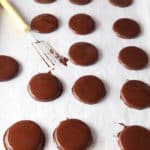 Paleo Thin Mints (Gluten-Free, Dairy-Free, Girl Scout Copycat)
Total Time
1
hour
10
minutes
Ingredients
For the Cookies
170

grams (1 1/2 cups)

finely ground almond flour

85

grams (1/2 cup)

coconut sugar or evaporated cane juice

38

grams ( 1⁄4 cup plus 2 tablespoons)

Dutch-process cocoa powder

plus additional for dusting,

21

grams (3 tablespoons)

coconut flour

1/2

teaspoon

baking soda

1/2

teaspoon

salt

57

grams (1/4 cup)

coconut oil

solid, or unsalted butter, softened

1

large

egg

(about 50 out of the shell)

1

tablespoon

milk

dairy-free or traditional
For the Chocolate Coating
340

grams (12 ounces)

72% dairy-free dark chocolate

chopped

1

tablespoon

coconut oil

pure peppermint oil (You'll only use a few drops)
Instructions
Adjust an oven rack to the middle position and preheat the oven to 350 degrees F. Line a rimmed baking sheet with parchment paper.

To make the dough in a food processor: Combine the almond flour, coconut sugar, cocoa powder, coconut flour, baking soda, and salt in the food processor. Pulse a few times to combine. Add the coconut oil and pulse until no large pieces of coconut oil remain, six or seven pulses. Turn the mixture out into a large bowl. Add the egg and milk. Stir together with a wooden spoon until a dough forms.

To mix the dough by hand: Combine the almond flour, coconut sugar, cocoa powder, coconut flour, baking soda, and salt in a large mixing bowl. Whisk to combine. Add the coconut oil. Use a pastry cutter or your fingers to cut the coconut oil into the dry ingredients until the mixture resembles coarse meal. You don't want any large nubs of coconut oil. (If you use your fingers, work in the coconut oil with a quick snapping motion. Stir in the egg and milk with a wooden spoon. Mix until a stiff dough holds together.

Place a 12 by 16-inch piece of parchment paper on the counter and dust it lightly with cocoa powder. Turn the dough out onto the parchment and dust the top with cocoa powder. Cover the dough with a second piece of parchment. Roll the dough out to a 1/8-inch thickness. Cut the dough into rounds with a 1 3/4-inch cutter.

Transfer the cookies to the prepared baking sheet. You can place the cookies fairly close together, because the dough doesn't spread.

Bake until the cookies are set and aromatic, about 10 minutes.

Allow the cookies to cool on the pan for 5 minutes, then transfer them to a wire rack to cool completely.

Place chocolate in a small glass bowl. Microwave on medium heat for 30 seconds. Remove from the microwave and stir. (Do this even if it looks like the chocolate isn't melting.) Repeat until the chocolate is smooth. Stir in the coconut oil and two to three drops peppermint oils into melted chocolate. Stir gently until coconut oil melts. Taste. Add more peppermint oil if needed.

Place melted chocolate into a small bowl. Dip cookies, one at a time, into melted chocolate. Place dipped cookies onto parchment lined baking sheet. When all cookies are dipped, chill until chocolate sets, about 20 minutes.

Store cookies in an airtight container for up to one week.