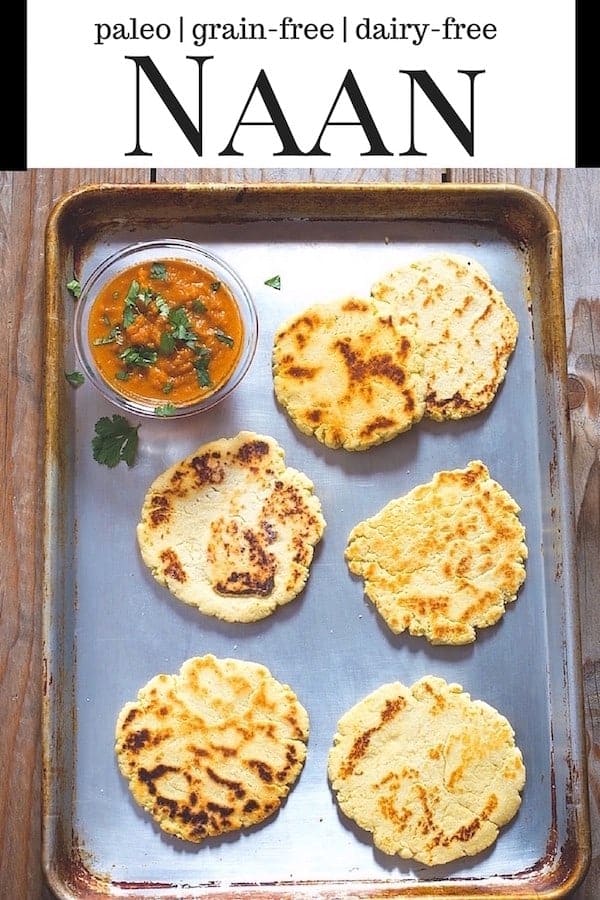 Paleo naan in minutes? Yes! When the recipe is yeast-free, naan in just 30 minutes is totally possible. This bread makes a great accompaniment to thick stews, curries, and other hearty meals. Note: This paleo naan tastes best the day it's made.
Paleo Naan: Mixing It Up
All you need to do to mix this dough is combine all the ingredients in a large bowl, stir with a wooden spoon, and wait. And you know that's the most important part? Waiting. Yup! Waiting. This dough requires a short, five minute rest. For wheat-based baking, the rest would give the strands of gluten time to relax. Since our recipe is gluten-free, we don't need to allow the gluten to chill. Rather, we want the tapioca starch to absorb the eggs and coconut oil. If you try to knead the freshly mixed dough, it'll be too soft and tender. During the five minute rest, magic happens. The dough stiffens enough for you to knead it. So don't skip that five minute rest.
Paleo Naan: Knead and Roll
To knead this dough, you need one thing: tapioca starch. This dough loves nothing more than to stick to the counter. With enough tapioca starch, this won't happen.
"Elizabeth, what's enough tapioca starch?"
Good question. I have NO idea! "Enough" tapioca starch will depend on how humid the day is and how much starch you kneaded into the dough when you made it. Here's how to get to "enough". Generously dust your counter with tapioca starch, about one tablespoon, and then dust the top of the dough with a little starch. Knead the dough gently. If it doesn't stick to the counter, it's enough. If it sticks to the counter, gather up the dough, re-roll it, and start over with more starch than you used the first time.
I wish I could give you a precise measurement. This is one of those baking things that's more of an art than a science.
Once you've kneaded the dough for a minute or so, gather it into a ball and cut into six pieces. Again, dust your counter with tapioca starch. And rub a little starch onto your rolling pin while you're at it. Roll each piece of dough out, about five inches across. Put the rolled naan onto a baking sheet that's either lined with a piece of parchment paper or dusted with tapioca starch. Then it's time to bake the naan.
Paleo Naan: Baking
One of the great things about this dough is that you don't need to turn on the oven to bake it. You make it right on the stovetop. In fact, that's one of the many things I love about this bread. While you don't need an oven, you do need a heavy pan or griddle. (While developing the recipe, I tested it on a flat cast iron griddle.)
To make the naan, get your griddle nice and hot. It should be almost smoking. Drop a teeny amount of water on the pan to test it. The water should sizzle and evaporate right away. If it does, you're ready to cook. Place the naan on the hot, oiled pan and cook. It'll puff as it bakes, which I just LOVE to watch.
If you don't have a cast iron skillet, use the heaviest skillet you own. If all of your skillets are non-stick, you won't be able to heat the pan as hot. Non-stick pans should only be used with medium heat and never heated above 500 degrees F. This means that naan cooked in a nonstick skillet won't get those lovely dark spots on the surface. Nor will it have as crisp a crust.
Paleo Naan: Storing
This bread tastes best the day it's made. It tends to dry out overnight. That said, I've been known to heat up a leftover piece for breakfast the next morning. I toast it for a few minutes, just long enough to heat it up without further drying it out.
Paleo Naan: The Ingredients and Tools I Used
Here are the ingredients and tools I used to make this recipe.
The following links are affiliate links. GlutenFreeBaking.com earns a commission when you use them to shop.
Ingredients
Honeyville Almond Flour
Bob's Red Mill Tapioca Starch
Bob's Red Mill Coconut Flour
Coconut Oil
Tools
Mixing Bowl
Wooden Spoon
Rolling Pin
Cast Iron Griddle
This recipe comes from the World's Easiest Paleo Baking. I'd love it if you picked up a copy.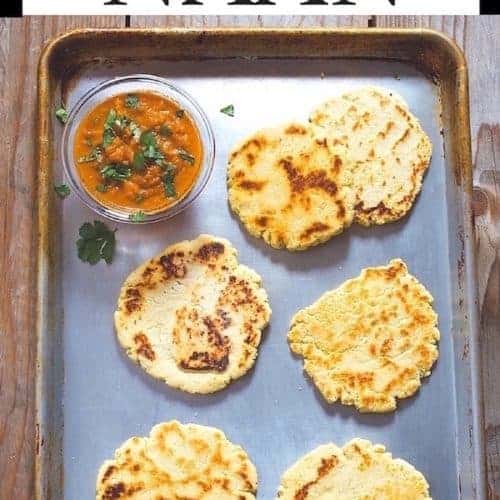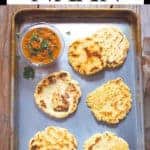 Paleo Naan (Grain-Free Recipe)
Chewy, flavorful naan is the perfect bread for soaking up sauces and curries. At my house, only crumbs are left by the end of a meal. Be sure to get your flat griddle VERY hot before putting the dough on to it. A hot griddle gives you the classic mottled appearance that makes naan so appealing.
*If you don't own a cast-iron griddle or 10-inch skillet, you can use an 8-inch nonstick frying pan. Naan cooked in a nonstick pan won't be as dark or puff as much as bread cooked in cast iron, but it'll still taste great.
Ingredients
1 1/2

cups

finely ground almond flour

(6 ounces; 170 grams)

1/2

cup

tapioca starch, plus more for kneading

(2 ounces; 57 grams)

2

tablespoons

coconut flour

(1/2 ounce; 14 grams)

2 1/2

teaspoons

baking powder, homemade or grain-free store-bought

1

teaspoon

salt

2

tablespoons

coconut oil, melted and cooled slightly, plus more for cooking

(1 ounce; 28 grams)

2

large

eggs

(about 4 ounces; 100 grams out of the shell)
Instructions
Whisk the almond flour, 1/2 cup tapioca starch, coconut flour, baking powder, and salt together in a medium mixing bowl. Stir in the melted coconut oil and eggs with a wooden spoon. Cover dough with plastic wrap and allow to rest for 5 minutes.

Dust the counter with 1 tablespoon tapioca starch. Turn the dough out onto the counter and knead it until firm. The dough should not stick to your hands. Sprinkle with more tapioca starch if it does (Depending on the humidity of the day, sometimes you need a little more tapioca starch and sometimes you need a lot.)

Pat the dough into a circle and cut it into six equal pieces. Lightly dust your counter with tapioca starch. Round each piece of dough and roll into a circle about 5 inches across.

Heat a cast-iron griddle or 10-inch cast-iron pan (* see note above) over medium-high heat. Brush the griddle with a little melted coconut oil.

When the griddle is very hot but not smoking, place the naan on it. Don't crowd them. On a large griddle, cook two or three at a time; in a skillet, cook one at a time.

Flip the bread when the surface bubbles and puffs, after about 3 minutes. Cook until golden brown on the second side, about 1 minute. Repeat with the remaining dough.