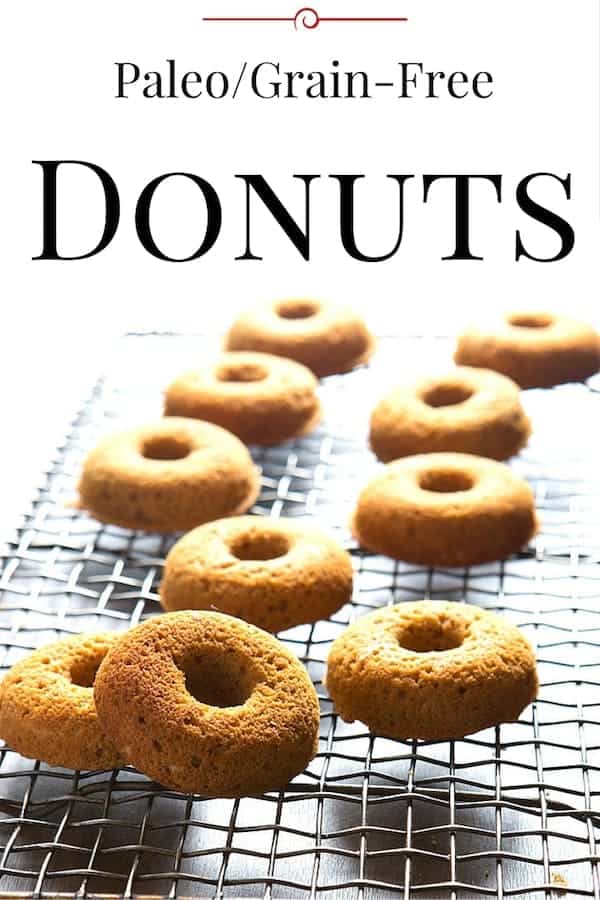 These paleo doughnuts were inspired by my grandparents, who, I'm sure lived their entire lives without ever trying a grain-free treat! But they did know they're way around a bakery. See, each morning (at least it was each morning in my memory!), they'd go to a little bakery in Burlington, Vermont. They called it…."The Bakery" and to this day I don't know what the place was actually called! Along with their morning cups of coffee and conversations with the locals, they ate old-fashioned cake doughnuts—or, as the sign proclaimed, "donuts." The doughnuts they enjoyed were dense, cake doughnuts. They weren't coated in sugar or iced with pink icing. Nope. Those doughnuts were simple and perfect.
To mimic the texture and flavor of those doughnuts, this recipe combines coconut flour and tapioca starch. The batter comes together in one bowl and, I promise, is really easy to make.
Paleo Doughnuts: Mixing the Batter
Okay. Here's the thing. I wrote the book on Easy Gluten-Free Baking. affiliate link So when I turned my attention to grain-free/paleo baking, I wanted it to be easy. Most of the recipes in the World's Easiest Paleo Baking affiliate linkonly require one mixing bowl! And this is one of those recipes. In a large mixing bowl, whisk together the coconut sugar (you can use evaporated cane sugar if you'd prefer), coconut flour, tapioca starch, baking powder, salt, and nutmeg. Then melt some coconut oil. If you aren't dairy-free, go ahead and use butter. Let the melted coconut oil or melted butter cool a little, we're talking a minute or so here, and then add it to the bowl along with the eggs, milk (I used coconut milk), and vanilla extract.
Stir everything together. Since the recipe contains coconut flour, it gets thick quick. You want to spoon the batter into doughnut pans. If you have a piping bag and a large pastry tip in the kitchen, go ahead and use that.
After you fill the pans, tap it on the counter–this helps get rid of any air bubbles and bake. That's it!

Paleo Doughnuts: Baked not Fried
As you noticed the second I mentioned a doughnut pan, this recipe makes baked doughnuts. 🙂 I know. I know! Some people believe that unless it's fried, it's not a doughnut. To those folks I say…
Umm, a recipe for fried paleo doughnuts is on my list. I also say, let me explain. (Because I get it. I love fried doughnuts too!)
When I created this doughnut recipe for my cookbook, I wanted the recipe to be really easy. To me, frying isn't easy. It's putzy. It takes time. And it stinks up the house. Don't get me wrong, sometimes it's totally worth! But not for this recipe. When baked, you end up with wonderful cake-style doughnuts. No having to pull out the fryer. And no lingering odor in the kitchen. Win-win!
To bake doughnuts, you do need a doughnut pan. affiliate link Which means that at least one person will ask me, "Do I really need a doughnut pan?!" For me, it's totally worth it. Even if I only bake doughnuts a few times a year, I like them to look like, well, doughnuts. For some folks, it isn't worth the investment. Only you can make this decision. 🙂
You can always bake doughnuts in a muffin pan. Since a muffin pan doesn't have the center heating rod like a doughnut pan, the finished texture isn't the same. Doughnuts baked in a muffin pan taste like…muffins. But they still taste good!
If you do decide to buy a doughnut pan and it only has six cavities, no problem! Bake six doughnuts. Allow them to cool in the pan as directed, then turn them out onto the rack. Wipe out the pan and grease it again. Repeat using the remaining batter.
That's it! In about 25 minutes, you'll have baked doughnuts. My goodness, it doesn't get much better than that!
Paleo Doughnuts: Shopping List
Hello! (waves!) Starting with this post, I'm adding a "shopping list" to each recipe post. I don't know about you but I like to know exactly what someone uses when they create something. The list you'll find with each recipe are the ingredients and tools I used to make the recipe. (For example, in this recipe, I used Bob's Red Mill coconut flour and Madhava's coconut sugar.) If you have any questions, let me know!
The following are are affiliate links. GlutenFreeBaking.com earns a commission if you use the links to make a purchase.
Here's what I used to make this recipe:
The Ingredients
Coconut Flour
Coconut Sugar
Tapioca Starch
Coconut Oil
The Tools
Kitchen Scale
Mixing Bowls
Whisk
Doughnut Pan
And, of course, the book! This recipe comes from my latest book, "The World's Easiest Paleo Baking." I'd be thrilled if you picked up a copy!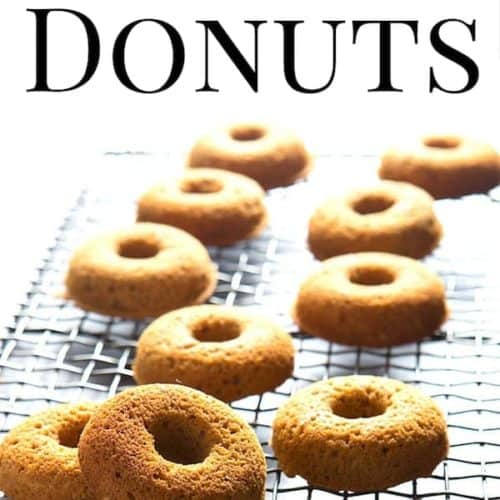 Paleo Doughnuts (Old Fashioned Cake Doughnuts)
This recipe makes classic bakery-style cake doughnuts. Paleo and grain-free, of course!
Ingredients
2/3

cup

coconut sugar or evaporated cane juice

(3 1/2 ounces; 100 grams)

1/2

cup

coconut flour

(2 ounces; 57 grams)

1/2

cup

tapioca starch

(2 ounces; 57 grams)

1

teaspoon

baking powder, homemade or grain-free store-bought

1

teaspoon

ground nutmeg

3/4

teaspoon

salt

1/4

cup

coconut oil or unsalted butter, melted and cooled slightly

(2 ounces; 57 grams)

2

large

eggs

(about 4 ounces; 100 grams out of the shell)

3/4

cup

milk, dairy-free or traditional

(6 ounces; 170 grams)

1

teaspoon

vanilla extract
Instructions
Adjust an oven rack to the middle position and preheat the oven to 350ºF. Grease two 6-cavity doughnut pans with nonstick cooking spray, melted coconut oil, or melted butter.

Whisk the coconut sugar, coconut flour, tapioca starch, baking powder, nutmeg, and salt together in a medium mixing bowl. Add the melted coconut oil, eggs, milk, and vanilla and whisk until smooth. The batter will be thick.

Spoon the batter into the prepared pans, filling the cavities about three-quarters full. (If you have a piping bag and large plain pastry tip kicking around the kitchen, use those instead.) Lightly tap the pans on the counter to settle the batter.

Bake the doughnuts until they are golden brown and spring back to the touch, about 15 minutes.

Allow the doughnuts to cool in the pans on a wire rack for 5 minutes, then turn them out onto the rack to cool completely.

Doughnuts are best enjoyed the day they are baked. Freeze leftovers, wrapped in plastic wrap and placed in a freezer container, for up to one month.