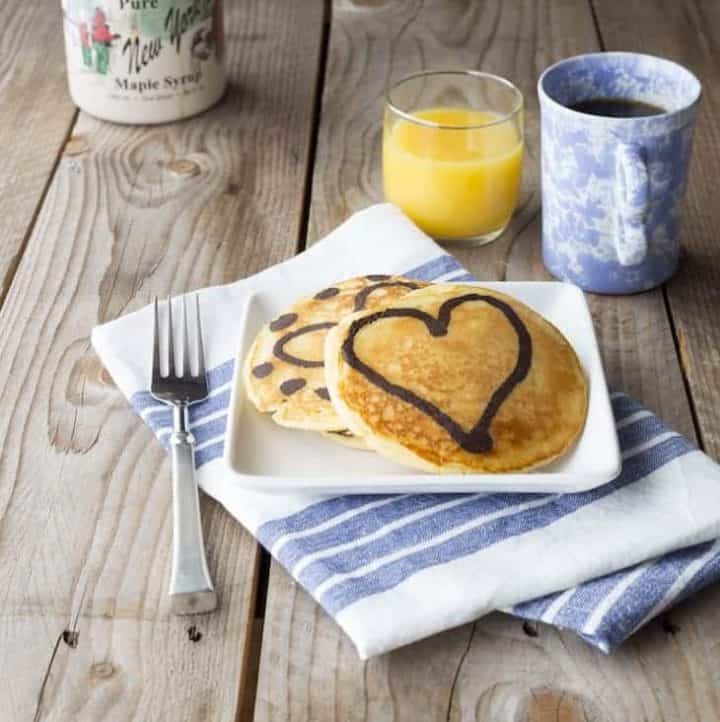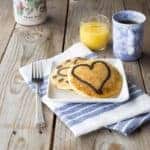 Paleo Marble Pancakes
For these pancakes, you'll need a small plastic squeeze bottle for this recipe, which you can pick up at any local kitchen or cake decorating supply store.
Recipe from "
World's Easiest Paleo Baking
" by Elizabeth Barbone (Lake Isle Press, 2016)
Servings
12
four-inch pancakes
Ingredients
1 1/4

cups

finely ground almond flour

(5 ounces; 142 grams)

1/2

cup

tapioca starch

(2 ounces; 57 grams)

1 1/2

teaspoons

baking powder, homemade or grain-free store-bought

1/4

teaspoon

salt

3

large

eggs

(about 5 ounces; 150 grams out of the shell)

3

tablespoons

milk, dairy-free or traditional

2

tablespoons

dark maple syrup

(1 1/3 ounces; 36 grams)

1

tablespoon

cocoa powder, natural or Dutch-process

(1/4 ounces; 5.5 grams)

1

teaspoon

vanilla extract
Instructions
Whisk the almond flour, tapioca starch, baking powder, and salt together in a medium mixing bowl. Add the eggs, 2 tablespoons of the milk, and the maple syrup and whisk until smooth.

Pour about 1⁄2 cup of the batter into a small mixing bowl. Stir in the cocoa powder and the remaining 1 tablespoon milk until smooth. Pour the chocolate batter into a small squeeze bottle with a wide tip opening.

Whisk the vanilla into the remaining batter.

Heat a nonstick griddle over medium-high heat. Lightly grease it with nonstick cooking spray or brush lightly with melted coconut oil.

Spoon about 3 tablespoons of the vanilla batter per pancake onto the griddle. You want the batter to sizzle as it hits the griddle. Using the squeeze bottle, drizzle some chocolate batter on each pancake. Make whatever type of design you want—a swirl, polka dots, a smiley face, or hearts are fun to do. Cook the pancakes until the edges are set, about 3 minutes. Flip and cook an additional minute or so, until lightly golden brown. Repeat with the remaining batter.* Enjoy right away.

Leftover pancakes freeze well. Allow the pancakes to cool. Stack them with pieces of parchment or waxed paper in between. Slide the stack into a freezer bag, seal, and freeze for up to 6 weeks. When you are in the mood for pancakes, thaw in 30–second intervals in the microwave until warm.

* At the end, you might have a little chocolate batter leftover. I cook this up and call the chocolate pancake a cook's treat!