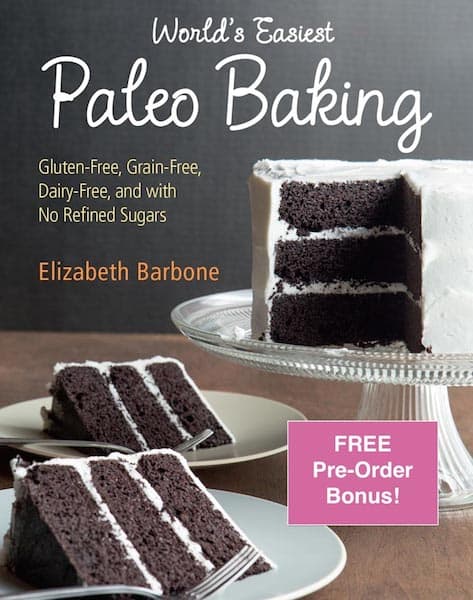 This post contains affiliate links. If you use the links to purchase a book, GlutenFreeBaking.com earns a commission.
Eeeeep! Hey guys! I'm so excited/proud/nervous to share today's news with you! If you follow me on Facebook or Instagram, you know that my third cookbook comes out soon.
How soon, Elizabeth?
Thanks for asking! The World's Easiest Paleo Baking arrives on January 7, 2016. That's…(counts on fingers)….two short months from now! (Two?!?! gulp I can't believe it!)
Right now, you can pre-order the book from your favorite bookseller. If you place a pre-order, I'll send you a FREE bonus chapter as a thank you! Included in the bonus chapter are copycat recipes for all your favorite classic treats — all made grain-free and dairy-free, of course!
Recipes Included in the Bonus Chapter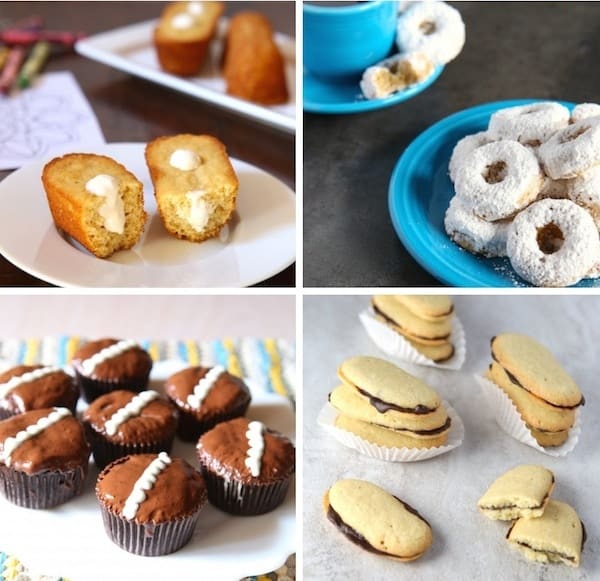 Hostess® Powdered Donettes®
Entenmanns® Blueberry Little Bites
Hostess® Twinkies®
Hostess® Chocolate CupCakes
Pepperidge Farm® Milano® Cookies
Thin Mints® Girl Scout Cookies
Almond Joy®/Mounds Bars®
York® Peppermint Patty
Marshmallow Fluff®
Starbucks™ Frappuccino®
Yup! You can make all of those classic treats without grains or dairy! Can you believe it?!
How to get your FREE "Copycat Classics" Chapter!
Preorder a copy of The World's Easiest Paleo Baking from Amazon, Barnes and Noble, or your favorite local bookseller!
Send a copy of your invoice to PaleoPreOrder@glutenfreebaking.com (Already pre-ordered? No problem! Just forward the invoice to me.)
Wait. I need to confirm your pre-order. This can take up to 48 hours. (I have to check each order. And I work alone!)
Download. After confirming your order, I'll send you the FREE chapter. It's a PDF file. (Note: this chapter will not appear in the book. It's only available electronically.)
Enjoy! Bake your way through the chapter while you wait for your shiny, new copy of the World's Easiest Paleo Baking Book to arrive on January 7!
As you can guess, cookbooks are a ton of work. A ton. This book really stretched me. Not only did I write an entire baking book without using a single grain or speck of dairy, I took all the photos! Developing recipes and taking photos meant I spent several months tired all the time. 🙂 To make the project even more…interesting (let's go with interesting) my beloved editor left about a week after I turned in my manuscript. I promise that it wasn't the manuscript! She went on to another awesome job and I'm happy for her. She was such a champion of this book that it was tough to finish the project without her–even though my new editor is AMAZING.
So, yeah. This book = huge personal growth for me.
And now comes the best part, I get to share it with you!
Here's just a little of what you'll find in the World's Easiest Paleo Baking Book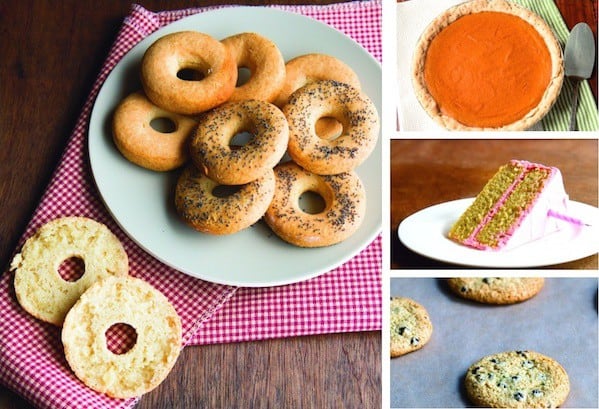 My heart. Seriously. I feel like I stitched part of my baker's soul into the pages of this book.
90+ grain-free/dairy-free recipes. You get recipes for bagels (Yup! Paleo bagels!), celebration cakes, roll-out cookies, pizza, and much, much more!
Photos of each recipe. I love cookbooks that are loaded with photos. You'll find a photo for each recipe in the book. Woot!
Easy recipes. These recipes are ridiculously easy. Got a wooden spoon, mixing bowl, and an oven? You can make most of the recipes! They're that easy!
Over the next few weeks, I'll share more about the book. Let me know if you have any questions! I'm happy to answer. Thanks for your support. I appreciate you!
Love,
Elizabeth
PS: Whatcha waitin' for? Go pre-order so I can send you free recipes! 😉
PPS–The Technical Stuff:
The bonus chapter is available only as an electronic PDF file. You will NOT receive a printed version of this chapter.
Links included in this post are affiliate links. You click on it, I make a few cents to support the site. (Thank you!)
Pre-Order Chapter available only until 1/6/2016.
If you've read this far, thank you! I'd love it if you helped spread the word about the new book. Please consider sharing this post with your friends!