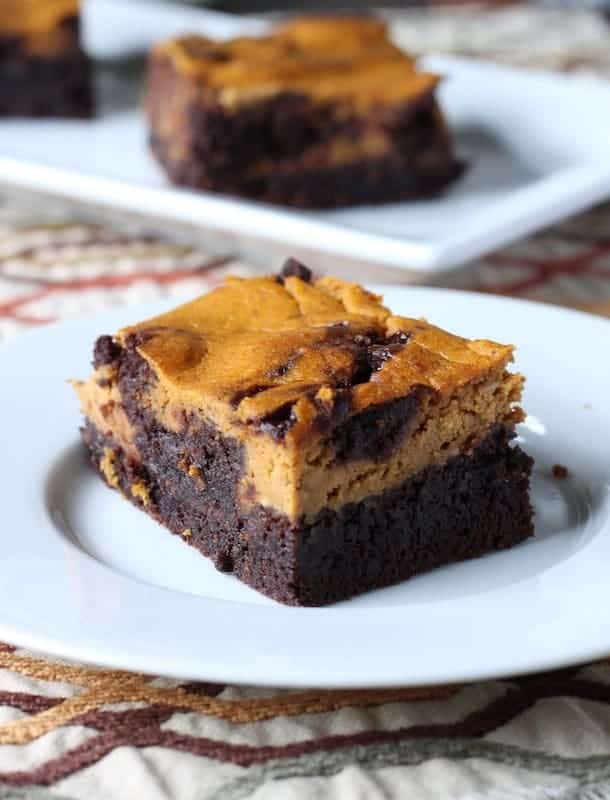 Gluten-Free Pumpkin Cheesecake Brownies (and a recipe for Pumpkin Spice Latte Milkshakes!)
Of course, candy makes Halloween sweet but there's nothing quite like a homemade baked treat. These gluten-free pumpkin cheesecake brownies are beloved by kids of all ages—especially by those too old to trick or treat*.
These brownies are ridiculously easy to make. Just prepare one box of gluten-free brownie mix and top it with a pumpkin cheesecake mixture. I used Betty Crocker's brownie mix to make these brownies. Use whatever gluten-free brownie mix you love–as long as it makes one 8×8-inch square pan of brownies.
For the cheesecake, you combine cream cheese (regular or low fat), canned pumpkin, an egg, some sugar, and pumpkin spice. That's it! Simply spread the cheesecake mixture on the brownie batter and swirl both batters together lightly with a knife. Pop the pan into a preheated oven and in about forty minutes, you're rewarded with a rich treat that's worthy of any holiday.
Although they're hard to resist, these brownies taste better the day after they're made. Allow the brownies to cool, cut into squares, and chill overnight. If you can't wait to serve them, be sure to allow them to cool before serving. Right out of the oven, the cheesecake filling is soft and difficult to cut.
By the way, you'll have a little canned pumpkin left after you make these brownies. So I included a recipe for a pumpkin spice latte milkshake. Think of the milkshake as a thick and creamy version of your favorite pumpkin spice latte!
*Speaking of trick or treat, be sure to check that the candy your child receives on Halloween is safe for his or her gluten-free diet.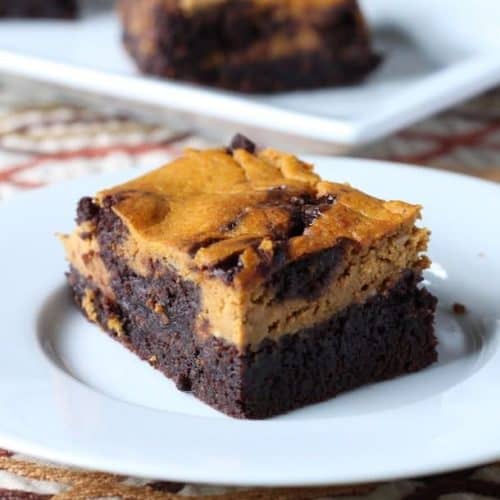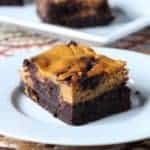 Mix it Up: Pumpkin Cheesecake Brownies
Ingredients
For the Brownie Base
nonstick cooking spray

1

(16 to 17 ounce) box

gluten-free brownie mix

2

large

eggs

(about 3 1/2 ounces; 100 grams)

1

stick

unsalted butter, melted and cooled

(1/2 cup; 4 ounces; 113 grams)
For the Swirl
6

ounces

cream cheese, regular or low-fat neufatel cheese

(3/4 cup; 170 grams)

1

cup

pumpkin puree

(9 1/2 ounces; 269 grams)

1

large

egg

(1 3/4 ounces; 50 grams)

1/4

cup

granulated sugar

(1 3/4 ounces; 50 grams)

2

teaspoons

pumpkin pie spice
Instructions
Preheat oven to 350 degrees F. Spray a 8x8x2-inch square pan with nonstick cooking spray. Set aside.

Prepare the Brownie Base: Combine brownie mix, eggs, and melted butter in a medium mixing bowl. Mix, either with a wooden spoon or electric mixer, until smooth. Spread 3/4 of brownie batter into the bottom of prepared pan. Set remaining batter aside.

Prepare the Swirl: Cream the cream cheese until smooth in a small mixing bowl. Add the pumpkin and mix until smooth. Add the egg, granulated sugar, and pumpkin spice. Mix until smooth and well combined.

Spread pumpkin cheesecake mixture over brownie base. Drop remaining batter, about one tablespoon each, over pumpkin cheesecake topping. Gently drag a knife through the brownie base and cheesecake topping to marble.

Bake until a knife inserted into the center of the brownies comes out clean, about 45 minutes.

Remove pan from oven and place on a wire rack to cool. Chill overnight, cut into bars, and enjoy. Store leftover brownies covered and in the refrigerator for up to four days.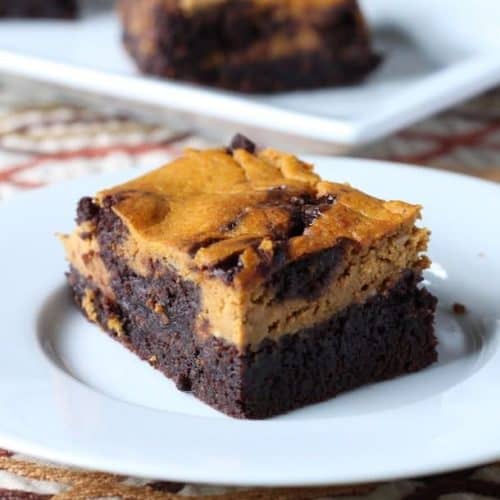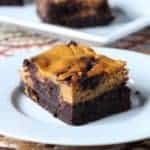 Pumpkin Spice Milkshake
Love pumpkin spice coffee? Then this tasty milkshake is for you!
Ingredients
1

cup

gluten-free coffee ice cream

about

3/4 cup

leftover canned pumpkin

1/2

cup

milk

3/4

teaspoon

pumpkin pie spice
Instructions
Combine all ingredients in a blender. Blend on medium speed until smooth. Divide between two glasses and enjoy!