On May 8th, Aldi's gluten-free products hit the shelves. I decided to try some out and let you know what I thought. Please note this is NOT a sponsored post. I purchased all the products included in the review. Prior to the release, Aldi sent me a press release about the products. I was not asked to post about them. But I was curious. Would they be tasty? A good value?
Our store put out the limited run "liveGFree: products early. If you're reading this before May 8th, you might want to see if your local store already has them out because I have a feeling these are going to go fast.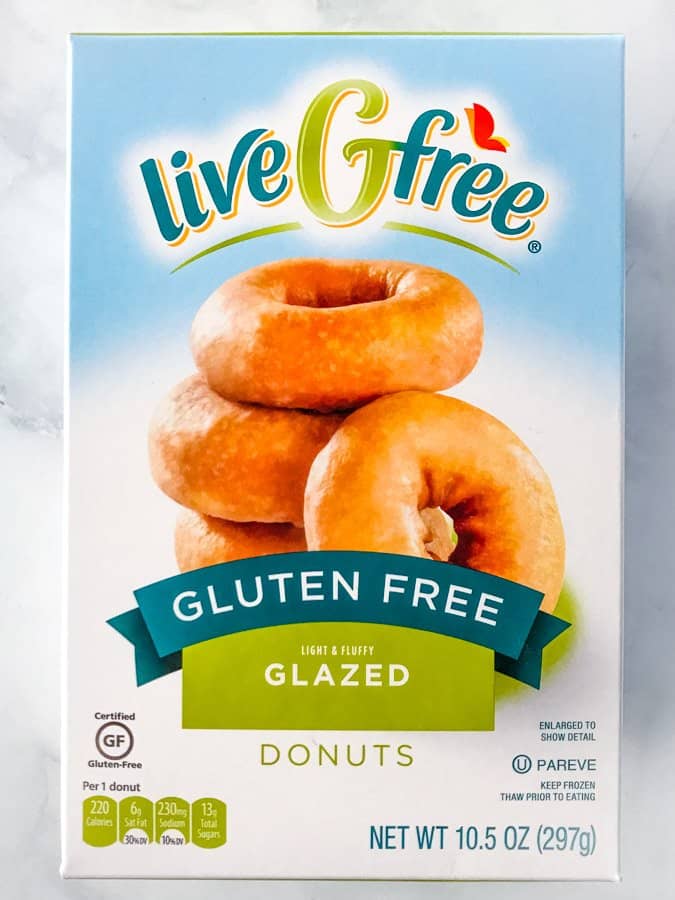 When I saw that Aldi had included gluten-free glazed doughnuts in their lineup this year, I almost squealed with delight. I love all doughnuts but glazed doughnuts are my favorite.
These, like the gluten-free chocolate frosted doughnuts, are sold in the freezer section. At our store, they were in the small case that sits in the aisle, not in the freezer case up against the wall.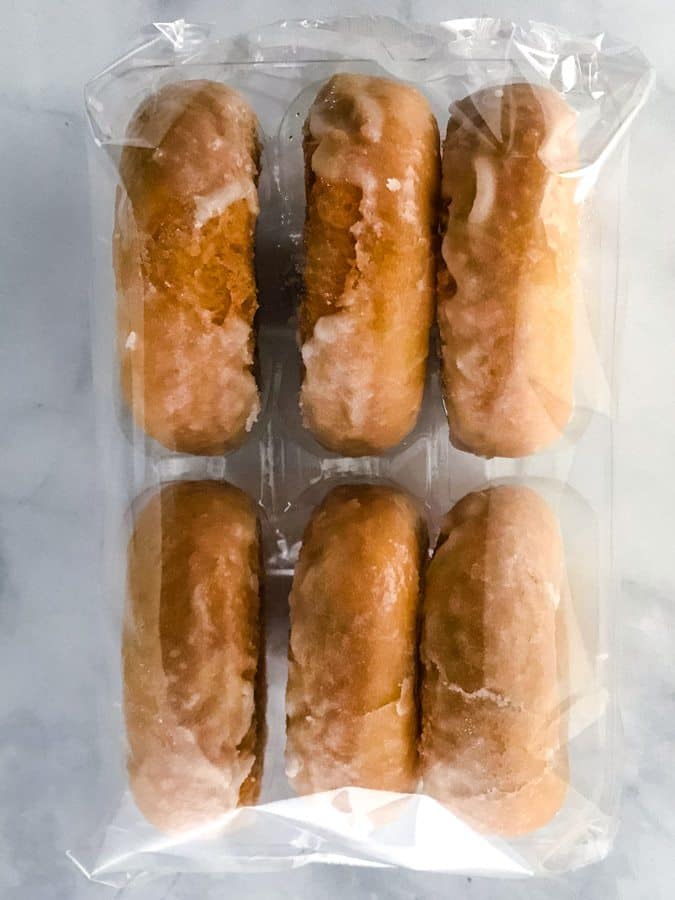 I let the entire package thaw on the counter. There aren't any directions for how to defrost the doughnuts. The box simply says "thaw prior to eating." If you want to rush them, I think you could use the microwave but I'd be careful. These seem like the type of baked good that you could over-microwave quicky.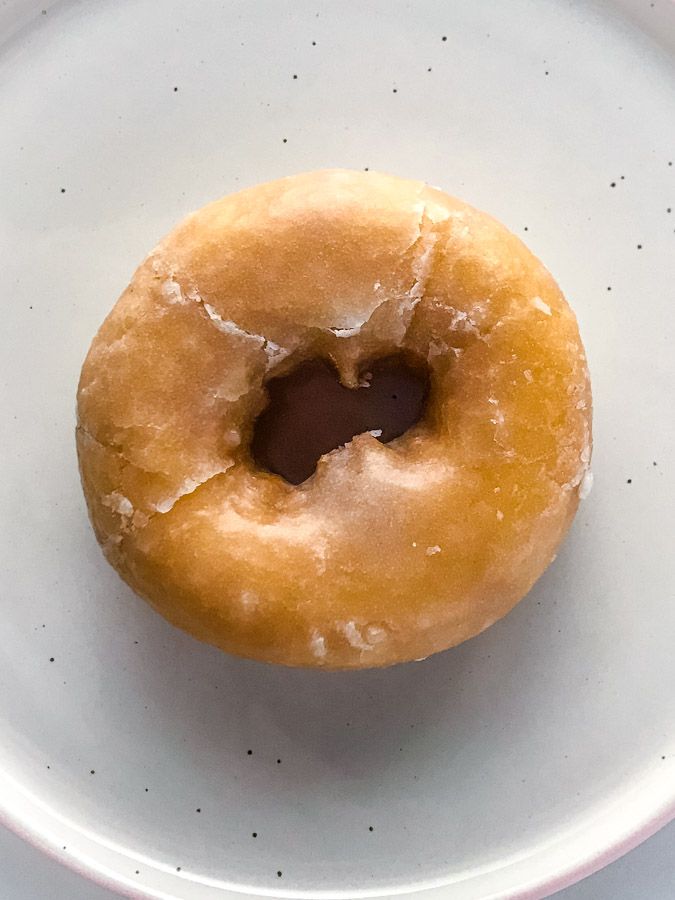 They're a nice size, about three inches across and an inch thick. The picture on the box made me think they'd be small. I was happily surprised when I opened the box and saw six full-size doughnuts. It's always nice when gluten-free foods aren't waaaay smaller than their wheat-counterparts, isn't it?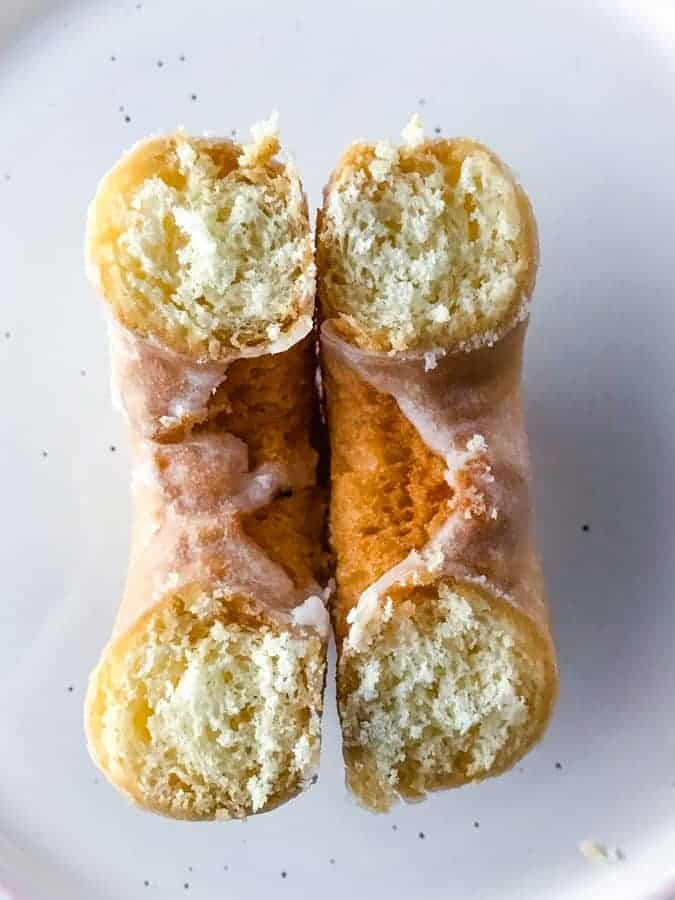 Let's talk about the texture of these doughnuts! Oh my goodness. I thought they were yeast-raised. The crumb is light and airy. They aren't as soft as, let's say, a Krispy Kreme doughnut (what is?) but they didn't taste cake-like to me. A good cake doughnut tends to be dense. These aren't.
It was only after I re-read the ingredients that I realized these doughnuts don't contain yeast.
The glaze is the perfect thickness to add a hint of sweetness to the doughnuts. Like most glazed doughnuts, the glaze crackles a little as you bite into it. So grab a napkin. You might need it.
I also loved how the texture wasn't gritty at all. I know some folks hate it when people say, "You'd never guess these are gluten-free!" That description of gluten-free foods doesn't bother me. Many people come to the gluten-free diet after years of eating wheat. So the gritty texture of some gluten-free foods is offputting. I'm happy to report that these doughnuts aren't gritty at all!
These don't taste like freshly-fried doughnuts you'd make yourself or pick up at a bakery. They remind me of the type of doughnut you get at the supermarket. If you go in with that expectation, I don't think you'll be disappointed.
Aldi Gluten-Free Glazed Doughnuts: Ingredients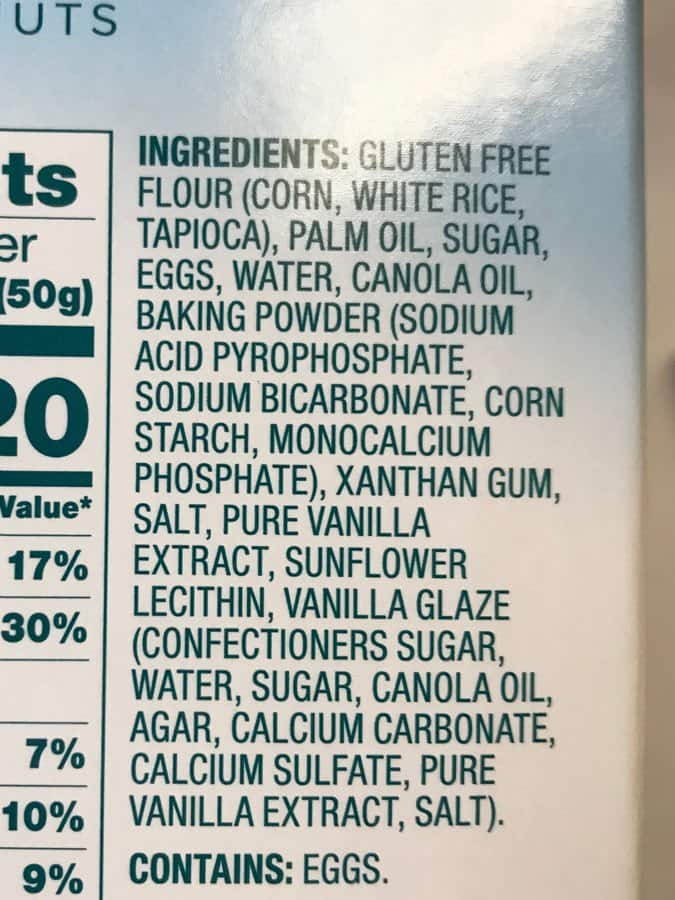 Aldi Gluten-Free Glazed Doughnuts Ingredients*: Gluten Free Flour (Corn, White Rice, Tapioca), Palm Oil, Sugar, Eggs, Water, Canola Oil, Baking Powder (Sodium Acid Pyrophosphate, Sodium Bicarbonate, Corn Starch, Monocalcium Phosphate), Xanthan Gum, Salt, Pure Vanilla Extract, Sunflower Lecithin, Vanilla Glaze (Confectioners Sugar, WAter, Sugar, Canola Oil, Agar, Calcium Carbonate, Calcium Sulfate, Pure Vanilla Extract, Salt.)
Contains: Eggs
As with the gluten-free chocolate frosted doughnuts, these are dairy-free!
*Please check the current package for up-to-date Ingredient and Nutrition Facts. Ingredients change frequently. Any ingredient or nutrition information provided by GlutenFreeBaking.com is included for educational purposes and may not reflect the current ingredients.
I'm neither impressed nor surprised by the ingredient label. Traditional doughnuts are always a treat. And these gluten-free doughnuts from Aldi are no exception. The gluten-free flour base is a standard "white" flour base. I think this is fine for something like a doughnut.
Aldi Gluten-Free Glazed Doughnuts: The Price
A box of six cost me $4.49*. For gluten-free doughnuts, I think this is a fair price. Is it as cheap as gluten-based doughnuts? Sadly, no. But $0.75 per doughnuts feels reasonable for doughnuts you don't have to make yourself. (And, as I type this, I remember recently paying more than that for a box of gluten-y doughnuts. Perhaps the price of doughnuts has risen for wheat-eaters?)
Aldi Gluten-Free Glazed Doughnuts: Stock Up or Skip?
I say stock up! I really enjoyed these doughnuts. The taste, texture, and price didn't disappoint. If you've got space in your freezer, you can't go wrong with buying a box or three.
RATING: FIVE OUT OF FIVE.