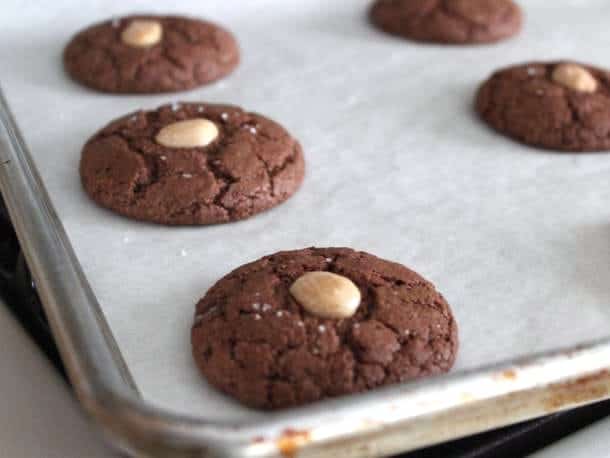 While munching on a handful of slightly salty marcona almonds recently, I thought, "I need to bake with these." What the heck took me so long? As a lover of salty-sweet desserts (chocolate-covered pretzels? salted caramel brownies? yes please!), I set out to create cookies with the marcona almonds.
But my favorite salty-sweet desserts are still more sweet than salty, so I needed a cookie that stood up to the almonds without overpowering them or being overpowered by them.
The result: part brownie, part cookie that highlights the salty almonds but is still a dessert in a decidedly rich, chocolate body.
During testing, I made a batch with almond paste in an attempt to boost the almond flavor, but it was too almond-y and the chocolate was lost. (Plus, if you're allergic to almonds, you can omit the marcona almonds from the recipe. With almond paste, making them almond-free wasn't an option.)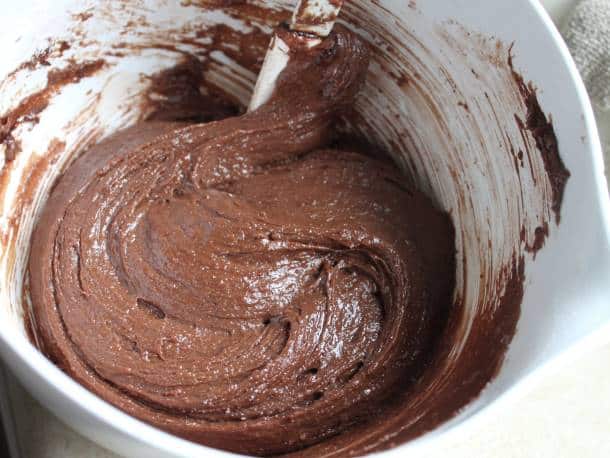 Thanks to melted butter and chocolate, the dough comes together quickly. (I even whipped up several batches using a fork.) After mixing, the dough resembles brownie batter; so be sure to chill the dough before baking.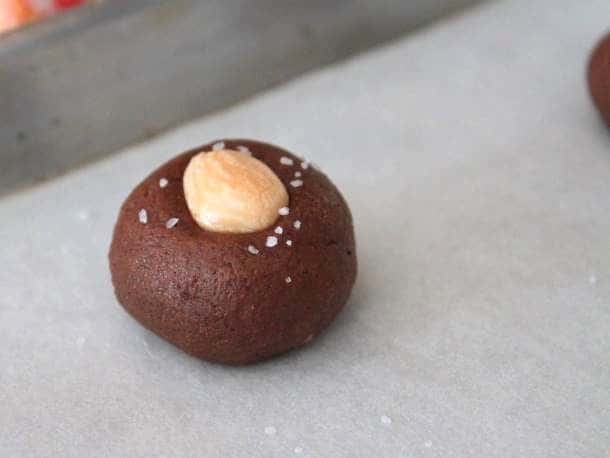 Once it chills for four hours, roll it into balls. I like a single almond pressed into the center of each cookie. If you desire a more robust almond flavor, stud the cookies with several almonds before baking. Sprinkle on a little salt and you're ready to go!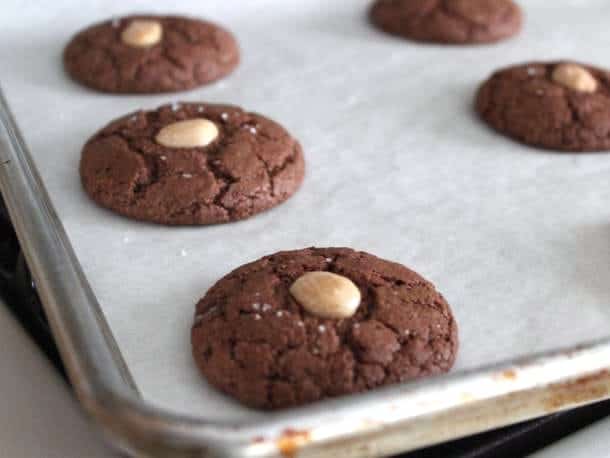 These cookies spread while baking, leaving a craggy top that holds the salt and almond perfectly!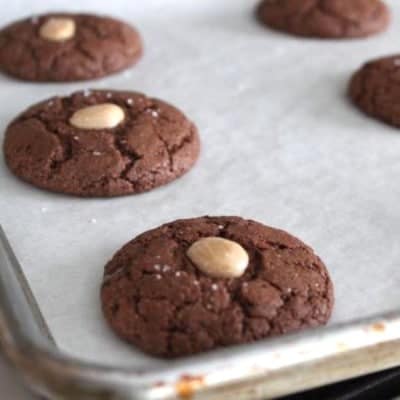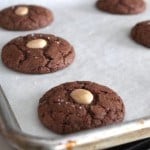 Salted Chocolate Marcona Almond Cookies
Total Time
4
hours
12
minutes
Ingredients
1

cup

1 cup white rice flour

(4 ounces; 113 grams)

1/4

cup

cornstarch

(2 ounces; 56 grams)

1

teaspoon

baking powder

1/2

teaspoon

salt

1/4

teaspoon

xanthan gum

2

ounces

unsweetened chocolate

2

tablespoons

butter

(1 ounce; 28 grams)

1

cup

granulated sugar

(7 ounces; 198 grams)

2

large

eggs

(about 3 1/2 ounces; 100 grams)

About 2 dozen marcona almonds

skinned and lightly salted for cookie tops

Kosher salt for sprinkling
Instructions
In medium mixing bowl, whisk together white rice flour, cornstarch, baking powder, salt, and xanthan gum. Set aside.

Place chocolate in microwave-safe bowl. Microwave for 20 seconds. Remove bowl from microwave and stir. Repeat until chocolate is melted. Or place chocolate into top of double-boiler that is set over hot but not boiling water. Stir chocolate frequently until melted. In a separate small bowl, melt butter. (Butter and chocolate melt at different temperatures. By melting them separately, I'm guaranteed the butter won't spurt all over the microwave while the chocolate finishes melting.)

In large bowl, stir together melted chocolate and melted butter. Add granulated sugar. Stir to combine until chocolate and butter are thoroughly incorporated. Add eggs. Stir mixture until smooth. Add whisked dry ingredients. Stir until a thick batter forms. Press a piece of plastic wrap directly onto dough. Chill for four hours or overnight.

Preheat oven to 350° F. Line baking sheet with parchment paper. Scoop dough, about one tablespoon each, and roll into balls. Place dough on prepared baking sheet. Press one marcona almond into the center of dough. (Flat-side down). Sprinkle lightly with kosher salt. Cookies spread during baking. Be sure to space cookies about three-inches apart on baking sheet. Chill remaining dough between batches.

Bake until cookies have a dry, crackled appearance, about 11-13 minutes. Cool on pan for two minutes. Transfer cookies to wire rack to cool.