Chocolate popcorn with a spicy kick! This treat is addictive. Once you start munching, it's hard to stop!
Earlier this fall, I visited a shop that specialized in unique popcorn flavors. I wanted to come home with armfuls of "baked potato popcorn" and "chocolate kettle corn" but every bag carried a "may contain" warning. If you don't have food allergies or intolerances you might not notice the small "may contain tree nuts" or "may contain wheat" disclaimers on foods that don't list an allergen as an ingredient but may contain an allergen thanks to cross-contact that occurs during manufacturing.
While the popcorn that enticed me didn't technically contain any of my allergens, it was off-limits thanks to the "may contain" warning*.
I left the shop empty-handed but with a serious urge for some popcorn. Enter Chocolate Chipotle Bacon Popcorn. Made with allergen-free dark chocolate, this popcorn hits all of my favorite snack buttons: it's salty, chocolatey, and spicy.
The first few batches I made without bacon. I only added the bacon after I'd perfected the spice level of the popcorn. To be honest, I added the bacon almost as a joke—everything's better with bacon, right?
Well…this popcorn was better with bacon. The salty/earthy, almost mineral notes of the bacon paired well with the chipotle and, surprisingly, the chocolate. (If chocolate and bacon isn't your thing, feel free to omit the bacon. The popcorn works just as well without it.)
This piece originally appeared on SeriousEats.com.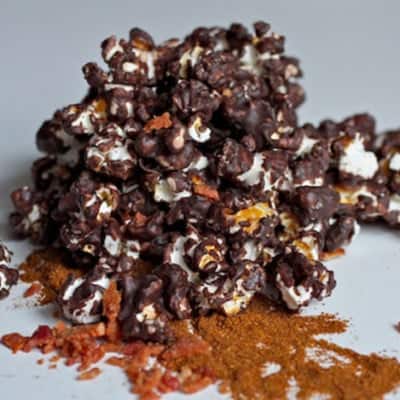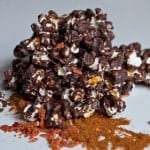 Spicy Chocolate Chipotle Popcorn
Servings
10
cups of popcorn
Ingredients
8

ounces

dark chocolate, chopped

(about 2 1/2 cups)

1/2

teaspoon

pumpkin pie spice

1/4

teaspoon

ground chipotle spice

add more if you like a really spicy kick

10

cups

popcorn, air or oil popped

Kosher salt

2 to 4

strips bacon, cooked until crisp, drained, and crumbled, optional
Instructions
Melt chocolate in the microwave. Heat for 30 seconds on HIGH. Remove chocolate, stir, repeat until chocolate melts. Or place chocolate in the top of a double boiler. Heat water over medium-high heat, stir until chocolate melts.

Line a rimmed baking sheet with parchment paper, set aside. In small bowl, stir together melted chocolate and spices. Pour chocolate over popcorn. Using a wooden spoon, toss to combine.

Spread mixture on prepared baking sheet. Sprinkle popcorn lightly with kosher salt. And, if using, sprinkle crumbled bacon over the top of the popcorn. Allow chocolate to set. Break popcorn into pieces, and serve. (To speed up the setting time, place the pan in the refrigerator for twenty minutes.)