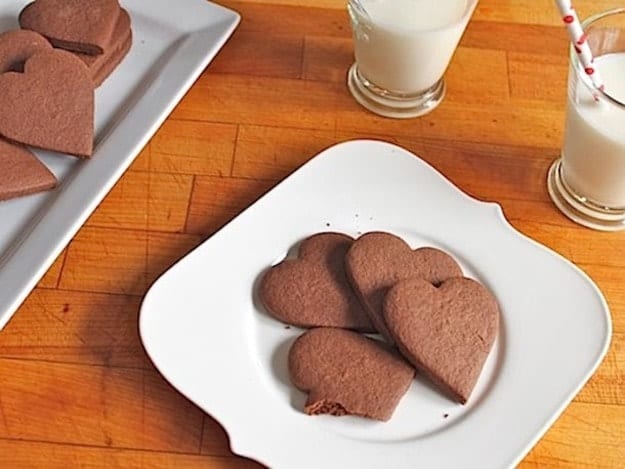 A friend recently made me a mug of spicy hot chocolate. It was so tasty that a few days later, I was craving the flavor all over again. That's when I decided to recreate the spicy hot chocolate in cookie form.
My chili powder blend in the cupboard contained garlic powder and oregano, and since I didn't want those two flavors in my chocolate cookies, I settled on ground chipotle. Its smokiness seemed a natural companion to the bitterness of cocoa powder. And it totally worked. The chipotle adds a pleasant warmth to the cookies but doesn't overwhelm them with aggressive spiciness. In fact, at first you don't taste the chipotle at all. After a few bites, however, a mild heat spreads down the back of your throat.
It's this spicy-warmth that I find so addicting in chocolate desserts. If you prefer a really spicy cookie, increase the chipotle powder to one teaspoon. If you aren't craving spice in your chocolate cookie, simply omit the chipotle. With or without spice, these crispy chocolate cookies, like a mug of hot chocolate, are a welcome addition to a cold winter day.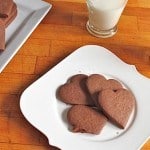 Spicy Gluten-Free Chocolate Cookies
Total Time
2
hours
12
minutes
Ingredients
1 1/4

cups

finely ground white rice flour

(5 ounces; 142 grams)

1/4

cup

potato starch

(1 ounce; 28 grams)

1/3

cup

cocoa powder, natural or Dutch process

(1 ounce; 28 grams)

1/2

teaspoon

ground chipotle

1/2

teaspoon

baking powder

1/2

teaspoon

salt

1/4

teaspoon

xanthan gum

1

stick

unsalted butter, softened

(1/2 cup; 4 ounces; 113 grams)

3/4

cup

granulated sugar

(5 1/4 ounces; 148 grams)

1

large

egg

(1 3/4 ounces; 50 grams)

1

teaspoon

milk or dairy-free milk

as needed
Instructions
Whisk together white rice flour, potato starch, cocoa, ground chipotle, baking powder, salt, and xanthan gum in a small bowl. Cream together butter and granulated sugar in a medium bowl with an electric mixer on medium speed until thick paste forms, about 30 seconds. Stop mixer. Scrape down bottom and sides of bowl. Add egg. Cream on medium speed until light and thoroughly combined, about 30 seconds. Stop mixer. Add dry ingredients. Mix on medium-low speed until dough forms, about 2 minutes. Dough will be dry. If after two minutes, dough does not form, add one teaspoon milk.

Turn dough out onto floured work surface. Pat into a disk. Wrap tightly with plastic wrap. Chill two hours or overnight.

Adjust oven rack to middle position. Preheat oven to 350°F. Line rimmed baking sheet with parchment paper. Dust work surface lightly with white rice flour. Roll dough out to 1/8-inch thickness. Cut into shapes. Use a cookie spatula and transfer dough to prepared baking pan. Space cookies 1-inch apart on pan.

Bake until cookies are aromatic and firm, about 12 minutes for 3-inch cookies. Remove pan from oven. Allow cookies to cool on pan for 1 minute before transferring to wire rack. Gather scrapes of dough. Re-roll and repeat until all dough is used. Store cooled cookies in an airtight container for up to one week.