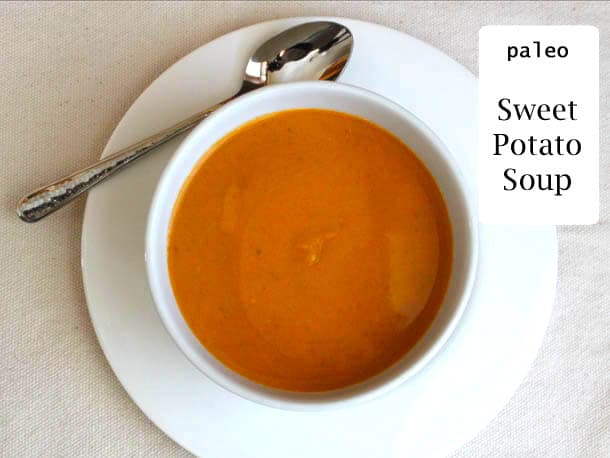 Years ago, I ordered a bowl of sweet potato soup in a small bistro in Burlington, Vermont. I expected a sweet, creamy soup. What I got was a sweet, creamy soup with a noticeable spicy kick. I loved it! At home, I recreated the soup and included the recipe in my second cookbook, How to Cook Gluten-Free . That recipe, like the one served at the bistro, contained dairy. Several readers asked for a dairy-free variation of the recipe. So I created one.
It's a remarkable simple soup to make. Start by "sweating" onions, celery, and garlic in a little olive oil. Then add cubed sweet potatoes, chicken (or vegetable) broth, and spices. That's it! The soup cooks for about 40 minutes. You want the sweet potato pieces to almost fall apart when pierced with a fork. Then blend the soup until smooth. If you own an immersion blender, use it. If not, process the soup in batches in a traditional blender. You don't want to overfill the blender or the soup could erupt from the blender and burn you. Trust me, you don't want that to happen.
At this point you could just enjoy the soup. Or you could spice it up! I highly recommended adding a spicy kick to the soup. Smoky chipotle compliments the sweet potato flavor really well. I add ground chipotle powder. If you don't have chipotle powder on hand, use chipotle hot sauce or regular hot sauce. Around our house, we like the soup with an almost aggressive kick. To achieve this, I add about two teaspoons of ground chipotle powder. Start by adding a half teaspoon and go from there. The heat level of chipotle powders varies from brand to brand. It's better to start with a little and add more as needed.
To serve, I usually just throw together a simple spinach salad and call it a day. However, it we're feeling hungry, I brown some ham or sausage as the soup cooks. A link of sausage, a spinach salad, and this soup make for a tasty–and hearty–winter meal. Enjoy the recipe!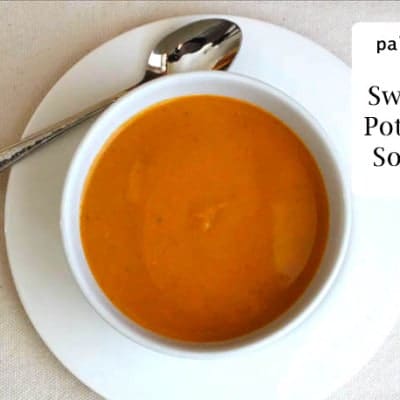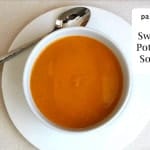 Spicy Paleo Sweet Potato Soup
This sweet potato soup comes together in about one hour. To save time, peel and cube the sweet potatoes the night before you plan on making the soup. To save even *more* time, prep all of your vegetables. I like to do this before I go to bed, when the house is quiet. By prepping your vegetables in advance, you save about a half an hour of prep time. While this soup makes a great meal on its own, it's also great with ham or a link or two of browned sausage. Cook the ham or sausage as the soup bubbles away. Then serve with a big salad--I really like spinach salad with this soup.
Ingredients
2

tablespoons

olive oil

1

medium

onion

finely chopped

2

stalks

celery

thinly sliced

3

cloves

garlic, minced or put through a garlic press

3

large

sweet potatoes, peeled and diced

(about 3 cups)

5

cups

homemade chicken stock or store-bought reduced-sodium broth

1/2

teaspoon

ground cinnamon

1/4

teaspoon

ground nutmeg

1/2

teaspoon

salt

1/2 to 2

teaspoons

ground chipotle pepper

optional
Instructions
In a large soup pot (5 quart), heat olive oil over medium heat, until it shimmers but doesn't smoke. Add the onion, celery, and garlic. Cook, stirring frequently with a wooden spoon, for 7 to 9 minutes, until the vegetables are very soft but not brown. If they begin to brown, lower the heat.

Add the sweet potatoes, chicken stock, cinnamon, nutmeg, and salt. Bring the soup to a boil, then lower the heat to medium-low. Simmer (look for occasional gentle bubbles) for 35 minutes, or until the sweet potatoes are very tender. (Test the sweet potatoes with a fork. They should break apart easily when pierced by the tines of a fork.)

Place a large bowl next to the blender. Purée the soup in batches, never filling the blender more than half full, until the soup is smooth.) Pour each puréed batch into the waiting bowl. Repeat until all the soup has been puréed.

Return the soup to the pot. Stir with a wooden spoon. Reheat over medium-low heat but don't bring soup to a boil. Taste and add more salt if you think it needs it. Add 1/2 teaspoon ground chipotle, taste. Adjust heat level by adding more chipotle as desired. Ladle the soup into individual bowls and serve hot. Store leftover soup in a covered container in the refrigerator for four days.