This recipe for paleo brownies tastes like a cross between the best chocolate cake you've ever had and a piece of decadent fudge. They contain both cocoa powder and melted chocolate, making for a powerful chocolate punch. And one more piece of good news: they only require one bowl to make! (In fact, you don't even need an electric mixer to make them.)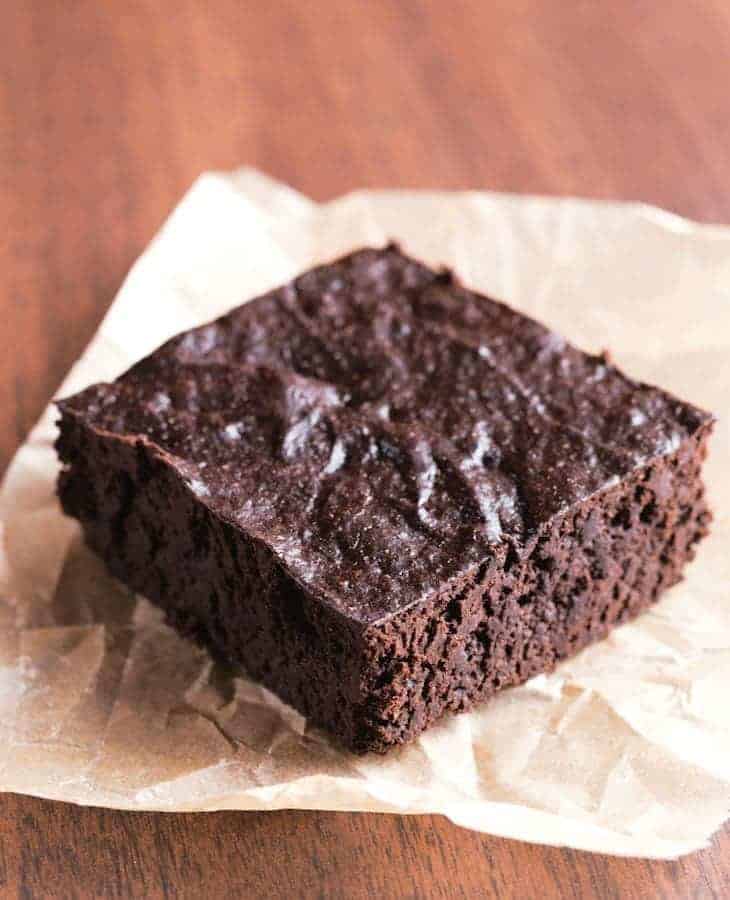 Paleo Brownies: Ingredients
The Flour
Almond Flour. As always, you want to select a finely ground almond flour. (I love Honeyville almond flour.) But the flour isn't the most important ingredient. We want to talk about the chocolate! I mean, that's why we make brownies, right? Unlike my gluten-free brownie recipe, this one contains both cocoa powder and melted chocolate. (The gluten-free brownie recipe only uses cocoa powder and, I have to say, that recipe is perfect just the way it is.)
The Chocolate
This recipe calls for both cocoa powder and melted chocolate because two chocolates are better than one! The cocoa powder brings a deep chocolate flavor and color to the brownies, while the melted chocolate brings a smooth richness. For this recipe, try to find Dutch-process cocoa powder. It has a more intense chocolate flavor than "natural" cocoa powder. However, Dutch-process cocoa powder can sometimes be tough to find. If you can't get your hands on it, replace it with an equal amount of natural cocoa powder. If you do this, replace the baking powder for baking soda because natural cocoa powder is acidic and can active the baking soda.
For the melted chocolate, I like to use Enjoy Life chips, they're allergen-free and really tasty. This, however, is just personal preference. Use whatever chocolate you love!  Melt the chocolate either in the microwave or in a double boiler over barely simmering water.
The Sugars
When creating these brownies, I wanted something really dense and fudgy. Each time I'd get close, I wouldn't quite get there, you know? Like they were either so cakey that they tasted like cake or they were so fudgy that they tasted like fudge. I was stumped! Enter: two sugars!
By combining a dry sugar (coconut sugar or evaporated cane juice) and a liquid sugar (honey), the texture of the brownies is dense and fudgy and cakey and perfect!
As with all my recipes, you don't want to replace the sugar with a sugar-alternative, like splenda or stevia. Sugar plays an important role in baking and without it, this recipe won't work.
The Fat and Eggs
Coconut oil and eggs bring richness to the recipe. If you aren't on a dairy-free diet, go ahead and use an equal amount of melted butter in place of the coconut oil.
This recipe hasn't been tested with egg-replacers and my baker's sense (kind of like a spidey sense) tells me it won't work without the eggs. If you make it egg-free, let me know how it goes!
Paleo Brownies: Mixing
For this recipe, you can give your electric mixer a rest.* These brownies are best when mixed by hand! An electric mixer, either stand or handheld, tends to incorporate air into batters, especially when set to a high speed. Normally, this is a good thing. For these brownies? Not so much. We want to keep the batter thick and dense. Adding too much air will turn the brownies from fudge-like to cake-like. And that's not the texture we're after. When mixed with a wooden spoon, however, the texture is perfect: dense, fudgy, and just right.
After whisking together the dry ingredients, add the melted chocolate, melted coconut oil (or butter, if your diet allows), honey, and eggs. Grab your favorite wooden spoon and stir. In about one minute, you'll see why I almost named these "triceps-busting paleo brownies." The batter is thick. Really thick. That's normal! Once the batter comes together, you're done. So you don't need to suffer (too much) for these brownies.
*If you are unable to mix these brownies by hand, no problem! Use an electric mixer set to the lowest speed.

Paleo Brownies: Baking
It can be tough to tell when a pan of brownies has fully baked. On the one hand, you don't want them over baked and dry. On the other, you don't want them undercooked and gooey in the center. What's a baker to do?
Once the brownies have baked for about twenty minutes, give the air a sniff. If it smells chocolatey, take a peek at the brownies. Jiggle the pan a little. If the batter does not move, lightly tap the center of the brownies with your fingers. If it feels set and not mushy, insert a cake tester into the brownies. If only a few moist crumbs cling to the cake tester, it's done. If the cake tester comes out coated with batter, pop the pan back in the oven for a few minutes.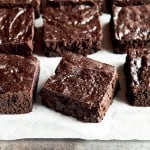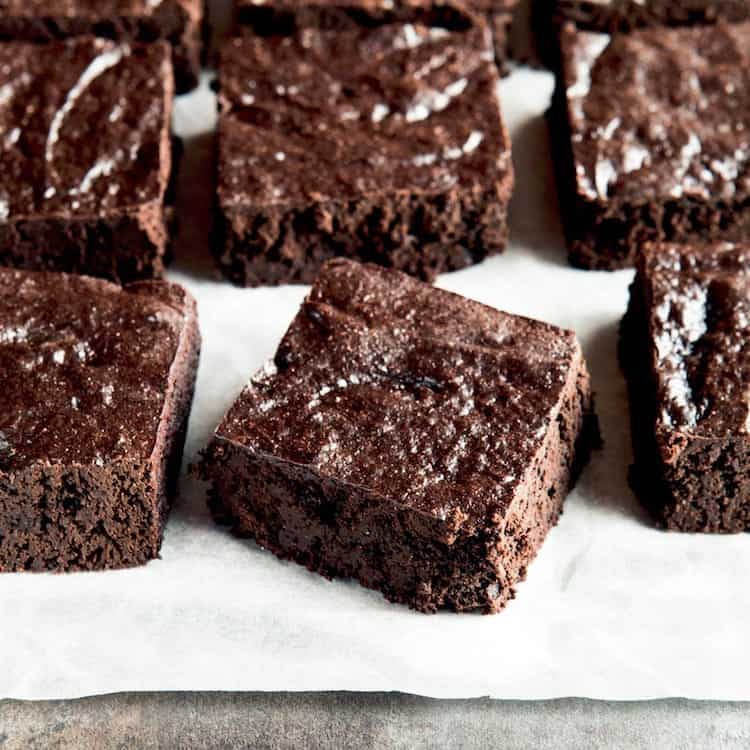 Paleo Brownies (Grain-Free/Dairy-Free Recipe)
If you are unable to find Dutch-process cocoa powder, replace it with natural cocoa powder and replace the baking powder with 1⁄4 tea- spoon baking soda.
Ingredients
57

grams

(1/2 cup) finely ground almond flour

50

grams

(1/2 cup) Dutch-process cocoa powder* (see note above)

85

grams

(1/2 cup) coconut sugar or evaporated cane juice

1/2

teaspoon

baking powder

, homemade or grain-free store-bought

1/4

teaspoon

salt

113

grams

(about 2/3 cup) chopped dairy-free dark chocolate or chips, melted

57

grams

(1/4 cup) coconut oil or unsalted butter, melted and cooled slightly

85

grams

(1/4 cup) honey

3

large eggs

(about 150 grams out of the shell)
Instructions
Adjust an oven rack to the middle position and preheat the oven to 325 degrees F. Spray an 8-inch square cake pan with nonstick cooking spray. Cut a piece of parchment paper as wide as the pan and long enough to overhang the edges of the pan by 2 inches. Place the parchment in the pan, running your finger along the edge so it fits snuggly. Spray the parchment with nonstick cooking spray or brush with melted coconut oil.

Whisk the almond flour, cocoa powder, coconut sugar, baking powder, and salt together in a medium mixing bowl. Switch to a wooden spoon and stir in the melted chocolate, melted coconut oil, and honey. The batter will be thick. Add the eggs one at a time, stirring well after each addition. After you add the last egg, stir the batter until smooth. Spread the batter into the prepared pan.

Bake until a cake tester inserted in the center of the pan comes out clean, about 25 minutes.

Allow the brownies to cool in the pan. Remove the brownies from the pan using the parchment over- hang and cut into squares.
(This post contains Amazon affiliate links. If you click on them and purchase an item, I make a small commission that helps to support the site! I only recommend tools I love and use. That's a promise!)