It took three visits to Walt Disney World before I tried a Dole Whip. After one spoonful, I wanted to run into the past and tell past-Elizabeth, "Get a Dole Whip on your Disney trips. Trust me on this. TRUST ME."
A quick internet search tells me that Dole Whip, in fact, refers to any soft serve ice cream made by Dole. But at Walt Disney World and Disneyland "Dole Whip" equals pineapple soft serve. Sure, they sell it in orange, vanilla, chocolate, and "swirled" but most folks mean pineapple when they talk about Dole Whip.
One of the reasons it took me so long to try a Dole Whip was because it's not an easy treat to find! While ice cream carts are a ubiquitous sight in all four Disney parks, Dole Whips are only available at two places: at Aloha Isle in the Magic Kingdom and at Captian Cook's at Disney's Polynesian hotel. If you want a Dole Whip, you need to search for it. And, trust me, you want a Dole Whip.
On the last day of our Disney vacation, as we sat on a curb waiting for the nighttime parade to begin, I turned to Greg and said, "I'm getting a Dole Whip. Want one?" He declined. (Remember this.)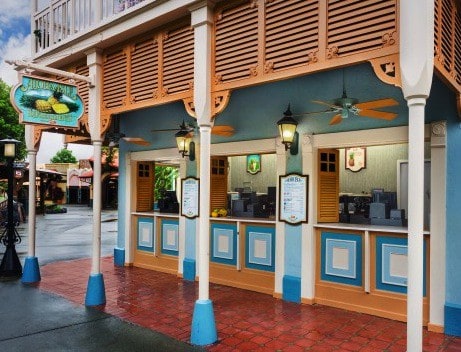 © Disney
I left him in Frontierland and headed to Adventureland for a Dole Whip. A long line snaked in front of Aloha Isle, the counter that sells Dole Whips.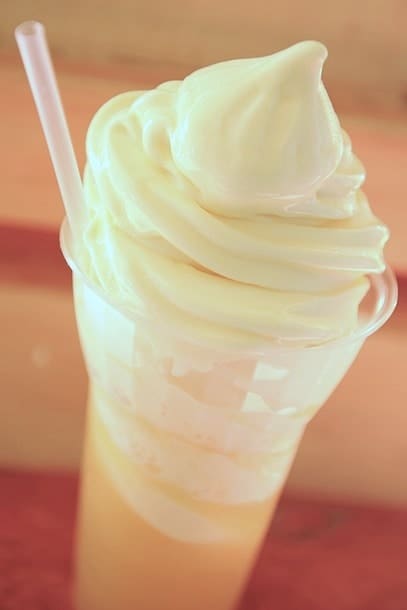 © Disney
Lots of people left with floats, pineapple juice topped with ice cream, but I wanted my Dole Whip straight. When I finally reached the counter, I ordered a "plain" pineapple Dole Whip in a bowl.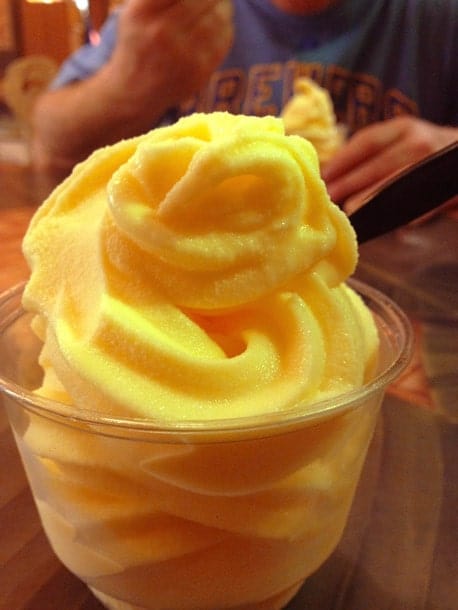 Then I embarked on the longest walk of my life. Ok, maybe it wasn't the longest but it felt like it. Since I didn't want to miss the parade, I hotfooted back to Greg, bringing two spoons with me, in case he wanted to taste the Dole Whip.
This was a mistake.
I made it back to Frontierland right before the parade and took my long awaited first bite of pineapple Dole Whip. Somehow it tasted even better than I'd hoped. And I don't really love ice cream. So that's high praise. Sweet and creamy, the Dole Whip reminded me of sherbert but better. It was like creamy soft serve and icy sherbert got together and produced Dole Whip. The best part was the pineapple flavor. It didn't seem fake or cloying. It tasted just right. I offered Greg a taste.
Again. A mistake.
Greg, who up to this point expressed less than zero interest in Dole Whip, suddenly turned into a Dole Whip vacuum. Now, what you might not know is that my husband is really low-key and almost always relaxed. Inhaling food isn't a trait he'd ever exhibited before.
I watched as his spoon hit my bowl of Dole Whip again and again. Then I started laughing. "Dude! What the heck? You just ate 75% of my ice cream."
His response? "Oh. Sorry. That was good. I'll buy you another bowl."
We watched the parade and–woe–when we arrived back at Aloha Isle, we found it closed for the night. No more Dole Whips for us.
Of course, I retold the story, compete with Greg stealing my ice cream, to everyone. So when my mom and I went to Disney, she wanted to try a Dole Whip for herself.
Our trip happened before Christmas and several nights during our trip the Magic Kingdom closed early for a Christmas party. Thankfully a friend told me that "Captain Cook's" at the Polynesian hotel sold Dole Whip—and it was self serve. (update: Dole Whip is still sold at the Polynesian but it is no longer self serve.)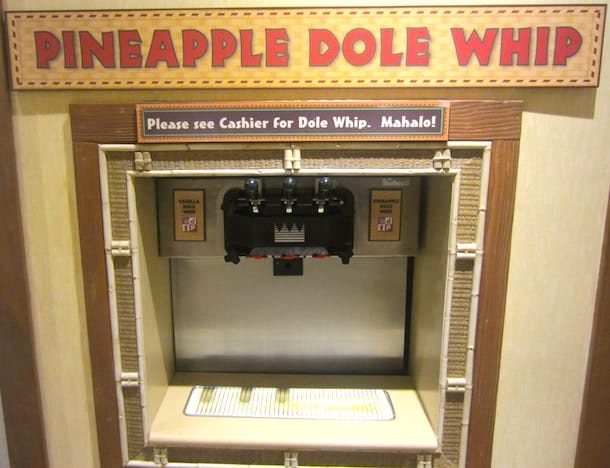 Off to the Polynesian we went! I used our snack credits for two bowls of Dole Whip. After paying, the cashier handed me two empty bowls. Here's where culinary training really comes in handy. I can pull a good bowl of soft serve, complete with a pointy top. (thank you. bows) For her first Dole Whip, my mom wanted it swirled with vanilla ice cream.
We headed outside to eat our ice cream and then magic happened. And it had nothing to do with the Dole Whip. Fireworks starting going off at the Magic Kingdom and we had a perfect view! We noticed folks walking down to the beach. So we followed, kicked off our shoes, and watched the lovely holiday-themed fireworks. I loved it! In fact, we enjoyed watching the fireworks so much from the beach at the Polynesian (while eating a Dole Whip) that we did it almost every night of our trip.
Then when Greg and I returned to Disney a few weeks ago for the Food Blog Forum conference, I introduced him to this tradition. This time, of course, we got separate bowls of Dole Whip because, come on, steal my Dole Whip once, shame on you. Steal my Dole Whip twice, shame on me.
Obviously, I adore the Dole Whip. However, I've talked to folks about this treat and have noticed a trend. People either love pineapple Dole Whip or they can't stand it. Have you tried a Dole Whip? Do you love it or loathe it?
Oh, and one more thing. Disney put this on their Facebook a few months ago: