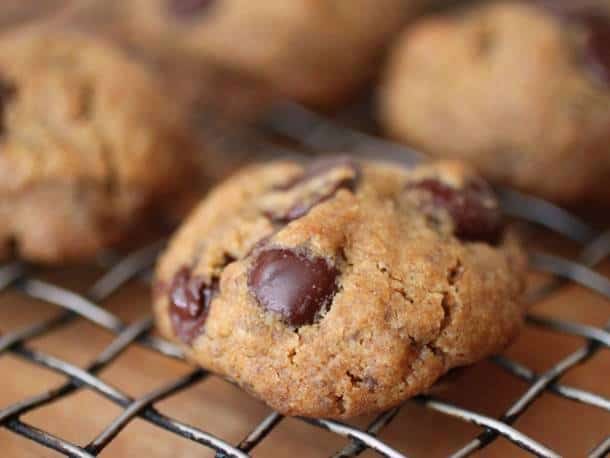 I once feared homemade chocolate chip cookies. When I was a kid, someone assured me that, no, theirs did not contain nuts. (I'm allergic.) They were wrong. One trip to the emergency room later, I never looked at a plate of homemade chocolate chip cookies the same way again.
Remembering this incident inspired me to create an allergen-free chocolate chip cookie recipe.There would be no nuts (or soy or wheat or eggs or dairy) hiding in this recipe!
Thanks to a blend of whole grain flours, ground flax, brown sugar, and vanilla, these cookies have a caramel-like flavor. "I love how buttery they are!" said one taster. Not a pat of butter goes near the mixing bowl! Instead, I used dairy-free/soy-free shortening. This makes for crunchy-edged cookies with chewy centers.
While I developed this recipe for anyone with multiple food allergies or who follows a vegan diet,these chocolate chip cookies can be enjoyed by anyone whose diet includes cookies!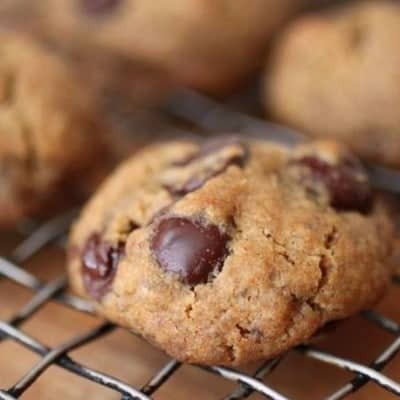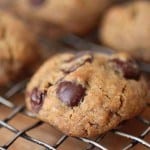 Vegan Gluten-Free Chocolate Chip Cookies
Ingredients
3

tablespoons

ground flax meal

(1 ounce; 28 grams)

1/4

cup

hot water

(2 ounces; 56 grams)

1 1/4

cups

sorghum flour

(5 ounces; 142 grams)

3/4

cup

brown rice flour

(4 ounces; 113 grams)

1

teaspoon

baking soda

1/2

teaspoon

salt

3/4

cup

soy-free shortening or coconut oil

(4 3/4 ounces; 134 grams)

1/2

cup

dark brown sugar

(4 ounces; 113 grams)

1/2

cup

granulated sugar

(3 1/2 ounces; 100 grams)

2

teaspoons

vanilla extract

2

cups

vegan and/or allergen free chocolate chips

(12 ounces; 340 grams)
Instructions
Center oven racks in middle position and preheat oven to 350°F. Line baking sheet with parchment paper.

Whisk together ground flax and hot water in a small bowl. Set aside.

Whisk together sorghum flour, brown rice flour, baking soda, and salt in a small bowl.

Cream together shortening and sugars on medium high speed in bowl of stand mixer fitted with paddle attachment. Cream until a thick paste forms, about 30 seconds. Add flax mixture and vanilla. Cream until mixture is light and fluffy, about 45 seconds.

Stop mixer and scrape down bottom and sides of bowl. Add dry ingredients. Turn mixer on to medium speed. Mix until dough forms, about 30 seconds. Turn off mixer and add chocolate chips. Turn mixer on to low speed. Mix until chips are combined, about 15 seconds.

Drop dough, about one tablespoon each, onto prepared baking sheet, about two inches apart. Bake until cookies are golden brown and aromatic, about 14 minutes.

Remove pan from oven and allow cookies to cool on pan for two minutes. Using a metal spatula, transfer cookies to wire rack to cool completely. Store cookies in an airtight container for up to four days.