Understanding the difference between weight and volume measurements is one of the key ingredients in successful baking.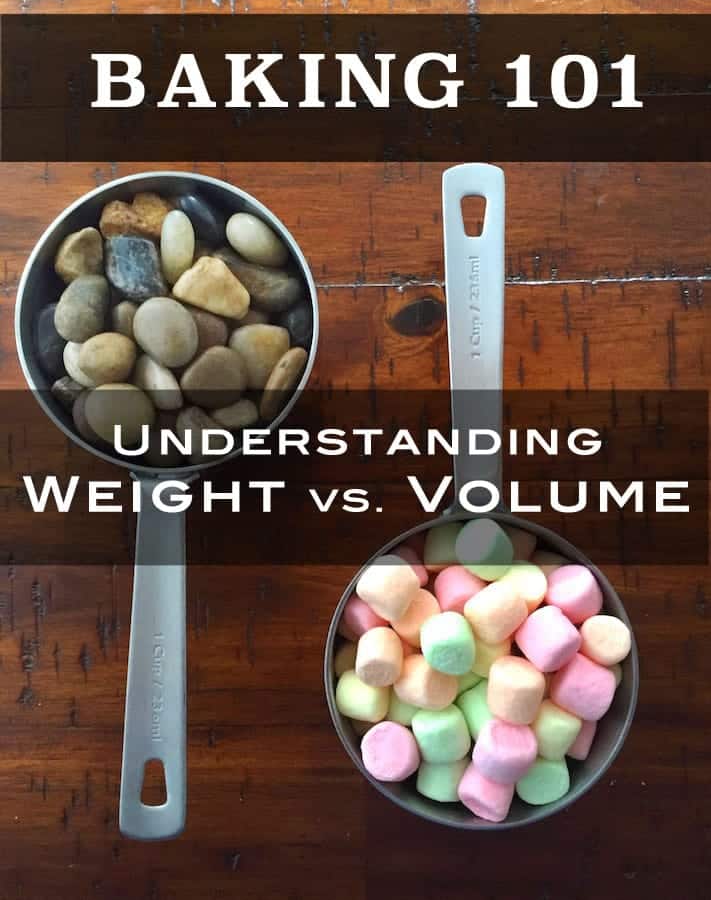 It happens at least once a week. Someone emails me a little confused about the ingredient list of a recipe. The email goes something like this: "I see that the recipe for XYZ calls for 1 cup of flour. You have that listed as 4 ounces. The same recipe calls for 1 cup of sugar. That's listed as 7 ounces.What's the correct measurement? There's a mistake in the recipe! "
Nope. Not a mistake. It's just an example of the difference between volume and weight measurements.
To help me explain this, I've measured a cup of marshmallows into a measuring cup. This is a volume measurement.
Now let's see what it weighs! (Note: Before putting the full measuring cup on the scale, I placed the empty measuring up on the scale and "zeroed" it out. This way, when I placed the filled cup on the scale, the weight would NOT include the weight of the cup. This is also called taring the scale.)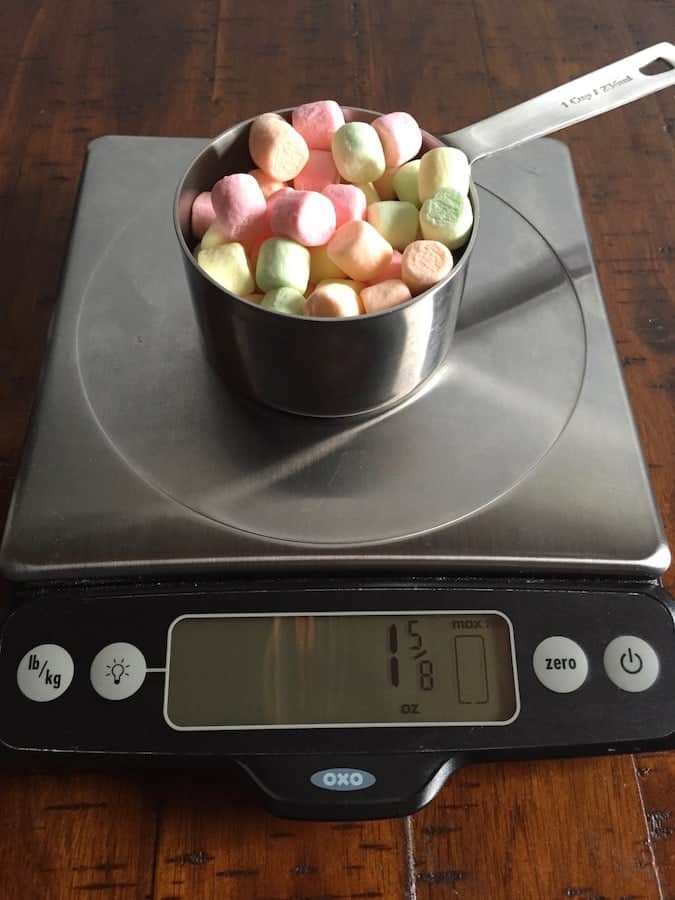 The cup of marshmallows weighs 1 5/8 ounce. Not very heavy!
I filled the same cup with stones. Let's see what they weigh.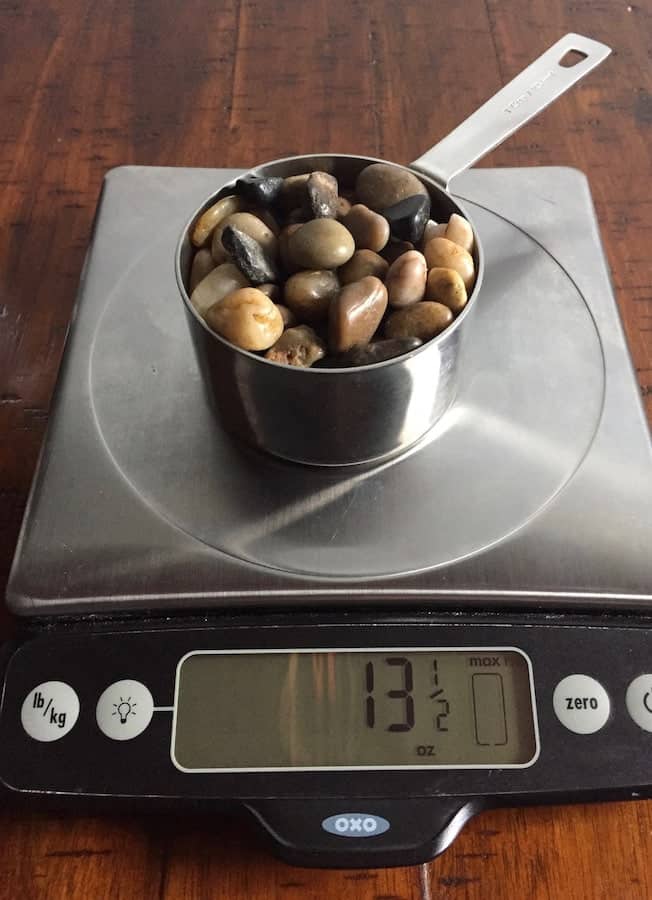 A whopping 13 1/2 ounces! Almost a full pound. And 11.875 ounces less than a cup of marshmallows. But they're both a cup!
In a recipe. I'd write this:
1 cup (1 5/8 ounces) marshmallows
1 cup (13 1/2 ounces) stones
Now, onto the ingredients we bake with on a regular basis. We'll start with granulated sugar.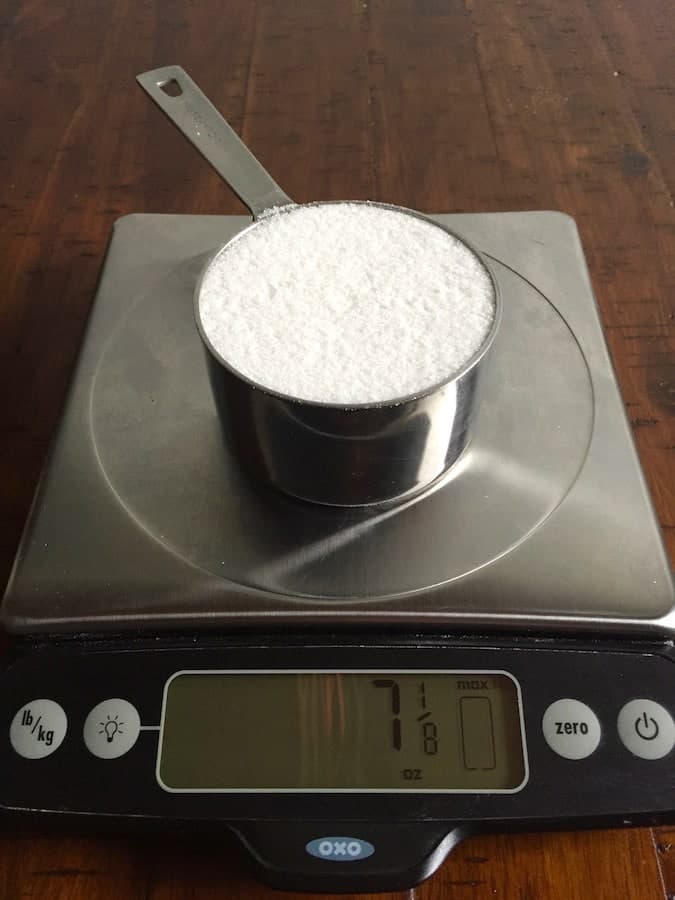 This cup of sugar weighs 7 1/8 ounces. This is an excellent example. Most ingredient weight charts list granulated sugar as seven ounces. Here's the thing: volume measurement, even when done correctly, varies. The reasons for the variation depend on the situation. A measuring cup might be slightly misshapen. Or when the ingredients were added to the cup, they were packed loosely or tightly into the cup. Perhaps when the cup was leveled, perhaps the leveling wasn't straight. All sorts of things can affect the weight of one cup of ingredients.
In this case, 1/8 ounce won't make much difference. Sometimes, however, a cup can be off as much as an ounce or two. With some gluten-free ingredients, like coconut flour, an ounce makes a BIG difference. This is why I suggest weighing ingredients whenever possible.
This is fun! Let's look at another ingredient!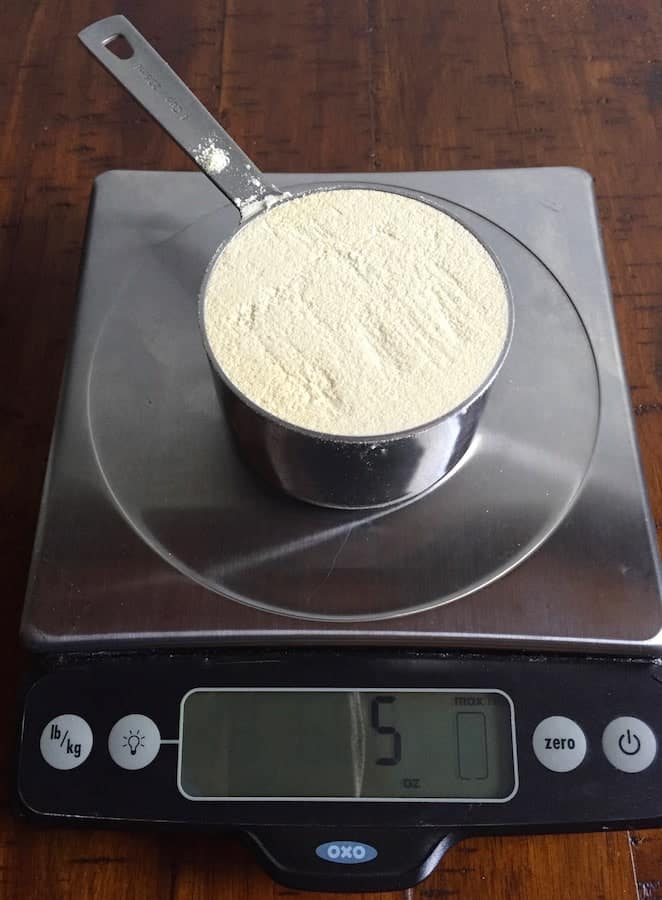 Millet flour weighs in at 5 ounces. Two whole ounces less than granulated sugar.
If these two ingredients showed up together in a recipe, they'd be listed like this:
1 cup (7 ounces) granulated sugar
1 cup (5 ounces) millet flour
As you can see, I removed that extra 1/8 of an ounce because I'd do that when testing the recipe since I know that a cup of sugar should only weigh seven ounces.
Next up: Tapioca Starch!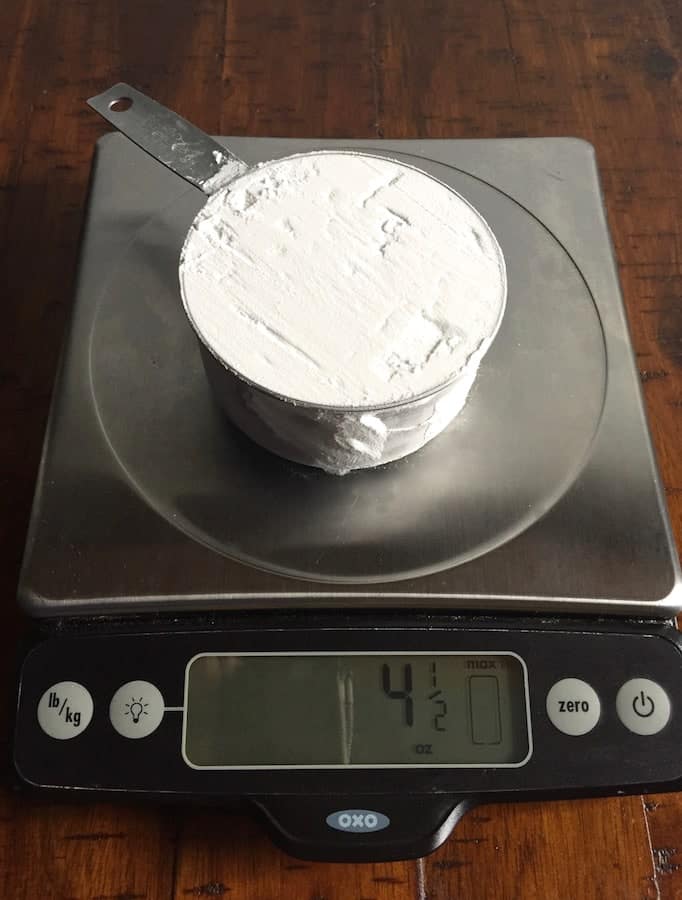 This cup of tapioca starch weighs 4 1/2 ounces.
Our recipe would now read:
1 cup (7 ounces) granulated sugar
1 cup (5 ounces) millet flour
1 cup (4 1/2 ounces) tapioca starch
Finally, whole almonds.
4 5/8 ounces! For this one, I'd call that 5 ounces because asking someone to weigh out 4 5/8 ounces of almonds is nuts. (Sorry. I had to make that joke.) And the difference between 4 5/8 ounces of almonds and 5 ounces of almonds in a recipe doesn't matter.
This brings our final recipe to
1 cup (7 ounces) granulated sugar
1 cup (5 ounces) millet flour
1 cup (4 1/2 ounces) tapioca starch
1 cup (5 ounces) whole almonds
As you can see, the weight of "one cup" varies greatly by ingredient. And that doesn't even include ingredients like butter (1 cup = 8 ounces) or liquid ingredients, such as, honey (1 cup=12 ounces) or milk (1 cup =8 ounces.)