Want to add a pop to gluten-free blueberry pancakes? Make the batter with whole grain flours. (And, if you want to really go all the way, add a sprinkle of chocolate chips to the pancakes. They make for a wonderful summer treat.)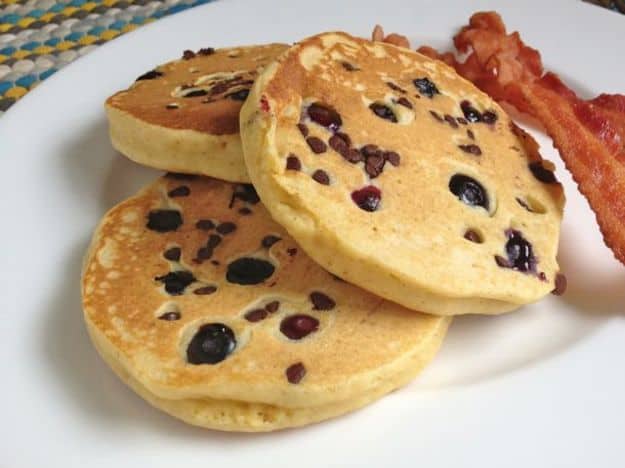 Lately, I can't stop tinkering with my gluten-free pancake recipe. There's nothing wrong with the original recipe. Just the opposite, actually. I love the pancakes so much that it's fun to see how different ingredients affect the recipe.
So when I craved multigrain pancakes, I replaced the rice flours and cornstarch in the original recipe with three of my favorite whole-grain, gluten-free flours: corn, sorghum, and oat. I hoped the pancakes would be flavorful, but not dense or gritty—two common problems with multigrain pancakes whether they're gluten-free or not. The combination of flours worked. As with the original recipe, the pancakes were tender and incredibly light, but now they were really flavorful too. Dare I say it, I think I prefer them to the original.
And while I love the pancakes plain, I love them even more with blueberries. Sprinkle some washed berries on the pancakes right after you pour the batter onto a hot griddle. You can also throw some chocolate chips onto the cooking pancakes along with the berries. Not too many, just enough to surprise you every few bites. I think I'm done tinkering with the recipe…at least for now.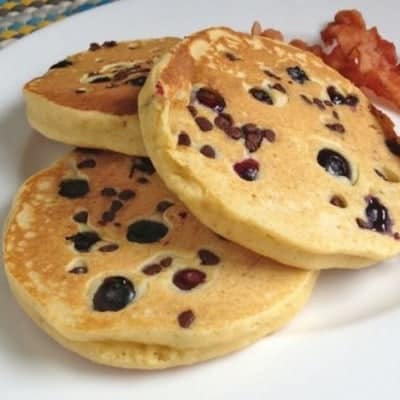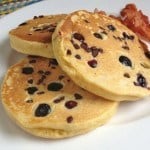 Whole Grain Gluten-Free Pancakes
Gluten-Free Blueberry Pancakes taste fabulous when made with whole grain flours. A sprinkle of chocolate chips makes them even more special.
Ingredients
1

cup

gluten-free corn flour

(4 ounces; 113 grams)

1/2

cup

gluten-free oat flour

(1 1/3 ounces; 45 grams)

1/2

cup

sorghum flour

(2 1/2 ounces; 70 grams)

1/4

cup

granulated sugar

(1 3/4 ounces; 50 grams)

1

tablespoon

baking powder

1/2

teaspoon

salt

1/4

teaspoon

xanthan gum

2

large

eggs

(about 3 1/2 ounces; 100 grams, out of shell)

1

cup

milk

(8 ounces; 226 grams)

1/4

cup

vegetable oil, plus additional for griddle

(1 3/4 ounces; 50 grams)

1

teaspoon

vanilla extract

1

cup

blueberries

washed and dried (optional)

1/4

cup

chocolate chips, optional

Butter, for serving

Maple syrup, for serving
Instructions
Whisk together corn flour, oat flour, sorghum flour, granulated sugar, baking powder, salt, and xanthan gum in medium bowl. Add eggs, milk, vegetable oil, and vanilla extract Whisk until smooth.

Lightly oil flat non-stick griddle pan. Heat griddle over medium-high heat until oil shimmers but does not smoke. Drop batter, approximately 1/4 cup, onto griddle. Batter should sizzle as it hits the pan.If desired sprinkle blueberries and chocolate chips evenly over each pancake.

Cook until edges of pancakes set and small bubbles appear all over the surface, approximately 3 minutes. Flip pancakes and cook until set, about one minute. Serve with butter and syrup, if desired. Repeat with remaining batter.