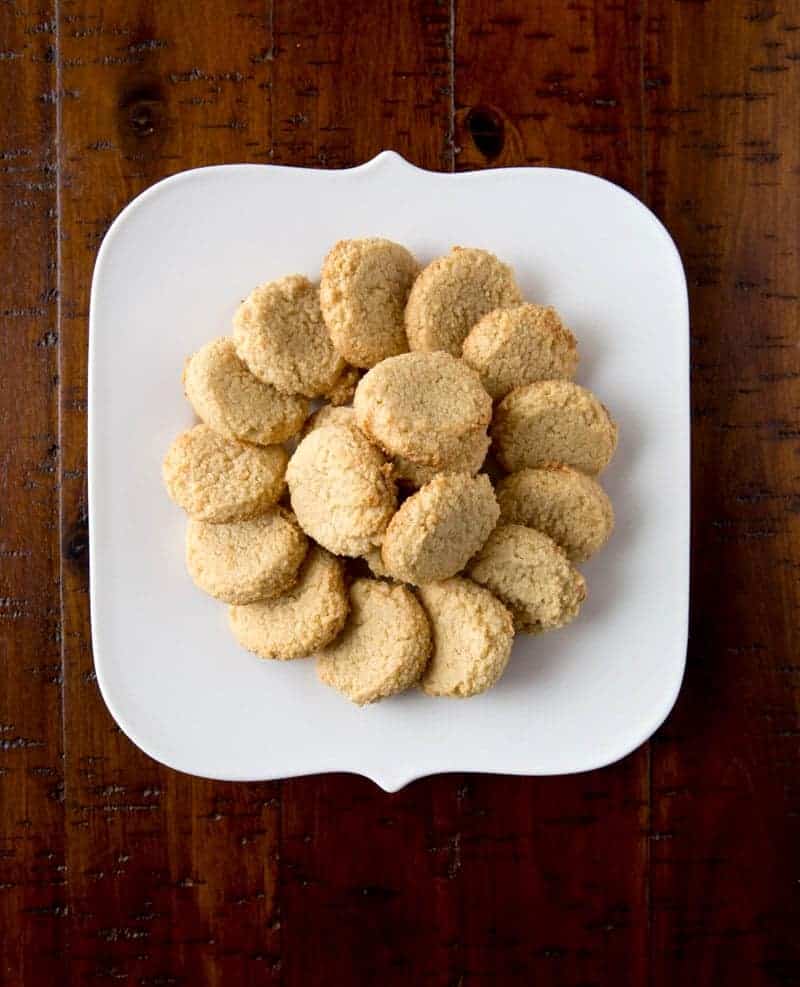 Need a cookie NOW? Then these are for you! With only four ingredients, these cookies come together in the time it takes to preheat the oven. Made with almond flour, maple syrup, and vanilla, the cookies bake up crisp on the outside and tender on the inside. {grain-free, dairy-free, egg-free, soy-free, and refined sugar free!}
(for more about this recipe, including a video and giveaway, scroll down.)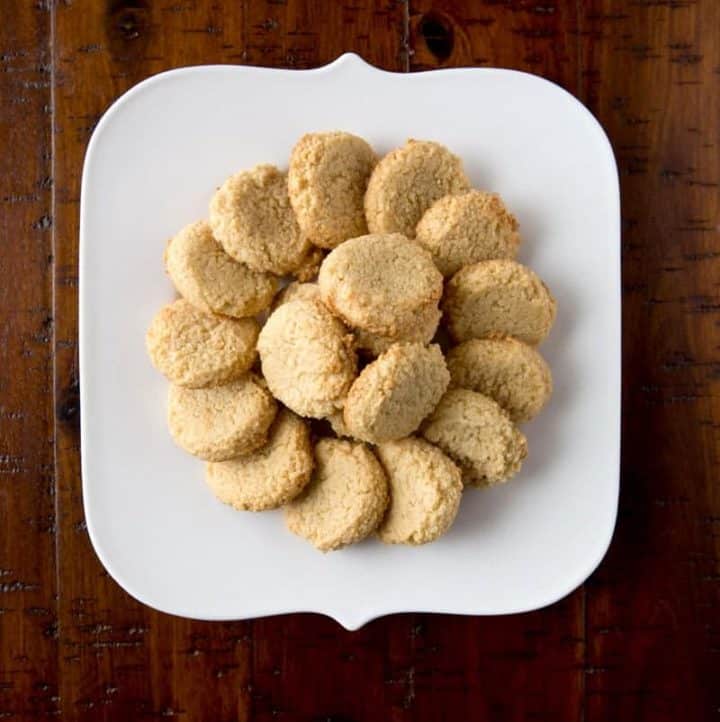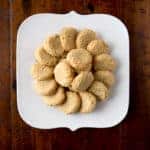 World's Easiest Cookies
Ingredients
2

cups

finely ground almond flour

(8 ounces; 226 grams)

1/2

teaspoon

baking powder

homemade or grain-free store-bought

1/3

cups

dark maple syrup

(3 1/2 ounces; 100 grams)

2

teaspoons

vanilla extract
Instructions
Adjust an oven rack to the middle position and preheat the oven to 350oF. Line a rimmed baking sheet with parchment paper.

Whisk the almond flour and baking powder together in a medium mixing bowl. Switch to a wooden spoon and stir in the maple syrup and vanilla. Stir until a sticky dough holds together.

Drop dough by the tablespoonful onto the prepared baking sheet, spaced about 2 inches apart to allow for spreading. For crisp cookies, press down the dough lightly with the flat bottom of a drinking glass or measuring cup. (If the glass sticks to the dough, dip the bottom in tapioca starch.) For softer cookies, don't press down the dough.

Bake until the edges are golden brown, about 12 minutes.

Allow the cookies to cool on the pan for about 3 minutes, then transfer them to a wire rack to cool completely.

Allow the baking sheet to cool, and repeat with the remaining dough.
World's Easiest Cookies
You know what's awesome? Cookies! You know what's awesome-r? Friends!
When my new baking book came out, I wanted to share my joy–and some cookies–with my friends. Small problem: many of them live on the other side of my computer screen. Argh! But I won't complain about this because, as I'm reminded each time I have a video call, we are living in the future! Sadly, the future does not yet allow us to beam baked goods into our friends homes. Blerg. And while I could have baked cookies and popped them in the mail, I wanted to bake with my friends, not just send them cookies.
So I asked them to bake with me to celebrate the release of my third cookbook, The World's Easiest Paleo Baking. Like everyone, my friends are busy folks. So I knew immediately which recipe from the new book I wanted to share with them: The World's Easiest Cookies. With only four ingredients and a twelve minute bake time, this recipe would allow my friends to sit down and enjoy a cookie in less time it would take to run to the store and buy cookies.
I mean, these are the easiest cookies EVER to make.
How easy? You take ground almond flour and whisk in a little baking powder. Then you add maple syrup (I like to use dark maple syrup but any kind will do) and a generous amount of vanilla. Stir the whole thing together with a wooden spoon. After a few seconds, the almond flour releases a little of its oil and the dough holds together. It's amazing how a dough that's made without eggs or butter looks so much like traditional sugar cookie dough.
Drop the dough onto a parchment-lined baking sheet. (I like to use a cookie scoop but that's just because I'm obsessive about all my cookies being the same size. Plus I find using a cookie scoop easier than futzing with two spoons. Anything that makes life easier=yay in my book.)
You bake the cookies for about 12 minutes and, BOOM, done!
Hard to believe, right? I know! I mean I created the recipe and I still can't believe how easy it is!
Here, watch this!
That's all it takes to make these cookies. Can you believe it? No dairy! No eggs! No stand mixer! Just a few ingredients and a few minutes.
Now you understand why I wanted to share this recipe with my friends!
They all made cookies. (Which means they all ate cookies. Which makes me happy!) And in the spirit of sharing, they've posted about it!
Friends, meet some of my other friends. I know you'll love them!
Jeni, from PirateJeni.com, is one of those cooks that always seems to be making something AMAZING. Pressure Cooker Short Ribs? Yup. Homemade Velveeta-style cheese? Jeni's done it. So even though she doesn't follow a gluten-free diet, Jeni was up for making cookies! At first, she wasn't sure about the cookies, Totally fine with me! We all have different tastes. A day after baking, the texture softened slightly and she liked them. YAY! Check out her feelings on the World's Easiest cookies HERE.
Next up is Steve. He blogs at the Grateful Celiac. We have to talk about Steve. When he got his hands on the recipe, he decided to add crumbled bacon to the dough. Let me repeat that: HE ADDED BACON. I can't even begin to tell you how much I love this addition. It's like the BEST ADDITION EVER! EVER! Take a look at his bacon-studded cookies HERE! And while you're there, check out his recipe for yeast rolls. They're on my "to bake" list!
Christy started blogging at Eat Clean Live Simple in 2015 and I'm so glad she did! (ahem she makes burgers and puts bacon *and* avocado on them! Check.it.out.) Her blog focuses on clean eating and organization tips. 1. I love both. 2. Do you think she'll mind if we eat cookies while we organize? Check out her take on the cookies HERE.
Jenny blogs at CreativeCookingGF.wordpress.com and is a Registered Dietitian. I know! A Registered Dietitian with celiac disease, awesome, right? We met in person a few years ago at the Gluten-Free and Allergen Expo and have kept in touch online since. (Thank you Facebook!) Jenny's always doing something nifty like making gluten-free pho. Check out her cookie post and follow her on Instagram. She posts *the best* pics!
Becca over at Crumbs and Chaos says, "as the mother of 4 children, I'm constantly feeding someone." Ha! I love it. (I don't have kids and I feel like I'm always feeding someone; so I can't imagine how busy her kitchen must be!) Her recipes are so easy and SO GOOD. I made the pineapple vanilla smoothie right before I wrote this post. (nom nom nom). It tastes like summer in a glass which I really need in the middle of Feb! Check out her cookie post, right HERE.
Marci at My Heavenly Recipes is one of my non-gluten-free friends! (Don't you love non-gluten-free friends who are willing to try gluten-free baking. So.much.love!) She posted about the cookies even though her life is crazy-wonderfully busy. Marci's blog isn't a dedicated gluten-free blog but I know you'll find recipes there that you'll love–like her recipe for buckeyes which is SO GOOD. SOOOOO GOOOOOOD!
As you can see, it was so fun to make cookies with friends scattered around the country! A HUGE! HUGE! HUGE thanks to my friends who took the time to make cookies to celebrate the release of the World's Easiest Paleo Baking. I appreciate it so very much.
I want you to make cookies too (And I want you to make cakes and doughnuts and pies!) So I'm giving away FIVE signed copies of my book!
To enter, tell me what you love to bake! (You can also get bonus entries by "liking" GlutenFreeBaking.com on FB, and following me on twitter.
Good luck! And happy cookie baking!
–E.
PS–I'd love it if you ordered a copy of the World's Easiest Paleo Baking. This book has my heart and I think you'll love it–even if you don't follow a paleo diet.
PPS–As a thank to you my friends, my publisher is sending them each a copy of my cookbook. They offered this after I asked folks to bake cookies with me which I thought was so lovely!