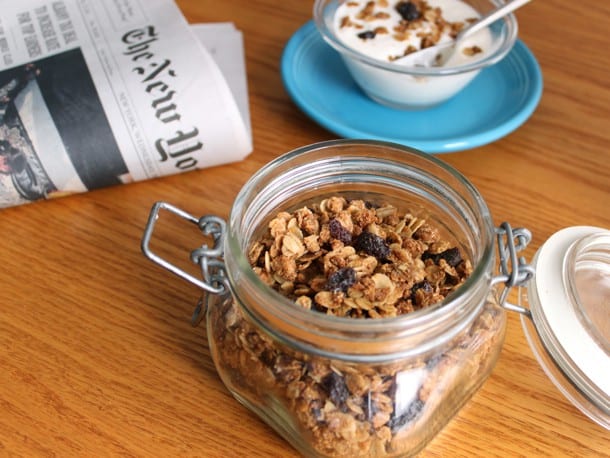 For me, good granola doesn't have a dominant flavor– it doesn't holler, "oats!" or "raisins!" or "cinnamon." Rather I like my granola flavors to work together. And this recipe does just that! One of my favorite things about the recipe (if I do say so) is the use of ground almonds instead of whole almonds. While there is no problem with almonds sprinkled here and there throughout granola, I wanted a more pronounced almond flavor. Ground almond flour does just this, bringing a subtle almond flavor to each bite of granola.
To make this granola, you simply dump everything together in one large bowl, stir, and bake. You want to use two baking sheets for the granola. If you crowd the ingredients on one pan, the granola never gets nice and crisp.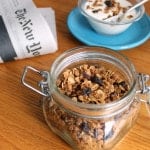 Easy Gluten-Free Granola
Be sure to use gluten-free oats when making this recipe. Not all oats are safe for people on a gluten-free diet.
Servings
4
cups of granola
Ingredients
3

cups

gluten-free oats

(10 1/2 ounces; 297 grams)

2/3

cup

almond flour

(2 2/3 ounces; 75 grams)

1

teaspoon

ground cinnamon

1

teaspoon

kosher salt

1/3

cup

vegetable oil

(2 2/3 ounces; 75 grams)

1/2

cup

maple syrup

(5 1/2 ounces; 156 grams)

1/2

cup

dark brown sugar

(3 3/4 ounces; 106 grams)

1

cup

raisins, optional

(about 5 1/4 ounces; 149 grams)
Instructions
Preheat oven to 300°F;. In large bowl, combine oats, almond flour, ground cinnamon, and kosher salt. Toss to combine. Add the oil. Stir with a wooden spoon to coat.

In a small bowl, combine maple syrup and brown sugar. Pour over oat mixture. Stir to coat thoroughly.

Divide granola evenly between two large baking sheets. Bake until golden brown, tossing every ten minutes on the baking sheet.

Allow granola to cool. Transfer to a large bowl and stir in raisins.