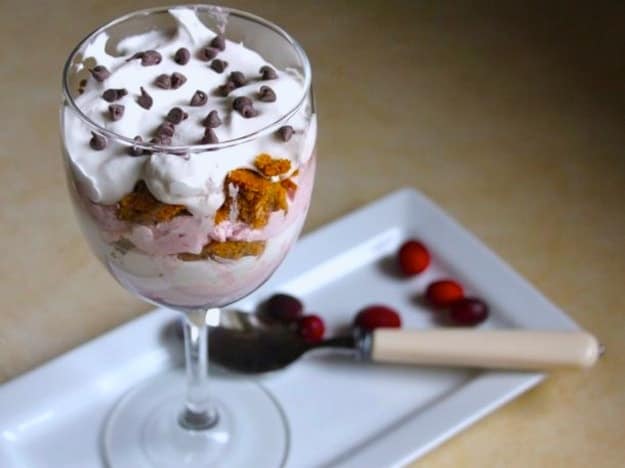 Let's get something out of the way: this isn't a traditional trifle recipe. Trifles, a classic English dessert, usually include layers of fruit, pastry cream, and sponge cake. While traditional trifles aren't hard to make, they do take some time to put together, especially when you make gluten-free sponge cake from scratch.
This simple trifle recipe mimics the layered dessert but takes only a few minutes to make. You simply layer soft-baked chocolate chip cookies and a fluffy blend of cranberry sauce and cream cheese. That's it! The cranberry-cream cheese mixture whips up light and, like pastry cream, it isn't too sweet.
Since the recipe is so simple, it's easy to add other ingredients to suit your tastes. Sliced fruit, chopped nuts, or a splash of your favorite liquor, work well sandwiched between the layers of cookies and cranberry cream. As for those chocolate chip cookies, they pair really well with the cranberry filling. However, if you're allergic to chocolate, replace the cookies with soft-baked gluten-free snickerdoodles.
No matter how you make it, this is one holiday gluten-free dessert you can enjoy in minutes. And there's something wonderfully sweet about that.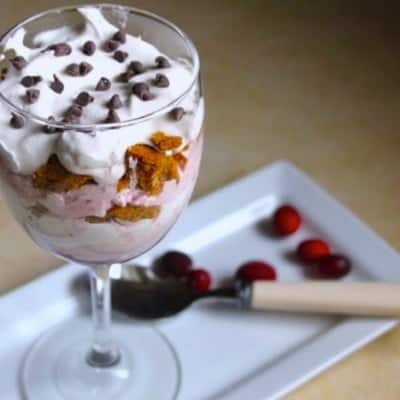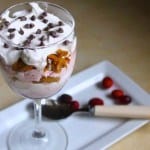 4 Ingredient Gluten-Free Thanksgiving Cranberry Trifle
Ingredients
1/2

cup

plus 6 tablespoons jellied or whole berry cranberry sauce

divided

8

ounces

cream cheese, at room temperature (regular, low fat or no-fat)

powered sugar

optional

half and half, as needed

6

soft-baked gluten-free chocolate chip cookies

crumbled (Enjoy Life brand suggested.)

1

cup

sweetened whipped cream

Mini-chocolate chips

(optional)
Instructions
In medium bowl, combine 1/2 cup cranberry sauce and cream cheese. Beat on medium speed until light and fluffy, about 30 seconds. If the mixture is thick, add a tablespoon of half and half to thin. Adjust as needed. Taste. If cranberry cream isn't sweet enough, add powdered sugar to taste.

Place about one tablespoon of cranberry sauce on the bottom of six dessert cups. Spoon in two to three tablespoons of cranberry cream. Layer with a sprinkle of crumbled chocolate chip cookies. Add another layer of cranberry cream and chocolate chip cookies. Top with whipped cream and, if desired, a sprinkle of mini-chocolate chips. Serve immediately or chill until ready to serve. Store up to two days in the refrigerator.