This almond flour cake is moist, tender, and flavorful. It's great if you need a grain-free recipe or if you just love almond desserts! Easy one-bowl cake recipe. Perfect for birthdays and other celebrations!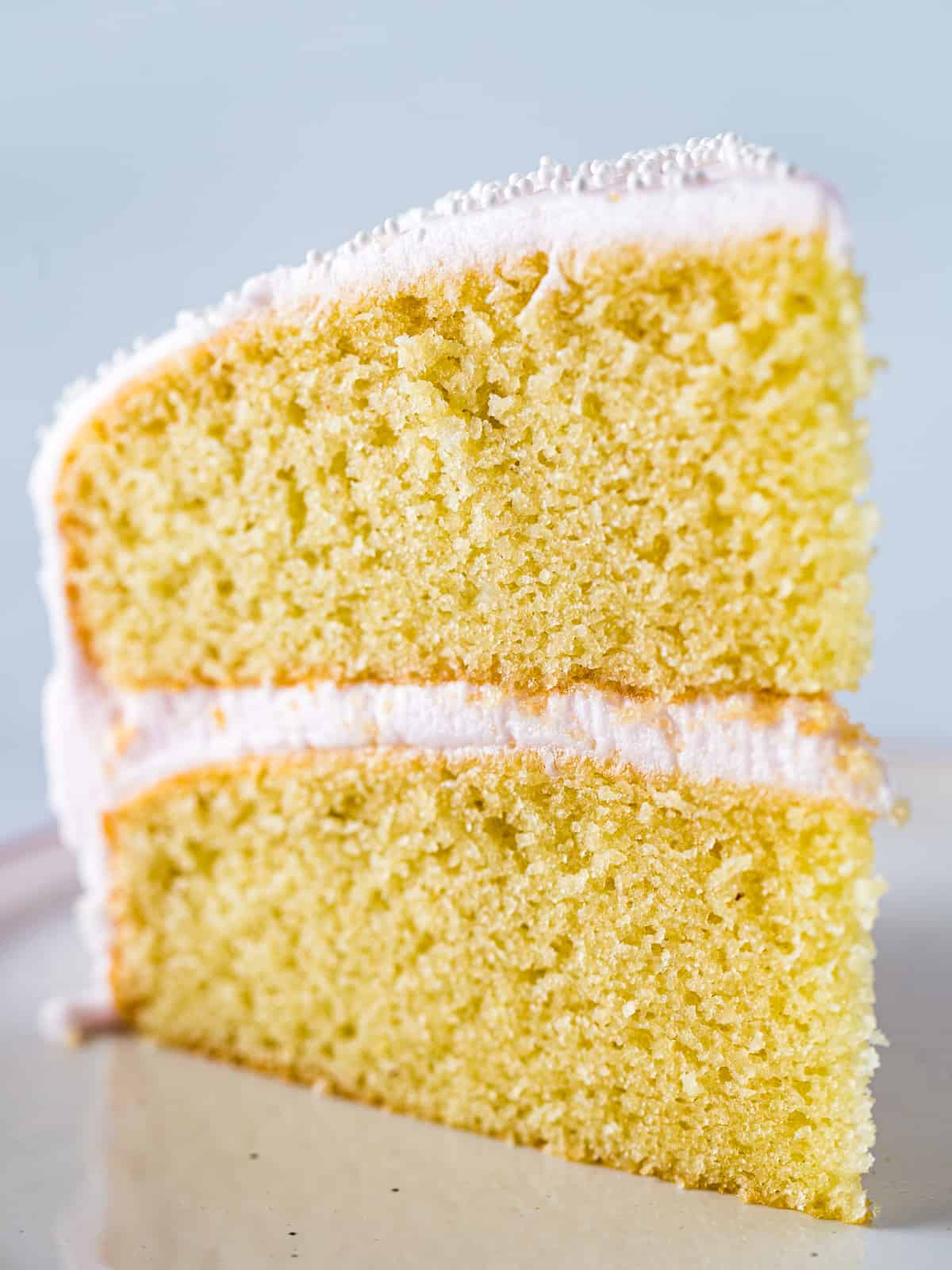 Looking for a moist, soft, and delicious yellow cake made with almond flour? This recipe has you covered. It's so easy-to-make! And is perfect frosted with buttercream or simply sprinkled with powdered sugar and served with fresh berries.
People often ask me if they can swap almond flour for gluten-free flour in my gluten-free yellow cake recipe. That's not a good idea because almond flour, which is made from ground almonds, contains fat and no starch. The good news? This recipe was developed with almond flour. No need to make swaps! It's moist and tender and grain-free.
Why You'll Love This Almond Flour Yellow Cake
Made with simple ingredients
One bowl recipe.
Flavorful
Moist and tender
Freezes well
Important Ingredients
Finely ground almond flour. This cake uses almond flour for a rich flavor and moist texture. For the best results, use a finely ground almond flour.
Tapioca Starch/Flour. During testing, I found that tapioca starch made for a yellow cake with a "bakery-style" crumb. It adds softness to the cake while letting the flavor of the almond flour shine.
Eggs. There's a generous amount of whole eggs in this recipe. They provide structure to the cake. Please note: the recipe has not been tested with an egg replacer.
Grapeseed Oil. To keep the crumb of this cake light and tender, use a liquid oil, like grapeseed oil. I found that melted coconut oil made the cake heavy.
Coconut Sugar or Evaporated Cane Sugar. The sweetness in this cake comes from either coconut sugar or natural cane sugar. If you use coconut sugar, the cake looks a bit darker and has a more caramel-like flavor than if you use cane sugar
Milk. For a nice smooth batter, a little milk is needed. Traditional milk or a dairy-free replacement may be used. The only milk to avoid is full fat coconut milk. The added richness that full fat coconut milk brings to the recipe creates a cake that's unpleasantly rich.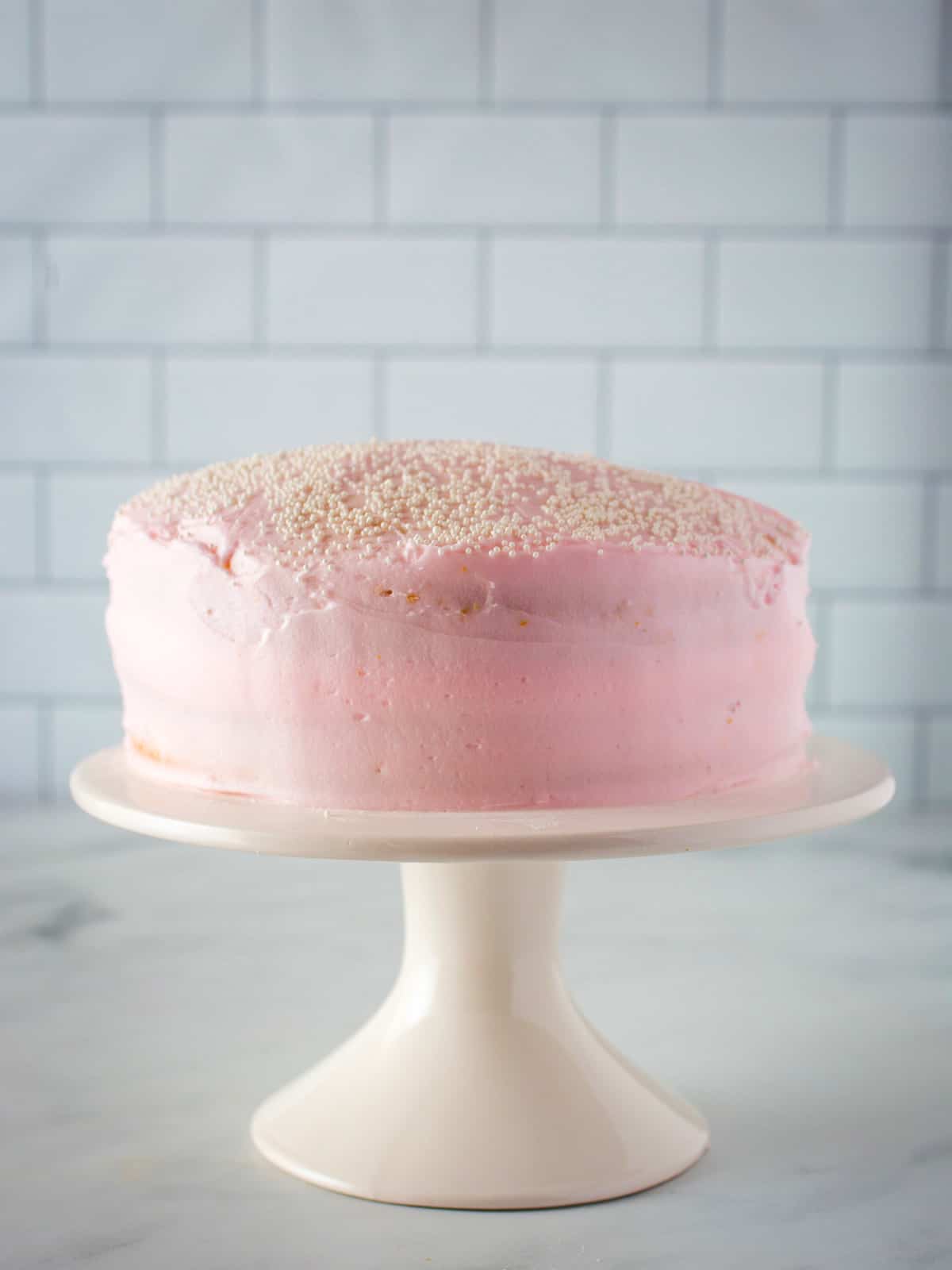 How to Make Almond Flour Yellow Cake. Keys for Success
Whisk the almond flour to remove lumps. Due to the oil content in almond flour, sometimes it clumps together. Before using, whisk it, with either a fork or balloon whisk, to break up any lump.
Mix the batter until smooth and creamy. You don't need an electric mixer for this recipe. (Although you can use one if it's easier for you.) Simply combine all the ingredients in a large bowl and whisk until smooth and creamy. When you're done with whisking, take a moment to run a spatula along the side and bottom of the bowl. (Sometimes a little of the flour mixture is hanging out there.) And give the batter a few more stirs with the whisk.
Cool the cake on a wire rack. This cake is fragile when it comes out of the oven. Allow it to cool in the pan for a few minutes. And then, when it's still warm to the touch but not, remove the cake from the pan and allow it to cool on a wire rack.
Almond Flour Cake: Dos and Don'ts
Don't use coconut flour. This cake uses almond flour and tapioca starch. Coconut flour or a grain-based gluten-free flour won't work in this recipe.
Do use coconut sugar or pure cane sugar. This is a mildly sweet cake.
Do test the cake for doneness. Insert a cake tester or toothpick into the center of the cake to check it for doneness. The cake tester should come out clean or with a few crumbs clinging to it. You don't want to see any batter.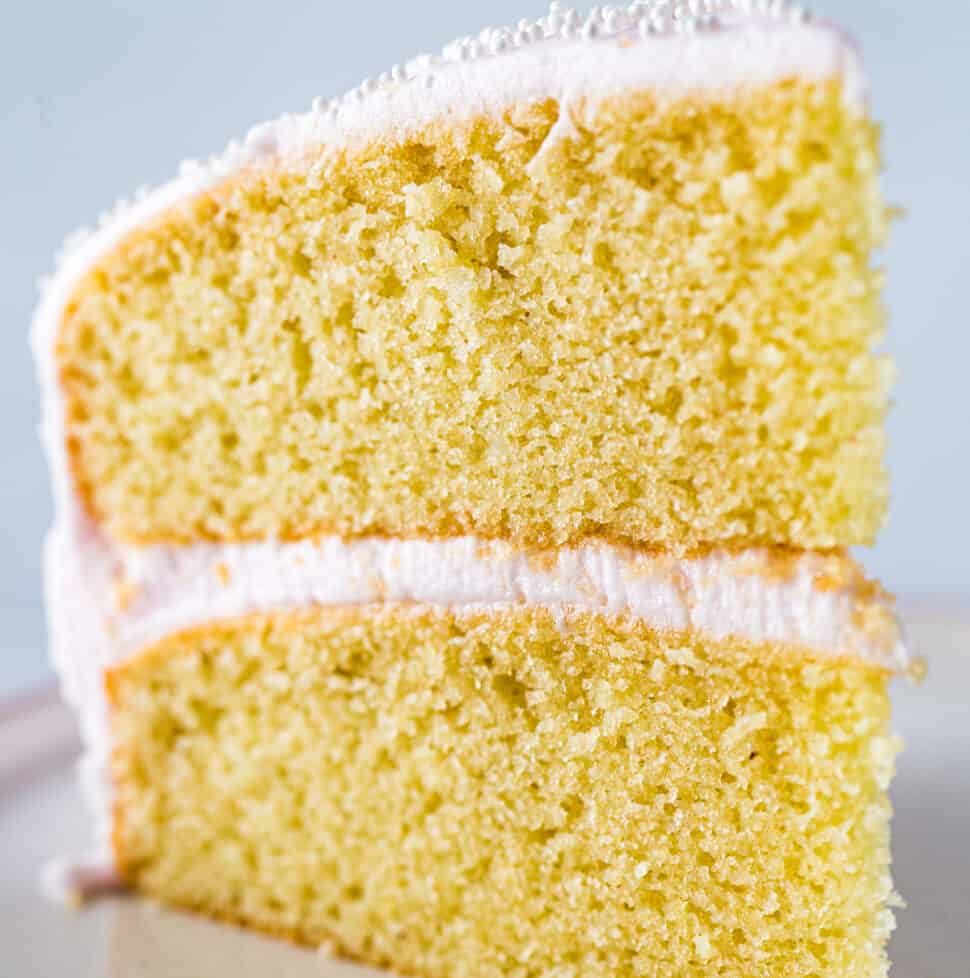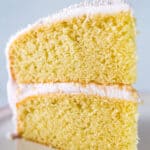 Almond Flour Yellow Cake
Easy almond flour cake recipe. Moist and tender, this grain-free almond flour cake is perfect for birthdays. Dairy-free.
Ingredients
For the Cake
3

cups

finely ground almond flour

(12 ounces; 340 grams)

1

cup

tapioca starch

(4 ounces; 113 grams)

1

cup

coconut sugar or evaporated cane juice

(6 ounces; 170 grams)

2

teaspoons

baking powder, homemade or grain-free store-bought

1

teaspoon

salt

⅔

cups

grapeseed oil

4 ⅔ ounces; 132 grams

6

large

eggs

(about 10 ½ ounces; 300 grams out of the shell)

½

cup

milk, dairy-free or traditional,

(4 ounces; 113 grams)

2

teaspoons

vanilla extract
For the Frosting
1

cup

dairy-free butter spread or butter, softened

(8 ounces; 226 grams)

4

cups

powdered sugar, grain-free, see note

(16 ounces; 453 grams)

¼

teaspoon

salt

¼

cup

milk, dairy-free or traditional, more as needed

(2 ounces; 56 grams)
Instructions
For the Cake
Preheat Oven. Adjust an oven rack to the middle position and preheat the oven to 350ºF.

Grease Pans. Grease two 8-inch round cake pans with nonstick cooking spray or brush lightly with melted coconut oil. Place an 8-inch parchment-paper round in the bottom of each pan and grease it lightly with nonstick cooking spray or brush lightly with melted coconut oil.

Make Batter. Whisk the almond flour, tapioca starch, sugar, baking powder, and salt together in a medium mixing bowl. Break up any clumps of almond flour with your fingers or a fork. Add the oil, eggs, milk, and vanilla and whisk until smooth.

Fill Pans. Spread the batter evenly into the prepared cake pans. Gently tap the pan on the counter to settle the batter.

Bake until a cake tester inserted in the center of each cake comes out clean, about 30 minutes.

Cool the Cake. Allow the cake(s) to cool in the pan for about 8 minutes, then turn out to a wire rack to cool completely. Peel off the parchment paper and allow to cool completely before frosting.

Store the Cake. Cover leftover cake and store on the counter for up to three days. To freeze the cake: cool cake completely. Wrap tightly with plastic wrap and freeze up to two months. Thaw cake overnight in the refrigerator.
For the Frosting
Make Frosting. Beat the dairy-free spread until light. Stop mixer. Add the powdered sugar, salt, and milk. Turn mixer to low. Mix for a few seconds. Increase speed and beat the frosting until light and fluffy. If frosting is too thick, add additional milk as needed.
Recipe Notes
Powdered Sugar
Many brands of powdered sugar contain corn starch. If you need a grain-free powdered sugar, look for a grain-free brand or make your own with this corn-free powdered sugar recipe.