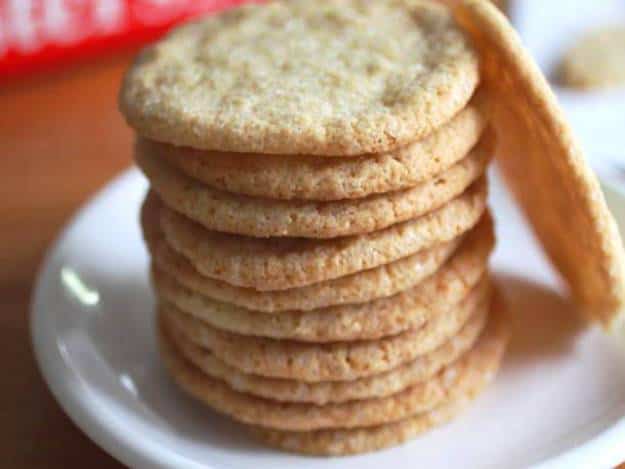 Warm sugar cookies used to taunt me. Every day in high school, the cafeteria offered warm sugar and chocolate chip cookies. The chocolate chip cookies I could do without—mom made those at home. But, oh, the sugar cookies. The only sugar cookies made at home were rolled out and cut into shapes. The cafeteria sugar cookies, which I'm sure came frozen in a box, were perfectly round disks coated with granulated sugar. On a good day, they'd be golden brown. On a bad day? They looked pale and greasy. It didn't matter to me what they looked like, I wanted one. Thanks to my food allergies, however, I couldn't satisfy my craving. I had to be content just looking at the cookies.
After high school, I didn't think about the tempting sugar cookies until I passed a cookie display at, of all places, a mini-mart a few years ago. Sitting on the counter was my old high school culinary crush:the sugar-coated sugar cookie. Well, I was done with simply craving it. I wanted a taste. Since I still couldn't buy the cookie, I headed into the kitchen and created a recipe.
Does this cookie taste anything like the one offered at my high school? I have no idea. For a taste comparison, you'd have to ask someone who actually ate those cookies. But these cookies taste exactly as I imagined those cookies would taste: buttery and sweet with just a hint of vanilla. They might not be as easy to make as plucking frozen dough from a box, but they are darn close. To satisfy the cookie craving high-school me, all I need to do is cream together a few ingredients, roll the dough into balls, coat with sugar, and plop onto a cookie sheet. The best part of these cookies? I don't have to return to high school to enjoy them!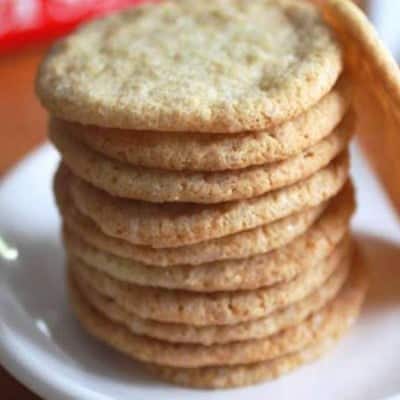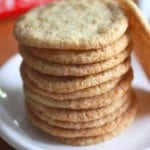 Easy Gluten-Free Sugar Cookies
Ingredients
2

cups

white rice flour

(8 ounces; 226 grams)

1/3

cup

cornstarch

(1 1/3 ounces; 38 grams)

1/3

cup

sweet rice flour

(1 1/3 ounces; 38 grams)

1

teaspoon

baking soda

1/2

teaspoon

xanthan gum

1/2

teaspoon

salt

1 3/4

cups

granulated sugar

(12 1/4 ounces; 348 grams)

2

sticks

butter, softened

(1 cup; 8 ounces; 226 grams)

2

teaspoons

vanilla extract

2

large

eggs

(1 3/4 ounces; 50 grams)

Coarse sanding sugar

about 1/2 cup
Instructions
Preheat oven to 350 degrees F. Line baking sheets with parchment paper.

In a medium mixing bowl, whisk together all the dry ingredients. Set aside. In a large mixing bowl, cream together sugar, butter, and vanilla, about 1 minute.

Add eggs, one at a time, and mix until well combined. Reduce speed to low and add the dry ingredients. Mix for 45 seconds.

Chill dough for 15-20 minutes.

Roll dough, about 2 tablespoons each, into a ball. Roll dough ball into the sanding sugar. (To make this step go faster, I use a cookie scoop.)

Place coated dough ball onto prepared baking sheet. Be sure to space cookies about 2 inches apart. Flatten cookies very slightly with the palm of your hand.

Bake cookies, about 12-15 minutes, or until lightly golden brown.

Remove cookies from the oven and allow to cool for 3 minutes on the baking sheet. After 3 minutes, transfer cookies to a wire rack to cool. Store cookies in an airtight container.