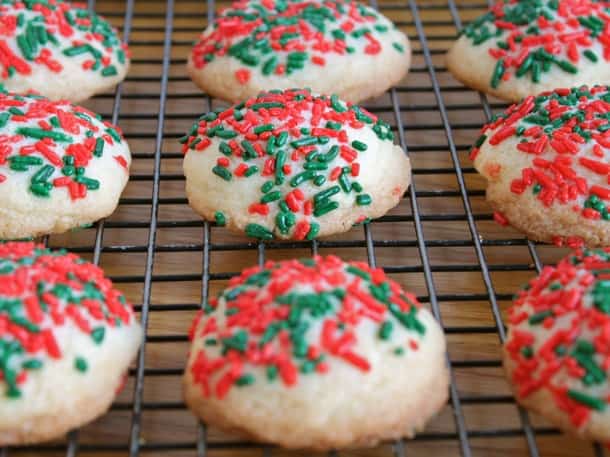 These cute butter cookies take only minutes to make! The finished cookies come out of the oven already decorated with a sweet, buttery flavor.
Here are some tips to make these easy cookies even easier!
Mix the dry ingredients the night (or week!) before you plan on baking. Measure out the dry ingredients into a large plastic bag and label the bag. When you are ready to bake, simply add the wet ingredients.
Use a cookie scoop. If you want all the cookies to bake at the same time, avoiding some that are burnt and some that are raw, use a cookie scoop to shape the dough. It's also a nice timesaver!
Freeze the dough. When you have a little extra time, make up a batch of dough. Scoop into balls, roll into sprinkles, and place in a freezer container. (Line the freezer container with parchment paper.) When you are ready to bake, preheat the oven as directed and bake. The cookies take a few extra minutes to bake.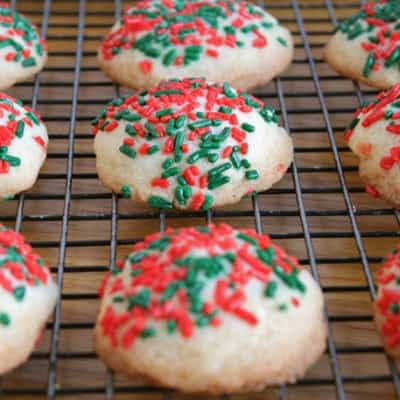 Easy Holiday Gluten-Free Butter Cookies
I like soft sprinkles, often called JImmies, for these cookies. I find nonpareils too crunchy for these cookies.
Ingredients
2

cups

white rice flour

(8 ounces; 226 grams)

1/3

cup

cornstarch

(1 1/3 ounces; 38 grams)

1/3

cup

sweet rice flour

(1 1/3 ounces; 38 grams)

1

teaspoon

baking powder

1/2

teaspoon

xanthan gum

1/2

teaspoon

salt

1 3/4

cups

granulated sugar

(12 1/4 ounces; 348 grams)

2

sticks

butter, softened (If you are dairy-free, shortening works well in this recipe.)

(1 cup; 8 ounces; 226 grams)

2

teaspoons

vanilla extract

2

large

eggs

(about 3 1/2 ounces; 100 grams)

about 1/2

cup

coarse or colored sanding sugar, sprinkles, or quins
Instructions
Preheat oven to 350 degrees F. Line baking sheets with parchment paper.

Whisk together white rice flour, cornstarch, sweet rice flour, baking powder, xanthan gum,and salt.

Cream together sugar, butter, and vanilla in a large mixing bowl until a thick paste forms, about 1 minute. Add eggs, one at a time, and mix until well combined. Reduce speed to low and add the dry ingredients. Mix for 45 seconds.

Chill dough for 15-20 minutes.

Roll dough, about 2 tablespoons each, into a ball. Dip the top of the dough ball into the sanding sugar. (To make this step go faster, I use a cookie scoop.) Place coated dough ball onto prepared baking sheet. Be sure to space cookies about 2 inches apart. Flatten cookies very slightly with the palm of your hand.

Bake cookies, about 12-15 minutes, or until lightly golden brown.

Remove cookies from the oven and allow to cool for 3 minutes on the baking sheet. After 3 minutes, transfer cookies to a wire rack to cool. Store cookies in an airtight container.