This easy gluten-free banana cake is a great way to use overripe bananas. Made with gluten-free flour, brown sugar, and melted butter, the cake is moist and tender. (Dairy-free option included.)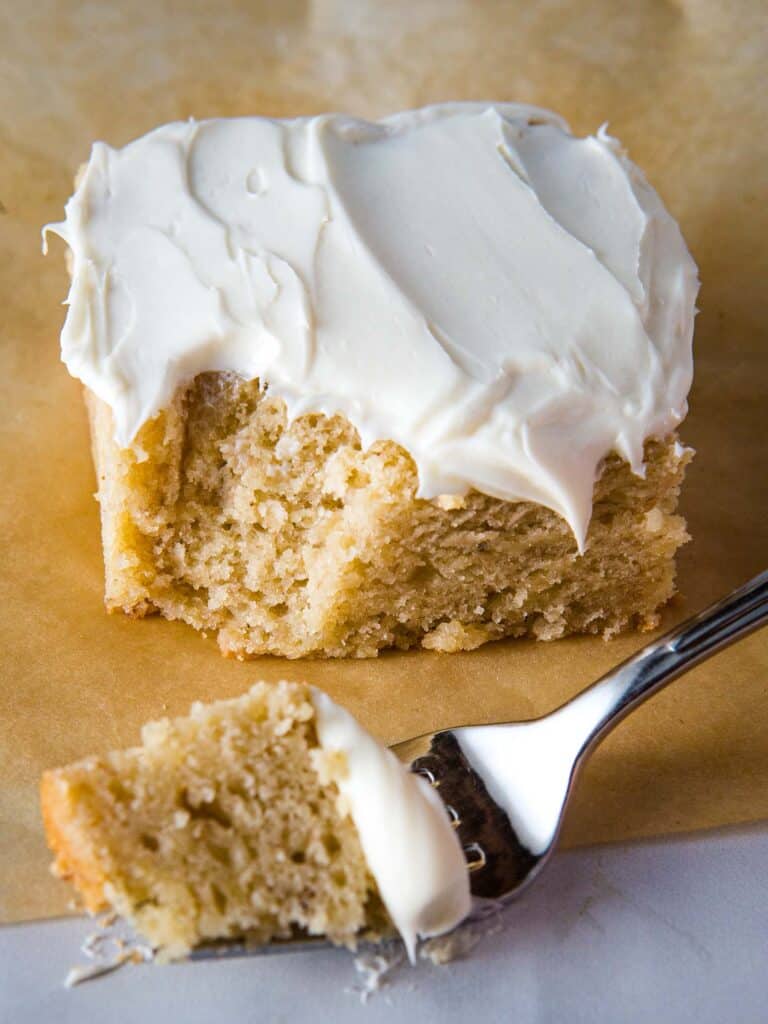 Let's talk about gluten-free banana cake. The first thing you need to know is that it's not banana bread. Think of it more like a buttery yellow cake with a lovely banana flavor. It's moist, flavorful, and best of all, really easy to make.
How to Make a Gluten-Free Banana Cake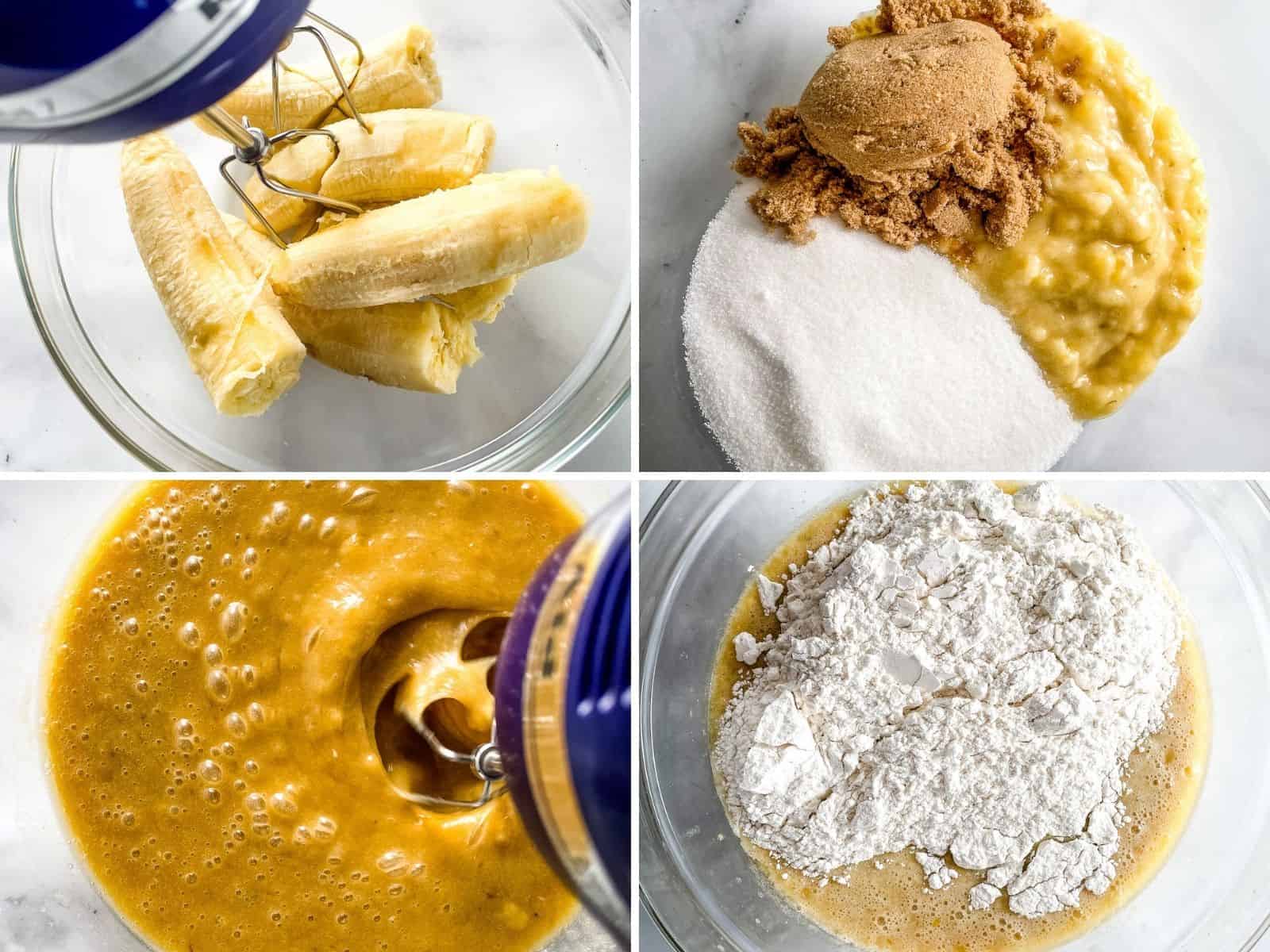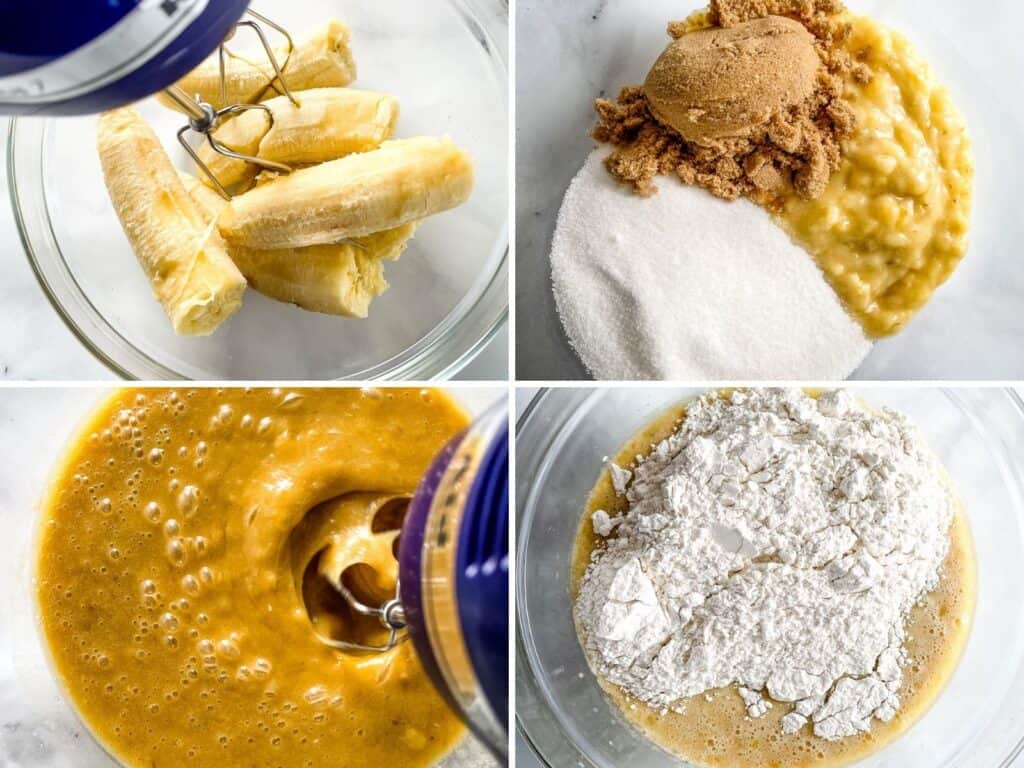 Preheat your oven. Cakes rise best when baked in a preheated (hot) oven. Most ovens take about 20 minutes to heat to the correct temperature. You can start your oven and then begin measuring ingredients and mixing the batter.
Make the Batter. You'll need two mixing bowls to make this batter. A small one to whisk together the dry ingredients and a large bowl to mash the bananas and make the batter. Whisking the dry ingredients together before adding them to the batter helps to evenly distribute the baking powder, giving you a cake that rises evenly.
Bake. Spread the batter evenly into a greased 9×13-inch cake pan. Since the batter is thick, use the back of a spoon or a small spatula to get the batter into the corners of the pan. Bake until the cake is golden brown.
Cool and Frost. You can let this cake cool right in the pan. If you prefer removing it from the pan, let the cake cool for about 10 minutes before transferring it to a wire rack. Once the cake is completely cool, frost it.
Ingredients You Need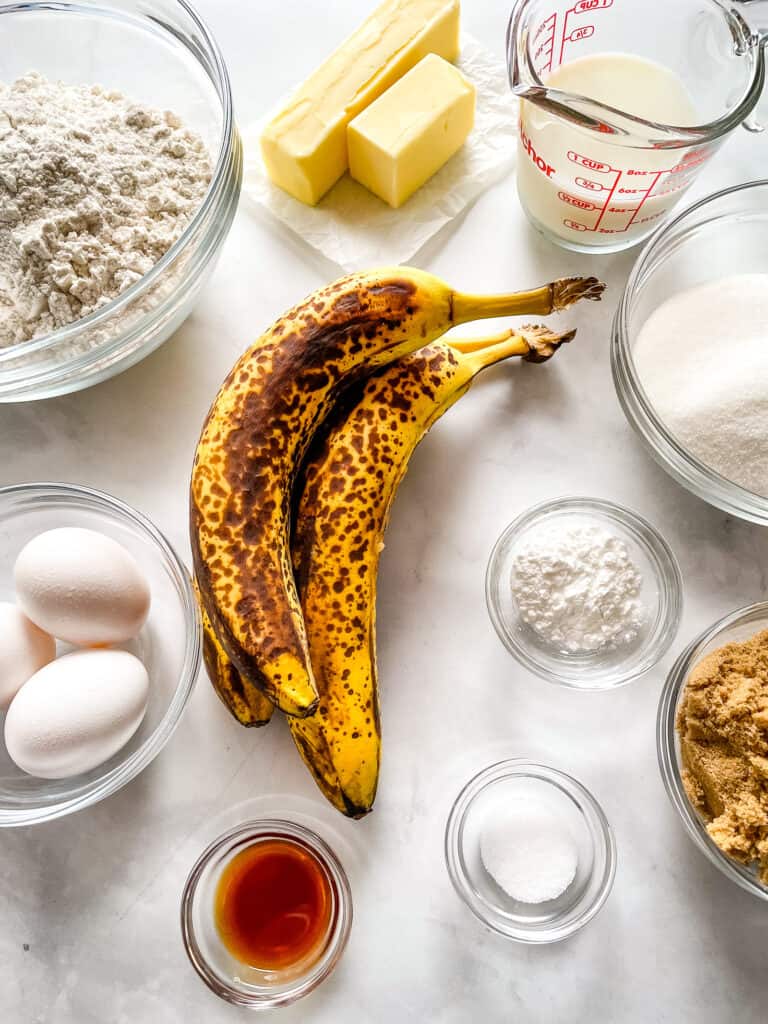 Ripe Bananas
The riper the banana, the better the flavor. Use bananas that are deep brown or very spotted.
Gluten-Free Flour
A flour blend makes this batter easy to make. I tested it with Bob's Red Mill's 1:1 Gluten-Free Baking Flour. Other flour blends might work, however, I haven't tried them. If you use a different blend, be sure it contains xanthan or guar gum. Without it, the cake won't rise correctly.
Granulated and Brown Sugar
A combination of granulated and brown sugar sweetens the cake and keeps it light. When I tested the recipe with all brown sugar, the cake turned out dense. Blending the two adds the perfect amount of flavor from the brown sugar and gives you a nice texture.
Melted Butter (or Oil)
Butter brings a nice richness and flavor to the cake. After melting the butter, cool it for a minute or two before adding it to the batter. This prevents the heat from cooking the eggs.
If you want to use a butter replacement, use either a dairy-free spread or oil. Any baking oil (corn, canola, or soy) works well in this recipe.
Baking Powder and Salt
This recipe doesn't contain much of either baking powder or salt but, wow, are they important. The baking powder helps the cake to rise and gives it a nice "cakey" texture and the salt enhances the flavors of the other ingredients.
Eggs
Three eggs give this cake lift and flavor. Use room temperature eggs for the best results. I haven't tested the recipe with an egg replacer. So I can't say if one works.
Frosting
Banana cake goes great with cream cheese frosting. I've included my favorite recipe for it below. If you don't want to make cream cheese frosting, gluten-free vanilla buttercream or gluten-free chocolate buttercream also tastes great.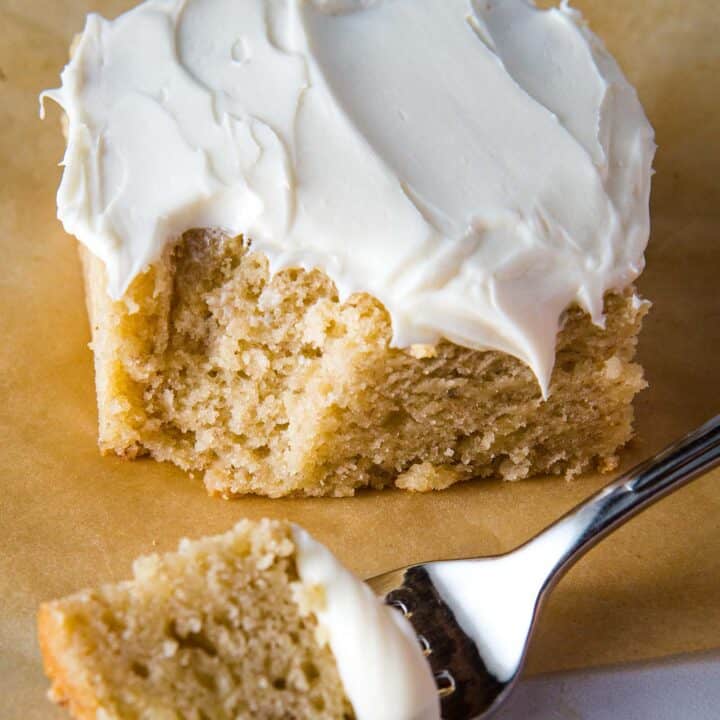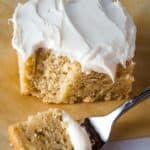 Gluten-Free Banana Cake
Easy gluten-free banana cake. Made with gluten-free flour, brown sugar, and melted butter, the cake is moist and tender. (Dairy-free option included.)
Ingredients
Gluten-Free Banana Cake
3

cups

gluten-free flour (Bob's Red Mill 1:1 Gluten-Free Baking Flour, suggested)

(14 ounces / 420 grams)

2 ½

teaspoons

baking powder

½

teaspoon

salt

3

large

very ripe bananas

( about 15 ounces/ 425 grams)

1

cup

granulated sugar

(7 ½ ounces / 212 grams)

¾

cup

butter, melted (see note for dairy-free option)

(6 ounces / 170 grams)

½

cup

packed brown sugar

(3 ½ ounces/ 100 grams)

3

large

eggs

(about 6 ounces / 170 grams out of shell)

⅔

cup

milk, regular or dairy-free

(5 1/2 ounces / 155 grams)

2

teaspoons

vanilla extract
Cream Cheese Frosting
8

ounces

cream cheese, softened

(226 grams)

1/2

cup

butter, softened

(4 ounces / 113 grams)

4

cups

powdered sugar

(16 ounces / 453 grams)

1

teaspoon

vanilla extract
Instructions
Preheat oven to 350 degrees F. Grease a 9×13-inch cake pan with nonstick cooking spray.

Whisk together gluten-free flour, baking powder, and salt in a small bowl. Set aside.

Mash bananas in a large bowl until almost smooth. Use an electric mixer or fork to do this. Add the granulated and brown sugars. Mix until combined. Add the melted butter and eggs and mix until smooth. Mixture will be thin. Stop the mixer and add the dry ingredients. Mix until a batter forms. Add the milk and vanilla extract. Mix until just combined

Spread batter into the prepared pan.

Bake until golden brown, about 30 minutes.

Cool cake in the pan. Once cake is cool frost with cream cheese frosting (recipe included) or chocolate or vanilla buttercream.

Store cake wrapped on the counter for up to three days. Freeze cooled and frosted cake for up to three months.
For the Cream Cheese Frosting
Beat together cream cheese and butter until light and fluffy. Add powdered sugar and vanilla extract. Mix until smooth. Spread on cooled cake.
Recipe Notes
Notes
Gluten-Free Flour Blend. The recipe was tested using Bob's Red Mill's 1:1 Gluten-Free Baking Flour. If you replace the flour blend, use one that contains xanthan gum for best results. 
Dairy-Free Option. Replace the melted butter with an equal amount of either a dairy-free butter replacement or oil. 
Cinnamon. If you like cinnamon in your banana cake, stir 1 teaspoon of ground cinnamon into the batter.