These gluten-free blueberry muffins are so easy to make! The recipe makes light and airy muffins that are loaded with blueberries. If you can't find fresh blueberries, go ahead and use frozen. You don't even need to thaw the frozen berries before using!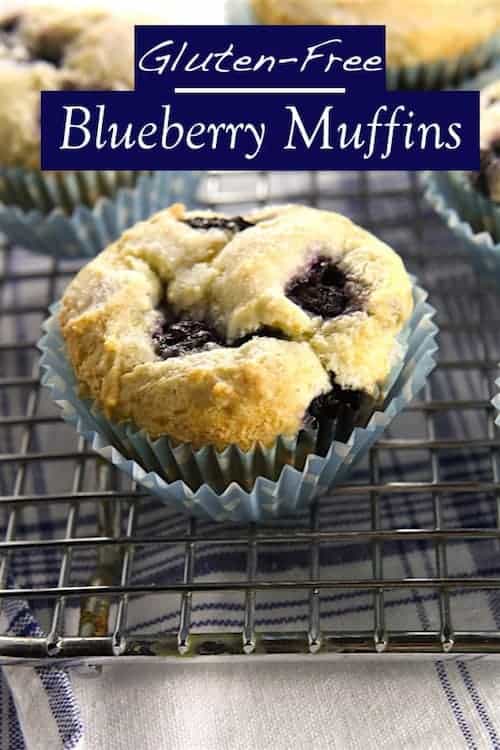 Gluten-Free Blueberry Muffins: The Ingredients
Gluten-Free Flour Blend
Guys. I have news. (takes deep breath) For the first time, I've started testing recipes using… a gluten-free flour blend. I know. I know. I avoided a pre-made blend for years. But, happily, things change.
In the past, gluten-free flour blends were abysmal. They turned baked goods into bricks. It was like some type of horrible culinary magic. You'd put in good ingredients and the flour blend would turn it into something heavy and tasteless. The worst part? They were e
Today some excellent and easy-to-find blends on the market. And I want to try baking with them. Right now, my favorite is Bob's Red Mill Gluten Free 1-to-1 Baking Flour. (Don't confuse this with their all-purpose gluten-free flour.) I've used the blend to make this recipe and gluten-free chocolate chip cookies. I have to admit, both recipes are winning rave reviews!
That said, I only tested this recipe with the Bob's 1-to-1 Baking Flour. Therefore, I'm not sure if the blueberry muffins will work with other flour blends. If you don't have Bob's on hand, be sure to use a blend that includes xanthan gum.
Sugar
Granulated sugar brings sweetness and tenderness to the muffins. Don't replace the sugar with a liquid sweetener like honey or maple syrup. The recipe won't work. (If you want a muffin recipe without refined sugar, try my paleo apple muffins.They're amazing. Heck. Even if you aren't looking for a refined sugar-free recipe, you should give those a try.)
Since I don't bake with sugar replacements, such as Splenda, I can't tell you whether they'd work with the recipe or not.
Eggs
Two eggs make these gluten-free blueberry muffins light and rich. I use large eggs. If you're baking with eggs from the farmers' market or your own chickens, always weigh them before baking since they tend to vary in size. You want your egg to weigh 50 grams each out of the shell.
For Egg-Allergies

If you are egg-allergic, try replacing the eggs with a ground flax mixture. For this recipe, replace the eggs with 2 tablespoons ground flaxmeal and 6 tablespoons warm water. Whisk together ground flax and warm water in a small bowl. Allow to stand for about five minutes. Use egg replacer in recipe as you would the traditional eggs.
Milk
Lots of folks ask what type of milk they should use for baking. Unless otherwise directed, just use whichever type of milk you have on hand. This recipe works with everything from fat-free to whole milk. As you might guess, the muffins made with whole milk will taste richer and stale less quickly than those made with fat-free milk. (Fat slows down staling. Pastries made with fat-free milk will dry out faster than those made with whole milk.)
Blueberries
Fresh or frozen blueberries work great in this recipe. If you have the option, grab some wild blueberries. (If you don't live in an area where they are grown, check the freezer section. Several brands sell them.) Wild blueberries are smaller than cultivated blueberries and the flavor tends to be more intense. I love baking muffins with them because the small size means more berries in the muffin!
By the way, you don't need to thaw frozen berries before using. Measure right from frozen and you're good to go!
As for the blueberries turning the batter purple, I say don't worry about it. Mix the berries into the batter gently. After that, don't stress about it. In fact, I think it looks pretty to have a little purple staining in a homemade blueberry muffin.
Gluten-Free Blueberry Muffins: The Method
There's a joke that muffins are just uniced cupcakes. Hmm…while I appreciate the humor, the baker in me disagrees. A good muffin should be denser and less sweet than a cupcake. Let's look at that "dense" characteristic first.
Dense and gluten-free baking often go hand-in-hand and I don't have to tell you that this is not always a good thing. What we want to achieve with this blueberry muffin recipe is a pleasant denseness, not a heavy, dry muffin. There's a difference.
To achieve a muffin with a hearty texture, don't overmix the butter and sugar. When butter and sugar are beaten together, air incorporates into the mixture. This air helps to leaven a batter during baking. For muffins, we want to mix the butter and sugar until it's just combined, no more. In fact, many muffin recipes use oil or melted butter to ensure that the only leavening comes from the baking powder.
What does this gluten-free blueberry muffin recipe contain butter?

Good question! This recipe contains butter simply because it's based on a beloved recipe from the Jordan Marsh department store. It's a really tasty recipe and one that several of you requested I make gluten-free. If you are on a dairy-free diet, this recipe easily adapts. Replace the butter 1:1 with a dairy-free alternative like Earth Balance for baking.
When you mix this batter, combine the room temperature butter and sugar and mix on medium-low speed until just combined. That's it! Then add the eggs, one at a time, and mix, again, until just combined. No need to whip anything until fluffy with this recipe.
Once the butter, sugar, and eggs are added, go ahead and add the dry ingredients. Mix until just combined. The batter will be thick. Add the milk. Mix until the batter is smooth, stir in the blueberries and you're done!

Gluten-Free Blueberry Muffins: Baking, Cooling and Storing
Here's a question for you. Do you like to line your muffin pan with paper liners or not? Since I'm a bit of a lazy baker, I always line my pan. If you prefer a naked muffin, be sure to take the time to grease each muffin cup well. You don't want the muffins to stick to the pan. In fact, I like to give the top of the pan a light spray of cooking oil. This prevents the tops of the muffins from sticking to the pan as the muffin bakes and reaches the top edges of the pan.
To ensure even baking time, scoop the same amount of batter into each muffin cavity. A large ice cream/muffin scoop makes this job easy.
The recipe calls for a generous sprinkling of sugar on top of each muffin. I included this because the original Jordan Marsh recipe called for coating each muffin with a little sugar. The sprinkling of sugar adds a little crunchy sweetness to the muffins. If you don't want the added sugar, feel free to skip this step.
The muffins take about 25 minutes to bake. As with all recipes, the baking time varies depending on your oven. You can tell the muffins are done when a cake tester inserted into the center comes out clean. Or you can tap the top of the muffin. If it feels firm, the muffins are done!
Once the muffins are baked, allow them to cool in the pan for about five minutes and then transfer to a wire rack to cool completely. When the muffins have cooled, place them on a plate and wrap with plastic wrap. They'll keep about two days on the counter. Or you can freeze them. Place the muffins in a freezer bag and freeze for up to two months. Allow the muffins to thaw at room temperature. If you have a microwave with a reliable thaw function, you can thaw in the microwave. Take care not to overheat the muffins while thawing or they will get hard.
Gluten-Free Blueberry Muffins: Variations
Gluten-Free Lemon Blueberry Muffins
Add the finely chopped zest of one lemon to the batter along with the milk.
Gluten-Free Blueberry Walnut Muffins
Reduce blueberries to one cup. Stir 1/2 cup chopped walnuts into the batter before adding the blueberries.
Shop the Recipe
The following links are affiliate links. GlutenFreeBaking.com earns a commission when you use the links to shop.
Bob's Red Mill Gluten-Free Baking Flour Mix
Muffin Pan
Ice Cream Scoop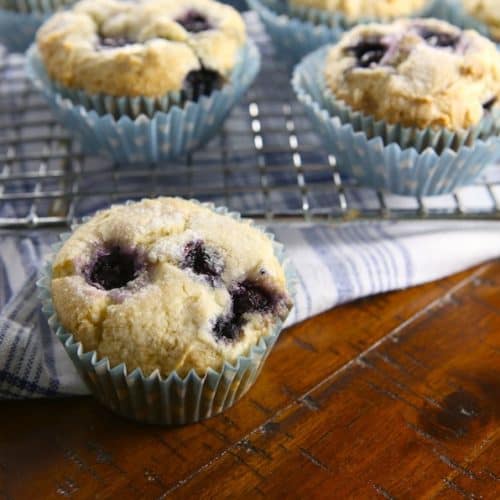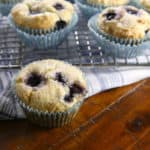 The Best Gluten-Free Blueberry Muffins
These gluten-free blueberry muffins are packed with fruit and topped with a little granulated sugar to give the muffin top a pleasant crunch.
Ingredients
2

cups

Bob's Red Mill 1-to1 Baking Flour*

(9 3/4 ounces / 275 grams)

2

teaspoons

baking powder

1/2

teaspoon

salt

1/2

cup

butter, softened

(4 ounces/ 113 grams)

3/4

cup

granulated sugar

(6 ounces/ 170 grams)

2

large eggs

1

teaspoon

vanilla extract

1/2

cup

milk

(4 ounces / 150 grams)

2

cups

blueberries

1/4

cup

granulated sugar

optional, for topping
Instructions
Preheat oven to 350 degrees F. Lightly grease 15 muffins cups or line them with paper liners.

Whisk together the flour blend with the baking powder and salt in a small bowl. Set aside.

In a large bowl, combine butter and granulated sugar. Beat on medium-low speed until thick. With the beater still running, add the eggs. Beat until combined.

Add the dry ingredients and mix on low speed. Mix until thick. Stop the mixer and add the milk and vanilla extract. Mix until a thick batter forms.

Gently fold in the blueberries with a rubber spatula.(If you are using frozen or cold blueberries, the batter will get VERY thick. This is totally normal.)

Spoon batter into prepared muffin pans. Fill each cavity about 2/3 full. Top each muffin with about 1 teaspoon of granulated sugar. (The sugar topping is optional.)

Bake until a cake tester inserted into the center of one of the muffins comes out clean, about 25 minutes.

Allow muffins to cool in the pan for five minutes and then transfer to a wire rack to cool completely.
Recipe Notes
This recipe has not been tested with other flour blends. For the best results, use the flour recommended.