These gluten-free chocolate chip cookies are crispy, buttery, and really easy to make. (Dairy-free option included.)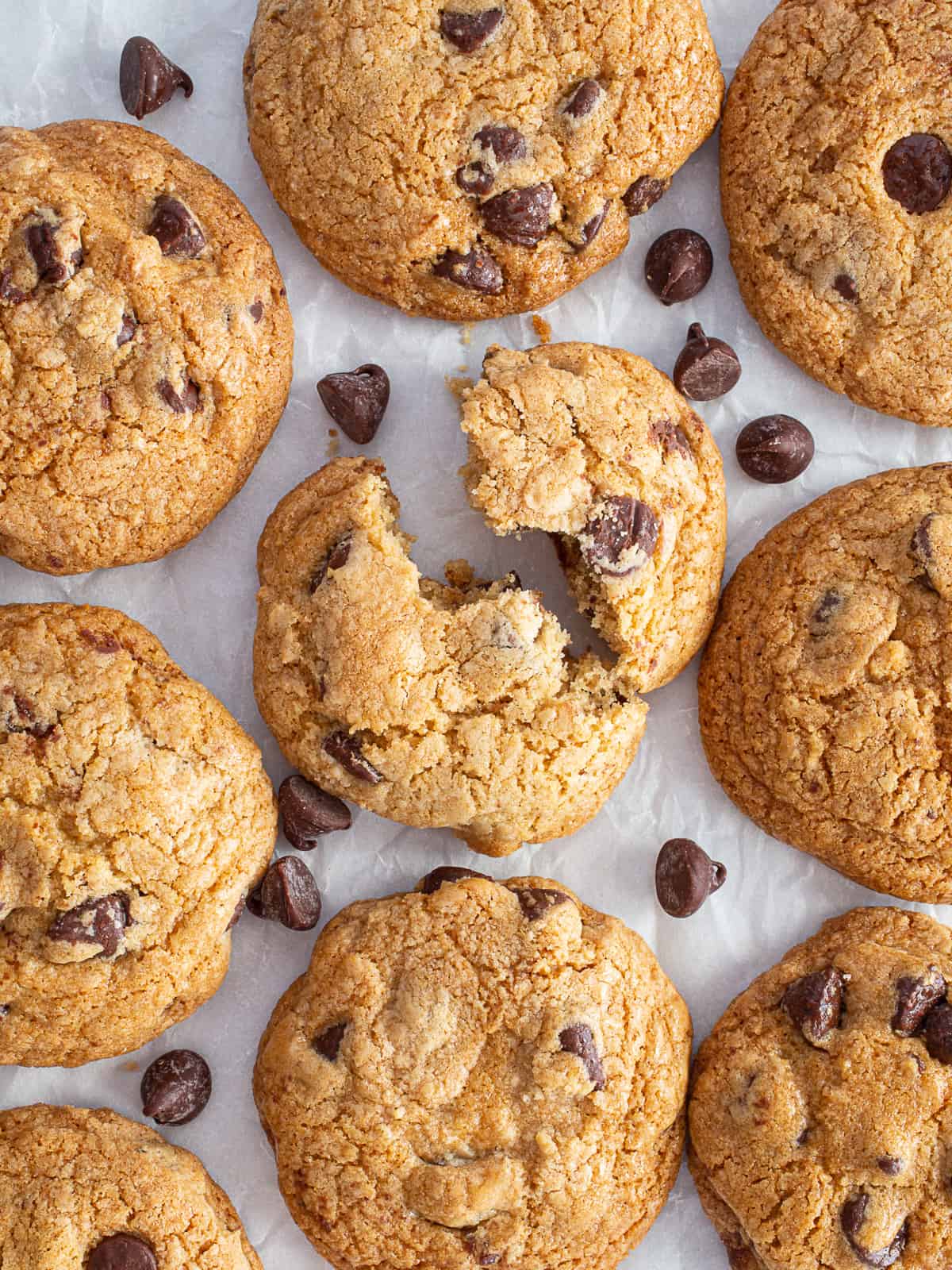 Everything you love about a classic chocolate chip cookie is in this gluten-free recipe. The cookies are crisp on the edges, rich without being greasy and so flavorful. The unique "chocolate chip cookie" flavor comes from a generous amount of brown sugar and vanilla. And, the best part? The cookies are loaded with chocolate chips. You'll get at least one in each bite.
By the way, if you're dairy-free, we've got you covered! The recipe includes a gluten-free and dairy-free variation!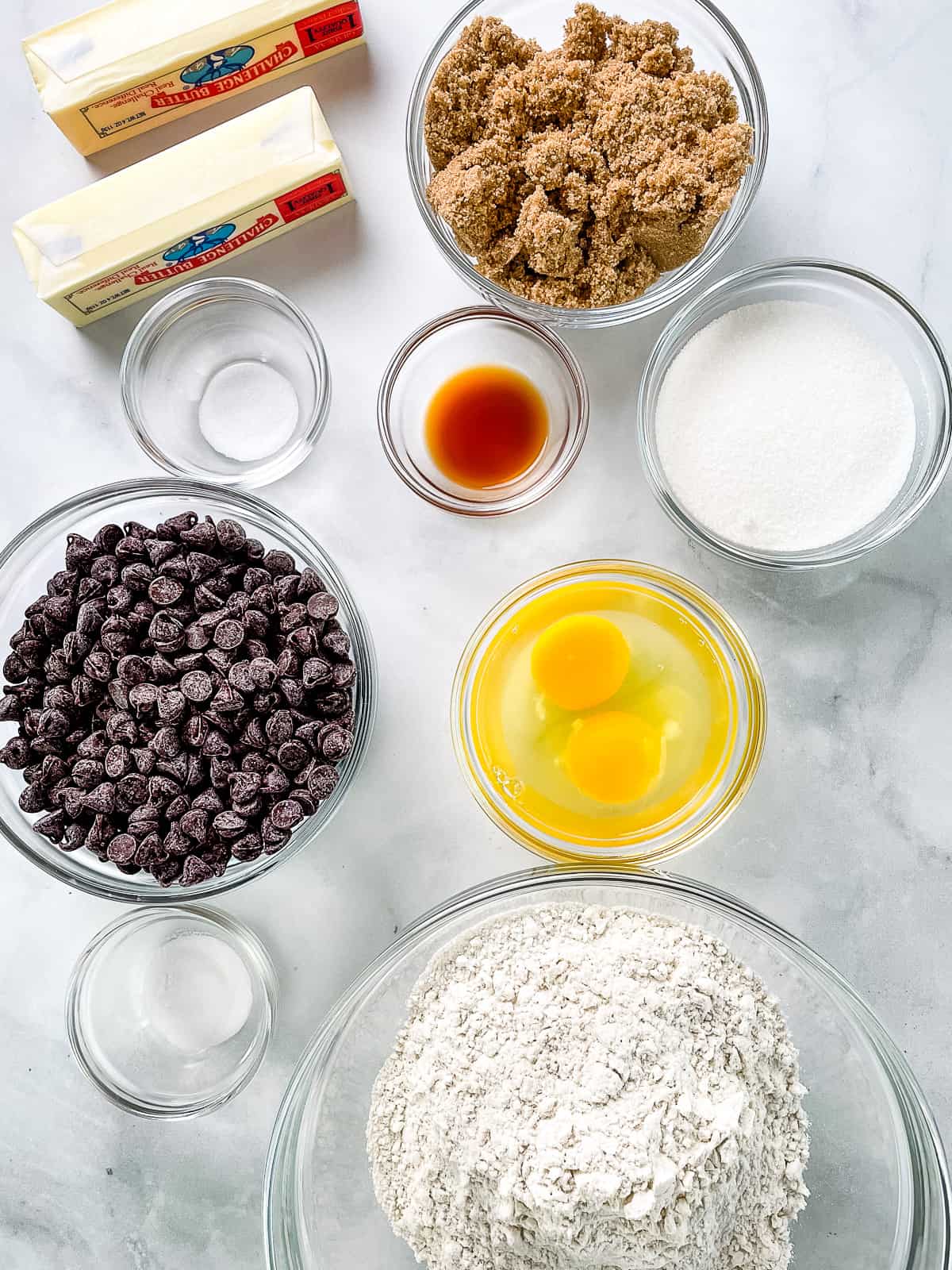 Ingredients.
Gluten-Free Flour. What's the best flour to use for gluten-free chocolate chip cookies? Good question! A gluten-free flour blend with a mix of gluten-free flours, starches, and xanthan gum makes the best cookie. I tested this recipe with Bob's Red Mill 1:1 Gluten-Free Flour blend.
Brown and Granulated Sugar. For the classic chocolate chip cookie flavor, use a blend of granulated (white) sugar and brown sugar. If you like a pronounced molasses flavor, use dark brown sugar. It contains more molasses than light brown sugar.
Melted Butter. There's no need to wait for butter to soften to make these cookies. Melt the butter and you're ready to mix. After melting, allow the butter to cool slightly before using.
Eggs. Two eggs help to hold the dough together and give the cookies a little lift.
Chocolate Chips. What's a chocolate chip cookie without chocolate chips? Use whatever type of chocolate chips you love. Traditional "toll house"-style chocolate chip cookies use semi-sweet chocolate chips.
Baking Soda. A little baking soda helps the cookies to rise and enhances browning.
Salt. Gluten-free chocolate chip cookies made without salt taste flat. A half teaspoon of salt is important. Use table salt, not kosher salt, it mixes evenly into the dough.
What are the Best Chocolate Chips to Use?
Chocolate chips are the star of the show. From big chunks to mini-chips, there's a size and flavor for everyone. And they all taste great in this recipe. Use the chocolate chips that you love best!
For traditional chocolate chip cookies, use semi-sweet chocolate chips. These are often labeled "morsels" and can be found in the baking aisle of the grocery store.
If you love big pieces of chocolate in your cookies, use chocolate chunks. Gluten-free cookies made with chocolate chunks don't spread as much as cookies made with chips.
If you like chocolate dotted throughout each bite, use mini chips. Tiny chocolate chips taste so great in chocolate chip cookies. While you don't get the "crunch" a classic chocolate chip provides, you do get lots of chocolate flavor.
And if you just love chocolate, use a mix of chocolate chunks, chocolate chips, and mini-chips. This gives you lots of chocolate flavor and a varied texture.

How about flavor? What's best for chocolate chip cookies? Semi-Sweet, Milk, or White Chocolate?
There are a lot of options for flavor when it comes to chocolate chips. The original chocolate chip recipe called for semi-sweet chocolate chips. And today the term semi-sweet and dark chocolate is used interchangeably.
But semi-sweet chips are no longer the only option. There are milk chocolate, white chocolate, and flavored chocolate chips available. The best chocolate chips to use in cookies are the ones you love.
As with any ingredient, be sure to check the gluten-free status of the chocolate chips before using them in the recipe.
Ingredient Spotlight: How to Melt Butter and Measure Brown Sugar.
How to melt butter.
One of the things that makes this recipe quick is easy is that is calls for melted butter. You don't need to wait for a stick of butter to soften. Simply melt the butter and you're ready to make the dough.
To melt the butter on the stovetop. Place the butter in a small saucepan and melt over low heat.
To melt the butter in the microwave. Cut the butter into small pieces. Place into a microwave-safe bowl and heat on low heat for 30 seconds. Remove the butter from the microwave and stir. This prevents the butter from splattering. Repeat until melted. 
How to Measure Brown Sugar.
When it's fresh, brown sugar should have a damp sand-like consistency. Which makes it a little tricky to measure. But if you know how to do it, measuring brown sugar is easy.
If you're using measuring cups for your ingredients, follow these steps.
Overfill the cup. Scoop what looks like too much brown sugar into the measuring cup.
Pack it down. Using either the back of a large spoon or your hand, press the brown sugar firmly into the cup.
Level it. If there's too much sugar in the cup, run a metal spatula or (carefully) a knife across the top of the measuring cup to level it.
If you're using a kitchen scale to weigh ingredients, follow these steps.
Using a kitchen scale to weigh ingredients makes measuring ingredients fast and easy. The following method can be used for all the ingredients, not just the brown sugar.
Zero the scale. Place a bowl on the scale. Press the "zero" or "tare" button. Doing this removes the weight of the bowl from the display.
Add brown sugar. Spoon brown sugar into the bowl until the display reads 7 ½ ounces (212 grams).
Variation: Gluten-Free and Dairy-Free Chocolate Chip Cookies.
To make these cookies gluten-free and dairy-free chocolate chip, replace the butter with a dairy-free butter-style spread or margarine. You can also use melted coconut oil. Gluten-free chocolate chip cookies made with coconut oil tend to be a little crisper than those made with butter.
For the chocolate chips, use whatever dairy-free chocolate chips you love!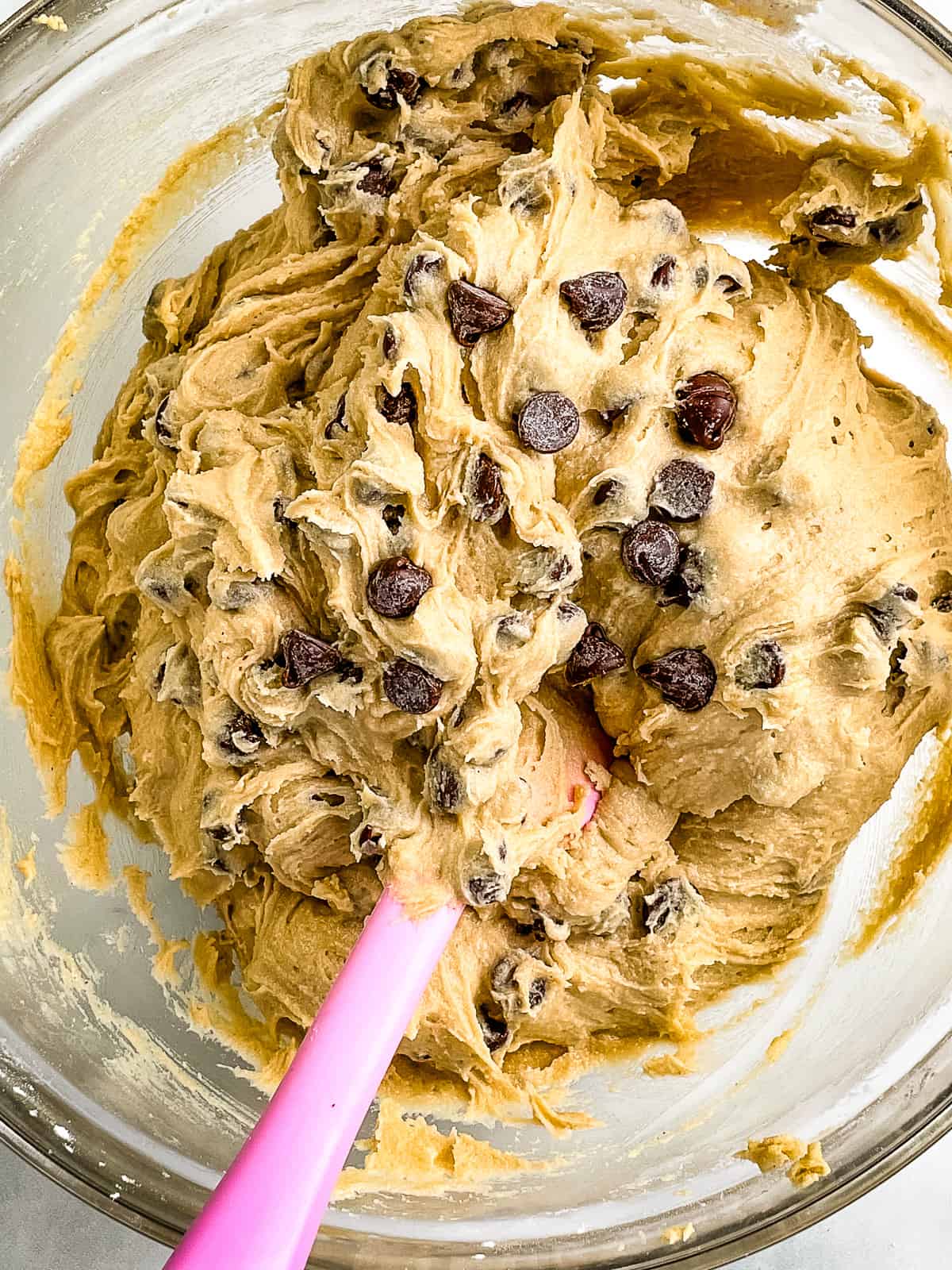 How to Make the Best Gluten-Free Chocolate Chip Cookies
Step One: Heat the Oven.
Gluten-free chocolate chip cookies bake best in a preheated oven. Before measuring the ingredients, turn the oven on. If you start cookies in a cool oven, the dough can spread and flatten. Baking cookies in a preheated oven helps them to spread the right amount.
If you forget to preheat the oven, no problem. The dough doesn't need to be baked immediately after mixing. (Unlike gluten-free angel food cake which needs to be baked right away.) If your kitchen is warm, pop the mixing bowl in the refrigerator while the oven heats up. 
Step Two: Make the Dough.
Grab two mixing bowls. In a small bowl whisk the dry ingredients. This helps evenly distribute the baking soda and salt throughout the gluten-free flour for the best texture and taste. In a large mixing bowl, combine the melted butter, sugars, eggs and vanilla. The mixture is so pretty. It almost looks like a caramel sauce.
Then add the dry ingredients to the butter-sugar mixture and stir. You can do this with a wooden spoon or electric mixer. Whichever is easier for you. A dough forms pretty quickly. I always like to stop and scrape the bottom of the bowl to make sure no flour is hiding there.
Once the dough comes together, add your chocolate chips. Stir until they are mixed throughout the dough. And then you're done.
Step Three: Prepare the Pan.
I like to bake gluten-free cookies on a parchment-lined baking sheet. This prevents the cookies from sticking to the pan and makes cleanup easy. If you don't keep parchment paper in the house, grease the pan lightly with nonstick cooking spray.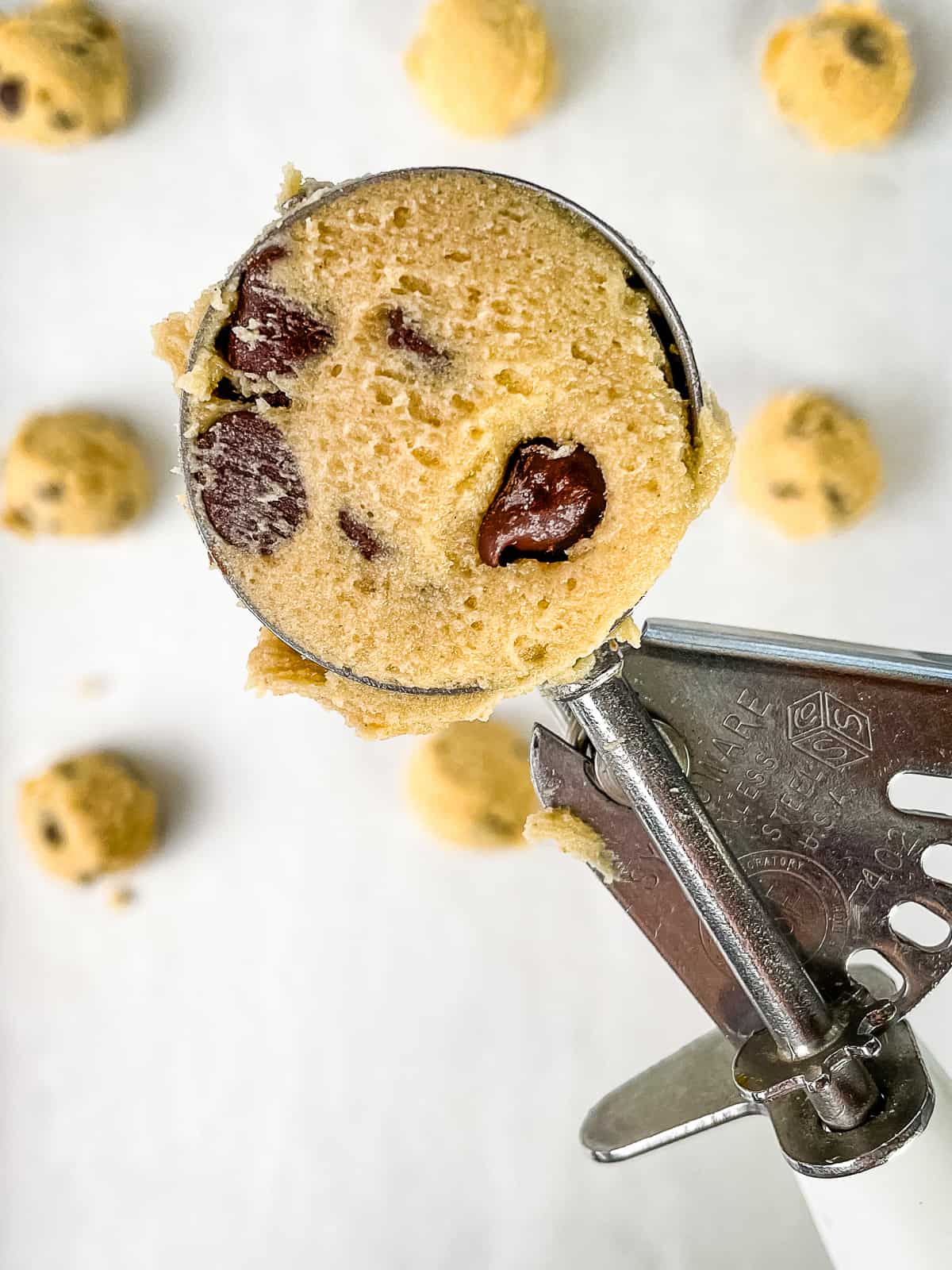 Step Four: Scoop the Dough.
One of my favorite kitchen tools is a cookie scoop. It makes it easy to scoop cookie dough from the bowl onto the baking sheet. The best part? All the cookies are the same size. No more pans of overbaked small cookies and underbaked large cookies.
If you don't have a cookie scoop in the house, use a metal measuring spoon. I like to use a tablespoon of dough for these cookies. If your measuring spoons are soft or made of plastic, skip using them and spoon the dough from the bowl using a soup spoon.
Step Five: Bake Until Brown.
A pan of these cookies takes about 12 minutes to bake. Gluten-free chocolate chip cookies tend to be a little lighter than their wheat counterparts. Look for the cookies to look set with an even light brown color.
If you know that your oven bakes unevenly (one side of the pan bakes faster than the other), rotate the pan halfway through baking.
Step Six: Cool on a Wire Rack.
The cookies are delicate right out of the oven. Allow them to cool on the pan for about three minutes before transferring them to a cooling rack. If the cookies cool completely on the pan, they can overbake from the heat of the pan. (This is called carryover cooking).
How to Freeze the Dough.
Keeping a batch of dough in the freezer makes it a snap to quickly bake a batch of cookies.
Prepare the dough as directed.
Scoop into balls.
Place the dough balls onto a cookie sheet.
Freeze for two hours or until the dough is firm.
Transfer the dough to a freezer container.
How to Bake Frozen Gluten-Free Cookie Dough.
Remove the cookie dough from the freezer. Place on a parchment-lined baking sheet.
Heat oven to 350℉. Heating the oven after removing the dough from the freezer allows the dough to thaw slightly.
Bake cookies until set. They usually take a few more minutes when baked from frozen. Cookies baked from frozen dough don't spread as much as cookies made from room-temperature dough.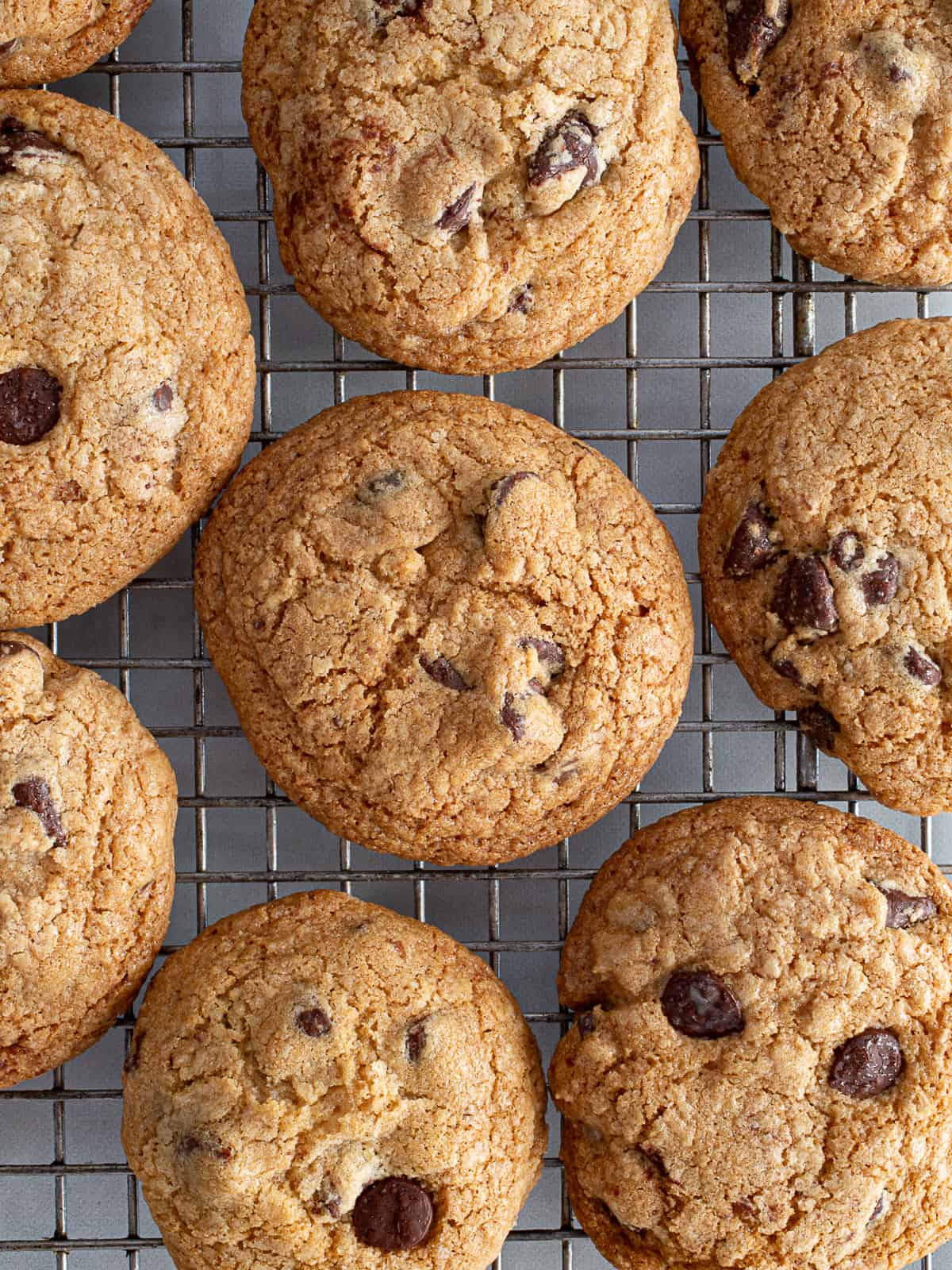 How to Store and Freeze Gluten-Free Chocolate Chip Cookies.
Store at room temperature.
Let the cookies cool completely. Store them in an airtight container on the counter for up to five days.
How to freeze. 
Bake the cookies as directed. Allow them to cool completely. Layer the cookies in a freezer-safe container. Place a piece of parchment or waxed paper between the layers. Freeze for up to three months.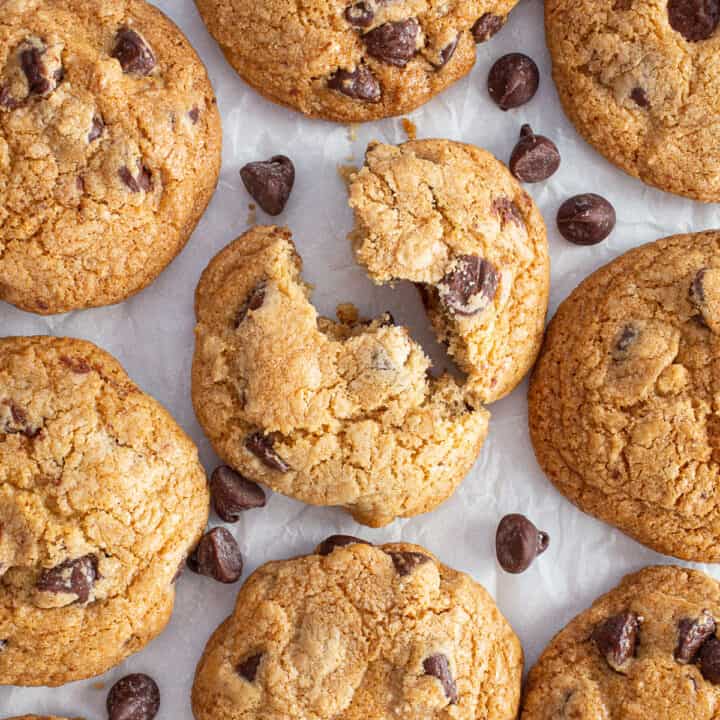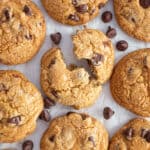 Gluten-Free Chocolate Chip Cookies
These gluten-free chocolate chip cookies are crispy, buttery, and really easy to make. (Dairy-free option included.)
Ingredients
2 ¼

cups

gluten-free flour

(11 ¼ ounces; 318 grams)

1

teaspoon

baking soda

½

teaspoon

salt

1

cup

butter or dairy-free spread, melted and slightly cooled or

(8 ounces; 226 grams)

1

cup

brown sugar

(7 ½ ounces; 212 grams)

½

cup

granulated sugar

(3 ½ ounces; 100 grams)

2

teaspoons

vanilla extract

2

large

eggs

(about 4 ounces; 113 grams out of shell)

1

(12-ounce) bag

chocolate chips
Instructions
Adjust oven rack to the middle position. Preheat oven to 350°F. Line two baking sheets with parchment paper.

Whisk together gluten-free flour with baking soda, and salt. Set the bowl aside.

In a large bowl, combine melted butter with the brown and granulated sugar. Mix until smooth. Add eggs and vanilla extract. Stir until smooth.

Add the gluten-free flour mixture. Mix the dough until a soft dough forms. Add chocolate chips. Stir to combine.

Drop dough, about one tablespoon each, onto prepared baking pan. Bake until edges are set, about 12 minutes.

Cool cookies on the pan for a few minutes and then transfer to a wire rack to cool completely. Store cookies in an airtight container for up to 5 days.
Recipe Notes
Ingredient Notes
Gluten-free flour. This recipe was tested with Bob's Red Mill 1:1 Gluten-Free Flour blend. Using a different flour blend can result in different results. 
Dairy-Free Option. Replace the melted butter with a dairy-free spread and the chocolate chips with dairy-free chocolate chips.
Brown Sugar. Light or dark brown sugar can be used. Dark brown sugar gives the cookies a stronger molasses flavor and darker color.