Easy recipe for gluten-free sugar cookies. Tender and buttery, these cookies hold their shape during baking. Finish with colored sugar or frosting!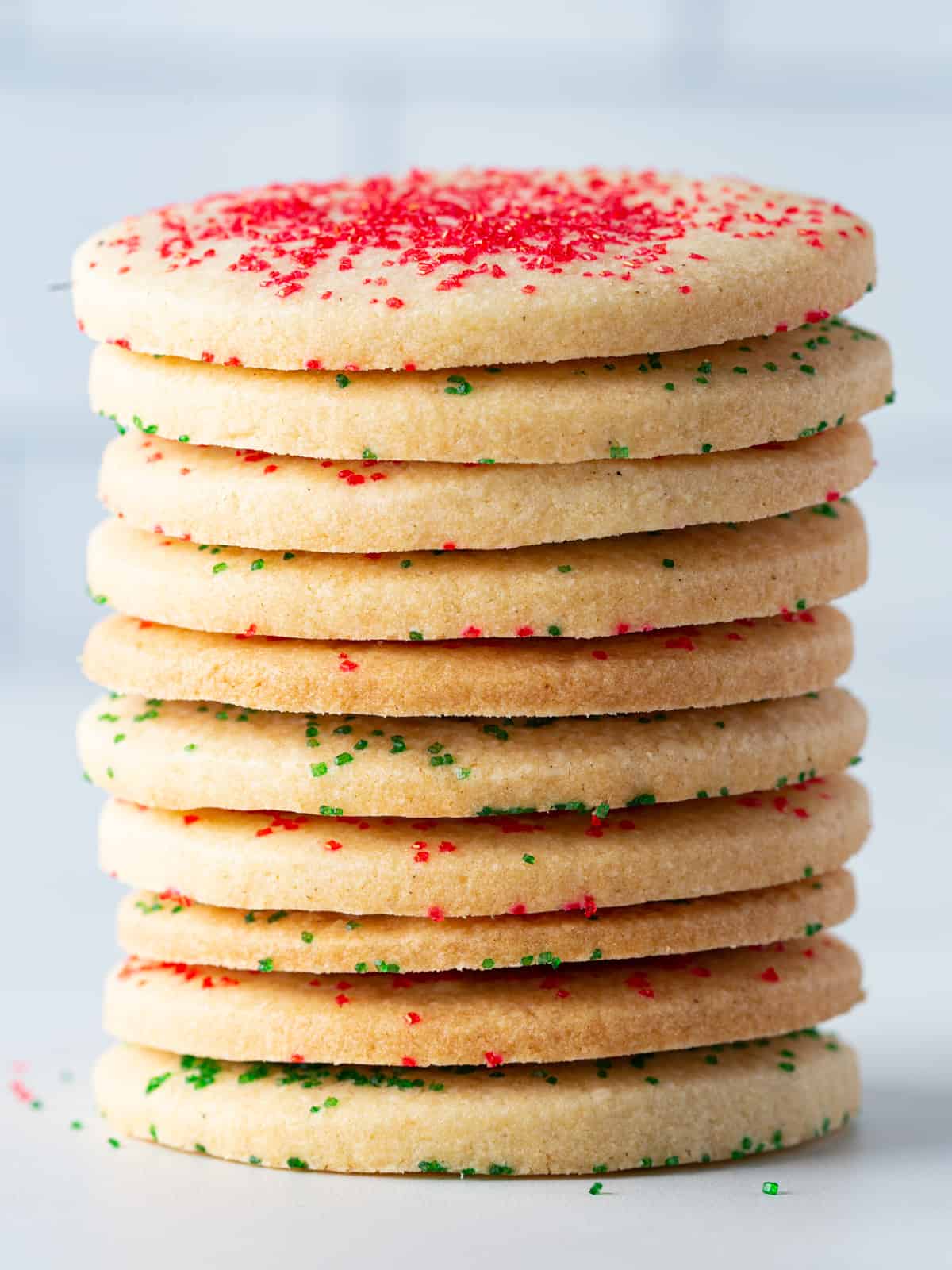 Several years ago, I shared a recipe for gluten-free cut out cookies that used individual gluten-free flours. At the time, gluten-free flour blends were hard to find and the results were often uneven. This is no longer the case. Since so many folks prefer to bake with a flour blend (something I totally understand!), I wanted to re-test my recipe using a blend. The result: easy to make gluten-free cut out cookies.
Why You'll Love These Gluten-Free Cut-Out Sugar Cookies
The taste and texture. These are classic cut out cookies. They're delicate, buttery, and not too sweet. (You can use a dairy-free spread.) Plus: they hold their shape during baking.
Easy to Make. The dough takes only a few minutes to make. (They do require at least 45 minutes of chilling before they're ready to roll.)
Freeze beautifully. After baking, allow the cookies to cool and then place into a freezer container.
Five Things to Know About Making Gluten-Free Sugar Cookies
Don't overbeat the butter. For this recipe, simply mix the butter and sugar until it's thick, not fluffy. If it gets overmixed, the cookies can spread.
Chill the Dough. Unlike chocolate chip cookies or gluten-free sparkly cookies, cut out cookie dough needs to chill before baking. This prevents the cookies from spreading as they bake. Allow at least 45 minutes for chilling.
The best thickness is 1/4 inch. This is the sweet spot (Pun fully intended) for sugar cookies.
You can re-roll the dough! Since there's no gluten in the dough, you can reroll it many times. It won't get tough! It can, however, get warm. If the dough starts to get soft, pop it in the fridge for a few minutes before re-rolling.
Bake until the edges are light brown. These cookies remain rather pale. Look for the edges to turn a very light brown, at this point, the cookies are usually done.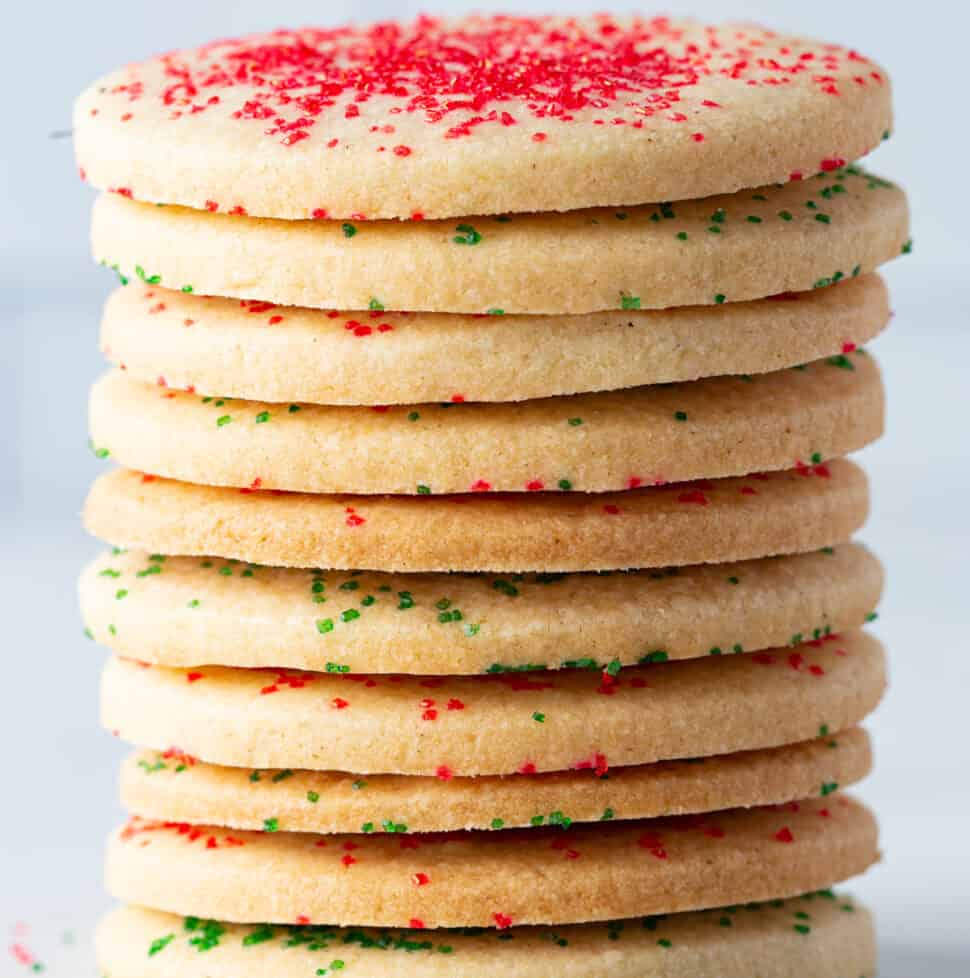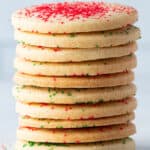 Gluten-Free Sugar Cookies (Cut-Outs)
These gluten-free sugar cookies are delicate and buttery. And they keep their shape during baking. Decorate with sugar or frosting.
Ingredients
2

cups

gluten-free baking flour, see note

(10 1/4 ounces; 290 grams)

1

teaspoon

baking powder

¼

teaspoon

salt

12

tablespoons

softened butter

(10 ounces; 285 grams)

¾

cup

granulated sugar

(5 1/4; 150 grams)

1

large

egg

(about 2 ounces; 56 grams out of shell)

1

teaspoon

vanilla extract

colored sugar, optional
Buttercream Frosting
2

cups

powdered sugar, sifted

(8 ounces; 225 grams)

½

cup

butter, softened

(4 ounces; 115 grams)

2

tablespoons

milk, plus more as needed

(1 ounce; 28 grams)

½

teaspoon

vanilla extract

food color, optional
Instructions
Whisk together the gluten-free flour, baking powder, and salt. Set aside.

Combine butter and sugar in the bowl of a stand mixer. Mix, on medium speed, until a thick paste forms, about 30 seconds. Stop mixer. Scrape down bottom and sides of the bowl. Mix again for 10 seconds.

Stop mixer and add egg and vanilla extract. Mix, on medium speed, until combined, about 30 seconds. Again, stop the mixer and scrape down the bottom and sides of the bowl. Mix again for 10 seconds.

With the mixer off, add the whisked gluten-free flour mixture. Mix, on medium-low speed, until a dough forms.

Turn the dough out onto a lightly floured counter and pat into a round. Wrap with plastic wrap and chill at least 45 minutes. (Dough can be chilled for several days).

Adjust oven rack to upper middle and lower middle positions. Preheat oven to 350 degrees F. Line to baking sheets with parchment paper.

Remove dough from the refrigerator and allow it to sit on the counter for about 15 minutes. Dust counter with gluten-free flour and roll out dough, about 1/4-inch thick. (If dough cracks, it's too cold.)

Cut into shapes with a cookie cutter. Place cookies onto a parchment-lined baking sheet. Sprinkle with colored sugar if desired.

Bake until edges are golden brown, about 12 minutes for 3-inch cookies. Rotate pans halfway through baking.

Allow cookies to cool on the baking sheet for about three minutes before transferring to a wire rack to cool completely.

Prepare Frosting: In a small bowl, beat together powdered sugar, butter, vanilla, and milk until smooth and creamy. If frosting is too thick, add an additional teaspoon of milk. Divide frosting between bowls and color if desired.

Frost cool cookies with frosting. Store, covered, for up to four days. Or freeze cookies in a freezer container.
Recipe Notes
Gluten-Free Baking Flour
The recipe was tested with Bob's Red Mill 1:1 Gluten-Free Baking Flour.