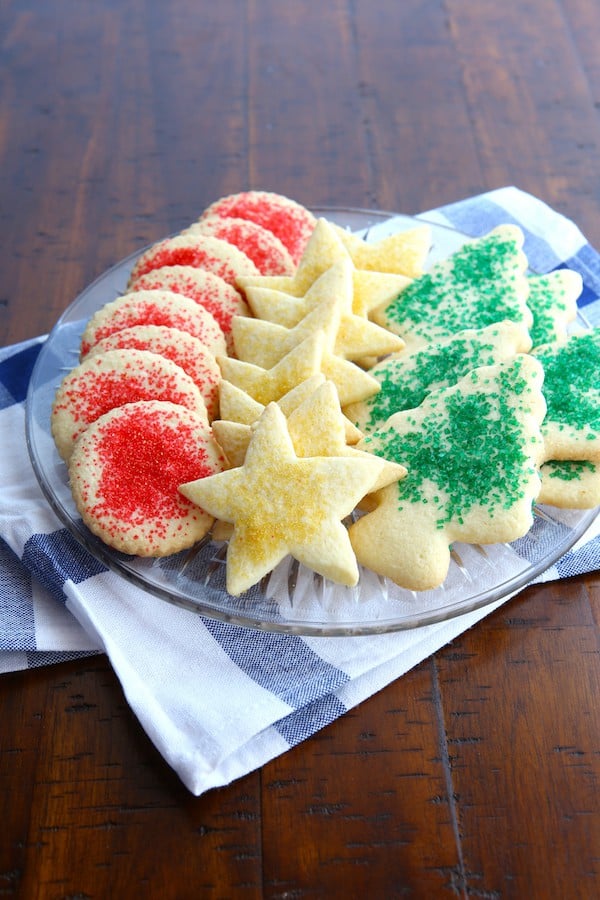 This time of year leaves me feeling a little like the Cookie Monster: "Me want cookies!" And I don't want just any cookie, I want cut-out cookies. I love cookie cutters. I might love them a little too much. My 200-plus cookie cutter collection even boasts an armadillo-shaped cookie cutter.
When I want to make use of my excessive cookie cutter collection I turn again and again to my recipe for basic cut-out cookies. As written, it makes delicate vanilla-scented cookies that strike a nice balance between sweet and buttery. But like most bakers, I like to adjust my recipes from time to time. Happily, this recipe welcomes change! If you crave a more robust flavor, swap brown rice flour and brown sugar for the white rice flour and granulated sugar. Or you can add some lemon zest and oil instead of vanilla extract.
Cookie Variations
Flours: Use a different gluten-free flour, such as brown rice flour or sorghum flour. They'll both provide you with a deeper flavor and color.
Sugars: You can replace the granulated sugar with brown, raw, granulated maple or muscovado sugars. Just be sure to avoid using a liquid sugar (like honey or maple syrup).
Flavors: Feel free to vary the extract, or add 1 teaspoon of ground cinnamon. (I've found adding cinnamon is especially nice in batches where I've also used brown rice flour and brown sugar.)
Dairy-free: Use a solid non-dairy replacement, like shortening or coconut oil. Be sure you use a solid, not liquid, fat replacement.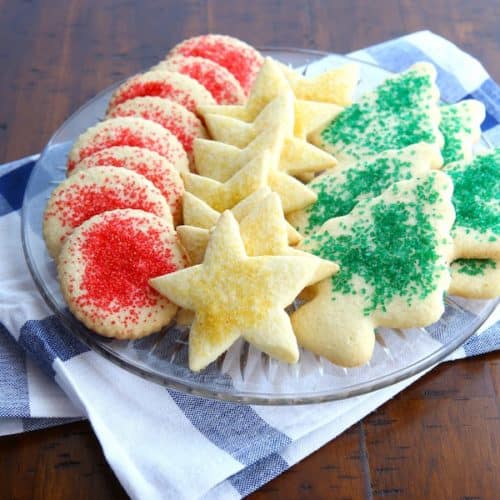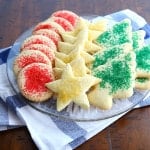 Gluten-Free Sugar Cookies
Ingredients
1 1/4

cups

finely ground white rice flour

(5 ounces; 142 grams)

1/2

cup

cornstarch

(2 ounces; 56 grams)

1/4

cup

sweet rice flour

(1 ounce; 28 grams)

1

teaspoon

baking powder

1/4

teaspoon

salt

1/4

teaspoon

xanthan gum

10

tablespoons

butter, softened

(5 ounces; 142 grams)

3/4

cup

granulated sugar

(5 1/4 ounces; 148 grams)

1

large

egg

(about 1 3/4 ounces; 50 grams)

1

teaspoon

vanilla extract

2-3

teaspoons

water

if needed
Instructions
In medium mixing bowl, whisk together white rice flour, cornstarch, sweet rice flour, baking powder, salt, and xanthan gum. Set aside. In standing mixer fitted with paddle attachment or large mixing bowl with hand mixer, beat butter and sugar on medium-high speed until a thick paste forms, about 30 seconds. Scrape down bowl.

Add egg and vanilla, turn mixer on to medium speed. Blend until incorporated, about 25 seconds. Turn off mixer and add dry ingredients. Turn mixer to medium-low. Blend until a dough forms, about 30 seconds. Dough might be dry, especially if you are using shortening. If this is the case, add 2-3 teaspoons water.

Pat dough into round. Wrap tightly with plastic wrap and refrigerate for two hours.

Preheat oven to 350°F. Line two baking sheets with parchment paper. Remove dough from refrigerator. Allow to dough to stand for 10 minutes or until slightly soft. Generously dust countertop with white rice flour. Roll dough out about 1/4-inch thick.

Cut dough into shapes. Place on prepared baking sheet. Bake cookies until edges are golden brown. (Baking time will vary depending on the size of your cookies. My 3-inch trees took about 12 minutes; the 6-inch dachshunds took about 14 minutes. Keep your eye on the first batch of cookies to help you with the timing.)

Transfer cookies to a wire rack to cool. Repeat with remaining dough. Gluten-free cookie dough can be gathered into a ball and re-rolled. Be sure to bake cookies on cool baking sheet. I usually bake one sheet of cookies at a time. This allows baking sheets to cool between batches.