This gluten-free oatmeal cookie recipe is easy to make. Simply mix all the ingredients together in one bowl, drop the dough onto a baking sheet, and bake. The cookies turn out thick, chewy, and flavorful.
Are you looking for more gluten-free cookie recipes? Try this buttery gluten-free shortbread recipe or make a batch of classic gluten-free chocolate chip cookies.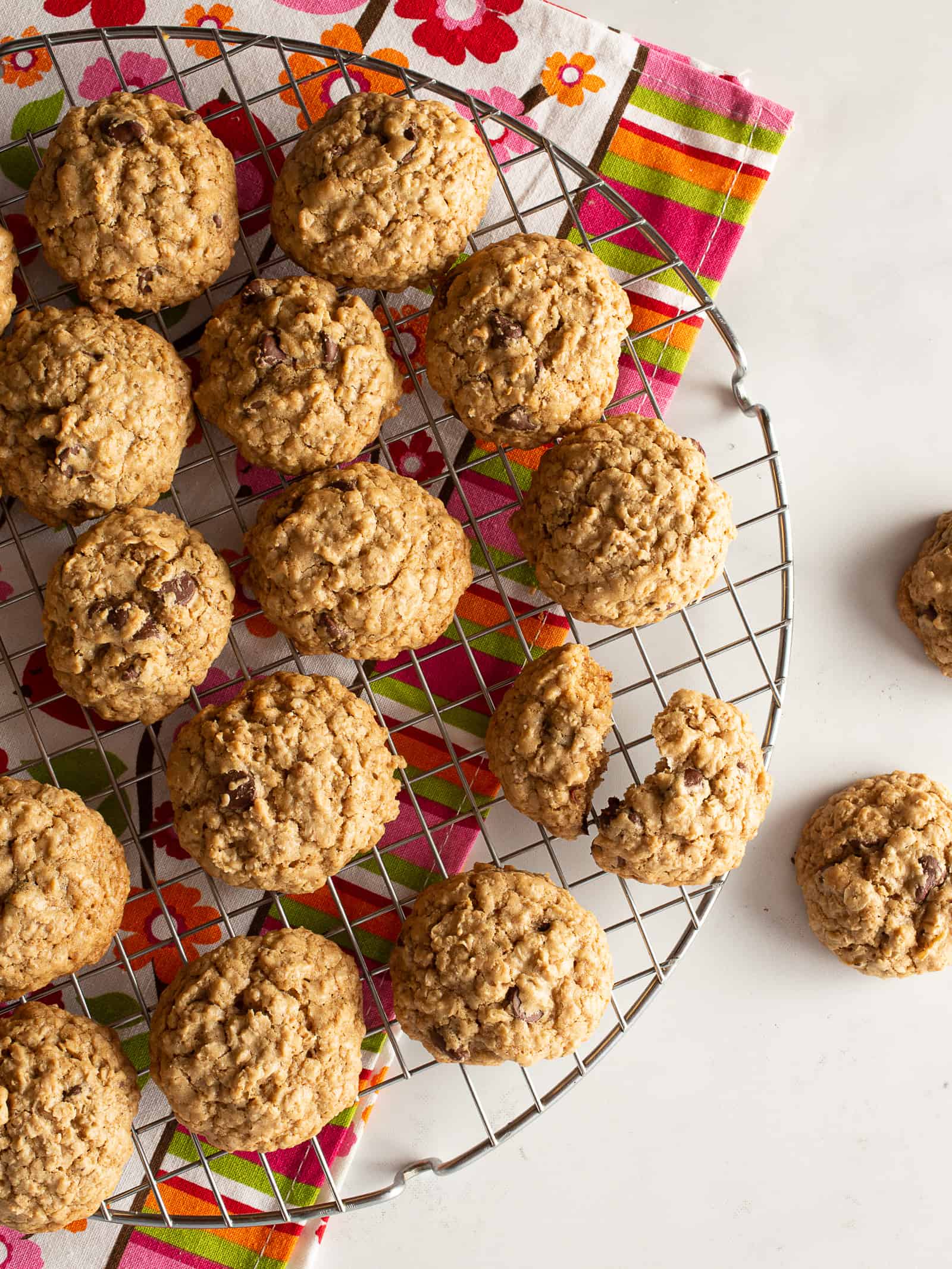 Gluten-Free Oatmeal Cookies: Ingredients and Substitutions.
Gluten-Free Oats. My favorite oats to use in this recipe are old-fashioned oats. They're nicely oat-y and have a great, chewy texture. Quick cook and instant oats work but the flavor isn't as strong. Cookies made with quick oats are cakey instead of chewy. If you love cakey oatmeal cookies, use instant oats or a blend of the two.

Ingredient Note: Be sure to use gluten-free oats. Oats are naturally gluten-free. However, during growing, handling, and processing, they can be contaminated with gluten. This is why it's important to use oats labeled gluten-free by the manufacturer. 
Gluten-Free Flour. For the best texture, use a blend that contains xanthan gum. It helps the cookies hold their shape. 
Cinnamon. I love the flavor cinnamon brings to oatmeal cookies. If you don't like it, simply leave it out. If you love cinnamon, double the amount called for in the recipe.
Baking Soda. A little baking soda helps the cookies to rise. 
Salt. Use fine (table) salt. It blends easily into the dough. 
Butter. Melted regular or dairy-free butter adds richness. 
Brown Sugar. The sweetness comes from brown sugar. If you like molasses flavor, use dark brown sugar. For a lighter, more caramel-like flavor, use light brown sugar. No brown sugar in the kitchen? No problem! Use an equal amount of granulated sugar. 
Egg. A large egg helps to hold the dough together. If you want to make these cookies egg-free, the best egg replacer for this recipe is a flax egg. I've included the recipe below.
Vanilla Extract. A splash of vanilla extract adds a nice flavor. 
Chocolate Chips or Raisins. These cookies don't need chocolate chips or raisins. But they sure are a lovely addition! Add your favorite. I love the combination of both chocolate chips and raisins. 
Variation: Egg-Free and Dairy-Free Oatmeal Cookies.
This recipe can easily be adapted for egg-free and dairy-free needs.
Egg-Free. Replace the one egg with one tablespoon of ground flaxseeds (flax meal) and two and half tablespoons of hot water. Mix the two together and let sit for about five minutes. Add to the dough in place of the egg. Gluten-free oatmeal cookies made without an egg are very similar to those made with an egg.
Dairy-free. Replace the melted butter with dairy-free butter and use dairy-free chocolate chips. Follow the recipe as written.
How to Make Gluten-Free Oatmeal Cookies. Step by Step.
Step One: Heat the oven and prep your pan. 
Cookies bake best in a hot oven. I like to preheat my oven before I begin measuring ingredients. If you forget to turn on your oven before you make your dough, simply heat it before baking your first pan of cookies.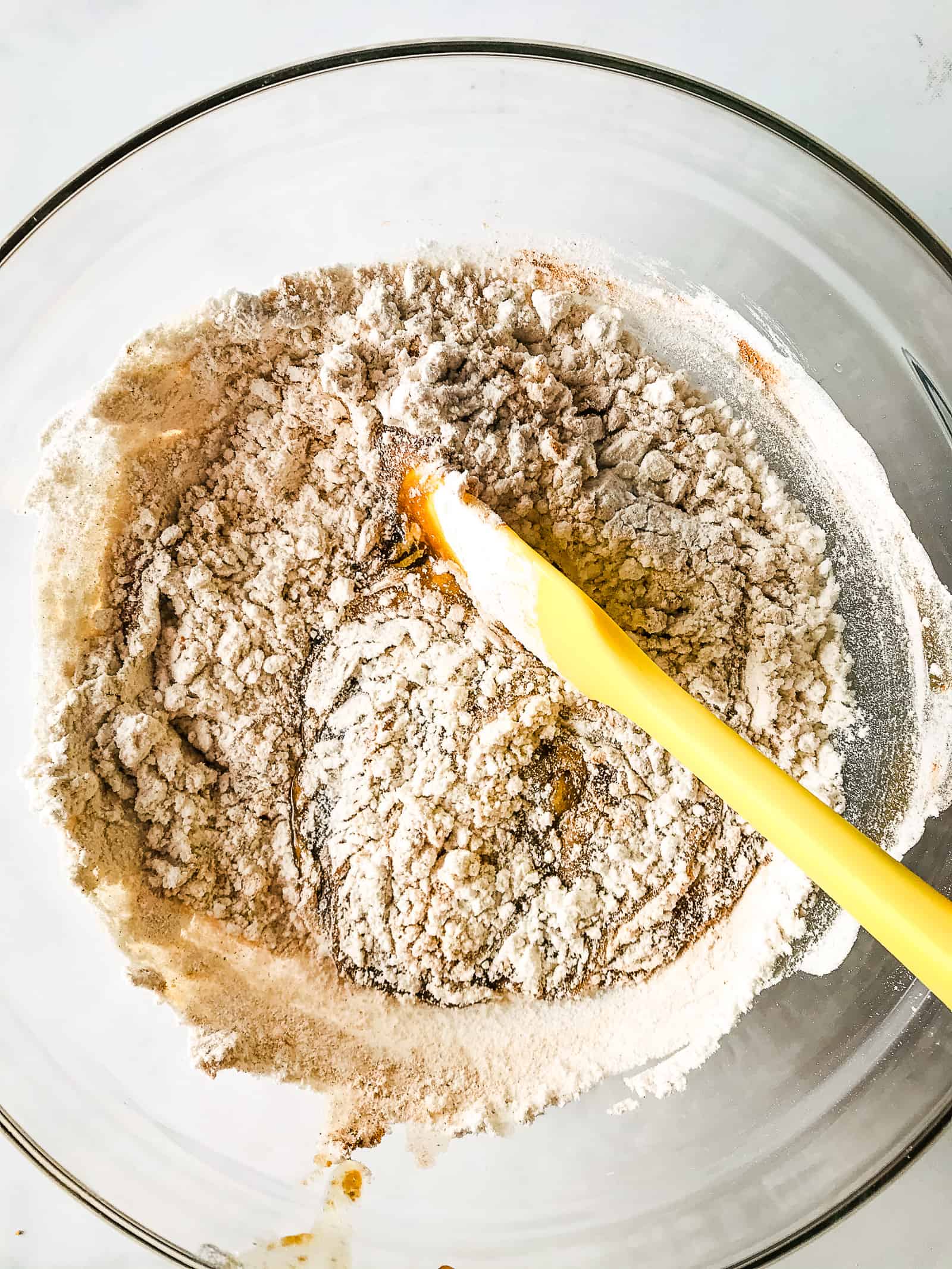 Step Two: Grab a bowl and make the dough. 
This dough comes together in one mixing bowl. First, stir together the melted butter and brown sugar. Then add the egg and vanilla extract. This is my favorite step. The mixture gets nice and thick. It almost looks like caramel sauce.
Add the gluten-free flour, cinnamon, baking soda, and salt. Stir everything together using a sturdy wooden spoon or electric mixer. It's up to you. At this point, the dough should feel smooth and thick. Remember to get down to the bottom of the bowl. Sometimes flour likes to hang out there. You want to mix everything into the dough. 
Once the dough is thick, stir in the oats and chocolate chips or raisins. At first, it might seem like there are too many oats for the dough. There aren't; I promise. Just stir for a few seconds until everything comes together.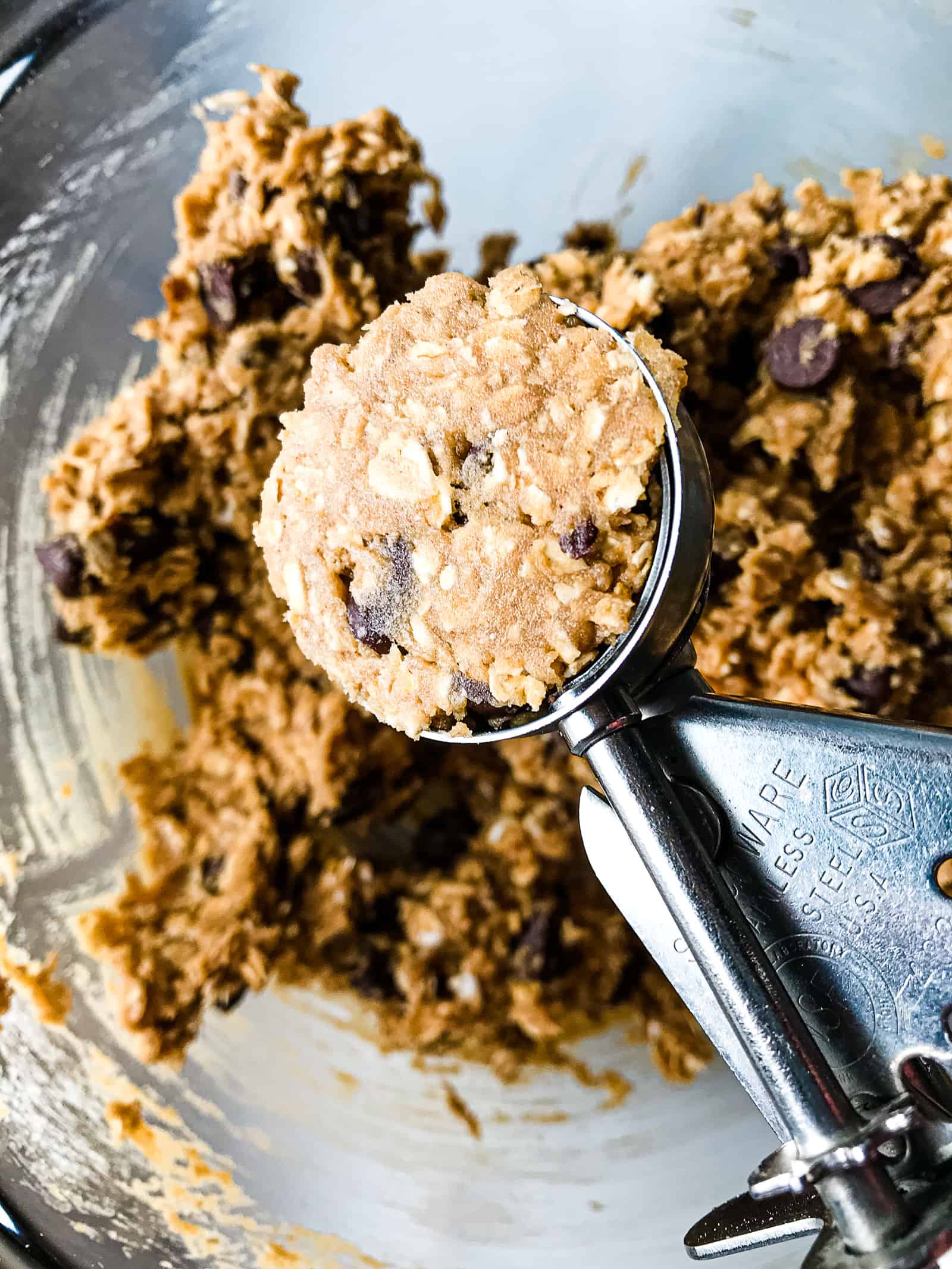 Step Three: Scoop the dough. 
Scoop the dough onto a parchment-lined baking sheet. I like to use a cookie scoop for this step. The scoop makes cookies all the same size. When cookies are the same size, the entire pan bakes evenly. No more small overbaked cookies or large underbaked cookies. If you don't own a cookie scoop, use about two tablespoons of dough per cookie.
Step Four: Bake and cool.
A pan of these cookies takes about 12 minutes to bake. They'll puff as they bake but they won't spread much. Look for the edges to turn a light golden brown. That's a good way to tell when they're done.
After baking, let the cookies cool on the pan for a few minutes. They're really delicate when they first come out of the oven. If you move them too soon, they can break. Let the cookies cool for two to three minutes before transferring them to a cooling rack.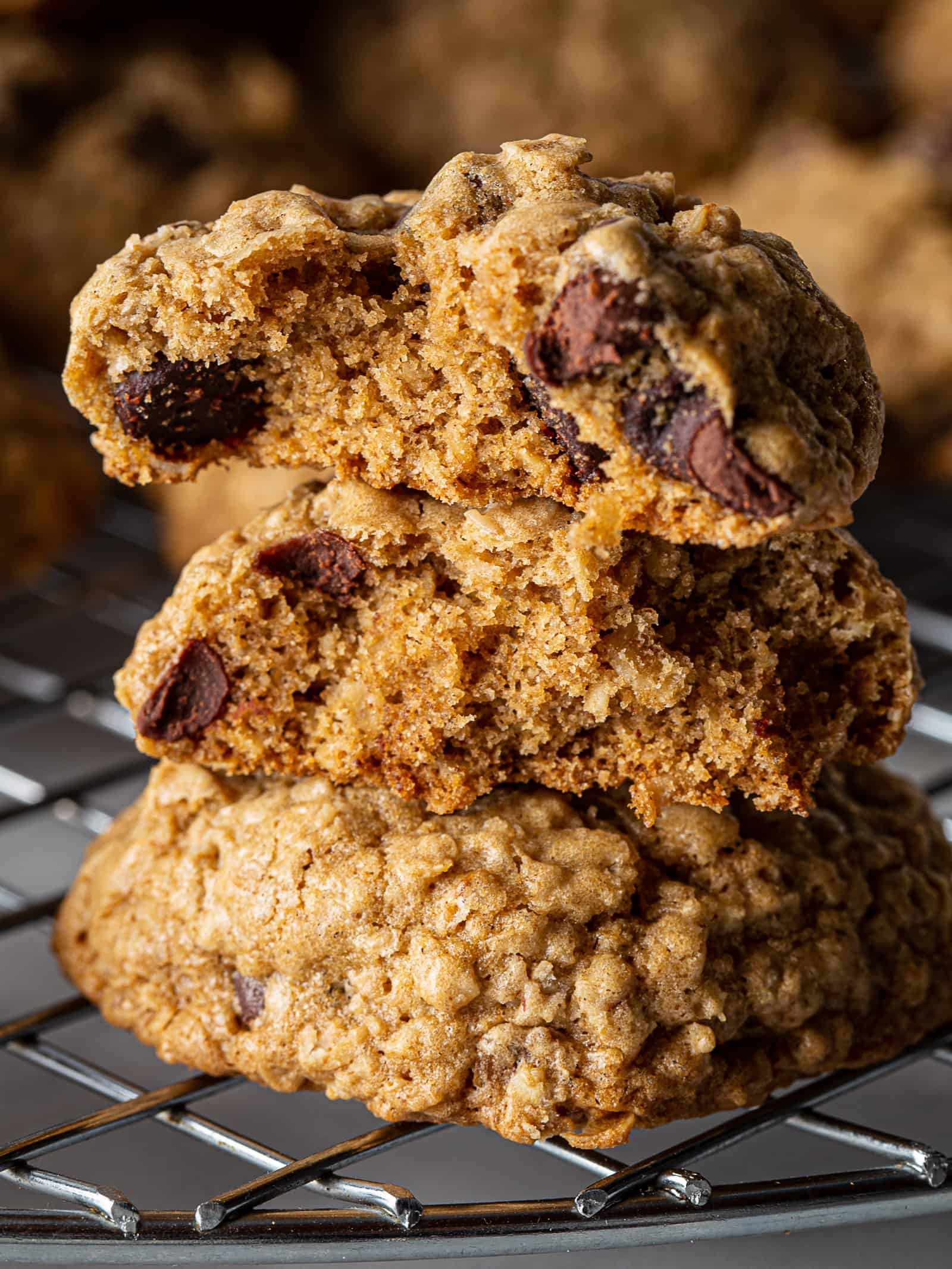 How to Store and Freeze.
The cookies keep well for about four or five days on the counter. How long they remain fresh depends on the temperature and humidity of your kitchen. To keep them fresh, keep them covered.
To freeze, allow the cookies to cool. Place in a freezer container or bag and freeze for up to three months.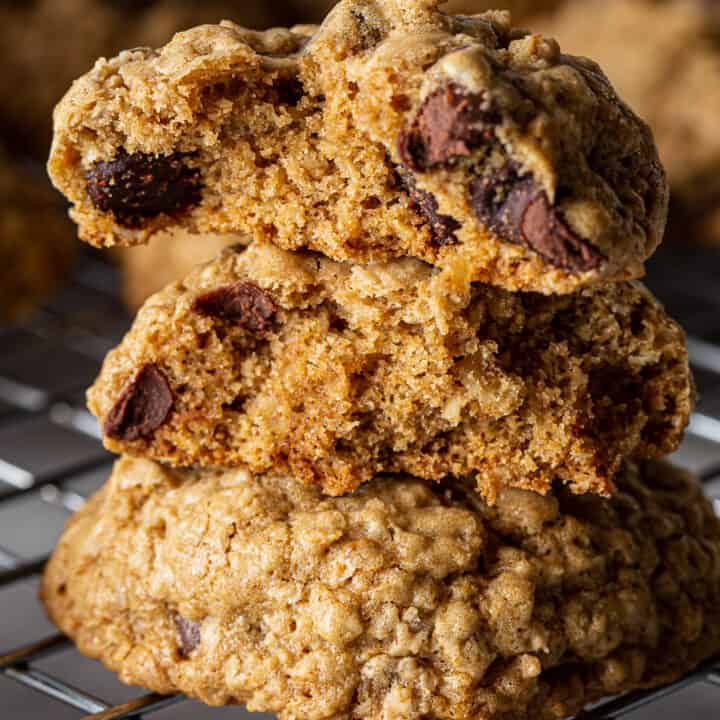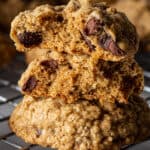 Gluten-Free Oatmeal Cookies
Thick and chewy gluten-free oatmeal cookies are easy-to-make. This one-bowl recipe is loaded with gluten-free oats, chocolate chips (or raisins, it's up to you!), and just a hint of cinnamon.
Ingredients
½

cup

butter, melted and cooled slightly

(4 ounces; 113 grams)

¾

cups

firmly packed brown sugar

see note (6 ounces; 170 grams)

1

large

egg

(about 2 ounces; 57 grams, out of shell)

1

teaspoon

vanilla extract

1

cup

gluten-free flour, see note

(5 ¼ ounces; 150 grams)

1

teaspoon

ground cinnamon

½

teaspoon

baking soda

½

teaspoon

salt

1 ½

cups

gluten-free old-fashioned oats (uncooked )

(5 ¼ ounces; 148 grams)

1

cup

chocolate chips, optional

(about 6 ounces; 170 grams)

1

cup

raisins, optional

(5 ¼ ounces; 148 grams)
Instructions
Adjust oven rack to the middle position and heat the oven to 350°F. Line two baking sheets with parchment paper.

Stir together melted butter and brown sugar until smooth in a large bowl. Add the egg and vanilla extract. Mix until thick and smooth. The mixture will look like caramel sauce. Add the gluten-free flour, cinnamon, baking soda, and salt. Sir until you don't see any streaks of flour. Add the oats and chocolate chips and raisins, if using. Mix until combined.

Drop dough, about two tablespoons each, onto one of the prepared baking sheets. Space dough about one inch apart. These don't spread much. Bake until the edges are light brown and the cookies are set, about 12 minutes.

Remove the pan from the oven and allow the cookies to cool on the pan for minutes. While they cool, bake the remaining dough on the second baking sheet. Transfer cooled cookies to a wire rack and allow to cool completely.

Keep the cookies covered on the counter for up to four days or freeze for up to three months.

To freeze cookies: place in a freezer container and separate layers with a piece of wax or parchment paper. Thaw overnight on the counter.
Recipe Notes
Ingredient Notes
Gluten-Free Flour. This recipe was developed with Bob's Red Mill's 1:1 Gluten-free Baking flour. Using a different gluten-free flour might affect the texture of the cookies.
Sugar. Use light or dark brown sugar. Dark brown sugar gives the cookies a more pronounced molasses flavor.
Egg-free: Replace the egg with one (1) tablespoon of ground flax seeds (flax meal) and two and half (2 ½ tablespoons of hot water. Mix the ground flax seeds together with the hot water. Let sit for five minutes. Stir into the recipe along with the vanilla extact.
Dairy-Free: Replace the melted butter with a dairy-free butter. Use dairy-free chocolate chips or omit the chocoalte chips.