Chocolate gluten-free graham crackers are a perfect treat. I think of them as cookies, but if you think of them as crackers, I don't tell anyone.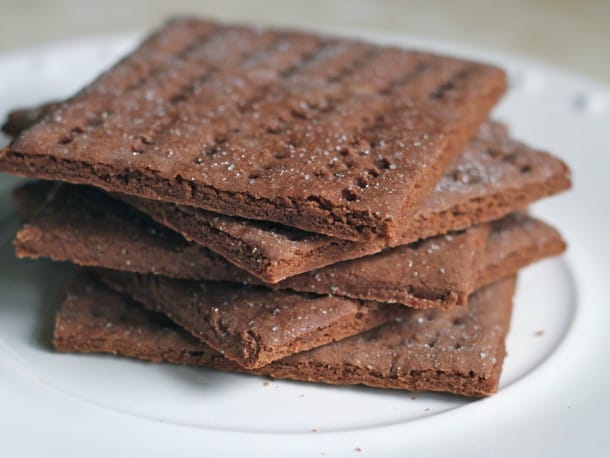 Love regular gluten-free graham crackers? Love chocolate? Then you need to try chocolate graham crackers. It's one of my favorites.
Yup! One of my favorite chocolate cookies isn't really a cookie at all. It's chocolate graham crackers. Yup, those crisp, not-too sweet treats from childhood, are my favorite chocolate "cookie." (And, this time of the year, they make an excellent s'more.)
Use cold fat. Like pie crust or biscuits, crackers are best when made with cold fat. The tiny pieces of cold fat release steam during baking helping to leaven the crackers.
Roll the dough into a thin sheet. Thin dough = crisp crackers. Thick dough yields a more shortbread-type cookie than a crisp graham cracker.
Dock and score the dough before baking. After rolling the dough into a large, thin sheet, score it with a pizza wheel and dock (prick) it all over with a fork before baking. Once the crackers are baked, it's easy to snap them apart along the score-lines. Sometimes they even pull apart during baking.
Allergy-free Modifications: This recipe is naturally free of most common allergens. It does, however, contain dairy. To make the crackers dairy-free, replace the butter with shortening and the milk with a dairy-free alternative.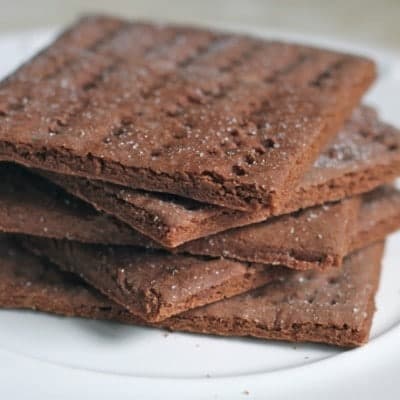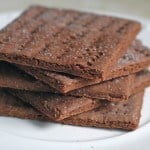 Gluten-Free Chocolate Graham Crackers
Ingredients
1 1/2

cups

brown rice flour

(7 1/2 ounces; 212 grams)

1/3

cup

dark brown sugar, packed

(2 1/2 ounces; 70 grams)

1/4

cup

tapioca starch

(1 ounce; 28 grams)

1/4

cup

cocoa powder, Dutch process

(3/4 ounce; 21 grams)

1

teaspoon

baking powder

1/2

teaspoon

salt

5

tablespoons

cold butter

(2 1/2 ounces; 70 grams)

6

tablespoons

milk

(3 ounces; 85 grams)

3

tablespoons

light corn syrup or honey

(2 1/4 ounces; 65 grams)

Granulated sugar

for sprinkling
Instructions
Preheat oven to 350°F. In bowl of a food processor, combine brown rice flour, dark brown sugar, tapioca starch, cocoa powder, baking powder, and salt. Pulse to combine.

Add butter. Pulse until no large pieces of butter remain. Add milk and corn syrup (or honey). Pulse until dough forms.

Turn dough out onto a lightly rice floured piece of 12 x16 parchment paper. Pat dough into rectangle. Dust top of dough lightly with rice flour. Place another piece of 12x16 parchment paper on top of dough. Roll dough out until it covers all of the paper. Dough rectangle will be about 1/8 inch thick.

Using pizza wheel, score dough into rectangles. (The rectangles should be 6 x 2 3/4 inches large for standard graham crackers and 3 x 2 3/4 for a "s'more" size graham cracker.) Prick dough all over with fork. Chill dough for 15 minutes.

Sprinkle granulated sugar lightly over top of dough. Bake until crackers are set, about 15 minutes. Remove graham crackers from pan and place on wire rack to cool. (I slide the parchment, with the crackers, directly onto the cooling rack.)