These gluten-free graham crackers are better than the ones from the box. This easy recipe makes graham crackers that are perfect for snacking, s'mores or the crust of your favorite pie or cheesecake.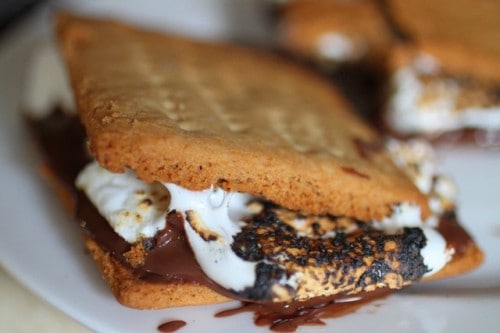 Graham crackers are one of life's perfect foods. And, to be honest, I have't found a store-bought gluten-free version that I like. The few that I've tried have been too thick and dense. That's not what I want in a graham cracker. I need my graham crackers light and cruchy–and not too sweet.
This recipe hits all those notes. The graham crackers, which are sweetened with honey and brown sugar, taste great enjoyed as a snack or used for s'mores. But why stop there? Grind them up and use the crumbs to make a wonderful crust for your favorite pie or cheesecake.
The  recipe requires a bit of special care. In my opinion, it makes for a great weekend baking project.
How to Make Gluten-Free Graham Crackers: Use a Food Processor (Or Not)
The nice cracker-like texture of a graham cracker comes from both the baking powder and the way the fat is cut into the dough. Kind of like a pie crust, you want to work the fat into the dough quickly. I think a food processor is the best tool for the job. If you don't own one, use a pastry cutter or two butter knives. Be sure to keep the fat, butter or shortening, cold before adding it to the dough.
Use Parchment Paper
You want to roll this dough out nice and thin. The easiest way to do this is to place the dough between two pieces of parchment paper. After rolling, peel the top piece off, slide the bottom piece, along with the dough, onto a baking sheet. Done!
Cut Before You Bake
This one sounds a little weird but you want to score your graham crackers before you bake them. Then, once they are baked, you go over the score marks with a pizza wheel or sharp knife. The crackers break easily apart!
Make 'em Holey
Have you ever noticed that all crackers are holey? Not holy but hole-y. Small holes dot the top of all crackers. These holes allow steam to escape as the crackers bake, keeping them light and crisp. For graham crackers use a fork to prick the surface of the dough.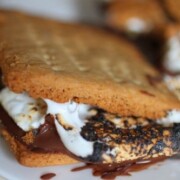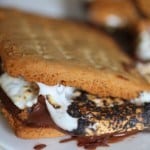 The Best Gluten-Free Graham Crackers
If you are vegan or have a dairy allergy, the dairy can be replaced with dairy-free alternatives and the honey can be replaced with another liquid sweetener; I like golden syrup.
Servings
12
graham crackers
Ingredients
1 1/2

cups

brown rice flour (7 1/2 ounces/ 212 grams)

1/2

cup

cornstarch (2 ounces/ 57 grams)

1/3

cup

dark brown sugar (2 2/3 ounces/ 75 grams)

1

teaspoon

baking powder

1/2

teaspoon

salt

5

tablespoons

butter or dairy-free shortening, cold (2 1/2 ounces/ 70 grams)

6

tablespoons

milk, traditional or dairy-free (3 1/4 ounces/ 90 grams)

3

tablespoons

honey (1 ounces/ 30 grams)
Instructions
Preheat oven to 350°F. In the bowl of a food processor, combine brown rice flour, cornstarch, dark brown sugar, baking powder, and salt. Pulse to combine. (If you don't have a food processor, whisk dry ingredients together in a medium mixing bowl.)

Add the butter. Pulse until flour mixture is coarse. No large pieces of butter should remain. (Or cut cold butter into flour mixture with a pastry cutter, two knives or by rubbing the butter between your fingers.)

Add milk and honey. Pulse until dough forms. (Or stir using a wooden spoon.)

Turn dough out onto a lightly rice floured piece of 12x16 parchment paper. Pat dough into a rectangle. Dust the top of the dough lightly with rice flour.

Place another piece of 12-by-16-inch parchment paper on top of the dough. Roll dough out until it covers all of the paper. Dough rectangle will be about 1/8 inch thick.

Carefully remove top piece of parchment paper. Transfer dough, with bottom parchment paper, to a 12 x 18 baking pan.

Using a pizza wheel, score the dough into rectangles. (The rectangles should be 6 x 2 3/4 inches large for "standard" graham crackers and 3 by 2 3/4 for a "s'more" size graham cracker.) The graham crackers will break apart after baking. Do not worry if the dough seems to still be touching after scoring with the pizza wheel.

Prick dough all over with a fork.

Chill dough for 10 minutes. Bake for 15 minutes or until evenly brown.

Remove graham crackers from the pan and place on a wire rack to cool. (I slide the parchment, with the crackers, directly onto the cooling rack.) Allow crackers to cool completely. Break along scored lines.