Gluten-free chocolate zucchini bread is moist and rich. Dairy-free and easy-to-make.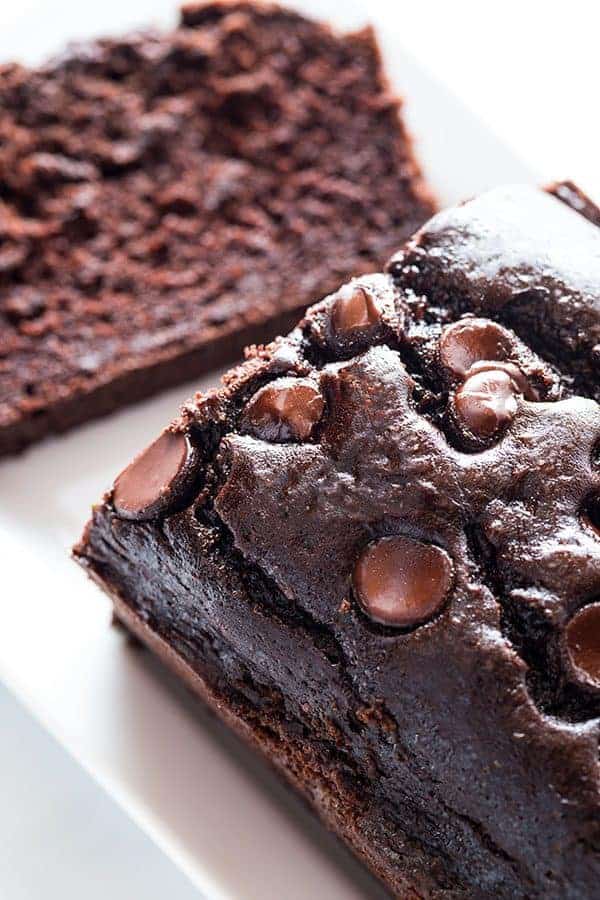 I've got a question for you! What does zucchini bread taste like? You probably didn't answer zucchini.
Like pumpkin bread, zucchini bread is based on a bland, watery vegetable*. (Yes, pumpkin is rather bland. Don't believe me? Try a spoonful of pumpkin the next time you open a can.)
*Fun fact: botanically speaking, both pumpkin and zucchini are fruits. Since they aren't sweet, we treat them as vegetables in the kitchen.
The point of zucchini bread isn't to celebrate the flavor of zucchini. It's usually made for one of two reasons: 1. to use up excess zucchini from your summer garden. 2. nostalgia. Someone in your life made zucchini bread and you liked it. So when summer rolls around, you want to make a loaf. Both of these are excellent reasons to make zucchini bread.
Traditional zucchini bread tastes mostly of cinnamon and is often studded with nuts or raisins. And, frankly, when I'm in the mood for a spiced quick bread, I usually make gluten-free pumpkin bread or gluten-free banana bread.
But chocolate zucchini bread? Well, that's a different story. This is a bread I get excited to make. Chocolate zucchini bread is dense, moist, and, compared to other chocolate cakes, lower in fat. You can eat a slice without it feeling like an overindulgence.
The zucchini almost melts during baking and leaves behind a mild vegetable-sweetness that pairs really well with cocoa powder. And the texture, especially for gluten-free quick bread, is soft. There's not a hint of gumminess in this bread.
The Best Gluten-Free Zucchini Bread Is
Soft and tender

Rich and chocolatey

Not too sweet

Not too oily

Made with brown sugar

Easy-to-make.
How to Make Gluten-Free Chocolate Zucchini Bread
Grate the zucchini. Use in-season zucchini. The bread needs the moisture it contains. To grate, use a box grater or food processor fitted with a grating disk.
Mix together the dry ingredients in a large bowl. Whisk together the gluten-free flour with the cocoa powder and other dry ingredients. You don't need a stand mixer for this recipe but you can use one.
Make the batter. Add the eggs, oil, and zucchini.

Stir until the zucchini is coated with batter. At first, the batter might look dry. This is normal.

Give it a rest. Allow the batter to rest for two minutes. The zucchini gives off liquid during this time. Don't skip the rest.
Bake. Spoon batter into a greased pan and bake until set.
Cool. Cool the bread, set on a wire rack, until cool to the touch.

The Best Flour for Gluten-Free Zucchini Bread
To keep things easy, I used Bob's Red Mill All-Purpose Gluten-Free Baking Flour. It makes a bread with a very delicate crumb. If you use your own flour blend or a different brand, be sure it contains xanthan gum for structure.
Do not substitute coconut or almond flour for the all-purpose gluten-free baking flour. It won't work.
The Best Zucchini for Zucchini Bread
Use zucchini during its growing season (in the United States, this means the summer). Out-of-season zucchini tends to be dry and when used for baking, the bread doesn't come out well.
In-season zucchini, on the other hand, is heavy with water. The water content of the zucchini is essential to creating a smooth batter and moist loaf.
Select zucchini that's no larger than 12 inches long. You don't want to use overgrown zucchini. The seeds should be small and delicate. (If you do have an overgrown zucchini, slice it in half. Scoop out the seeds, and then grate.)
After you grate the zucchini, pick up a little in your hand. If it feels moist, it's perfect for this recipe. If it's dry, it's better suited for making latkes.
The Best Cocoa Powder for Zucchini Bread
Use unsweetened, not Dutch processed cocoa powder.
Unsweetened cocoa powder is acidic. It works with the baking soda to leaven the bread.
How to Freeze Gluten-Free Zucchini Bread
After baking, allow the loaf to cool completely. Slice and place parchment paper between the slices. Place the slices into a freezer bag and freeze up to three months.
Gluten-Free chocolate zucchini bread freezes really well.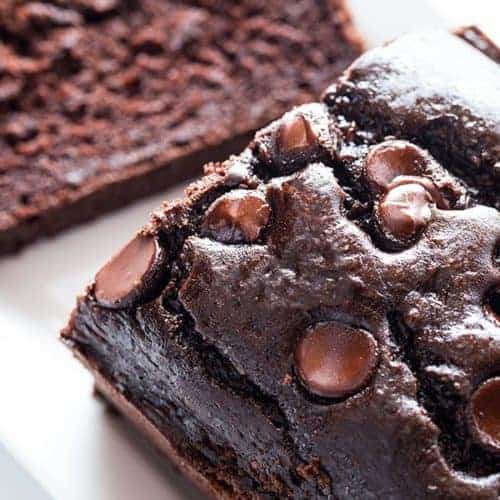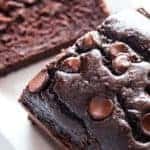 Gluten-Free Zucchini Bread
Moist and rich, this gluten-free chocolate zucchini bread is an easy-to-make summer classic. Dairy-Free.
Ingredients
1

cup

Bob's Red Mill gluten-free baking flour

(4 3/4 ounces / 138 grams)

3/4

cup

dark brown sugar

(5 1/2 ounces / 155 grams)

1/3

cup

unsweetened cocoa powder

(1 ounce / 28 grams)

1

teaspoon

baking soda

1/4

teaspoon

salt

2

cups

grated zucchini

(9 ounces / 255 grams)

2

large

eggs

1/3

cup

vegetable oil

(2 1/3 ounces / 65 grams)

1

tablespoons

chocolate chips, optional

(1/3 ounce / 10 grams)
Instructions
Preheat oven to 350 degrees F. Grease a 9x5-inch loaf pan with nonstick cooking spray.

Whisk together gluten-free flour, dark brown sugar, cocoa powder, baking soda, and salt. Break up any pieces of brown sugar with your fingers. Add grated zucchini, eggs, and oil. Stir until a batter forms. Allow batter to rest for two minutes. This allows the zucchini to release a little moisture. It's an important step. You don't want to skip it.

Stir the batter one more time to ensure no dry flour clings to the bottom of the bowl. Spread batter evenly into prepared pan. Sprinkle chocolate chips evenly over the top of the pan.

Bake until a cake tester inserted into the center of the loaf comes out clean, about 35 minutes.

Place pan on wire rack. Allow bread to cool in the pan. Slide a metal spatula gently around the edges of the pan to loosen. Turn out bread. Slice with a serrated knife. Store zucchini bread, wrapped, on the counter for up to four days. To freeze: Slice bread and place parchment paper between the slices. Place the slices into a freezer bag and freeze up to three months.