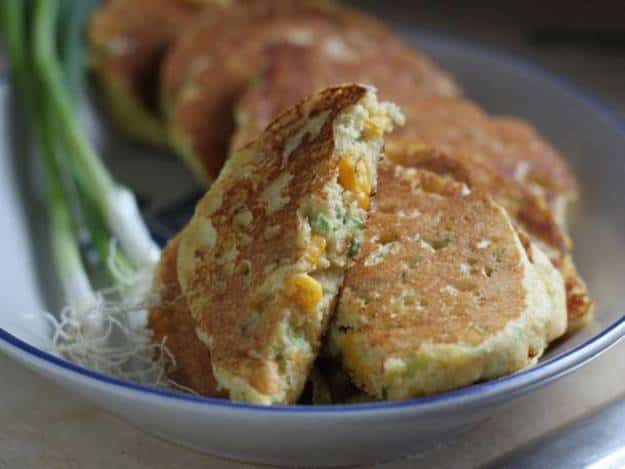 Gluten-Free Corn-Scallion Pancakes or Pancakes with Dinner is the Best.
In the summer I get a bit lazy with side dishes. With the abundance of fresh produce from both the farmers' market and my garden, I usually serve fresh vegetables and call it a day. The exception? These gluten-free corn-scallion pancakes. Even on the hottest day, I'll take the time to make a batch.
Studded with corn and chopped scallions, these pancakes are great with everything from barbecue chicken to ribs to salad. (I've even been known to wrap them around hot dogs for an easy mock corn dog. As you know, I love waffles and pancakes for dinner. So I love doing this.)
These are best served hot from the griddle. If you have any leftovers, freeze really well. To freeze, allow the pancakes to cool completely, place into a freezer bag, and seal. When you're ready to eat, thaw them before serving and then pop them into the toaster oven or microwave right before serving.
Allergen Notes:
These corn pancakes contain a few allergens (corn, eggs, and dairy). While they don't work without the corn, egg and dairy-free versions work well.
To replace the eggs, combine three tablespoons flaxmeal with ¼ cup hot water. Stir to combine. Allow mixture to stand until it thickens and cools. Add flax to recipe as you would eggs.
To replace the dairy, replace the milk with a dairy-free/gluten-free substitute.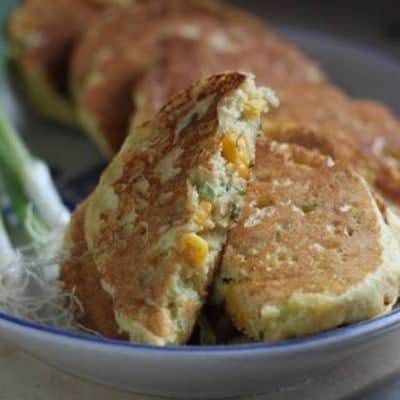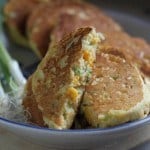 Gluten-Free Corn Scallion Pancakes
Ingredients
1 1/4

cups

gluten-free cornmeal

(6 1/4 ounces; 177 grams)

3/4

cup

brown rice flour

(3 3/4 ounces; 106 grams)

2

tablespoons

granulated sugar

(1 ounces; 28 grams)

1

tablespoon

baking powder

1/2

teaspoon

salt

1/4

teaspoon

xanthan gum

1

cup

milk

(8 ounces; 226 grams)

2

large

eggs

(about 3 1/2 ounces; 100 grams)

2

tablespoon

vegetable oil plus additional oil for pan

(3/4 ounce; 22 grams)

1 1/2

cups

fresh or frozen corn (if frozen, thaw)

(about 7 ounces; 198 grams)

5

scallions, green and white parts, chopped
Instructions
In medium bowl, whisk together cornmeal, brown rice flour, granulated sugar, baking powder, salt, and xanthan gum. In small bowl, combine milk, eggs, and vegetable oil. Whisk with fork until smooth. Pour wet ingredients over dry ingredients. Stir with fork until smooth. Add corn and scallions. Stir to combine.

Lightly oil flat griddle pan with vegetable oil. Heat griddle over medium-high heat. Pour batter, approximately 1/4 cup per pancake, onto griddle. (Batter should sizzle when it hits the pan. )

Cook until bubbles appear on edges of pancakes, approximately three minutes. Flip pancakes and cook another 1-1 1/2 minutes.