It's easy to make gluten-free waffles. Simply whisk all the ingredients together in a large bowl. Heat your waffle iron and cook until brown. Serve with your favorite toppings. Or make a batch, freeze them, and then reheat them for an easy-on-the-go gluten-free breakfast.
The recipe includes egg-free and dairy-free variations. And if you love breakfast foods, try my recipes for gluten-free pancakes or almond flour waffles.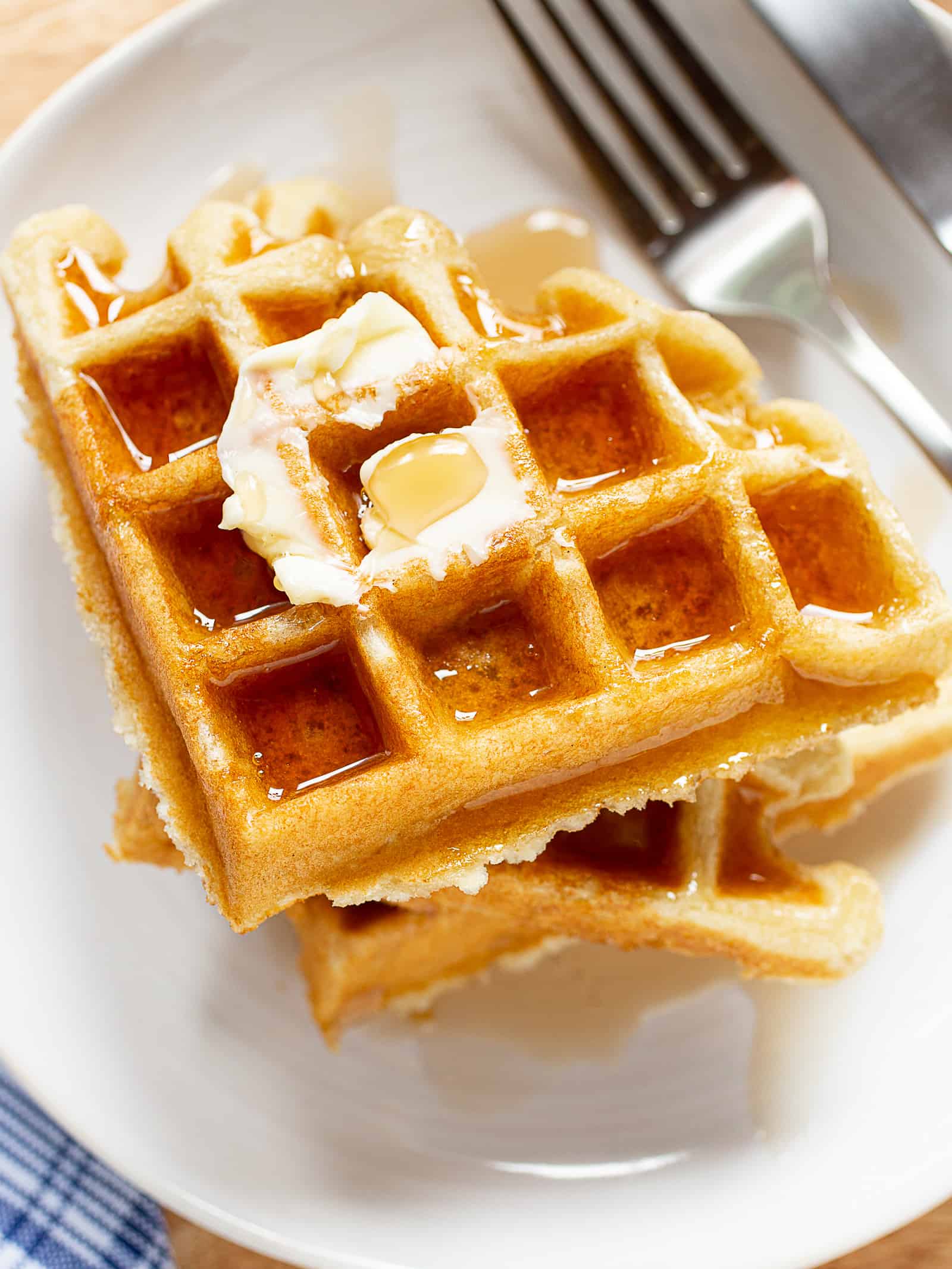 This recipe makes a classic breakfast waffle: crispy on the outside; tender and light in the center. And the style is up to you! Use the batter to make traditional (thin) waffles or thick Belgium-style waffles.
Ingredients.
Gluten-Free Flour. This recipe starts with a premade gluten-free flour blend. For the best results, use a gluten-free blend that contains either xanthan gum or guar gum. Without it, the waffles can turn out dense and heavy. If your blend doesn't contain xanthan or guar gum, add a half teaspoon to the flour before using.
Granulated Sugar. One tablespoon of granulated sugar helps the waffles brown.
Baking Powder. Baking powder gives the batter a rise and gives the waffles a nice texture.

Note: Always use fresh baking powder. If you're unsure about its freshness, test it. Stir one teaspoon of baking powder into a half cup of hot water. The mixture should bubble immediately.

Salt. Gluten-free waffles made without salt taste bland. This is because salt is a flavor enhancer. A half-teaspoon of salt gives them a nice flavor without tasting salty. Use table salt (fine salt). It mixes evenly throughout the waffle batter.
Milk. Both traditional and dairy-free milk work in this recipe. If you prefer the flavor of buttermilk, use an equal amount to replace the milk.
Eggs. Two large eggs add protein (think of this as structure) and give the waffles a nice flavor. To make the waffles egg-free, see the note below.
Melted Butter or Oil. A touch of melted butter or oil adds richness. If you're using coconut oil, melt it before adding it to the batter.
Vanilla Extract. A little vanilla extract adds a lovely flavor. You can also add a ¼ teaspoon almond extract for a little extra flavor.
How to Make Gluten-Free Waffles. Step-by-Step.
Step One: Make the batter.
You only need one bowl to make this waffle batter. First, whisk together the gluten-free flour with the other dry ingredients. This helps mix the baking powder and salt evenly throughout the gluten-free flour. It's a small step that makes a big difference.
Then add the eggs, milk, melted butter, and vanilla extract. Stir until the batter is smooth and thick. I like to run a rubber spatula along the sides and bottom of the bowl. This way, if there's any flour clinging to the bowl, you can mix it into the batter.
Step Two: Let the batter rest.
After mixing, let the batter rest for 10 minutes. This gives the gluten-free flour time to absorb the liquid, making the waffles less gritty. While the batter rests, turn on your waffle maker. It's important to cook gluten-free waffles in a hot iron. Remember to grease the iron with nonstick cooking spray or brush with melted butter–even if it's a nonstick iron.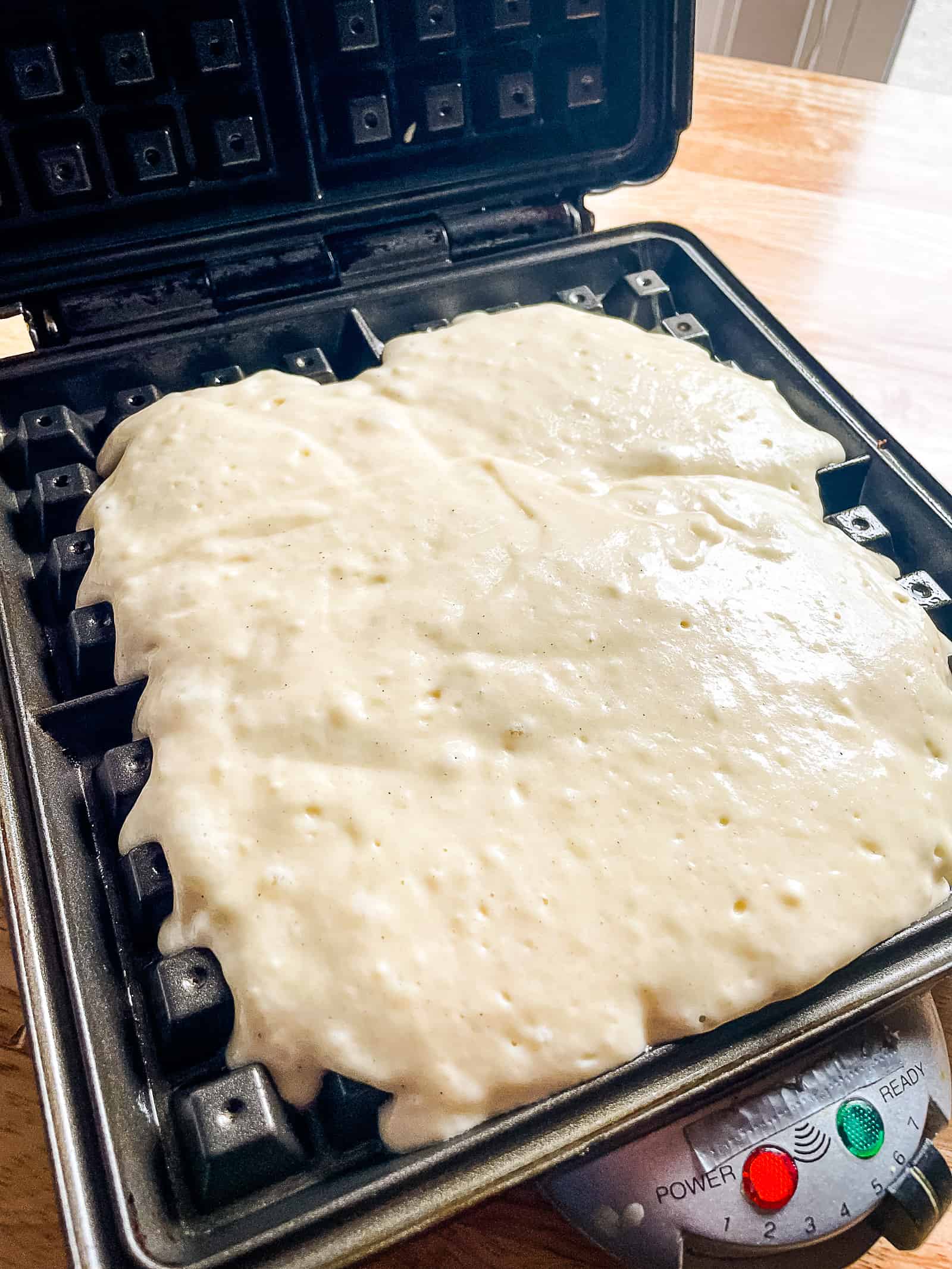 Step Three: Cook until brown.
Spoon the batter into your hot and greased iron. Most waffle irons use about a half cup of batter per waffle. Since they're all different, it's best to check the manual to see how much batter to use.
Cook the waffles until brown. If you're making the recipe as written and including dairy and eggs, the waffles brown nicely. Waffles made without dairy or eggs don't brown as much. Look for the waffles to be crispy. The cook time will vary by waffle maker.
Variations.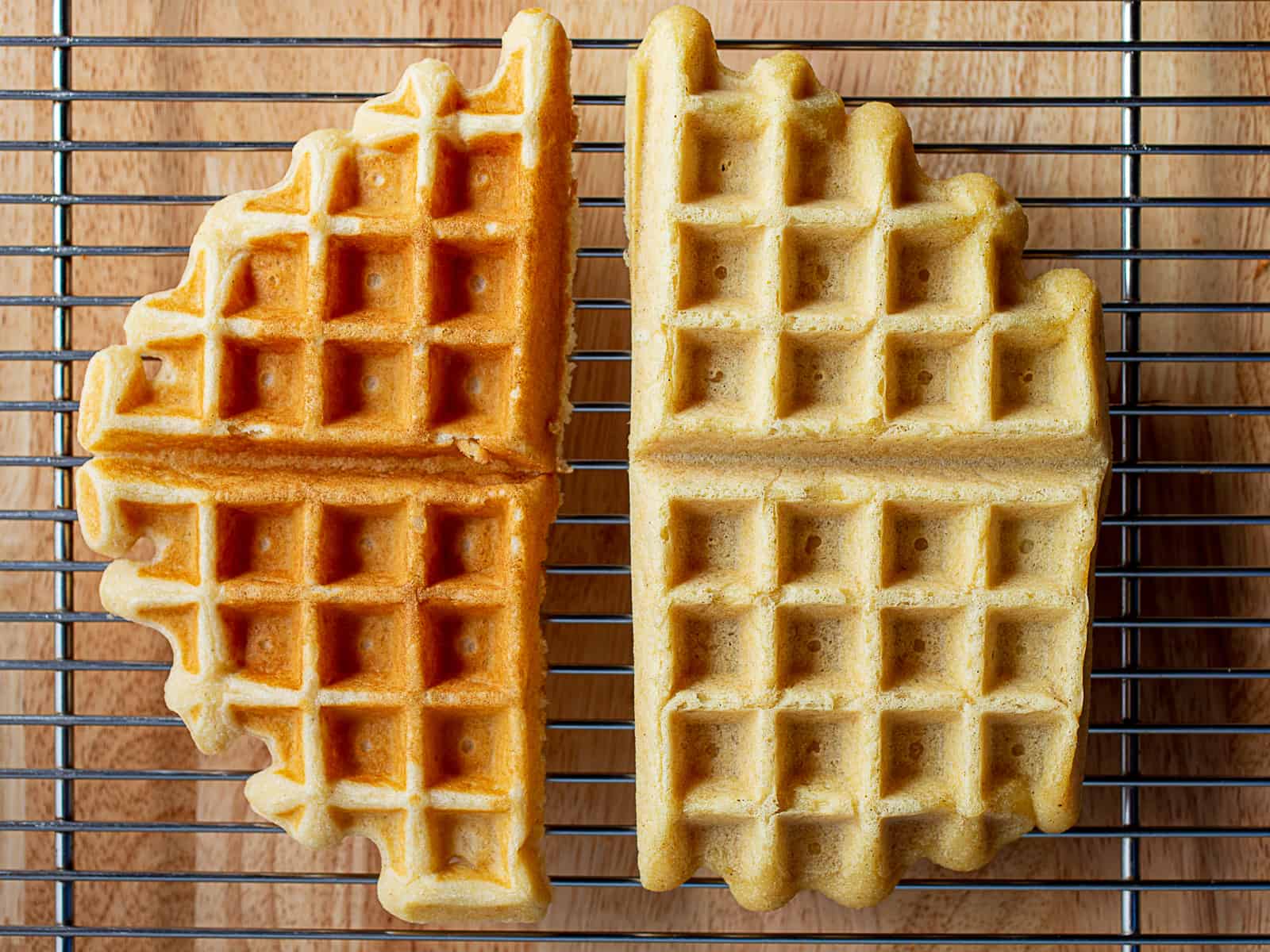 Gluten-Free and Dairy-Free Waffles.
Use your favorite dairy-free milk. If you're making dairy-free waffles, they might be a little lighter in color than those made with milk. Some brands of dairy-free milk don't brown as nicely as others. (See photo above. Dairy-free and egg-free waffle is on the right.)Note: Full-fat coconut milk is very rich and makes for dense and somewhat heavy waffles. While it works, it's not my favorite.
Gluten-Free and Egg-Free Waffles. 
Gluten-free and egg-free baking is challenging. I'm happy to report this recipe works without eggs. I tested the recipe with Bob's Red Mill Egg Replacer. When made without eggs, the batter is very thick. Don't add additional liquid or the waffles will turn out gummy. Gluten-free and egg-free waffles tend to be a little heavier than waffles made with eggs.
How to Freeze and Reheat Gluten-Free Waffles.
Frozen waffles make a quick gluten-free breakfast. Here's how to freeze and reheat them.
How to Freeze Waffles
Make the waffles as directed.
Cool on a wire rack. This allows steam to escape.
Place cooled waffles into a freezer bag or container.
Freeze for up to three months.
How to Reheat Homemade Gluten-Free Frozen Waffles.
Thaw waffles overnight in the refrigerator or on the thaw/defrost setting of the microwave.
Heat the thawed waffles in a toaster oven, air-fryer, or oven until crispy.
Recipe Note.
This recipe was first posted in 2015. It's been updated to include new photos and now uses a gluten-free flour blend. Here is the link to the original recipe for classic gluten-free waffles.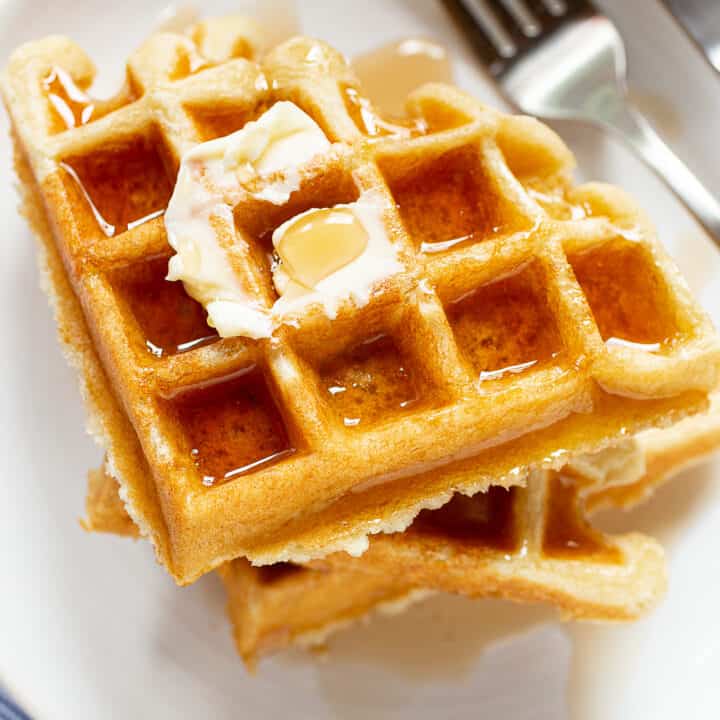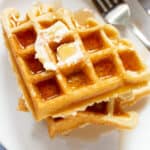 Gluten-Free Waffles
These gluten-free waffles are crispy and light with a delicate interior. To make things easy, this one-bowl recipe uses a gluten-free flour blend. (Egg-free and dairy-free variations are included.)
Ingredients
1 ¾

cups

gluten-free flour blend

(8 ¾ ounces; 248 grams.)

1

tablespoon

baking powder

1

tablespoon

granulated sugar

(½ ounce; 14 grams)

½

teaspoon

salt

1 ¼

cups

milk

(10 ounces; 283 grams)

2

large

eggs

(about 3 ½ ounces; 100 grams)

¼

cup

vegetable oil

(1 ¾ ounces; 50 grams)

1

teaspoon

vanilla extract
Instructions
Whisk together the gluten-free flour blend, baking powder, granulated sugar, and salt. Add milk, eggs, oil, and vanilla extract. Mix until the batter is smooth. Let batter rest for 10 minutes.

Heat waffle iron according to manufactuer's directions. Grease with oil and cook waffles until crispy.

Serve with butter and maple syrup or other toppings of your choice.
Recipe Notes
Gluten-Free Flour. This recipe was created with Bob's Red Mill 1:1 Gluten-Free Flour Blend. Use a gluten-free flour that contains xanthan or guar gum. If it doesn't, whisk ½ teaspoon xanthan gum into the flour and then make the recipe as directed.
Variations
Dairy-free. Replace the milk with an equal amount of dairy-free milk. 
Egg-Free. Replace the eggs with 2 tablespoons Bob's Red Mill Egg Replacer and 4 tablespoons warm water. Whisk the mixture together until smooth. Allow to rest until thick, about five minutes. When made without eggs, the batter will be very thick. Don't add additional liquid or the waffles will turn out gummy and heavy.