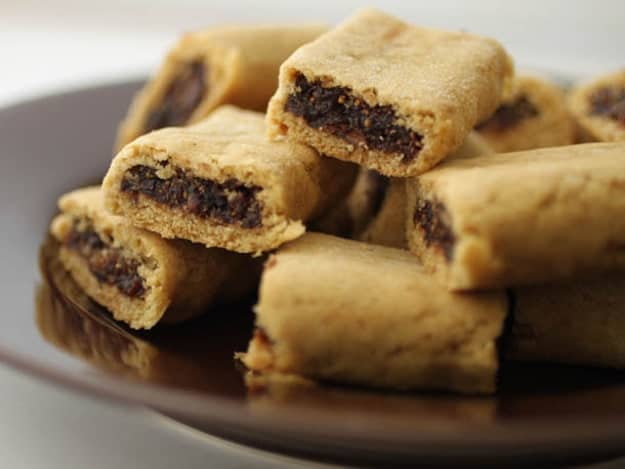 Gluten-Free Fig Newtons
Social media is weird. The other day a photo of Fig Newtons, of all things, came across my Facebook feed. A friend captioned it with, My snack says I'm turning into my grandmother! Looking at that photo, I realized that I missed Fig Newtons. The craving caught me a little by surprise because I hadn't really thought about them since switching to a gluten-free diet. Suddenly enticed, I thought I'd enjoy making my own gluten-free batch.
Honestly, they turned out to be rather tough to replicate.
My first attempt was dreadful. The outer cookie, made of a simple mixture of gluten-free flours and butter, came out like pie crust. It was really flaky instead of tender and cakey.
The filling, which I cooked for several hours, tasted bland. It boggled my mind that a filling made from flavorful figs could be so dull and mild! Yet this filling, made from chopped mission figs, water, and brown sugar, was just that.
Clearly I needed to rethink the entire recipe.
First up: the cookie. Since Fig Newtons are cakey, I added eggs to the dough, along with a little leavening, which my first batch didn't contain. For the filling, I went in the opposite direction by not cooking it at all—I simply puréed dried mission figs with a little water and corn syrup.
The second batch turned out much closer to the real deal, but it was still a little off. The cookie felt too fatty and while filling tasted sweet, it still had no real depth.
To address these problems, I reduced the amount of butter in the cookie and replaced half the granulated sugar with dark brown sugar to boost the flavor and add some moisture. I also added a little orange oil, since I remembered Fig Newtons having a subtle citrus note. For the filling, I again puréed the dried figs, but this time I added freshly squeezed lemon juice and a little salt.
The cookie baked beautifully, while the lemon juice and salt boosted the flavor of the filling without competing with the figs. But there was still one problem: the outer cookie tasted too buttery.
Commercial Fig Newtons don't taste like butter, so for the final batch, I used shortening instead of butter. That simple swap made a big difference. At long last, the cookies tasted just like the Fig Newtons I remembered.
And even though I finally perfected the recipe, I still needed to wait before enjoying them, since both the flavor and texture improve after an overnight rest. Following a technique from Bravetart's homemade fig newton recipe, I transferred the warm cookies into a sealed container, allowing them to steam slightly. After all that work, I wondered if the fig newtons were worth it. Then I bit into one and got my answer: in this case, there's nothing better than turning into your grandmother.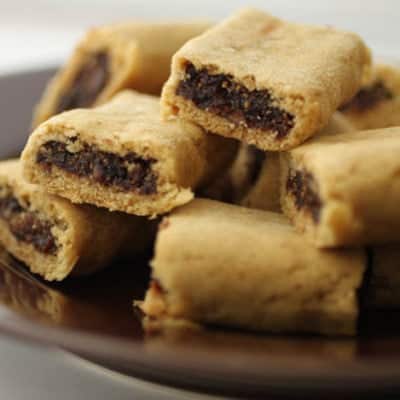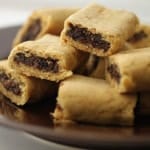 Gluten-Free Fig Newtons
To ensure the correct consistency for the filling, use dried figs that are soft; if your figs are firm, soak them for five minutes in warm water before making the filling. These cookies are best after an overnight rest, which helps ensure the outer cookie softens and becomes cakey. If you don't want to wait a day, the cookie will be more crunchy, but still delicious.
Total Time
3
hours
15
minutes
Ingredients
For the Cookies
1 1/2

cups

brown rice flour, plus more for dusting

(7 ounces; 200 grams)

1/2

cup

cornstarch

(2 ounces; 56 grams)

1/4

cup

sweet rice flour

(1 ounce; 28 grams)

1

teaspoon

baking soda

1/2

teaspoon

xanthan gum

1/2

teaspoon

table salt

1/4

cup

vegetable shortening

(2 ounces; 56 grams)

1/4

cup

granulated sugar

(1 3/4 ounces; 50 grams)

1/4

cup

dark brown sugar

(2 ounces; 56 grams)

2

large

eggs

(about 3 1/2 ounces; 100 grams)
For the Filling
14

ounces

dried mission figs

see note above

1/4

teaspoon

orange oil or 1/4 teaspoon finely grated orange zest from 1 orange

1/4

cup

water

(2 ounces; 56 grams)

3

tablespoons

light corn syrup

(2 ounces; 56 grams)

2

tablespoons

freshly squeezed lemon juice from 1 lemon

(1 ounce; 28 grams)

1/2

teaspoon

table salt
Instructions
For the Cookie: In medium mixing bowl, whisk together brown rice flour, cornstarch, sweet rice flour, baking soda, xanthan gum, and salt. In bowl of stand mixer fitted with paddle attachment, beat together vegetable shortening, granulated sugar, and brown sugar at medium-high speed until well combined, about 30 seconds. Add eggs, one at a time, and mix at medium speed for 30 seconds. Scrape down sides of bowl, then mix for an additional 15 seconds. With mixer off, add dry ingredients and orange oil, then mix at medium-low speed until a dough forms.

Generously dust work surface with brown rice flour. Turn dough out onto counter and pat into a round. Wrap with plastic wrap and refrigerate for at least two hours or overnight.

Meanwhile, For the Filling: In bowl of food processor, combine figs, water, corn syrup, lemon juice, and salt. Pulse until a thick paste forms. Filling should be thick but yield when pressed with the back of a spoon. If filling is too firm, blend in an additional teaspoon or two of water until it is soft enough to pipe. Transfer filling to a large pastry big fitted with a 1/2-inch round tip.

Preheat oven to 350°F. Remove dough from the refrigerator and cut into six equal pieces. Line a rimmed baking sheet with parchment paper. Set a 12- by 18-inch piece of parchment paper on your work surface. Dust the parchment generously with brown rice flour. Center one of the dough pieces on the parchment and dust generously with brown rice flour. Roll dough into a 10- by 4 1/2-inch strip, using a pizza wheel to trim edges.

Pipe fig filling evenly down the center of the dough strip. Run a thin metal spatula between the dough and parchment to loosen the dough. Fold the dough edges over the filling, pressing down lightly to seal. Lift the dough log off the parchment and transfer, seam side down, to the prepared baking sheet. Repeat with remaining dough and filling.

Bake fig bars in center of the oven until set and just starting to turn golden brown, about 15 minutes. Remove pan from oven and cut cookies, using a sharp knife, into 2-inch pieces. Allow cookies to cool for 5 minutes. Transfer cookies to a container with a lid, separating layers with pieces of parchment paper. Store for 24 hours before serving.