Easy gluten-free gingerbread cookie recipe. These sweet and spicy cookies are perfect for Christmas.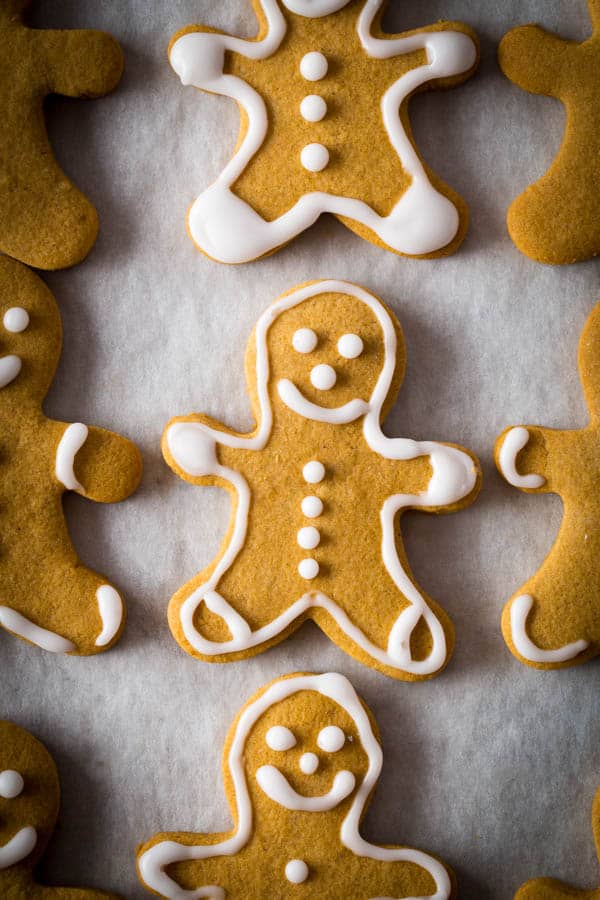 How to Make Gluten-Free Gingerbread Cookies: The Basics
Use a gluten-free flour blend. Instead of blending different gluten-free flours and starches, use a gluten-free all-purpose flour. This recipe was developed using Bob's Red Mill 1:1 Gluten-Free Baking Flour. If you don't have this blend on hand, be sure to use a blend that contains xanthan or guar gum (these ingredients prevent the cookies from spreading).
Use baking molasses. There's a small amount of molasses in this recipe. Be sure to use unsulfured baking molasses. Both "robust" (dark) and blackstrap molasses are too strong for these cookies.
Scrape the bowl. While making the dough, stop the mixer and scrape the bowl at three important points: after creaming the butter and sugar together, after adding the egg, and after mixing in the flour. Scraping the bowl ensues the cookies bake evenly.
Chill the dough. This reduces grittiness and thickens the dough and prevents spreading.

Roll the dough. Generously dust your counter and rolling pin with gluten-free flour. Roll out the dough until it's about 1/4-inch thick.
Use similar-size cutters. To prevent burning, cut cookies out with similar-size cutters. If you want to use different shapes and sizes, no problem — just put them on a different baking sheet.
Bake. Preheat the oven and bake the cookies on a parchment-lined baking sheet. These cookies don't spread much as they bake, so you can put them pretty close together.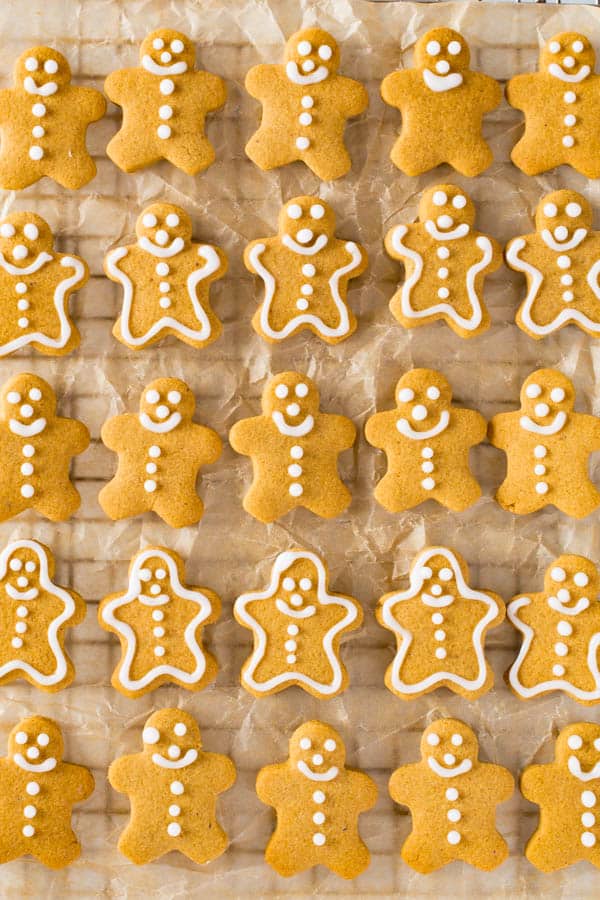 How to Make Gluten-Free Gingerbread Cookies: Explained
Whisk the dry ingredients together.

Gingerbread cookies start with a simple cookie dough. If you've ever made gluten-free sugar cookies or chocolate chip cookies, the method is similar.

Start by sifting or whisking together gluten-free flour with the baking powder, spices, and salt. Some gingerbread cookie recipes use a lot of different spices, including black pepper, but I prefer to keep my gingerbread cookies simple and ginger-forward.

The unsung ingredient here is the salt. The salt enhances the other flavors, without making the dough taste salty. I recommend baking with table salt, as it blends easily into dough.

This seems like such a simple step, doesn't it? Why not skip it and add the ingredients directly to the mixer? But this step helps evenly distribute all the ingredients. You want to spend about 30 to 45 seconds whisking everything together.

Make the dough.

Cream together butter and dark brown sugar.

Combine butter and sugar in a large mixing bowl or the bowl of a stand mixer. The temperature of the butter is important. If it's too soft (or worse, melted) the cookies will spread. If it's too cold, it won't get fluffy when creamed. That "fluff" is air, and it's important. Along with the baking powder and eggs, this step helps the dough to rise. While we don't often think of gingerbread cookies as rising, we want them to rise a bit to prevent them from being too hard to bite into. Use butter around 68 degrees F.

Since we're using both brown sugar and molasses in these cookies, I prefer to use light brown sugar. It adds a nice, almost-caramel flavor without making the cookies too molassesy. (If you want a gluten-free molasses cookie, I've got a recipe for that.)

Cream everything together until it lightens in color. I hesitate to say how long this takes because the time varies depending on the temperature of your butter and the speed of your mixer. It took mine about two minutes, but that's just a rough guideline, not a hard-and-fast rule.

Be sure to stop the mixer once or twice during creaming. Use a rubber spatula to incorporate the butter-sugar paste that's clinging to the side or bottom of the bowl. If you have a KitchenAid mixer, take care to run the spatula around the 'nub" at the bottom of the bowl.

Add the egg and molasses.

Stop the mixer and add the egg and molasses. At first, it might look curdled. Beat the mixture until it's smooth and fluffy. This takes about 30 seconds. Again, stop the mixer. Scrape the sides and bottom of the bowl. (Doing this ensures you won't get any odd-shaped cookies.) And run the mixer for a few seconds to incorporate the thick butter-sugar paste.

Ingredient note: For the molasses, use an unsulfured molasses. (I use Grandma's Molasses with the yellow label.) Don't use dark molasses in the recipe because it'll make the cookies unpleasantly bitter. And please don't use blackstrap molasses; it's bitter and too high in sodium and won't give you a good flavor.

Add the dry ingredients.

Stop the mixer again and add the flour. You can do this all at once. There's no need to add the flour in stages. Turn the mixer to low. Once the flour has incorporated, increase the speed to medium and mix until a dough forms. Or not …

Knead the dough (if needed).

Sometimes the dough doesn't come together. It might look a bit dry or crumbly. Don't fret! This is normal — especially if you're using a handheld mixer. If the dough looks crumbly, turn it out onto a lightly floured (use the gluten-free baking flour to dust your counter) surface and knead a few times.

Chill the dough.

After mixing the dough, you might be ready to bake, but, unfortunately, the dough isn't. It needs to chill for at least 30 minutes.

There are two reasons for this. First, the butter can warm up during mixing. And warm dough = cookies that spread. But since we usually make gingerbread cookies in the winter, sometimes the butter stays on the cool side. So why waste time chilling? Hydration! A brief 30-minute chill allows the gluten-free flours and starches time to absorb the liquid in the recipe (in this case, the eggs, molasses, and brown sugar). They sort of plump up, giving the cookies a better texture.

Pat the dough into a flat disk, wrap in plastic wrap, and chill for 30 minutes or overnight.

Roll the dough and cut out cookies.

Roll out the dough.

After chilling, it's time to roll. Dust your counter generously with gluten-free flour and rub flour onto your rolling pin. Cut the dough in half. (It's easier to roll out small amounts of dough and this allows you to have more control over the thickness.) You don't need to chill the second half of the dough unless your kitchen is exceptionally warm.

Roll out the dough to about 1/4-inch thickness. If you like your gingerbread cookies crunchy, roll out to 1/8-inch. (Rolling the cookies to 1/8-inch doubles the number of cookies you'll get.) If the dough is the correct temperature and you use enough flour, the dough shouldn't stick to the counter. However, I always like to check. I run a large angled spatula under the dough. This tool is commonly used for cake decorating. Do you need one? No, but if you love to bake, it's nice to have.

Cut into shapes.

Cut the dough using your favorite cookie cutter(s) and follow this rule: One shape per pan. Different sizes and shapes of cookies take a different amount of time to bake. If you put a tiny star on the same pan with a large gingerbread boy, the star will burn long before the gingerbread boy is done. If you don't want to stick to one shape per pan, try to keep the shapes the same size.

When cutting, nestle the cuts as close together as possible. This saves you from having to re-roll the dough several times. There's nothing wrong with rerolling the dough, but it does take additional time and you need to make sure the dough doesn't get too warm between rolls. If it does, pop it back in the fridge until cool.

Bake and cool.

Place the cutouts on a parchment-lined baking sheet. The cookies hardly spread during baking. So go ahead and place them close together.

Bake until the cookies are set. It's hard to give a specific time because different sizes take different times to make. Look for the cookies to look dull (not shiny dough) and puffy. They should also smell amazing.

Cool.

Cool the cookies on the pan for about 5 minutes and then transfer to a wire rack to cool completely.

Decorate.

When cool, go wild with decorating. (Or not. I often skip this step!) Royal icing is traditionally used to decorate gingerbread cookies because it hardens, unlike buttercream.

Store.

Gingerbread cookies seem to keep forever. They're good for about a week after baking. If you want to keep them longer, freeze them. Place the cookies in a freezer container. (Layer with parchment paper) and freeze for up to three months.

FAQs: Gluten-Free Gingerbread Cookies
Can I use almond flour?
No. Don't replace the gluten-free flour with almond flour. It makes the dough too rich and the recipe doesn't work.
Can I use coconut flour?
No. The recipe will not work with coconut flour.
Can I replace the butter?
Yes! Replace the butter with either a dairy-free margarine or shortening.
Can I use dark brown sugar?
Yes. Replace the light brown sugar 1:1 with dark brown sugar. But know that the cookies might spread more during baking because of the extra molasses in the dark brown sugar.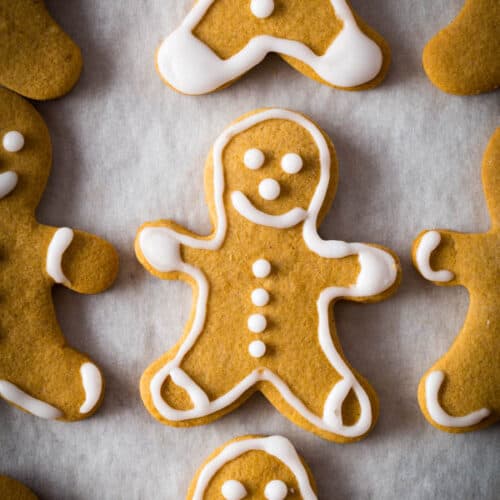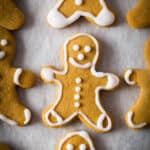 Easy Gluten-Free Gingerbread Cookies
Easy gluten-free gingerbread cookie recipe. These sweet and spicy cookies are perfect for Christmas.
Ingredients
3

cups

Bob's Red Mill 1:1 Gluten-Free Baking Flour

(15 ounces; 425 grams)

1

tablespoon

ground ginger

1

teaspoon

ground cinnamon

1/2

teaspoon

baking powder

1/2

teaspoon

salt

1/4

teaspoon

ground clove

12

tablespoons

butter, softened

(6 ounces; 170 grams)

3/4

cup

packed dark brown sugar

(5 1/2 ounces; 155 grams)

1

large

egg

(about 2 ounces; 50 grams out of shell)

4

tablespoons

molasses

(3 ounces; 85 grams)
Instructions
Prepare the Dough. Whisk together gluten-free flour, ground ginger, ground cinnamon, baking powder, salt, and ground clove. Set aside.

Cream together butter and dark brown sugar until a thick paste forms, about 30 seconds. Add egg and molasses. Blend until combined. Stop mixer and scrape down the bottom and sides of the bowl. Run mixer for a few seconds after scraping the bowl. Add dry ingredients. Blend until a dough forms.

Chill Dough. Lightly dust your countertop with gluten-free flour. Turn dough out onto counter and pat into a round. Wrap tightly with plastic wrap. Chill for several hours or overnight.

Bake Cookies. Preheat oven to 350°F. Line one or two baking sheets with parchment paper and set aside. Remove dough from the refrigerator and allow to stand for about 15 minutes. This allows the dough to soften a little, making it easier to roll. Divide dough in half and roll out to about 1/4-inch thickness on a generously rice floured countertop. Cut into shapes. Place cookies on a parchment-lined baking sheet. Bake until edges are golden-brown and aromatic, about 12 minutes. Repeat with remaining dough. Be sure to allow the baking sheet to cool between batches to prevent the cookies from spreading.

Cool Cookies. Cool cookies on a wire rack. Decorate as desired. Store cookies in a covered container for up to one week.