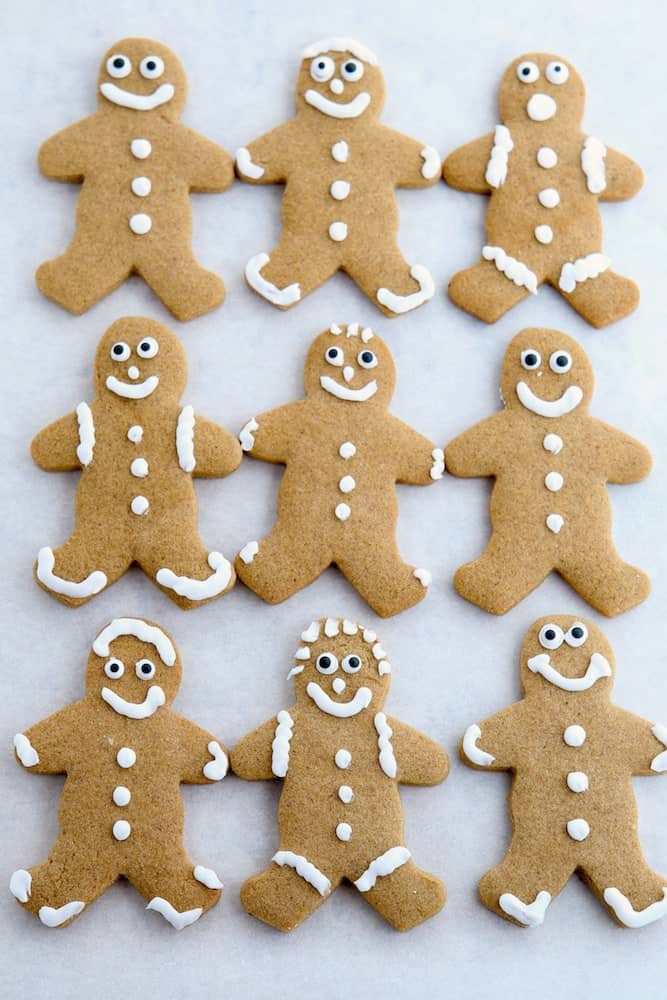 No matter how many carols I hear, cards I send, or gifts I wrap, it doesn't feel like the holidays until I make gingerbread cookies. And those gingerbread cookies? They need to meet two requirements:
They can't spread. It's always disappointing to put cute cut-outs into the oven only to be greeted with weird amoeba-like shapes after baking; I like my gingerbread boys and girls to hold their shape! The combination of brown rice flour, sweet rice flour, and tapioca starch help these guys and gals to retain the shape of the cutter. But we can't overlook the sugar and butter, two culprits when it comes to spreading. In this recipe, both are kept to a minimum. With the sugar and butter on the light side (at least in relation to 3 cups of flour), you get a sturdy, not-to-sweet cookie. WIN!
They must taste like ginger. Too often gingerbread cookies taste like molasses cookies with the ginger flavor lost to the other spices. If I want a molasses cookie, I'll make a batch. When I want a gingerbread cookie, I want ginger to be the prominent flavor. But….I don't want to deal with fresh ginger. I know. I know. Bad baker, right? Eh. More like, "Out of fresh ginger baker." Using standard powdered ginger not only gives these cookies that ginger taste you've come to expect in ginger cookies, it also means that you don't have to worry about having fresh ginger on hand when you want to make them.
This recipe succeeds on both counts. The dough retains its shape well enough that you can use it to construct a gluten-free gingerbread house. And, thanks to the tablespoon of ground ginger, it's a tasty, spicy ginger cookie.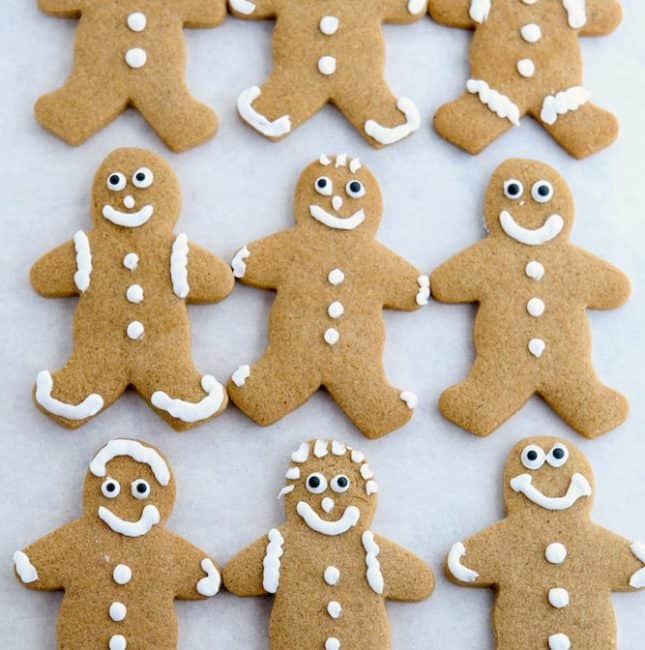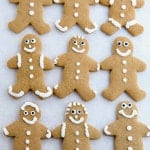 Gluten-Free Gingerbread Cookies
Total Time
2
hours
12
minutes
Ingredients
2

cups

brown rice flour

(9 1/2 ounces; 270 grams)

1/2

cup

sweet rice flour

(2 ounces; 56 grams)

1/2

cup

tapioca starch

(2 ounces; 56 grams)

1

tablespoon

ground ginger

1

teaspoons

ground cinnamon

1/2

teaspoon

baking powder

1/2

teaspoon

salt

1/4

teaspoon

ground clove

1/4

teaspoon

xanthan gum

10

tablespoons

butter, softened

(5 ounces; 142 grams)

3/4

cup

packed dark brown sugar

(5 1/2 ounces; 155 grams)

1

large

egg

(1 3/4 ounce; 50 grams out of shell)

3

tablespoons

molasses

(2 1/4 ounces; 65 grams)
Instructions
In medium mixing bowl, whisk together brown rice flour, sweet rice flour, tapioca starch, ground ginger, ground cinnamon, baking powder, salt, ground clove, and xanthan gum. Set aside. In bowl of stand mixer fitted with paddle attachment, cream together butter and dark brown sugar until a thick paste forms, about 30 seconds. Add egg. Blend until combined. Stop mixer and scrape down bottom and sides of the bowl. Add dry ingredients. Blend until a thick dough forms. Add molasses. Blend until thoroughly combined.

Lightly flour your countertop with brown rice flour. Turn dough out onto counter and pat into a round. Wrap tightly with plastic wrap. Chill for several hours or overnight.

Preheat oven to 350°F. Remove dough from the refrigerator and allow to stand for five minutes. Divide dough round in half and roll out to 1/4-inch thickness on a generously rice floured countertop. Cut into shapes. Place cookies on parchment-lined baking sheet. Bake until edges are golden brown and aromatic, about 12 minutes. Repeat with remaining dough.

Cool cookies on a wire rack. Decorate as desired. Store cookies in a covered container for up to one week.