Gluten-Free M&Ms Cookie Recipe. Buttery Sugar Cookies studded with M&Ms. Perfect for Christmas.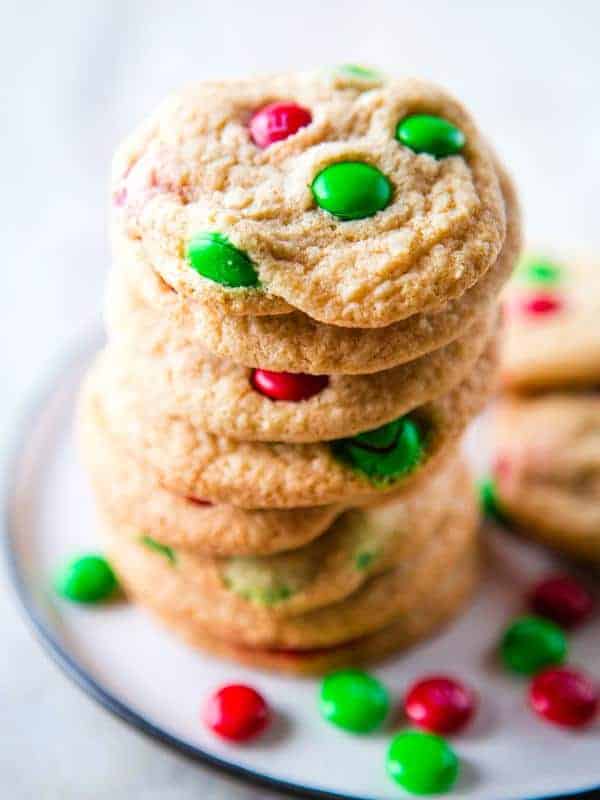 If you love both sugar cookies and chocolate chip cookies, these are for you!
They're easy to make; so they make perfect Christmas cookies. You can crank out several batches quickly. Placed in pretty bags and tied with a ribbon, these make great gifts.
Like my soft gluten-free sugar cookie recipe, these are really easy to make. If you've never made simple sugar cookies before, here's the lowdown.
How to Make Gluten-Free M&M Cookies
Mix the Dough. This recipe makes a simple buttery sugar cookie. Cream together butter (see note below if you can't use dairy) and brown sugar until a thick paste forms. Don't over-whip the butter and sugar or the cookies will spread too much as they bake. Add the eggs and mix until combined. Then add the dry ingredients. Mix until a dough forms.
Add the M&Ms. Once the dough comes together, stop the mixer and add the M&Ms. There are lots of M&Ms in these cookies, ensuring that almost each bite of cookie contains an M&M. During baking, the M&Ms sometimes "hide" in the dough. If you want to see the M&Ms, press a few extra into the top of the dough before baking.
Chill. A quick chill, about 20 minutes, keeps the cookies from spreading too much. Pop the dough into the refrigerator to chill and turn on the oven. By the time the oven is ready to go, the cookies have chilled for long enough.
Preheat the oven. Bake the cookies into a preheated oven. A cold oven can cause greasy cookies (The butter melts too much before baking as the oven gets up to temperature.)
Bake. Scoop the dough and drop onto a parchment-lined baking sheet. A cookie scoop works great for this. (Here's the one I use. affiliate link) .These cookies spread a little during baking–about as much as a gluten-free chocolate chip cookie. Be sure to space each dough ball about two-inches apart. Bake until the cookies are light brown.
Cool. When the cookies come out of the oven, they're delicate. Allow them to cool on the pan for about three minutes before transferring to a wire rack to cool.
Are M&Ms gluten-free?
As of this writing (12/2018), most varieties of M&Ms are gluten-free. The notable exceptions are pretzel and crispy rice. However, always check the package for the most up-to-date information.
Mars maintains a policy of disclosing gluten and using "may contain" warnings for potential allergens. Be sure to read each package of M&Ms before using. Here's Mars (the maker of M&Ms) allergen policy.
Made with butter and brown sugar, the cookies are tasty on their own. You can always skip the M&Ms if you'd like.
Which gluten-free flour should I use?
I tested this recipe with Bob's Red Mill Gluten-Free Baking Flour. Using a different flour (or flours) can dramatically change the results.

Can I make these without dairy?
Yes. Sort of. You'll need to replace the butter with a dairy-free baking spread, such as Earth Balance Sticks. And you'll need to replace the M&Ms with a dairy-free alternative. I've heard good things about "Choco NoNos."(affiliate link) However, I haven't tried the Choco NoNos yet. So I'm not sure how they taste.
Can I freeze these cookies?
Yes! Allow the cookies to cool completely before freezing. To freeze, place in a freezer container with a layer of parchment or waxed paper between the layers. Thaw the cookies at room temperature overnight.
You can also freeze the dough. Preheat the oven as directed and bake the cookies for an additional minute or so. There's no need to thaw the dough before baking.
Shop the Recipe
Here are the ingredients and tools I used to make this recipe. These links are affiliate links. GlutenFreeBaking.com earns a commission when you use these links to shop.
Bob's Red Mill Gluten-Free Baking Flour
M&Ms or Choco NoNos (for dairy-free)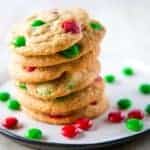 Gluten-Free M&M Cookie Recipe
Gluten-Free M&M Cookie Recipe. Buttery Sugar Cookies studded with M&Ms. Easy to Make.
Ingredients
2

cups

gluten-free flour (see note)

10 ounces/285 grams

1/2

teaspoon

baking soda

1/2

teaspoon

salt

3/4

cup

butter

1 1/2 sticks; 6 ounces; 170 grams

1 1/4

cups

light brown sugar

9 ounces; 255 grams

2

large

eggs

1

teaspoon

vanilla extract

2

cups

chocolate M&Ms, plus additional if desired, see note
Instructions
Whisk together the gluten-free flour, baking soda, and salt in small bowl. Set aside.

Cream together the butter and brown sugar in a large mixing bowl until a thick paste forms, about 45 seconds. (Use medium speed on a stand mixer and medium-high speed on a handheld mixer.)

Stop mixer. Scrape down bottom and sides of the bowl. Turn mixer on. Add eggs, one at a time, mixing well between each addition. Stop mixer. Scrape down sides and bottom of the bowl. Add vanilla extract. Mix for 20 seconds.

Stop mixer. Add whisked flour. Turn mixer to low speed. Mix until a dough forms. Stop mixer. Add the M&Ms. Mix until just combined. Chill dough for 20 minutes while you preheat the oven.

Preheat oven to 350 degrees F. Line two baking sheets with parchment paper.

Scoop dough, about two tablespoons each, and round into balls. Place dough onto prepared baking sheet. If desired, press a few additional M&Ms onto each cookie. Space dough about 2-inches apart, as cookies spread during baking.

Bake until edges are golden brown, about 12 minutes. Allow cookies to cool on the pan for about three minutes before transferring to a wire rack to cool completely.
Recipe Notes
Gluten-Free Flour
This recipe was tested with Bob's Red Mill Gluten-Free Baking Flour. Using a different flour can change the texture of these cookies. If you need to replace the flour, use a flour blend that contains xanthan gum or add 1/4 teaspoon to the recipe.