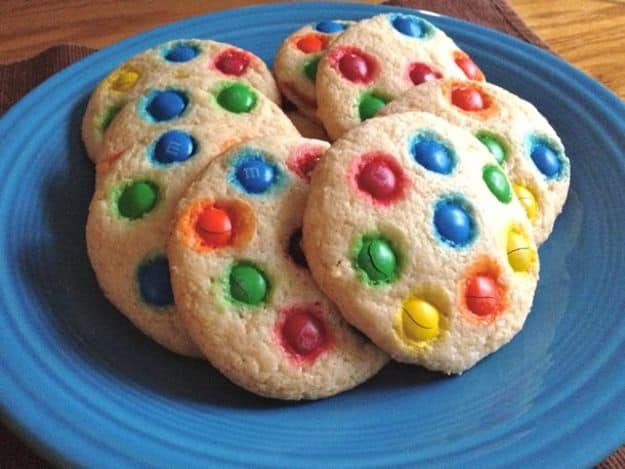 When I was nineteen, I worked at an Italian bakery. This place made everything from unbelievably flaky Sfogliatelle to delicate pastry cream-filled eclairs. But for a long time, my main job was cookies. I didn't make the dough or bake them—those two tasks were for more advanced bakers. I dipped anginetti cookies in lemon glaze and coated them in rainbow sprinkles, I pipped mounds of fudge icing into the center of big chocolate cookies, and I pressed M&M's into sugar cookies. M&M's duty, by far, was my favorite. In the midst of the busyness of the bakery, it relaxed me to just stand at my bench and press M&M's into cookies.
You might wonder why anyone would do this by hand when it's easy to just add M&M's to cookie dough, like you do with chocolate chips for chocolate chip cookies. Victor, the head baker and owner, didn't like how the M&M's looked when they broke during mixing. Even when making treats that only kids ordered, he was a perfectionist. And this method, although time-consuming, stayed with me. Whenever I bake cookies with M&M's, I stand at the counter and, one by one, press the chocolate pieces into the top of the cookie. There's no longer a 50-pound mound of dough on my right, like there was at the bakery, but I still find joy in placing each colored candy.
The dough for these cookies is a soft sugar cookie with just a hint of lemon. At the bakery, we used shortening for the cookies, so I do the same here. If you avoid shortening, replace it with butter, though keep in mind that with butter they'll spread a little more in the oven. After making the dough, you spend some time pressing M&M's into each cookie. That process is a sweet reward in itself; the cookies are just a bonus.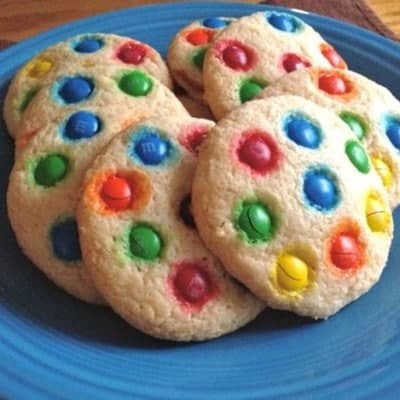 Gluten-Free M&M Soft Sugar Cookies
Ingredients
2

cups

finely white rice flour

(8 ounces; 226 grams)

1 1/2

cups

granulated sugar

(10 1/2 ounces; 297 grams)

1/2

cup

sweet rice flour

(2 ounces; 56 grams)

1/3

cup

cornstarch

(1 1/3 ounces; 36 grams)

1

teaspoon

baking powder

1/2

teaspoon

xanthan gum

1/2

teaspoon

salt

2/3

cup

solid shortening

(4 1/2 ounces; 120 grams)

2

teaspoons

vanilla extract

1

teaspoon

lemon extract

2

large

eggs

(about 3.5 ounces; 100 grams)

1/4

cup

milk

(2 ounces; 56 grams)

2

tablespoons

light corn syrup

(2 ounces; 56 grams)

About two cups of plain chocolate M&M's
Instructions
Adjust oven rack to middle position. Preheat oven to 325 deg;F. Food Processor Directions: In bowl of an 11 cup or larger food processor, combine white rice flour, granulated sugar, sweet rice flour, cornstarch, baking powder, salt, and xanthan gum. Run food processor for 30 seconds to combine.

Stop food processor and add shortening. Run mixer until shortening is incorporated; dough will begin to hold together, about 30 seconds. Add eggs, milk, corn syrup, vanilla extract, and lemon extract. Run mixer until a thick dough forms, about 30 seconds.

By Hand Directions: In large bowl, whisk together white rice flour, granulated sugar, sweet rice flour, cornstarch, baking powder, salt, and xanthan gum. Add shortening. Cut into flour mixer with a pastry cutter or your hands (use a "snapping motion" with your fingers) until no large pieces of shortening remain. If you squeeze the mixture, it should hold together.

Add eggs, milk, corn syrup, vanilla extract, and lemon extract. Stir with a wooden spoon until a stiff dough forms.

Drop dough, about two tablespoons each, onto parchment lined baking sheet, two inches apart. Press about six M&M's to each cookie. Bake until set, edges should be lightly brown, about 12 minutes. Allow cookies to cool on the pan for three minutes and then transfer to a wire rack to cool completely.