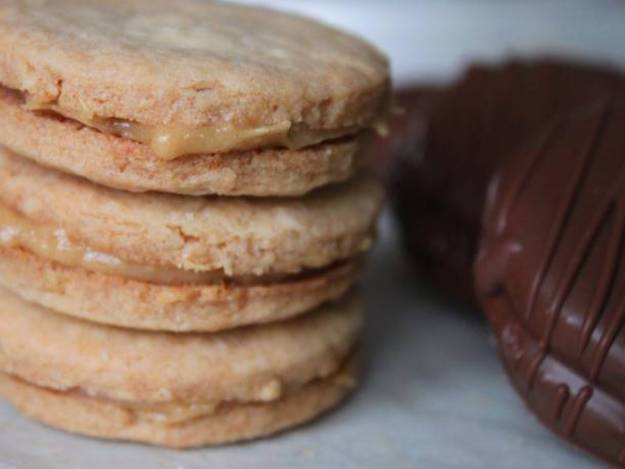 Gluten-Free Nutter Butters Recipe Notes
Use either brown rice or white rice flour for the cookies. Brown rice flour adds a nuttier flavor and a coarser texture; white rice flour allows the peanut flavor to shine.
Use gluten-free oats. Oats not labeled "gluten-free" are often contaminated with wheat/gluten. Gluten-free oats are clearly labeled.
Dust your counter and the dough generously with white rice flour before rolling. This prevents the slightly sticky dough from sticking to the counter.
Allow the cookies to cool before sandwiching them together to prevent the filling from melting.
You can also use this dough to make a delicious peanut-buttery tart crust. Simply roll out the dough, line a 10-inch tart pan and bake in a 350°F oven until golden brown.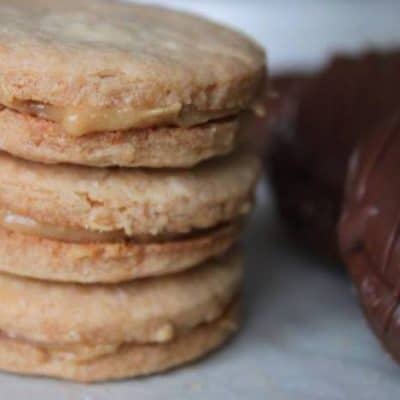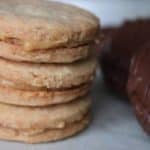 Gluten-Free Nutter Butters
Ingredients
For the Cookies
1/2

cup

gluten-free oats

(1 1/2 ounces; 45 grams)

1/2

cup

white rice flour

(2 ounces; 56 grams)

1/4

cup

cornstarch

(1 ounce; 26 grams)

1/4

cup

sweet rice flour

(1 ounce; 26 grams)

1/2

teaspoon

salt

1/4

teaspoon

xanthan gum

1/2

cup

vegetable shortening

(3 1/4 ounces; 92 grams)

2/3

cup

granulated sugar

(4 3/4 ounces; 132 grams)

1

large

egg

(about 1 3/4 ounces; 50 grams)

3

tablespoons

smooth peanut butter

(1 3/4 ounces; 50 grams)
For the Filling
1/2

cup

smooth peanut butter

(4 3/4 ounces; 135 grams)

3/4

cup

powdered sugar

(3 ounces; 85 grams)

2

teaspoons

water

For the Coating

12

ounces

milk

dark, or white chocolate, chopped
Instructions
Preheat oven to 350°F. Line a baking sheet with parchment paper. Set aside. Process gluten-free oats in a food processor until fine. In a medium mixing bowl, whisk together ground oats, rice flour, cornstarch, sweet rice flour, salt, and xanthan gum.

In large mixing bowl or bowl of stand mixer, cream together vegetable shortening, smooth peanut butter, and granulated sugar. Cream for 30 seconds (use high speed on a handheld mixer or medium-high speed on stand mixer). Add egg and mix for additional 15 seconds. Scrape down sides of bowl and mix for additional 15 seconds.

Reduce mixer speed to medium-low and add dry ingredients. Mix until dough forms. Divide dough in half. Pat each half into disk and wrap in plastic wrap. Chill dough for 20 minutes.

Sprinkle white rice flour lightly over countertop. Using rolling pin, roll out one dough round until approximately 1/4-inch thick. Cut dough with 3-inch round cookie-cutter.

Transfer cookies to prepared baking sheet. (I use a cookie spatula dusted with rice flour to transfer the dough to the pan.) Bake for 12-15 minutes or until cookies are lightly brown. Transfer cookies to a wire rack to cool. Repeat with remaining dough.

While cookies cool, prepare the filling: In small bowl, cream together peanut butter and confectioners' sugar until smooth. Add water. Filling should be smooth. If filling is too thick to spread, add additional teaspoon of water. Sandwich cooled cookies together with a thin layer of filling. Store cookies in airtight container at room temperature for up to 1 week.