Think of these gluten-free peanut butter blondies as the perfect marriage between a peanut butter cookie and a blondie.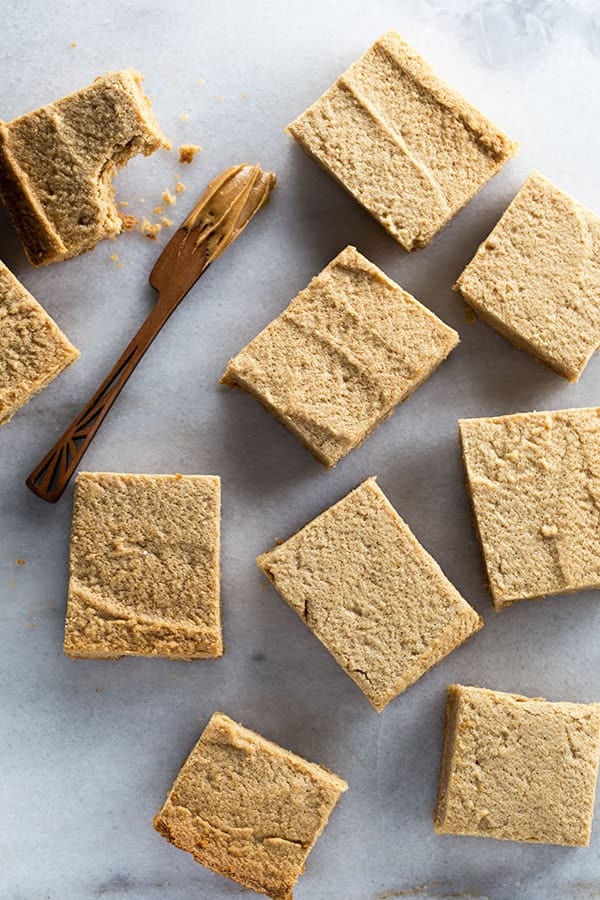 What's the deal with peanut butter baked goods? Why do I always forget about them? It happens with cookies and cakes and, of course, bars.
Then something sparks me to make a batch and I fall in love all over again. These gluten-free peanut butter bars a great example.
As I was creating bar cookies for this series, my mind immediately went to lemon bars, chocolate chip cookie bars, blondies, and brownies. Then I thought, "Hey! Peanut butter blondies. I should make those."
That was the best thought I'd had in awhile because, guys, these bars are IT. Like gluten-free chocolate chip cookie bars, they're really easy to make. And the flavor has that salty-sweet thing going on that I love with peanut desserts.
How to Make Gluten-Free Peanut Butter Blondies
Preheat the Oven. No need to chill the dough. Just mix it and bake. This means that you want your oven ready and waiting.
Mix the Dough. Since this recipe requires me to cream butter and peanut butter together, I like to use an electric mixer. (Stand or handheld both work great.) Once the butter and peanut butter are nice and smooth, add the remaining ingredients, including a gluten-free flour blend.
Add Chocolate Chips and Nuts (optional) If you like Reese's peanut butter cups, try adding milk chocolate chips to this recipe. You'll thank me. A handful or so of chopped peanuts also makes a nice addition.
Bake. Bake these bars until they're golden brown. They don't really puff up in the pan. So check them with a toothpick after the edges start to turn golden brown. The toothpick should come out clean.
Cool and Cut. Let them cool in the pan and then cut into squares. If you like peanut butter and jelly, put a dollop of jelly on each bar before serving.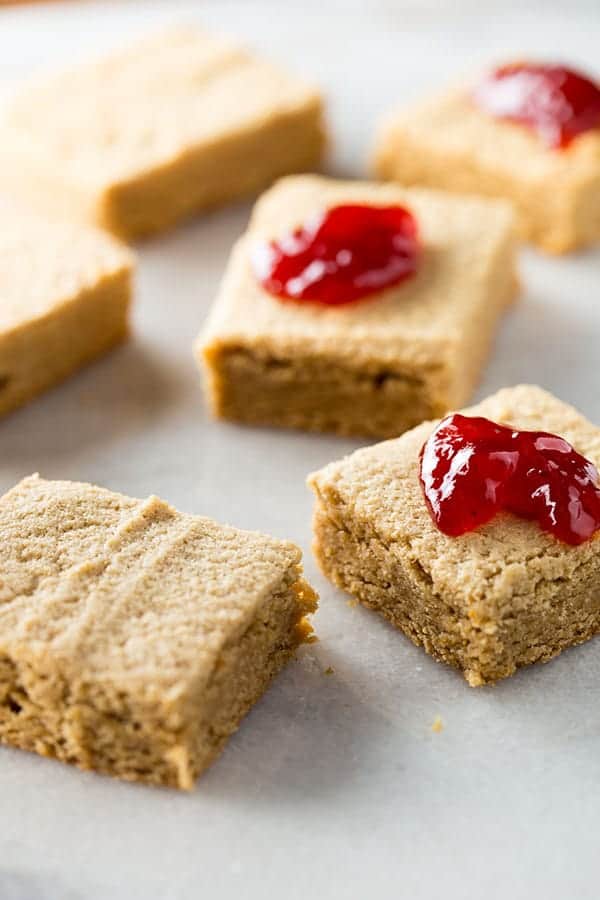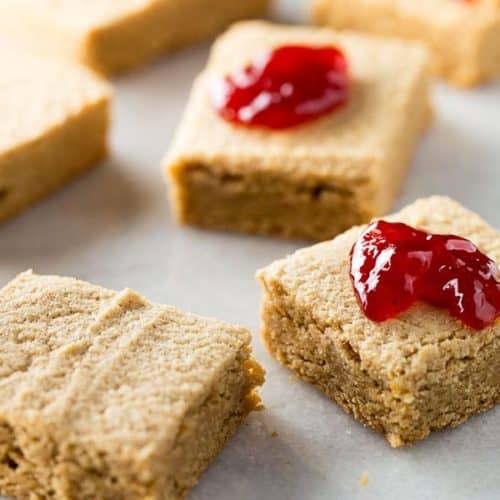 Gluten-Free Peanut Butter Blondies
A cross between blondies and peanut butter cookies, these blondies are an easy treat that peanut butter lovers adore.
Ingredients
1 1/2

cups

light brown sugar

1

cup

creamy peanut butter

1

stick

butter, softened

2

large

eggs

2

teaspoons

vanilla extract

1 1/2

cups

gluten-free flour blend

1

teaspoon

baking powder

1/2

teaspoon

salt

2

cups

chocolate chips
Instructions
Preheat oven to 350 degrees F. Line a 9x13 inch baking dish with foil or spray with nonstick cooking spray.

Cream together the brown sugar, peanut butter, butter, and eggs until a thick paste forms. Use an electric mixer set to medium speed. Add the eggs, one at a time, until combined. Add the vanilla and mix for another minute.

Stop the mixer and add the gluten-free flour, baking powder, and salt. Turn mixer to low speed. Mix until combined. Batter will be thick. Stir in chocolate chips, if using.

Spread evenly into the prepared pan. Bake until set, about 35 minutes. Cool bars in the pan and then cut into squares.