The BEST gluten-free peanut butter blossom cookie recipe. Fast and easy! This classic recipe is made without shortening. Perfect for Christmas or other special occasions.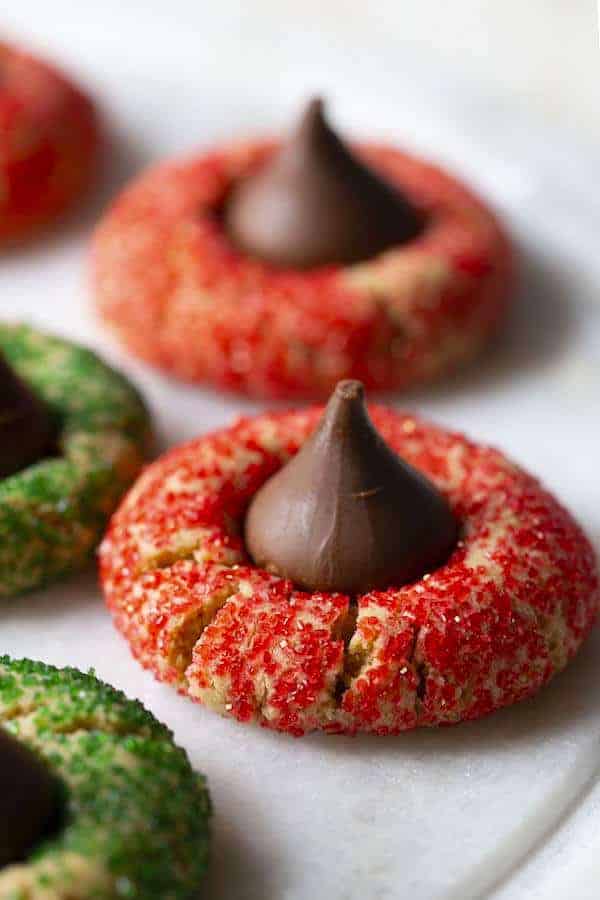 How do you make gluten-free peanut butter blossoms?

It's easy!
Make the dough. You'll want to use a gluten-free flour blend for these cookies. Flourless gluten-free peanut butter cookies don't hold their shape well enough for peanut butter blossom cookies.
Scoop the dough and roll into rounds. A cookie scoop make this easy!
Roll dough into sugar. You can use regular granulated sugar or coarse sugar. If you roll the cookies in coarse sugar, they have a bit more shine and crunch. For the holidays, I love to use colored sugar.
Bake. Place the cookies onto a parchment-lined baking sheet and bake until the edges are set.
Add Hershey's Kiss. As soon as the cookies come out of the oven, press an unwrapped kiss candy into the center of the cookie.
Cool. Allow the cookies to cool on the pan for about five minutes before transferring them to a wire cooling rack.
What type of peanut butter should I use for blossom cookies?
Creamy peanut butter is traditional. You can use crunchy peanut butter. Cookies made with crunchy peanut butter tend to crack a bit more than those made with creamy.
What type of sugar should I roll the cookie dough in before baking?
Granulated sugar is traditional. But you can use colored sugar, either coarse or fine, or turbinado sugar. Both coarse and turbinado sugar add a nice crunch to the cookies.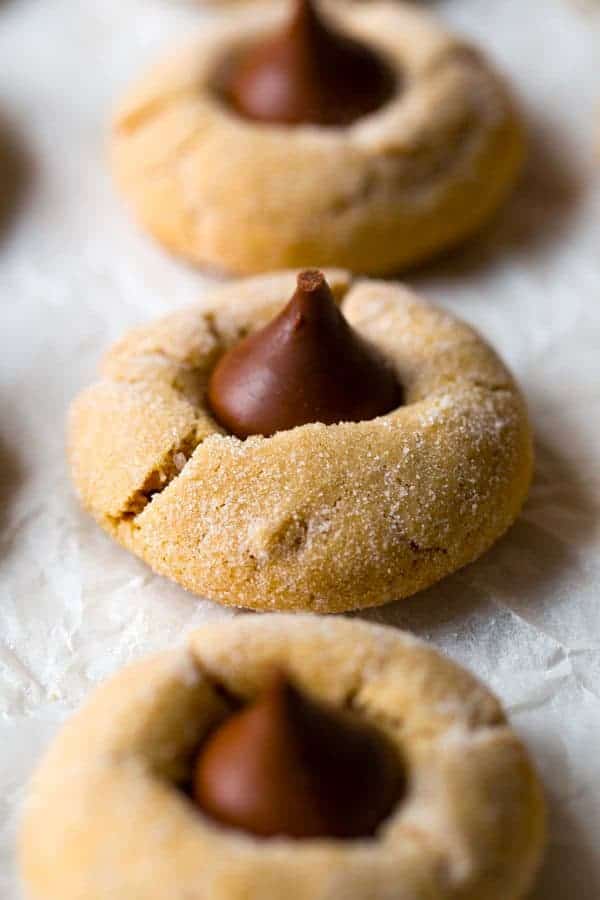 How long do these cookies take to bake?
A pan of peanut butter blossoms takes about 8 to 10 minutes to bake. The quick baking time makes these cookies perfect for holiday gift giving.
Can I use a peanut butter cup instead of a Kiss candy?
You sure can! Press a mini peanut butter cup into the just baked cookie as you would with the Hershey's kiss.
(As with the Hershey's kiss, always check the label to make sure the peanut butter cup is gluten-free.)

Can I freeze peanut butter blossoms?
Yes. However, I prefer to make the dough, round it into balls and freeze. This prevents the Hershey's kiss from getting broken or knocked off. When I'm ready to bake, I preheat the oven, roll the dough in sugar and bake.
If you want to freeze baked peanut butter blossoms, here's what to do:
Bake cookies and allow to cool.

Place cookies in a single layer in a freezer container.

Separate layers with a piece of waxed paper.

Freeze for up to two months.
Shop the Recipe: Gluten-Free Peanut Butter Blossoms
Here are some tools that make preparing this recipe a little easier. I use all of them. The links included below are affiliate links. When you use them to shop, GlutenFreeBaking.com earns a commission.
Bob's Red Mill Gluten-Free 1:1 Flour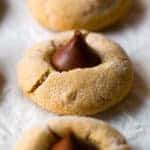 Gluten-Free Peanut Butter Blossoms
The Best Gluten-Free Peanut Butter Blossom Recipe. Easy to Make!
Ingredients
1/2

cup

granulated sugar,plus additional for rolling cookies (see note)

1/2

cup

packed brown sugar

1/2

cup

creamy peanut butter

1/2

cup

butter or dairy-free margarine, softened

softened

1

large

egg

1 1/2

cups

gluten-free baking flour (see note)

3/4

teaspoon

baking soda

1/2

teaspoon

baking powder

36

unwrapped

Hershey's Kisses, unwrapped
Instructions
Adjust oven rack to middle position.

Preheat oven to 375 degrees F. Line two baking sheets with parchment paper.

Mix granulated sugar, brown sugar, peanut butter, butter and egg in a large bowl with electric mixer on medium speed until combined. Stop mixer. Add flour, baking soda and baking powder. Blend, on medium speed, until a dough forms.

Round dough, about one tablespoon each, into balls. Roll in additional granulated sugar. Place dough balls, about 2 inches apart, onto prepared baking sheets.

Bake until edges are light golden brown, about 8 to 10 minutes.

Remove pan from the oven. Immediately press 1 Hershey's Kiss in center of each cookie. Allow cookies to cool on the pan for five minutes. Transfer cookies to a cooling rack. Repeat with remaining dough and candies.
Recipe Notes
Gluten-Free Flour Note: Use an all-purpose gluten-free flour that contains xanthan or guar gum. These cookies were tested with Bob's Red Mill 1:1 Gluten-Free Baking Flour. Do NOT use a grain-free (nut) flour.
Sugar Note: Roll cookies in colored sugar (traditional or coarse) for a Christmas or holiday look.