Homemade gluten-free saltines are fun and easy to make. They're perfect with soup, spread with peanut butter, or eaten alone.
A person new to the gluten-free diet recently said to me, "You know what I really miss? Saltines. I'd give anything for a good cracker. Since going gluten-free I eat potato chips instead of crackers and it's just not the same." I understood her longing. Before going gluten-free, the humble saltine was my go-to snack.
When I went gluten-free, however, I soon realized that gluten-free saltines were not commercially available. Being without saltines was not an option, so I created a recipe for them.
We've made crackers before in this column. The technique for making saltines is similar to that of gluten-free graham crackers and gluten-free whole grain crackers: fat (either butter or dairy-free shortening) is cut into a gluten-free flour mixture. You can do this by hand or with a food processor. After adding the cold water, the dough should be firm but workable. If the dough is dry, add a splash more water. (I usually need to add about a tablespoon more water when I make these crackers with shortening instead of butter. Start with the amount of water the recipe calls for and go from there. You don't want any dry flour at the bottom of the bowl.)
While the dough comes together quickly, it takes a few minutes to roll it out to the appropriate thickness. This is time well spent. Thin dough ensures a nice, crisp cracker. You want the dough about 1/16 inch thick. To make this easy, roll it out between two pieces of parchment paper.
this piece first appeared on SeriousEats.com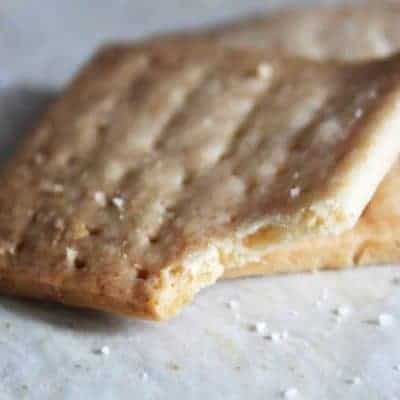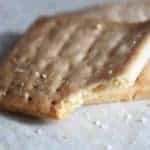 Gluten-Free Saltines
Don't skip the butter or dairy-free shortening in this recipe. The fat makes the gluten-free saltines nice and flaky!
Ingredients
1

cup

white rice flour

(4 ounces; 113 grams)

1/2

cup

brown rice flour

(2 1/4 ounces; 63 grams)

1/2

cup

cornstarch

(2 ounces; 56 grams)

1 1/2

teaspoons

baking powder

3/4

teaspoon

salt

1/2

teaspoon

xanthan gum

6

tablespoons

cold butter or dairy-free shortening, cut into small pieces

(3 ounces; 85 grams)

1/2

cup

cold water plus more if needed

(4 ounces; 113 grams)

Kosher salt for sprinkling
Instructions
Center oven racks in middle of oven. Preheat oven to 425°F.

Whisk together white rice flour, brown rice flour, cornstarch, baking powder, salt, and xanthan gum in large mixing bowl or bowl of food processor. Whisk or pulse food processor to combine.

Add cold butter or shortening. Cut butter into flour until butter is the size of baby peas. If the butter is too incorporated, the crackers won't be as flaky. Add water. Stir or pulse food processor until a dough forms. Dough will be firm. If dough is dry, add an additional tablespoon of water.

Place dough between two pieces of parchment paper. (Parchment should be about 12 x 16-inches.)

Roll dough about 1/16-inch. Remove top piece of parchment paper. Slide dough onto rimmed baking sheet. Prick dough all over with a fork. Using a pizza wheel, cut dough into cracker-size pieces. Generously sprinkle kosher salt all over the top of the dough.

Bake until crackers are golden brown, about 20 minutes.

Remove pan from the oven and allow crackers to cool. Once cool, break crackers apart, if needed. (Crackers usually break apart while baking.)