This gluten-free s'more pie makes a fun and easy summer dessert. A simple gluten-free graham crust is filled with chocolate pudding and topped with marshmallows. You get all the yumminess of a s'more without the campfire!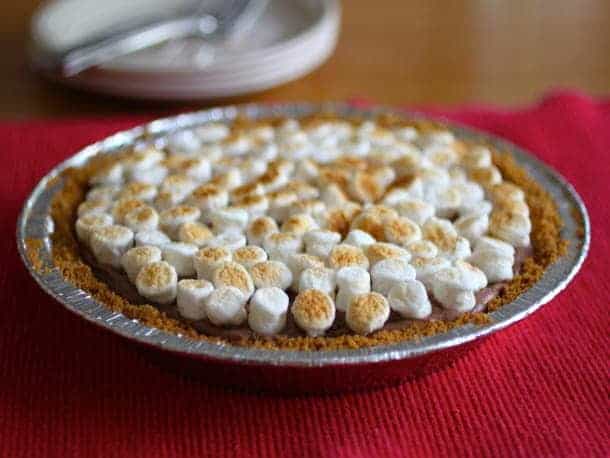 One year I wanted a fun way to bring s'mores to a party. I doubted the hostess would be pleased if I showed up with a bag of marshmallows, graham crackers, and chocolate bars and asked if she would, kindly, set up a fire. So, I brought a s'more pie instead. My friends, a mix of folks who love to camp and those who don't, all agreed that the pie reminded them the classic campfire treat.
To make it, start with a gluten-free graham cracker crust. I used homemade gluten-free graham crackers. However, you don't need to make homemade crackers only to grind them up. There's lots of gluten-free graham cracker options available. You could use store bought gluten-free grahams or pick up a premade gluten-free crumb crust.
Then fill the crust with chocolate pudding (homemade or boxed) and top with marshmallows. Since s'mores require toasted marshmallows, you put the pie under the broiler to toast them. This step only takes a minute or two. Seriously. You don't want to walk away while browning the marshmallows.
Is this pie a replacement for classic s'mores? No! Of course not. But it's fun—and tasty too. And, it doesn't require a fire to make!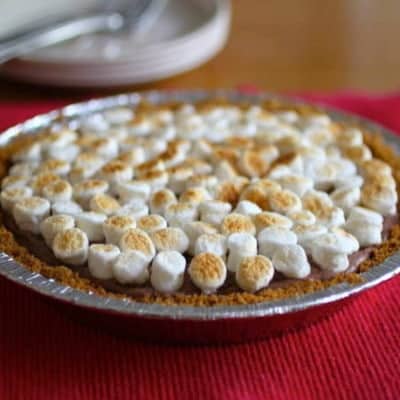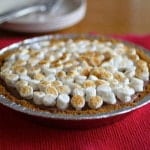 Gluten-Free S'more Pie
You can use either homemade chocolate pudding or boxed chocolate pudding for this recipe.
Ingredients
For the Crust
1 1/3

cups

gluten-free graham cracker crumbs

(5 ounces; 142 grams)

4

Tablespoons

butter, melted

(2 ounces; 56 grams)

2

Tablespoons

granulated sugar

(about 1 ounce; 24 grams)
For the Filling and Topping
2

boxes

chocolate pudding, prepared according to directions for pie filling

Cook and Serve or Instant

1 1/2

cups

mini-marshmallows

(about 2 1/4 ounces; 65 grams)
Instructions
Preheat oven to 350 degrees F.

In a small bowl, combine the graham cracker crumbs, melted butter and sugar. Stir until the crumbs are damp and hold together. Transfer the crumbs to a 9-inch pie pan. Using the back of a spoon, press the crumbs into the bottom of the pan and up the sides.

Bake for 10-12 minutes or until golden brown. Remove from the oven, place on a wire rack and allow to cool.

Spoon the chilled pudding into the baked pie crust. Cover with mini-marshmallows.

Preheat your broiler and toast the marshmallows under the broiler. Serve and enjoy. Store any leftover pie in the refrigerator.