Gluten-Free Snickerdoodles. Recipe makes snickerdoodles—a simple sugar cookie coated with cinnamon-sugar—that are crisp on the edge and chewy in the center.

Gluten-Free Thin and Chewy Snickerdoodles
Culinary Confession time: For a long time, I avoided making classic snickerdoodles because many recipes call for cream of tartar. It's a common ingredient but not one I reach for on a regular basis.
Plus, I reasoned, the combination of baking soda and cream of tartar is basically baking powder. So that's what I used the first time I created a recipe for gluten-free snickerdoodles. The resulting cookies were thick and puffy. (And really good!)
Recently I read an interesting history of snickerdoodles in Bravetart, Stella Parks' popular baking book. In it, she states that baking powder, not the combination of baking soda and cream of tartar was, in fact, the classic leavener used in the cookies.
So I was right. Using baking powder was just fine–and, actually, the classic way to make the cookies. And, like most people, there's nothing I enjoy more than being right.
There's only one issue with this. Many people love snickerdoodles made with cream of tartar and I've gotten more than one request for a version of the cookies made with cream of tartar. While some folks are able to detect a very slight tang from the cream of tartar. (I'm not one of them) the biggest difference between snickerdoodles made with baking powder and those made with baking soda and cream of tartar is the texture. Today, baking powder is double acting. That means it leavens once in the bowl and again when exposed to heat.
This doesn't happen when you combine baking soda and cream of tartar. So the cookies don't puff in the oven. They spread, giving you a flat cookie with a chewy center and crispy edges.
For folks who love classic snickerdoodles, this one's for you.
The Dough: A (small) "Secret" Ingredient
At their heart, snickerdoodles are a simple drop sugar cookie. Before baking, they're coated with a cinnamon-sugar mixture. While testing this recipe, I added a 1/4 teaspoon–this is a whisper–of ground cinnamon to the dough. The snickerdoodles made with cinnamon in the dough had a deeper, more pleasant flavor than those made without.
Why does this small amount of ground cinnamon make a difference? I think the fat from the butter carries the flavor. It's subtle and a wonderful reminder that sometimes a little thing makes a big difference.
The Coating: Too Much is Just Enough
There's a generous amount of cinnamon in the coating of these snickerdoodles. Without enough cinnamon, the cookies taste like sugar cookies and, I'm guessing, if you wanted sugar cookies, you would just make sugar cookies. So don't skimp on the cinnamon.
By the way, you're going to have some leftover cinnamon-sugar mix. To be honest, I find this annoying. But there's really not a good way to mix together just the right amount of cinnamon-sugar coating. You can store the leftover mix in a covered container and use it the next time you make these cookies. Or you can treat yourself and make some cinnamon toast. (Yum!)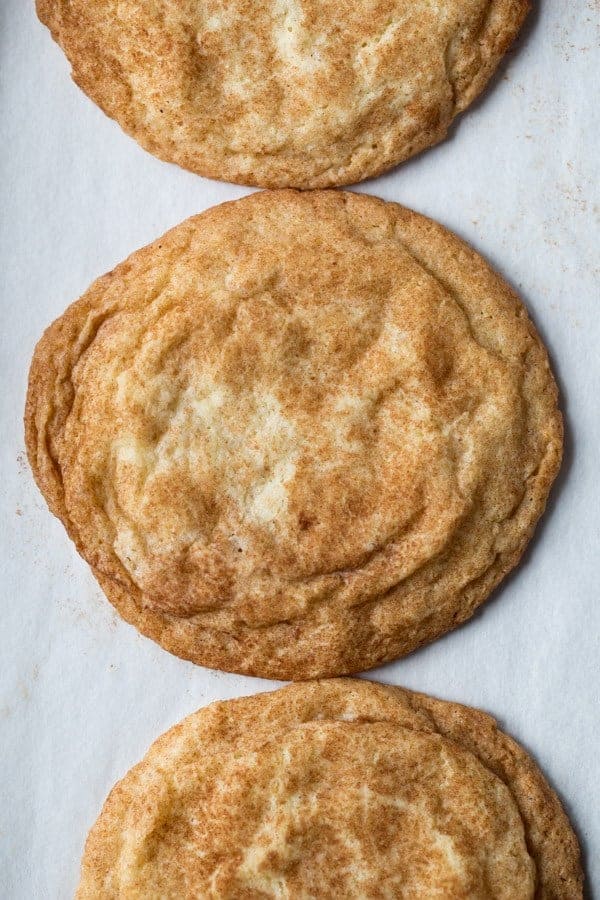 Other Gluten-Free Cookie Recipes You'll Love
Thick and Puffy Gluten-Free Snickerdoodles
Easy Gluten-Free Sugar Cookies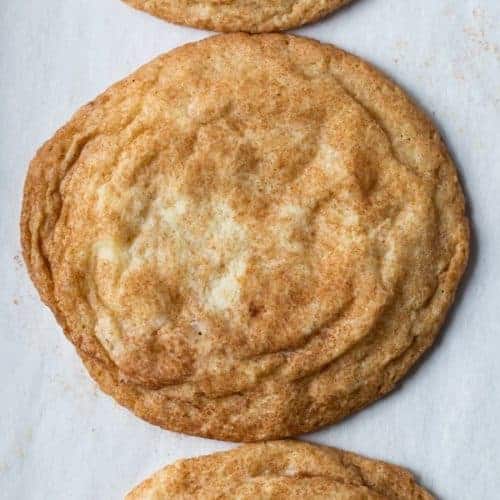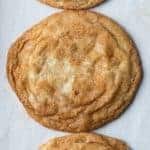 Easy Gluten-Free Snickerdoodle Recipe
Makes thin and chewy snickerdoodles
Ingredients
For the Gluten-Free Snickerdoodle Dough
1

stick

butter, softened

(4 ounces; 113 grams)

3/4

cup

granulated sugar

(5 1/4 ounces; 150 grams)

1/4

teaspoon

ground cinnamon

1

large

egg

1 1/3

cups

Bob's Red Mill Gluten-free Baking Flour

(6 2/3 ounces; 185 grams)

1

teaspoon

cream of tartar

1/2

teaspoon

baking soda

1/4

teaspoon

salt
For the Cinnamon-Sugar Coating
1/4

cup

granulated sugar

(1 3/4 ounces; 50 grams)

2

teaspoons

ground cinnamon
Instructions
Cream together the butter, sugar, and ground cinnamon in the bowl of a stand mixer fitted with a paddle attachment on medium-high speed until light and creamy, about two minutes. Stop the mixer after one minute and scrape down the sides of the bowl. This step is important. A thick layer of butter clings to the side of the bowl. If you don't scrape the bow and mix for an additional minute, that layer of butter can cause the cookies to spread.

Add the egg and mix until incorporated. Again, stop the mixer. Scrape the sides of the bowl and then mix for an additional 15 seconds.

Stop the mixer. Add the gluten-free flour, cream of tartar, baking soda, salt, and cinnamon. Blend until combined. Dough will be stiff.

Chill dough for 20 minutes. Prepare Cinnamon-Sugar Coating: stir together cinnamon and sugar in a small bowl.

Preheat oven to 375 degrees F. Adjust oven racks to upper-middle and lower-middle position.

Line two rimmed baking sheets with parchment paper. Scoop dough, one tablespoon each, into balls. Coat in cinnamon-sugar mixture. Place on baking sheet, about an inch apart to allow for spreading.

Bake until edges are golden brown and cookies have set, about 12 minutes. Switch and rotate the baking sheets halfway through baking.

Allow cookies to cool on the baking sheet for five minutes. Then transfer to a wire rack and let cool completely.

Store cookies wrapped on the counter for up to five days or freeze cooled cookies in a freezer bag for up to four months.