This easy recipe makes gluten-free snickerdoodles that are crisp on the edges and soft in the center. Before baking, they're rolled in cinnamon-sugar. The coating gives the cookies a lovely flavor and a pretty "crackled" appearance. But the best part might be how easy they are to make. From start to finish, a batch takes about 30 minutes.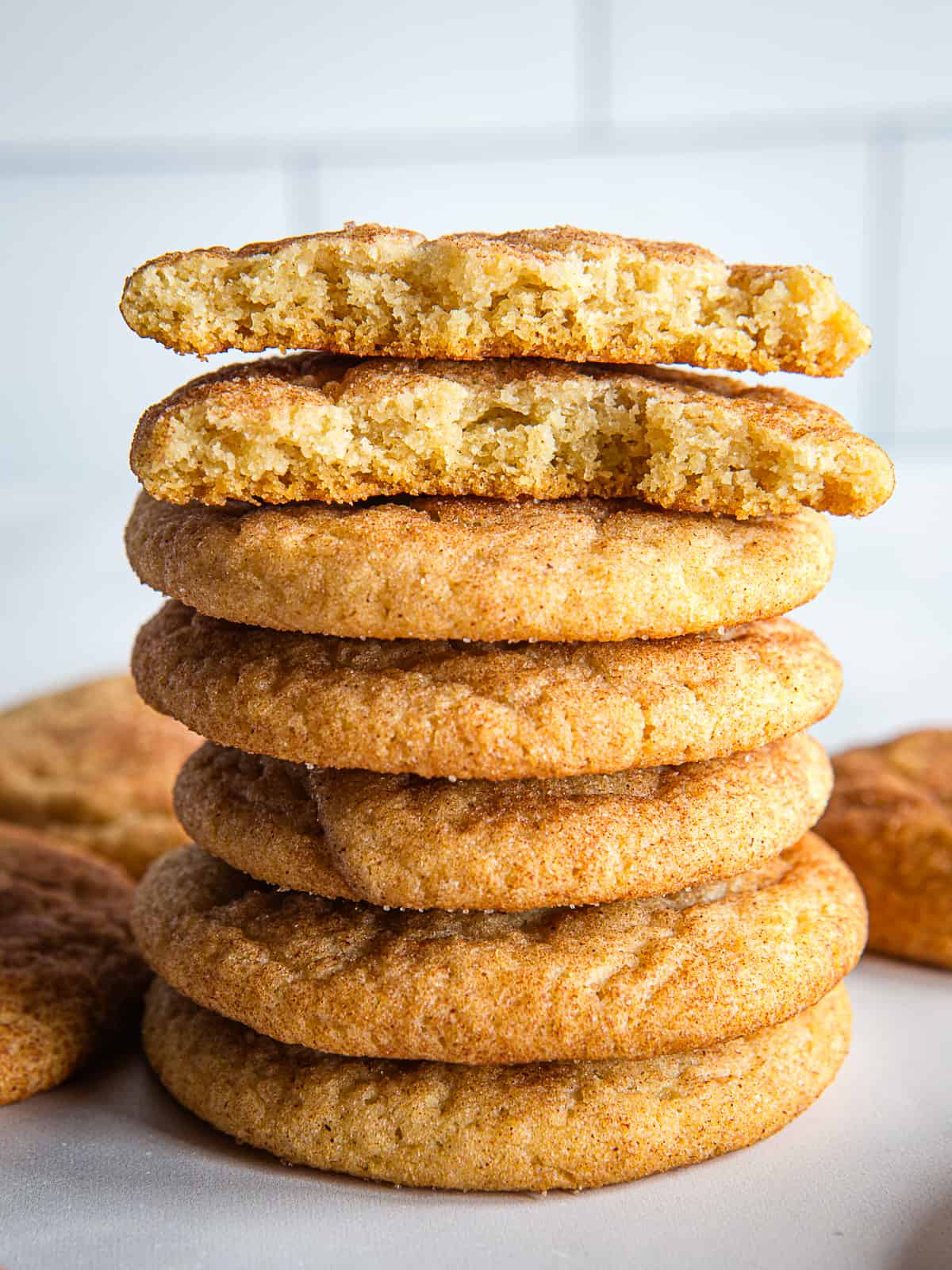 Snickerdoodles look and taste a lot like sugar cookies. But there's one important difference: classic snickerdoodles are made with cream of tartar. Since cream of tartar is acidic, it gives the cookies a subtle and lovely tangy flavor. This one ingredient sets them apart from classic sugar cookies.
Just like gluten-free chocolate chip cookies, snickerdoodles are a "drop" cookie. All you need to do is mix the dough, roll it in the coating, drop it onto a prepared baking sheet, and bake. No chilling or rolling is required. This means not only are these cookies tasty, but they're easy to make too!
Gluten-Free Snickerdoodle Ingredients.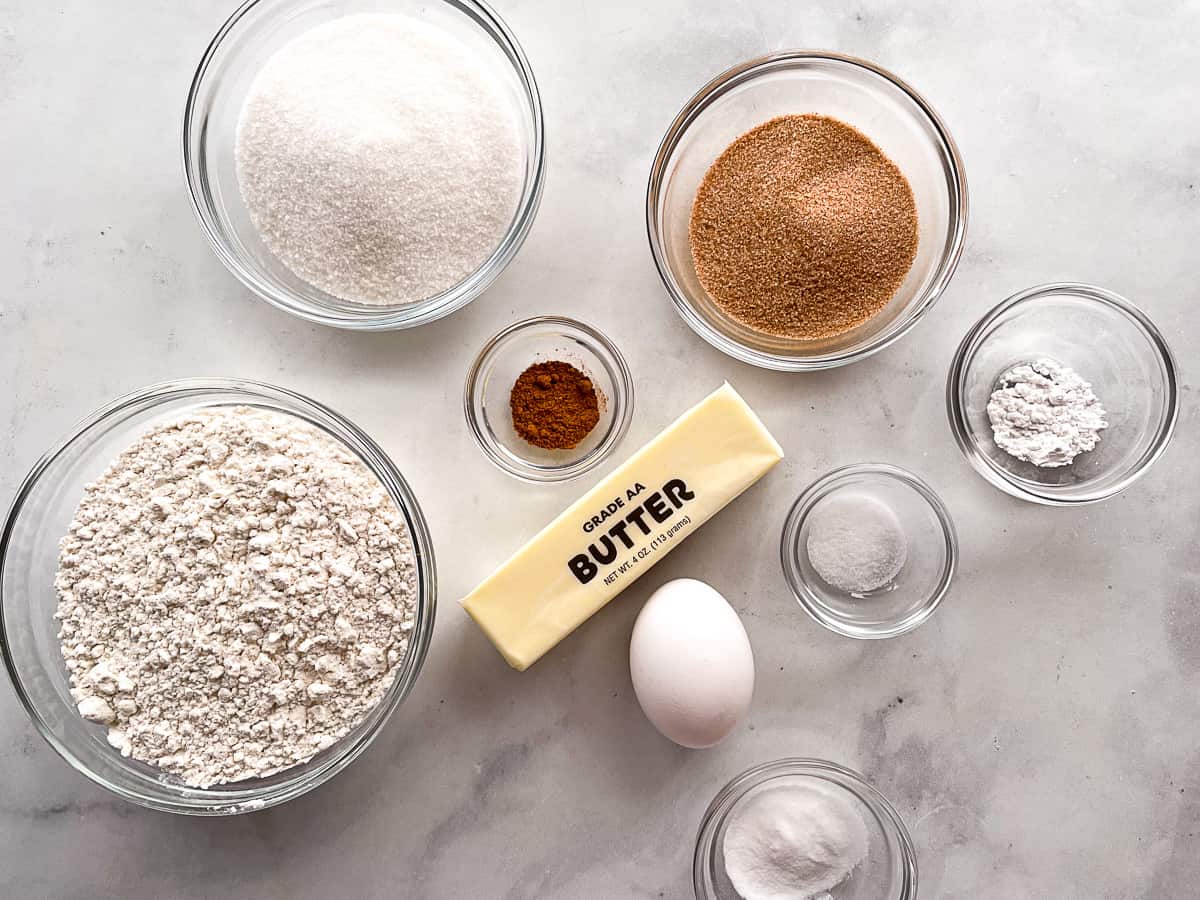 Here's what you need to make a batch of gluten-free snickerdoodles. It's always a good idea to measure all your ingredients before you start mixing the dough. This way you know you've got everything you need to make the cookies.
Gluten-free Flour. Use a gluten-free flour that contains xanthan or guar gum. Without it, the cookies spread too much. I tested the recipe with Bob's Red Mill 1:1 Gluten-Free Baking Flour.
Cream of tartar. This works with the baking soda to give the cookies a slightly puffy texture and a very subtle tangy flavor. You can replace the cream of tartar and baking soda with one teaspoon baking powder. Snickerdoodles made with baking powder instead of cream of tartar taste similar to sugar cookies. Different but still delicious.
Baking soda. Combines with the cream of tartar to give the cookies lift.
Salt. Use fine (table) salt. It blends easily into the dough and enhances the flavor.
Cinnamon. There's ground cinnamon in the dough and in the coating.
Butter. Softened butter gives these cookies a rich flavor and tender texture. For a dairy-free version, use a dairy-free butter that's suitable for baking.
Sugar. Use granulated sugar for the classic snickerdoodle texture. If you want your cookies extra soft and chewy, use brown sugar.
Egg. One egg brings the dough together.
Vanilla Extract. A teaspoon of vanilla extract adds flavor.
How to Make Gluten-Free Snickerdoodles.
If you've ever made sugar cookies or chocolate chip cookie dough, you'll recognize these steps. And if this is your first time making cookies, here are the steps you need to know. Remember to start with softened butter and scrape your mixing bowl a few times. You'll do great.
Start by preheating the oven and lining one or two cookie pans with parchment paper.
Grab a medium bowl and whisk together the gluten-free flour, cream of tartar, baking soda, cinnamon, and salt.
Next, mix the butter and sugar together in a separate large bowl until it's thick and creamy. Set your mixer to medium-high speed for this step.
Then, add the egg and vanilla extract. Mix until the egg is incorporated and the mixture gets a little fluffy.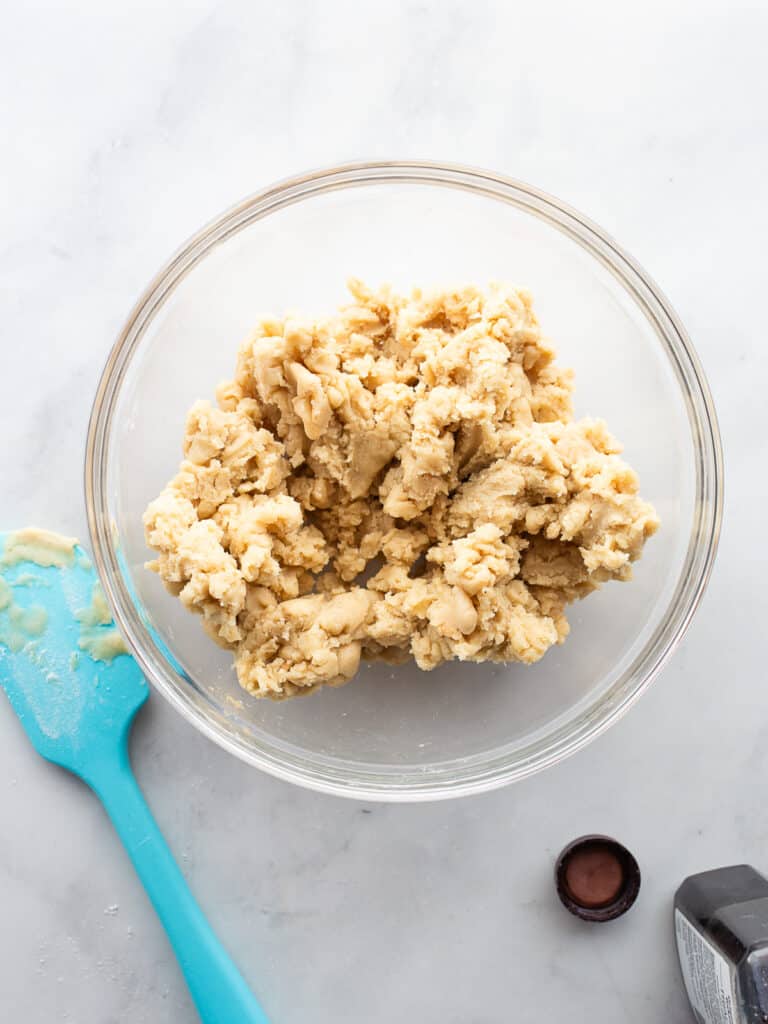 Scoop the dough and round it into balls. A cookie scoop makes this step really easy.
Roll each dough ball into cinnamon sugar. Place the dough ball on the prepared cookie sheet. If you want, sprinkle a little extra cinnamon sugar on each cookie.

Press the cookie dough down a little with either your hand or the bottom of a glass that's been dipped in gluten-free flour.
Bake in a preheated oven until the cookies are set. This takes about 12 minutes. Remove the pan from the oven. Let the cookies cool on the pan for about three minutes. Then transfer them to a wire cooling rack.
How to Store Gluten-Free Snickerdoodles.
Store the cooled cookies on the counter in a container with a lid for up to five days.
How to Freeze Baked Cookies.
Place the cooled cookies in a freezer container. To keep the cookies from sticking, place a layer of wax or parchment paper between each layer. Freeze for up to three months.
How to Freeze Cookie Dough.
Gluten-free snickerdoodle dough freezes very well.
Prepare the cookie dough as directed.
After rolling it in cinnamon-sugar, place the cookies on a pan.
Space the cookies apart so the dough doesn't stick together.
Freeze for about an hour. Once the cookie balls are frozen, transfer them to a freezer container or bag.
When you're ready to bake: preheat the oven to 375°F. Place the frozen cookie dough on a cookie sheet lined with parchment paper. Bake until set, about 12 minutes.
Check out my other popular gluten-free cookie recipes!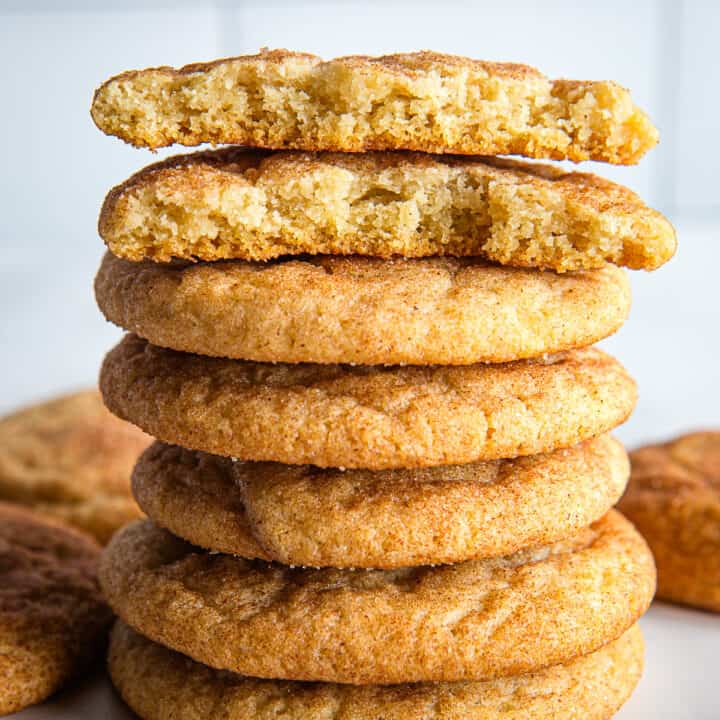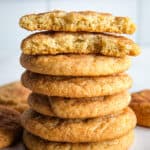 Easy Gluten-Free Snickerdoodle Recipe
Easy recipe for gluten-free snickerdoodles. These buttery sugar cookies are rolled in cinnamon-sugar before baking. Making the cookies tasty and pretty! (Dairy-free variation included.)
Ingredients
For the Gluten-Free Snickerdoodle Dough
1 ⅓

cups

Bob's Red Mill Gluten-free Baking Flour

(6 ⅔ ounces; 185 grams)

1

teaspoon

cream of tartar, see note

½

teaspoon

baking soda

½

teaspoon

ground cinnamon

½

teaspoon

salt

1

stick

butter, softened

(4 ounces; 113 grams)

¾

cup

granulated sugar

(5 ¼ ounces; 150 grams)

1

large

egg
For the Cinnamon-Sugar Coating
¼

cup

granulated sugar

(1 ¾ ounces; 50 grams)

2

teaspoons

ground cinnamon
Instructions
Preheat oven to 375℉. Line two baking sheets with parchment paper or grease lightly.

Whisk the gluten-free flour, cream of tartar, baking soda, cinnamon, and salt in a medium bowl.

In a large bowl, mix the butter and sugar together until smooth. Add the egg. Mix on medium-high speed. Stop the mixer once and scrape the bottom and sides of the bowl.

Stop the mixer. Add the gluten-free flour mixture. Blend until the dough comes together.

Prepare Cinnamon-Sugar Coating: stir together cinnamon and sugar in a small bowl. 

Scoop the dough, about one tablespoon each, into balls. Roll in cinnamon-sugar. Place on baking sheet, about an inch apart to allow for spreading. If you want, sprinkle a little extra cinnamon-sugar on each cookie. Flatten the dough a little with your hand or the bottom of a drinking glass dipped in gluten-free flour.

Bake until edges are golden brown and cookies have set, about 12 minutes.

Allow cookies to cool on the baking sheet for five minutes. Then transfer to a wire rack and let cool completely.

Store cookies wrapped on the counter for up to five days or freeze cooled cookies in a freezer bag for up to four months.
Recipe Notes
Cream of tartar: If you don't have cream of tartar, replace it and the baking soda with 1 teaspoon baking powder.
Dairy-Free Variation: To make these cookies dairy-free, replace the softened butter with your favorite dairy-free buttery spread. Be sure to use one that's suitable for baking.