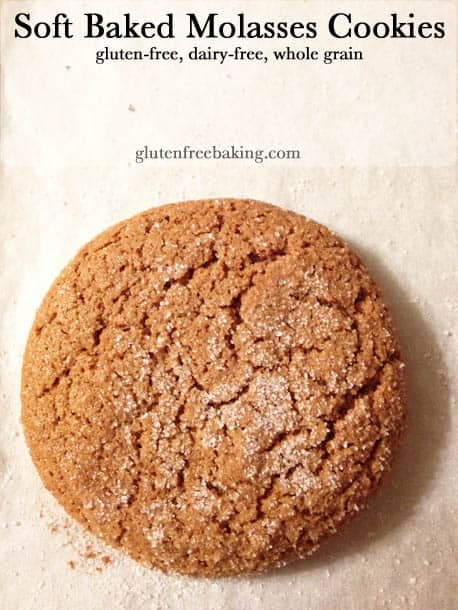 Cookie season–the best time of the year– has arrived. And to celebrate, let's make soft molasses cookies. While cutout gingerbread cookies rule during December, I've always held a special fondness for their cookie cousin, the soft molasses cookie.
Made with a generous amount of molasses and brown sugar, these drop cookies bake up crisp on the edge and soft in the center. The spiciness– from ginger, cinnamon, nutmeg, and cloves–balances the sweetness of the cookie in a perfect way.
For this cookie, I wanted to play with a dairy-free and whole grain recipe. So out went the butter. Instead of using a solid shortening, which makes cookies crisp, I reached for liquid vegetable oil. The flours are a lovely blend of oat, brown rice, millet, and corn flour. None of the flours take center stage. In fact, these cookies don't possess that unpleasant grittiness that too often comes along with whole grain gluten-free baked goods.
The finished cookie tastes almost buttery–even though there's not a drop of dairy in them. A stack of these slid into a pretty cellophane bag makes a wonderful gift for any cookie lovers on your list.
These soft molasses cookies are crisp on the edge and soft on the inside. They are great on their own (of course!) and are especially good crumbled over vanilla ice cream. Add a drizzle of maple syrup and you'll make a quick and elegant dessert in no time.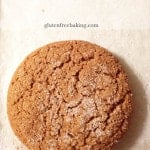 Gluten-Free Soft Molasses Cookies
Remember to use gluten-free oat flour for this recipe!
Ingredients
1

cup

gluten-free oat flour

(4 ounces; 113 grams)

3/4

cup

brown rice flour

(3 3/4 ounces; 106 grams)

1/2

cup

millet flour

(2 1/2 ounces; 70 grams)

1/2

cup

finely ground cornmeal (Bob's Red Mill calls this "cornflour")

(2 ounces; 56 grams)

1

teaspoon

baking soda

1

teaspoon

baking powder

1

teaspoon

ground cinnamon

1

teaspoon

ground ginger

1

teaspoon

xanthan gum

1/2

teaspoon

ground nutmeg

1/4

teaspoon

ground cloves

1/2

teaspoon

salt

1/2

cup

vegetable oil

(3 1/2 ounces; 100 grams)

1/2

cup

molasses

(6 ounces; 170 grams)

1/2

cup

dark brown sugar

(3 3/4 ounces; 106 grams)

1

large

egg

(1 3/4 ounces; 50 grams)
Instructions
Preheat oven to 325 degrees F. Line two rimmed baking sheets with parchment paper. Set aside.

In medium mixing bowl, whisk together dry ingredients. In bowl of stand mixer fitted with paddle attachment or in large mixing bowl, combine vegetable oil, molasses, dark brown sugar, and egg. Mix on medium speed with stand mixer or handheld mixer until smooth. Stop mixer. Add whisked dry ingredients. Turn mixer on to medium. Mix until soft dough forms, about one minute. Stop mixer. Scrape down bottom and sides of bowl. Mix for an additional minute.

Chill dough for 15 minutes. Drop dough, about one tablespoon each, onto one of the prepared cookie sheets. Generously sprinkle granulated sugar on top of each cookie. Return remaining dough to the refrigerator. Bake until cookies are set and aromatic, about fifteen minutes.

Remove and allow to cool for five minutes on baking sheet. While cookies cool, start the next batch using the second cookie sheet.

Transfer cookies to a wire rack to cool completely. Store covered on the counter for up to five days.