Gluten-Free Sour Cream muffins are dense and tender with a slight tang from the sour cream. These classic muffins are perfect served with a cup of coffee or tea.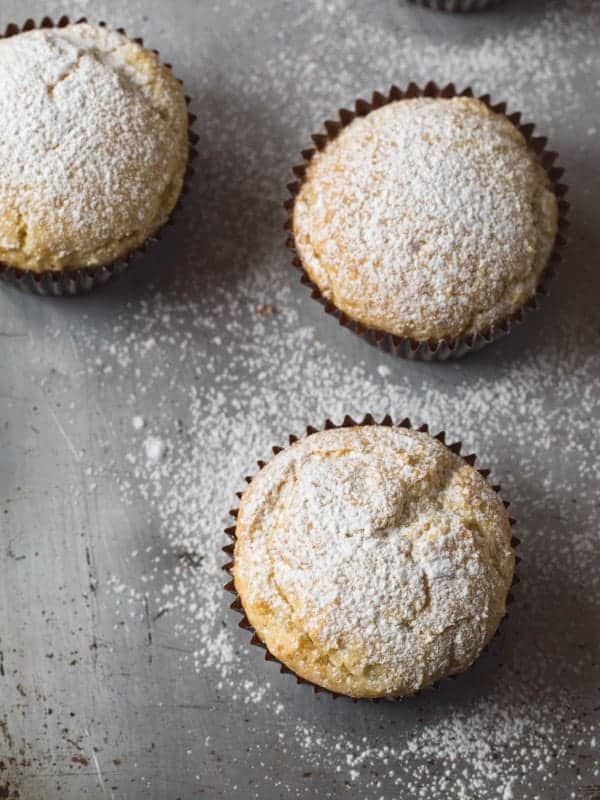 I doubt many people are searching for a recipe for gluten-free sour cream muffins. I mean a recipe for gluten-free blueberry muffins or gluten-free corn muffins, yes. But sour cream muffins? If you searched for this, welcome. You are my people.
This recipe happened after I wrote about gluten-free corn muffins. I mentioned that Grand Union corn muffins and sour cream muffins were my favorite treat as a kid. As I typed that, I little voice popped up and said, "Oh. Sour cream muffins! I'd forgotten about those! I should make them"
So I did.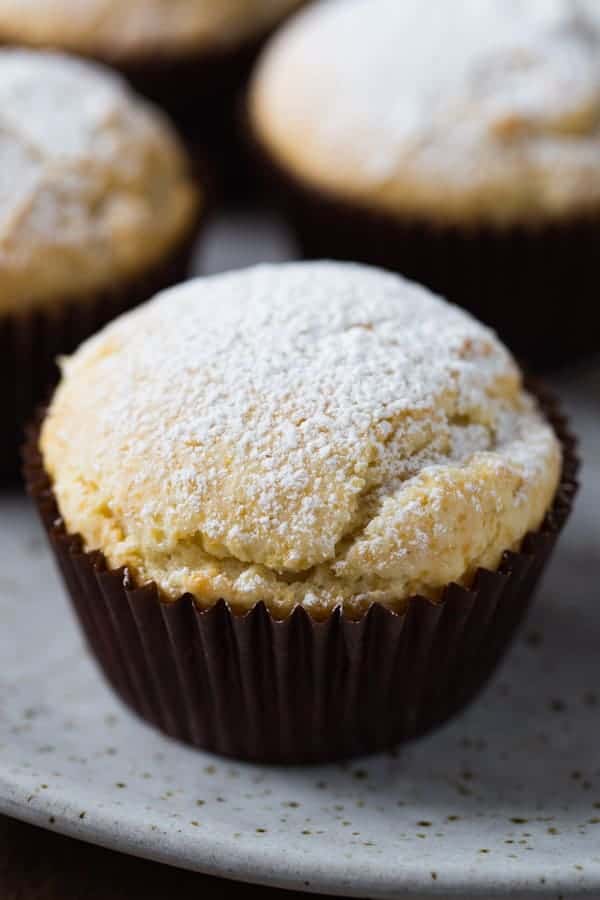 These are not fancy muffins. These are not streusel-topped muffins. They aren't loaded with fruit or studded with nuts or chocolate chips. These are plain muffins. And that's what makes them wonderful.
If you've eaten a sour cream muffin before, you know what I'm talking about. If you haven't, you're in for a treat.
Plain doesn't equal boring. Thanks to the sour cream, the muffins have a slight tang. And, thanks to dense, not crumbly texture, you can eat them as-is or split them and toast.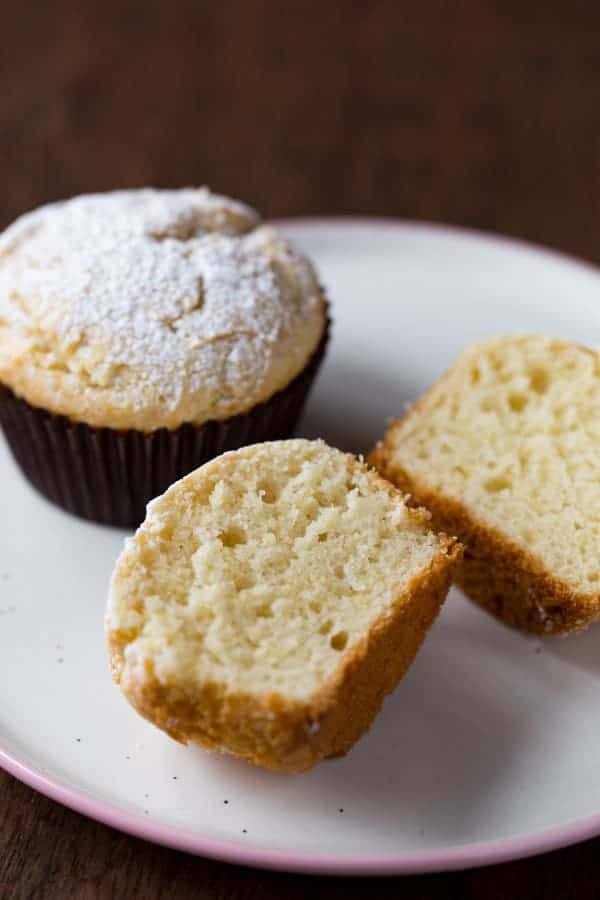 How to Make Gluten-Free Sour Cream Muffins
This recipe starts with butter. Cream together room temperature butter with granulated sugar until a thick paste forms. For this recipe, don't beat the butter and sugar until it gets airy. Overbeating can cause the muffins to get unevenly airy.
Then add eggs, one at a time. You'll notice that as you add the eggs a thick paste of butter and sugar form on the side of the bowl. If you don't do something about this paste, it can cause all sorts of problems, like creating greasy pockets in the muffins. Yuck. After you beat in the last egg, stop your mixer. Scrape the sides and bottom of the bowl. Mix again until everything is combined.
Next add half the flour mixture (I'm using Bob's Red Mill 1:1 Gluten-Free Flour) and mix. Add half the sour cream and, you guessed it, mix. Then repeat this until all the flour and sour cream have been added. The batter will look a little thick. This is totally normal.
Scoop the batter into prepared muffin tins and bake until golden brown. After the muffins have cooled, I like to sprinkle a little powdered sugar on top. This is totally optional but a really lovely touch.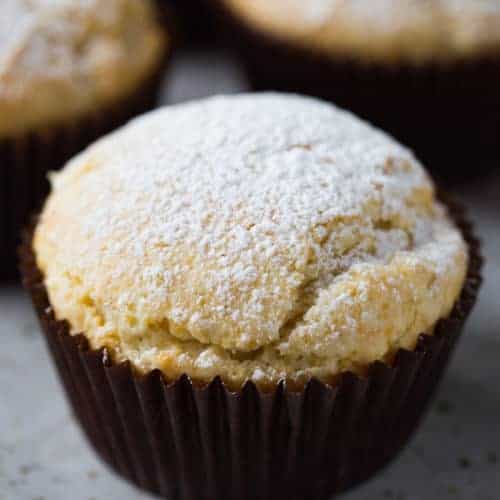 Gluten-Free Sour Cream Muffins
Gluten-Free Sour Cream Muffins. Perfectly plain muffins with a slight tang from the sour cream. Easy to Make.
Ingredients
3/4

cup

granulated sugar

(3 1/2 ounces/ 100 grams)

1

stick

butter, softened

(4 ounces; 113 grams)

2

large

eggs

2

cups

Bob's Red Mill 1:1 Gluten-Free Baking Flour

1

teaspoon

baking powder

1/2

teaspoon

baking soda

1/2

teaspoon

salt

1

cup

sour cream

(8 ounces; 226 grams)

1

teaspoon

vanilla extract

2

tablespoons

powdered sugar, optional
Instructions
Line 15 standard muffin cavities with paper liners or grease with nonstick cooking spray. Preheat oven to 350 degrees F.

Combine butter and sugar in a large bowl. Mix with an electric mixer until a thick paste forms. Add the eggs, one at a time. Mix until incorporated. Stop the mixer and scrape down the bottom and sides of the bowl.

Add the gluten-free flour, baking powder, baking soda, and salt. Mix until blended. Batter will be very thick. Stop mixer. Add sour cream and vanilla extract. Blend until smooth.

Fill prepared muffin cups 2/3 full. Bake until golden brown. A cake tester inserted in the center of a muffin should come out clean, about 18 minutes. Allow muffins to cool in the pan for 5 minutes before transferring to a wire rack to cool completely. Dust with powdered sugar, if desired.

Store muffins, wrapped, on the counter for up to three days or freeze for up to two months.